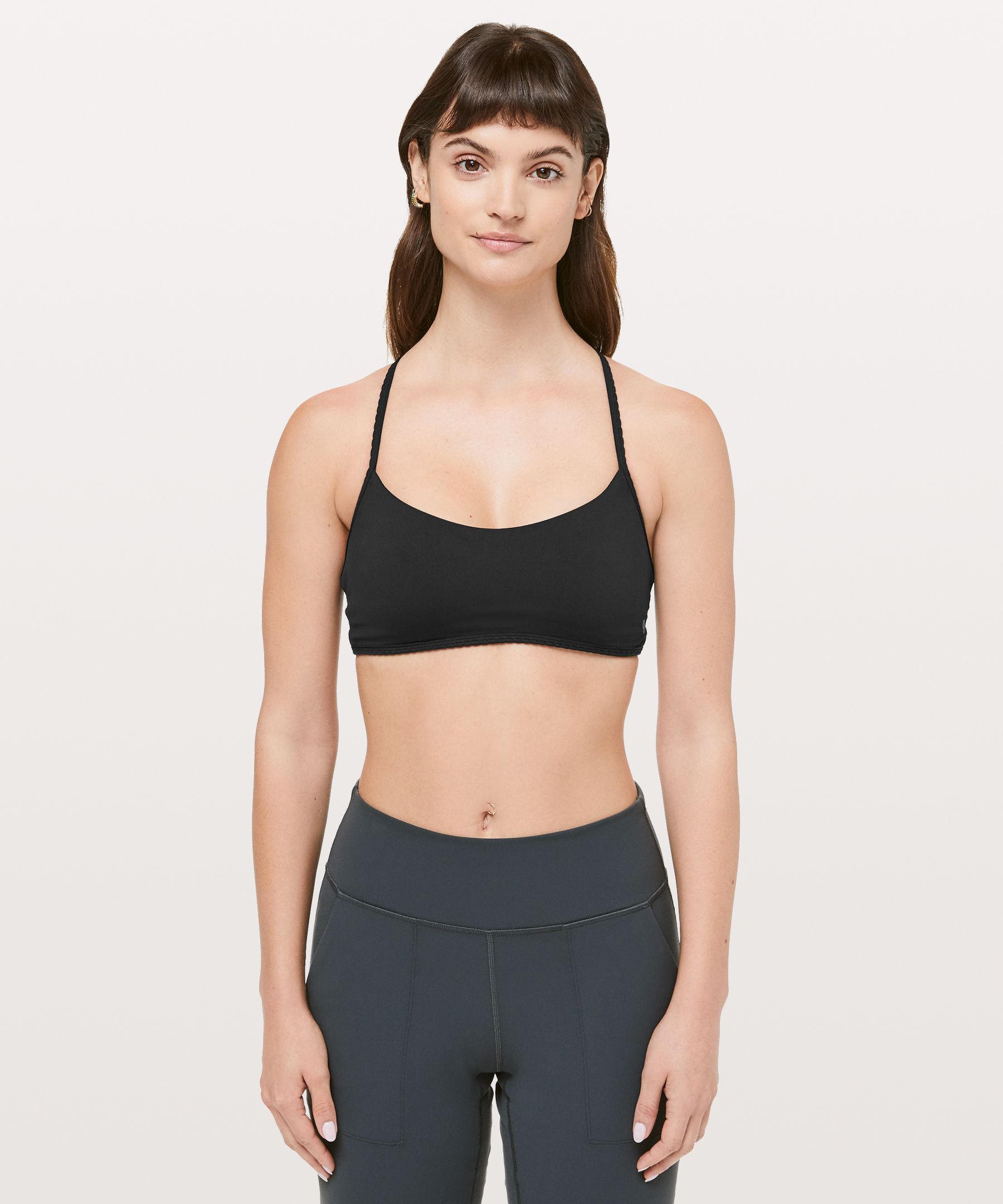 And they're flying off the shelves fast!
I grabbed two because I don't know how long these will be around and I missed the boat last time. Also, who doesn't need a back-up? The lululemon (LLM) educator stated that it had only been in the store a week and they had already sold out half of their stock.
Obviously the style of the HOT SPELL BRA is unique and timeless. The strappy, caged back did not make my back fat bulge as much as I thought it would. However the bra does fit a bit snug. I'd recommend sizing up.
The bra is great for low impact sports as the support is next to null. If you've got big girls, I wouldn't recommend it. It's great for looking at but in terms of functionality, I don't think there really is any.
Regardless, the aesthetic of this bra is iconic and it adds pizazz to all my activewear outfits.
I can't wait to wear it to practice and everywhere else I go! I am pretty obsessed with owning each and every LLM bra in the color black so that I can wear it with all my crazy printed leggings!
My Current Favorite Combo
I paired my Hot Spell bra with my K.Deer Haute Yoga Jody Stripe Leggings ($92)! See the leggings below. The lines and stripes combination is very flattering. I feel like an optical illusion and maybe slimmer? The gray ombre monochrome goes with about everything. K.Deer Haute Yoga has one of a kind yoga legging prints and I can't help but collect them all. Read my full review of K-Deer here.
Where to Buy K-Deer?
K-Deer – Offers an 15% instructor discount for up to 5 items annually. Contact customer support for your code.
Carbon38 – Use coupon code SCHIMIGGY for 20% off your first order of $100 or more! Applies to regular priced items only. Enjoy!
<3 + Light,
Schimiggy
DISCLAIMER: K.Deer Haute Yoga pants DO RUN SMALL and IRREGULAR. I wore the pants for the FIRST TIME (just to try them on and a hole ripped in the leg). ***SAD PANDA*** I wear a medium and I am undoubtedly sure that I am NOT a large in their leggings! When will they get their sizing right?! I've owned multiple pairs (ranging from size S and M) and the sizing is always inconsistent. I wish they had a physical store or free return shipping in case a pair does not fit. The pants range from $82-$92, so it's a hassle to have to pay additional for return shipping to get the right size. BTW, I am a size 6 in LLM pants and the K.Deer medium usually fits depending on the type of fabric that they use. Sometimes their mediums can fit more like an 8.