Reading Time:
5
minutes
Updated: 11/4/2019 | ASDM Beverly Hills Skincare Review
About ASDM
Alejandra Marquez and her late husband, Rafael Marquez, created ASDM Beverly Hills in 2010.
They wanted to create a skincare line that would help alleviate and eliminate skin problems that prevent women from feeling their best.
Having a background in Chemistry and a love for skincare, Alejandra and Rafael created a collection of facial serums and moisturizers that used products found in nature to combat the common instabilities of skin.
Today, Alejandra still continues to run the company and carry on with her and her husband's legacy.
ASDM Beverly Hills Skincare Review
Before we delve into the review, I want you to know that I have dry skin that needs a lot of TLC, especially when the weather starts to turn cold. I rarely get pimples and probably experience them once or twice a year. My skin is mostly even-toned but it can get splotchy when the weather starts to transition.
I received a generous number of skincare products that focused on anti-aging and dry skin.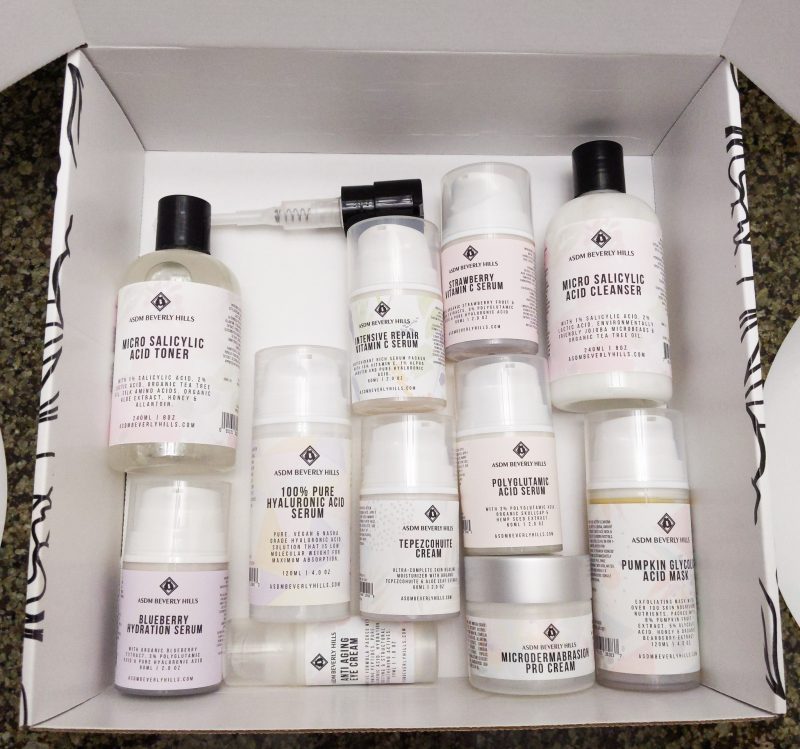 The products came in a beautiful box. We loved the comfortable pumps with lids to keep the products fresh. The girth of the bottles also provided good grip and handling.
Here's everything we got from ASDM:
I actually loved ALL of the products. The products are made to use with one another so that you can create the perfect formula for your skincare needs.
After trying all the products, I ended up combining 5 prodcuts for daily use. These included the Micro Salicylic Acid Cleanser, Micro Salicylic Acid Toner, Strawberry Vitamin C serum, Tepezcohute Cream and Anti Aging Eye Cream.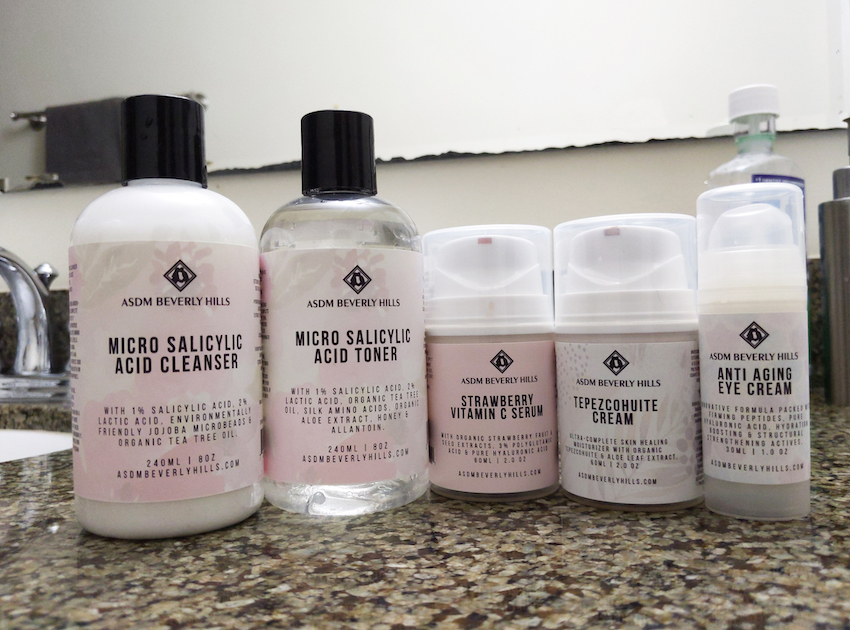 This combination kept my skin soft and refreshed every day. The products also lasted me about 3 months, which is pretty standard for most skincare products.
The salicylic acid is a popular skincare ingredient used to fight acne. Salicylic acid penetrates deep into pores to remove oil, dirt and bacteria.
My favorite product was the cleanser. It has eco-friendly microbeads that work to exfoliate my dry skin, keeping it fresh and soft. It's also gentle enough for everyday use.
I also love the Tepezcohuite cream. It has healing and anti-aging properties. It comes out a creamy tan color but blends well into my olive skin. I love how moisturized it made my skin feel afterward.
Other products that I saw results with were the Microdermabrasion Pro Cream and Pumpkin Glycolic Acid Mask. I use these prodcuts once a week after washing my face.
Glycolic acid is a member of alpha hydraulic acids (AHA), which are both derivatives of sugar cane. Glycolic acid exfoliates and is the most active of the AHA's. You'll feel a huge difference with glycolic acids if your skin is agreeable to it.
The pumpkin glycolic mask made my skin feel like it was burning, so I had to wash it off around the 7-minute mark instead of 10 minutes as recommended. My skin was hot for 20 minutes after, however, by the next day, it returned to normal and felt rejuvenated.
The Microdermabrasion Pro Cream had very tiny microbeads that gave my skin a very deep cleaning. It comes in a jar so you'll have to scoop it out with your hands or use a micro lab spoon which is much more sanitary.
Should I Buy ASDM Skincare?
Based on our ASDM Beverly Hills Skincare Review, we highly recommend it!
We love the packaging, the products smelled natural and my dry skin soaked up the products. I saw a huge difference in my skin after the 4th day. It felt more refreshed and looked even.
Their entire product line is impressive and a combination of their products can help any skin type. If you have serious skin concerns like hyperpigmentation or acne, we highly recommend you give ASDM a try.
Some of the products, such as the Pumpkin Glycolic Mask, may be harsh for sensitive skin. I recommend spot testing it on your chin or neck before applying it all over.
And lastly, the products are very affordable and on par with other luxury skincare brands. Products range from $25-$39.
Where to Buy ASDM
You can buy ASDM skincare directly from their online shop.
ADSM also offers bundle discounts when you buy more than one item. For example, you can buy their cleaner and toner for $45 versus $50.
Ready to try it out? If you do, come back and share your experience with us. We'd love t hear what you think!
You can also buy ASDM on Amazon, however we always recommend buying directly from the vendor when possible so that the brand keeps all their hard earned profits.
If you enjoyed our ASDM Beverly Hills Skincare Review, please share it on Pinterest!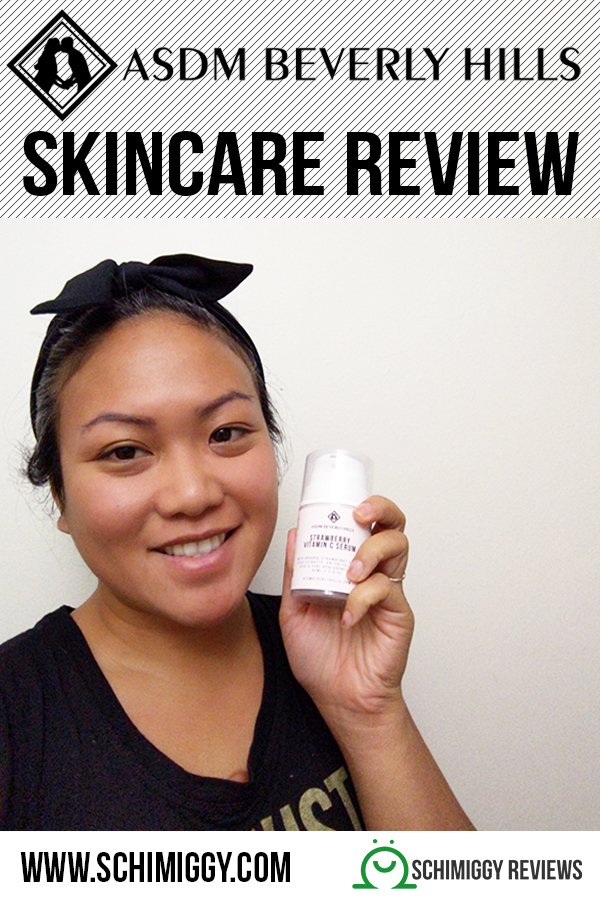 ---
Thank you for visiting today! If you found this encouraging or informative, please connect with us on Instagram, Youtube, Pinterest, Facebook or Twitter. We'd love to meet you!
Sign-up for our monthly newsletter for updates and more. We promise we won't spam you! Feel free to unsubscribe anytime.
For more fitness fashion discounts and offers, please visit our Fitness Instructor Discounts + Brands Directory or favorite brands coupon codes list.
If you're a brand and want to submit a product for us to review, please use this form to get in touch.
This site uses affiliate links. Clicking on or purchasing via an affiliate link may result in commissions for us which help keep the content flowing and lights on at Schimiggy Reviews. You may read more about this in our privacy policy.