Reading Time:
3
minutes
One of my favorite food items in the world is this potato tuna casserole from Peru called la causa. Some say la causa was handed down from the Incas and derived from their Quechua word for potato "kausaq," meaning sustenance of life. I remember trying it for the first time when I worked at my first corporate gig in Southern California. One of my co-workers (not Peruvian) asked if I wanted to put an order in for Causa. "What's that?" I asked. She said it's the best thing ever, and she was not wrong.
I would order Causa on a weekly basis. The restaurant served it in a massive clamshell container with enough servings to last 2-3 days. It was also only $10. I eventually moved on from that job and would try to go back to the restaurant that served it for them to tell me they only have it once a week, don't take special orders anymore and only serve Causa on specific days. The day I went in was not one of those days. I eventually moved from California to Seattle, Washington and I forgot about Causa for a while.
While living in Seattle, my partner and I found cheap tickets to Chile. We decided to also head over to Peru to visit Machu Picchu. What we found was a mecca of delicious food. Every restaurant had its own take of traditional Peruvian dishes, and nothing disappointed. I fell in love again with Causa and had it multiple times before the trip was over.
What inspired me to make my own Causa was a pile of potatoes on my counter. I signed up for Imperfect Produce and get a ton of veggies and fruits delivered to my home for 30-50% off retail price. I decided to make Causa because that means I would be able to use up my potatoes. You can read my Imperfect Produce review here.
I followed a recipe online and made some changes so that it appealed to my palette. Throughout the cooking process, I tasted my layers every step of the way to ensure my causa would be exactly how I preferred it to be. Below is my Causa recipe I'd love to share with you! Feel free to modify it to match your personal preferences and taste.
Peruvian Causa Recipe
It's time to cook! I recommend following the recipe below and always adding what you think you need to complete the dish. Cooking is a very personal experience. All my produce came from my Imperfect Produce box.
Yield: 8 servings
Peruvian Causa Potato Tuna Casserole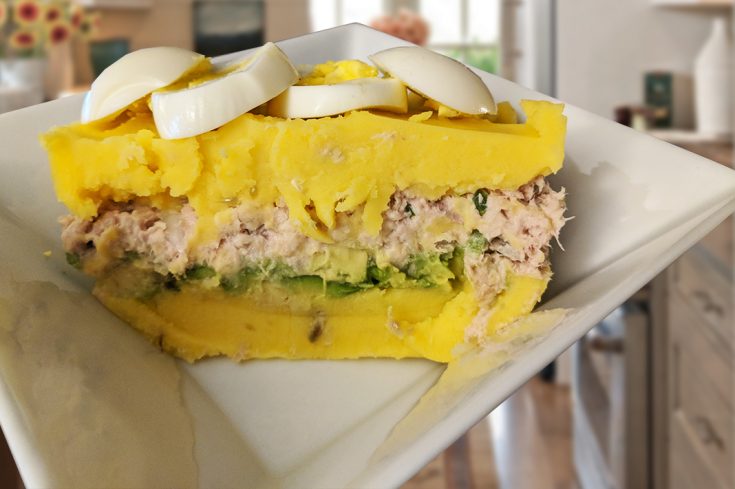 Peruvian causa is a delicious chilled potato and protein dish. It's great for eating any time of the year. I call it the Peruvian potato salad! This recipe calls for canned tuna, but you can also use any protein you wish.
Total Time
2 hours
20 minutes
Ingredients
For the Potatoes
3 pounds of Yukon Golden potatoes
1 fresh lime for juice
For the Tuna Salad filling
1/4 onion (white or red) chopped
1/2 jalapeño chopped with seeds
For Avocado filling
Toppings
4 sliced boiled eggs to top on the casserole
Instructions
How to Prepare Potatoes
Peel and chop the potatoes.
Boil potatoes until you can pierce them with a fork and they slide right off.
Drain potatoes and let them cool down. This may take a few hours.
Once cool, add the aji paste, lime juice and salt to taste.
Take a potato masher and mash it until it is a smooth and silky texture. It should be very smooth and solid, thanks to the creamy aji paste.
How to Prepare Tuna
While the potatoes are cooking, can and drain the tuna.
In a large bowl, mix the tuna, chopped onions, jalapeños, mayo, and lime juice. Add salt to taste.
Set aside in the fridge while you prep the potatoes.
Assembling La Causa
Create a layer of potatoes in the bottom of your dish (I use a deep loaf sized rectangular Pyrex dish) and spatula to flatten the surface of the layer.
Apply the 2nd layer of roughly mashed avocados. You can season with salt. I left mine plain.
Apply the 3rd layer of mayo tuna salad.
Top the casserole with the other half of the potatoes.
Cover with silicone stretch lids (to practice zero waste) and put it in the fridge for 1 hour. You can eat yours right away. I prefer it a little warmer than how it is traditionally served. Try it both ways and see how you like it.
Notes
You can use any protein you wish, but it is usually prepared with chicken or tuna.
The bulk of time it takes to make this dish is due to having to let the potatoes cool down. If you cannot wait, you can also eat it warm.
I recommend using more lime if you like it more tangy flavored. I love it tangy and usually add twice the amount of lime juice to my recipe.
Here are pictures of the aji chili and tuna I used in my recipe. We purchased it from a local Latino grocery store on the East Side in Bellevue, Washington. You can also click on the photos to buy them online. For the potatoes, I found it best to use a
potato ricer
from
Village Bakery
to turn it into a fine paste.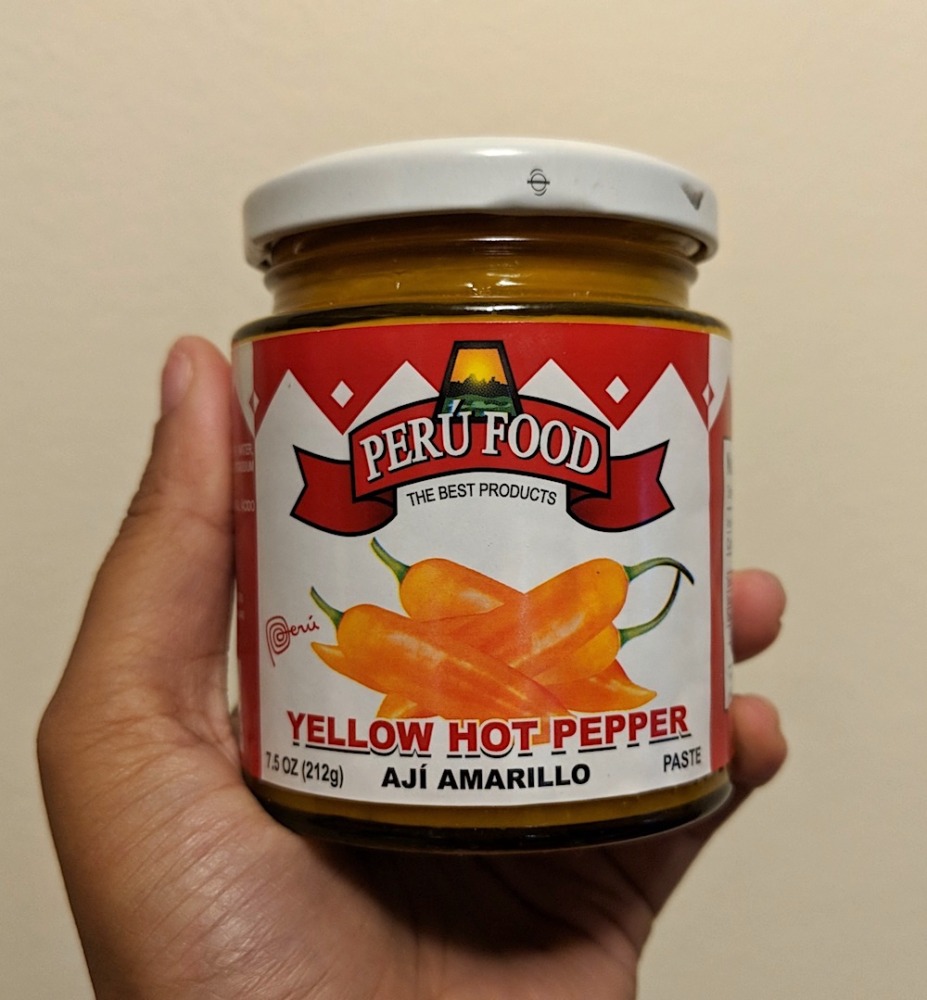 Aji Amarillo Paste in Jar
Making Causa was easier than I imagined. I remember restaurants telling me they don't serve it every day because it takes so long to prepare. The prep time was pretty fast and the only thing I could think of that made this recipe inconvenient was that you could not eat it right away. I prefer to eat it as soon as I made it so that it is warm.
Enjoy!
Thanks for stopping by. I hope you enjoyed my take on Peruvian causa. Please let me know if you had any successes with it. I'd love to hear from you!
If you liked this post, you might like these too:
[mc4wp_form id="11655″]