Reading Time:
5
minutes
Updated: 7/28/2019 | Sankalpa Review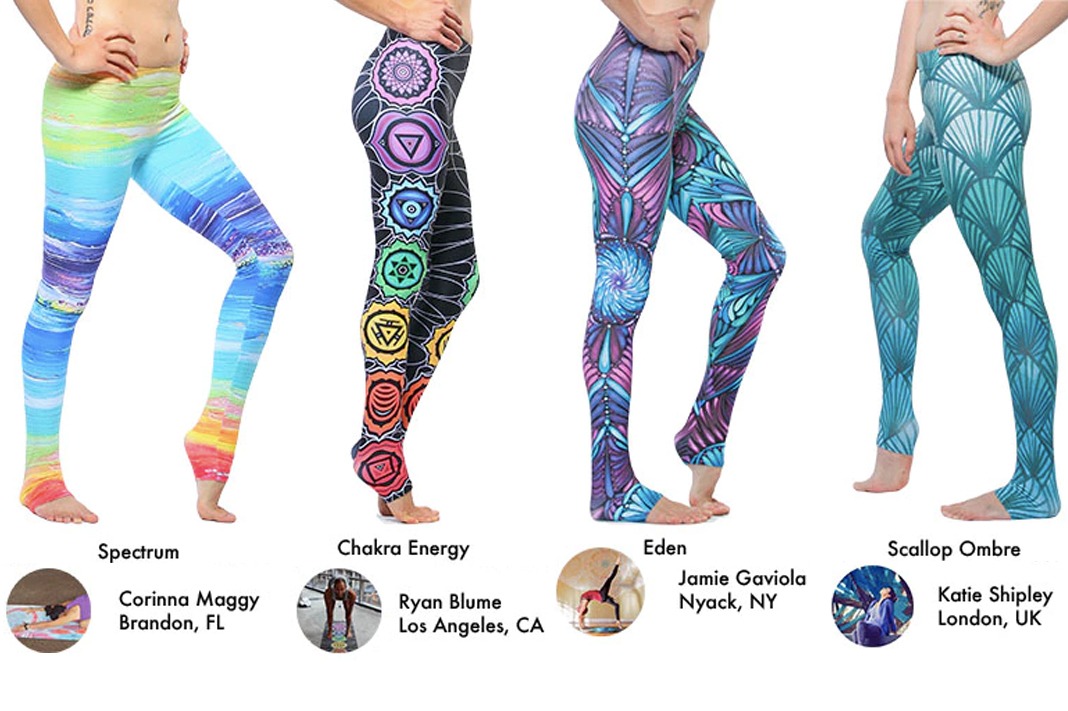 About Sankalpa
Sankalpa started as a company providing uniquely designed microfiber topped yoga mats designed by independent artists. Now they're partnering with more artists to create yoga leggings and matching yoga mats!
Sankalpa means an intention formed by the heart and mind — a solemn vow, determination, or will. Sankalpa was started by husband and wife duo Josh and Elyse Nickell. They are both certified yoga teachers with a passion for sharing art and soul through yoga mats and leggings created by a global network of artists.
Josh reached out and invited me to review their leggings. I was immediately drawn to their Chakra Energy print by LA artist Ryan Blume. I loved the chakras and their synaptic energy beams. With over 60 designs to choose from, it was hard to narrow down the pair that would align with my intention.
Sankalpa ran a Kickstarter Campaign in 2017. People who backed the campaign received a pair of leggings for only $64 (normally $78). The cost included shipping. They also offered some limited edition secret designs that were exclusive to the Kickstarter campaign.
Sankalpa Review: Chakra Energy Leggings
The Sankalpa team reached out to me and offered me one of their leggings to try. I chose the Chakra Energy print to review because balancing my chakras was exactly what I needed! The design down the side is bold and colorful and I could see it matching with many of my tops.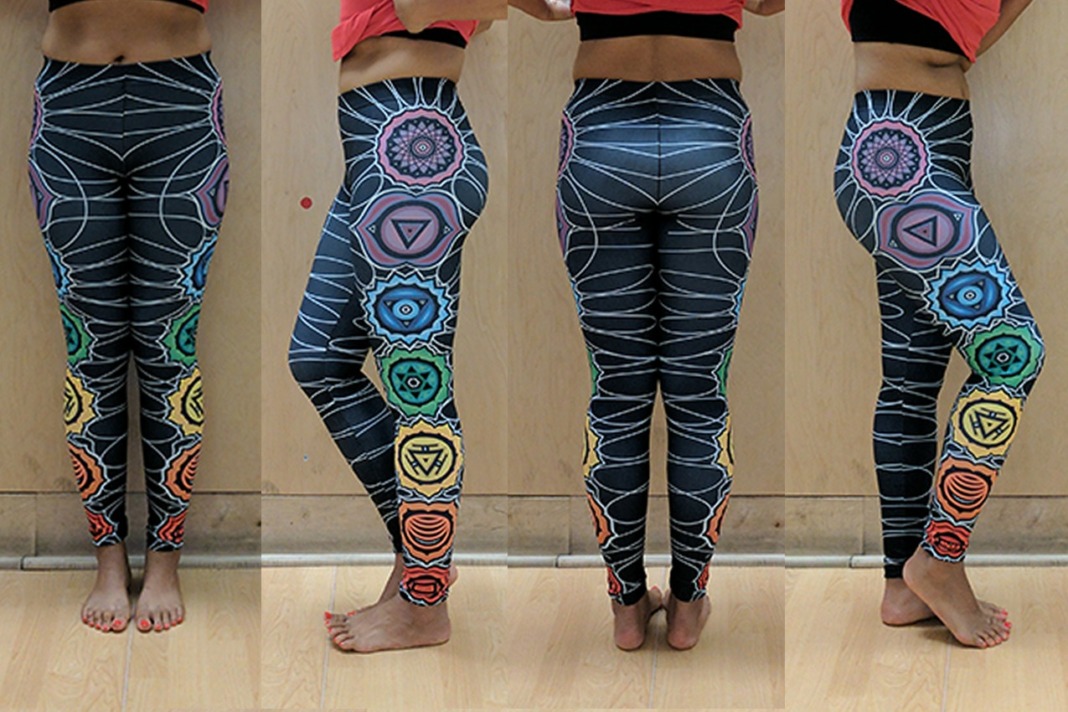 #1 Size: Per Sankalpa's size chart (below), I decided to go for a size SMALL. I am a size 6 in lululemon for reference. I would recommend sizing up in Sankalpa. My leggings stretched to white, which could have been avoided with a larger size. Next time I am going for a MEDIUM.

#2 Style: As of now Sankalpa only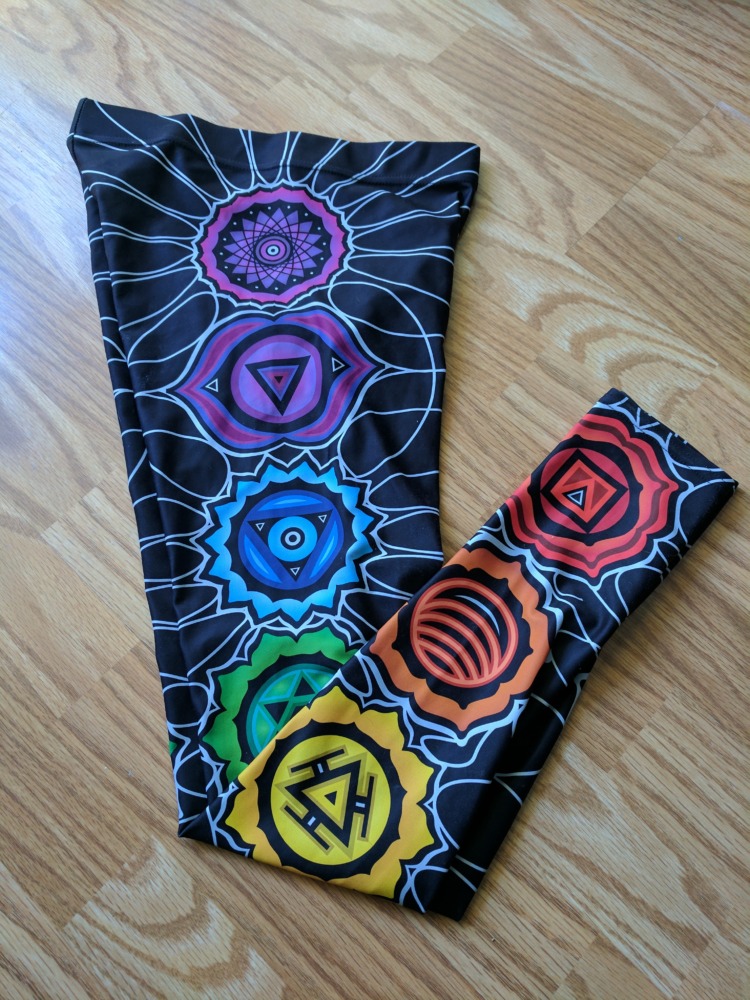 creates long leggings and matching yoga mats.
#3 Inseam: Inseams vary by size. Inseams for my size small leggings were 26 3/4″. On my 5'5″ frame the leggings were able to cover my heels.
#4 Rise: Sankalpa leggings have a standard rise (fits 1″ below navel).
#5 Waistband: Standard waistband with bound elastic. I did experience the waistband folding over while exercising in my leggings. The standard waistband also made my sides protrude causing a mini-muffin top.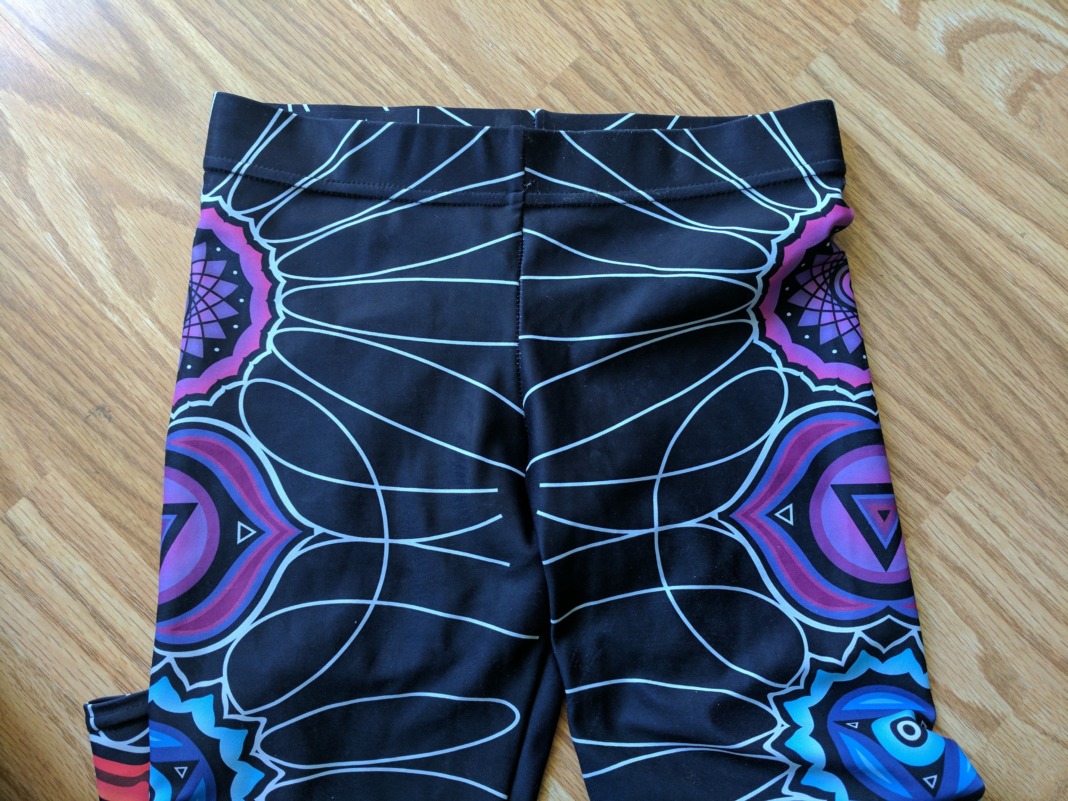 #6 Fabric:
Fabric Content: 82% poly and 18% spandex blend

Sankalpa works with a global community of artists and has created 60+ stunning and diverse designs. There are so many patterns and colors to choose from.
They use a sublimation printing process that ensures vivid and bright colors on their leggings. It also uses fewer resources by eliminating water usage from the printing process.
The print and colors are matte, making the pants look vivid and great in photos.

Fabric Feel:
Fabric Performance:

The fabric has 4-way stretch and contours to the body.
The fabric is great for medium to low-impact sports. The leggings are minimally compressive.
The

Opacity:

The leggings are white backed. During my try-on, I did experience the pattern turning to white while coming into forward folds. The black on my pants turned to a dark grey. The seams on the back of the pant also stretched to white and exposed the white backed fabric at the seams.
The leggings pass the bend test. The fabric does turn to white, but it is not see through. They are 100% opaque!

Fabric Features:
#7 When to Wear: Sankalpa leggings can be worn for any occasion. I wear mine during yoga and running errands.
#8 Cost: Sankalpa leggings cost $78. Use Sankalpa coupon code SCHIMIGGY for 20% off your orders.
#9 Gusset: Sankalpa leggings do not have a gusset. A + shaped seam is constructed into the gusset area using overlocked stitching.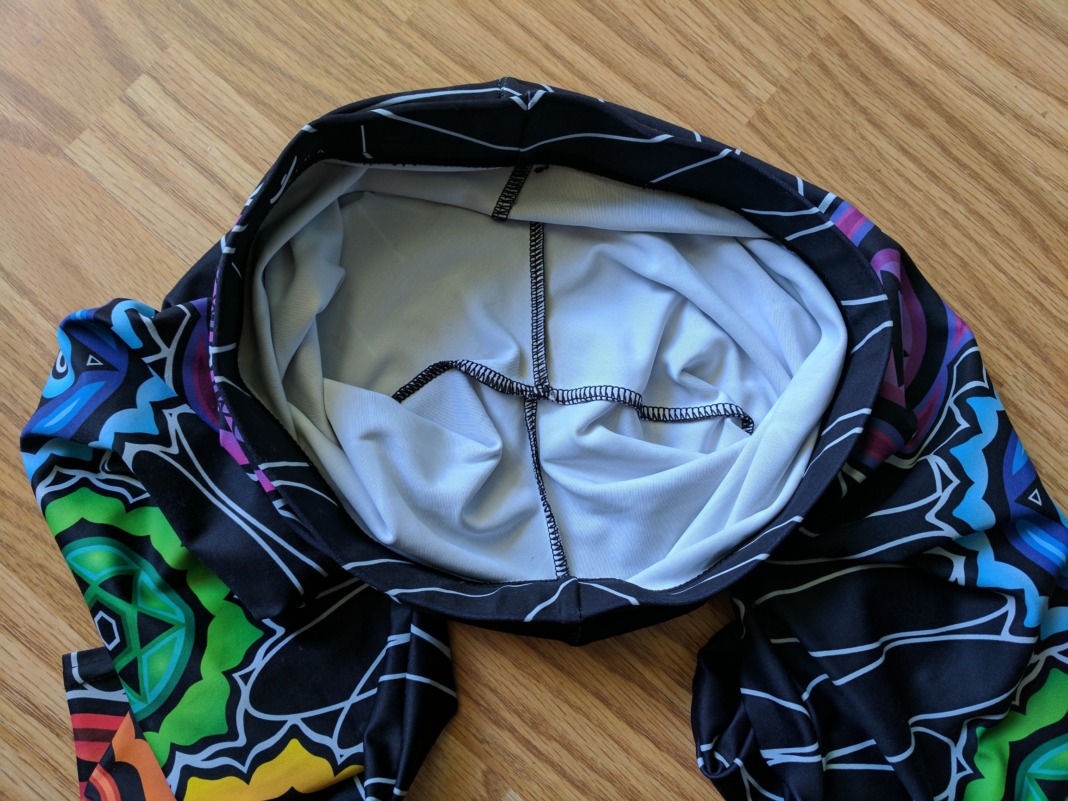 #10 Stitch Seam: Flat seams are used on the waistband of the pant. Overlocked stitches are used on the inseams and the front and back rise of the pant. I noticed that the overlocked seams in the rear of the pants stretched and turn to white during wear, most likely because I should have sized up. Flat fell seams could also have prevented this problem.
#11 UPF Protection: Not disclosed.
#12 Made in Los Angeles, California, USA.
#13 Care Instructions: Wash machine in cold water with gentle detergent and hang dry. DO NOT dry in the dryer.
Should I Buy Sankalpa?
Overall, I recommend Sankalpa. The designs are unique and the brand is very community conscious. I love that independent artists are supported when you buy a pair of leggings. Their business model allows artists to remain artists while making others feel beautiful in their clothing. They take care of the manufacturing and sales processes for artists that want to get their products to people who will love them. It reminds me of Threadless – a t-shirt printing company that pays artists when their submitted artwork comes alive on a t-shirt!
I recommending SIZING UP in Sankalpa and the fit should be perfect!
I hope that they can eventually create prints that do not stretch to white and use flat seams all throughout their pants for a chafe free fit. The flat fell seams will also prevent the thread from pulling and exposing the white fabric backside.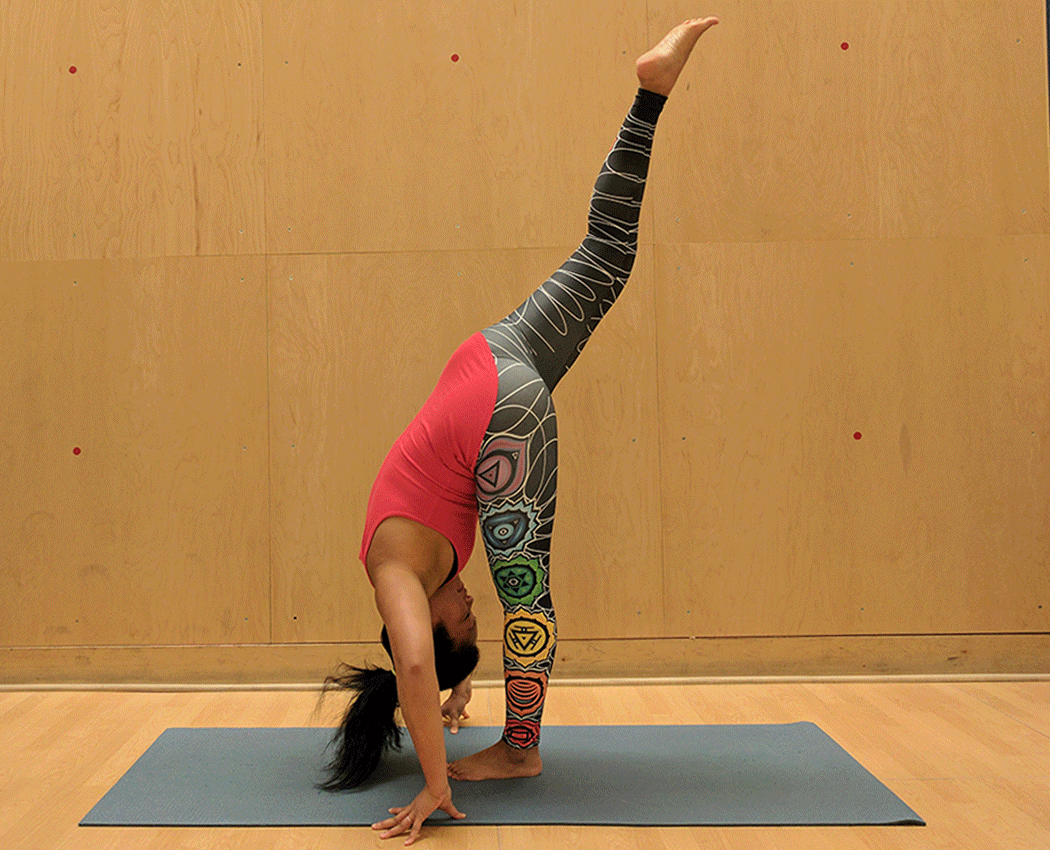 Where to Buy Sankalpa
I hope this Sankalpa review was helpful with providing insight on the fit, feel and performance of the brand. Here are the various ways you can buy Sankalpa leggings.
You can buy Sankalpa online at https://livesankalpa.com. Use Sankalpa coupon code SCHIMIGGY for 20% off your orders. They sell both full length leggings with regular and high waist, as well as microfiber yoga mats.
Sankalpa yoga mats can also be purchased on Amazon.
I received these leggings complimentary from Live Sankalpa. All thoughts and opinions are my own and as always, are 100% honest.
---
Thank you for visiting today! If you found this encouraging or informative, please come hang out with me on Instagram, Youtube, Pinterest, Facebook or Twitter.
Sign-up for our monthly newsletter for updates and more. We promise we won't spam you! Feel free to unsubscribe anytime.
For more fitness fashion discounts and offers, please visit our Fitness Instructor Discounts + Brands Directory or favorite brands coupon codes list.
This site uses affiliate links. Clicking on or purchasing via an affiliate link may result in commissions for us which help keep the content flowing and lights on at Schimiggy Reviews. You may read more about this in our privacy policy.