Reading Time:
6
minutes
Current Yoga Democracy Deals
Get 20% off your orders with code SCHIMIGGY. Shop now >>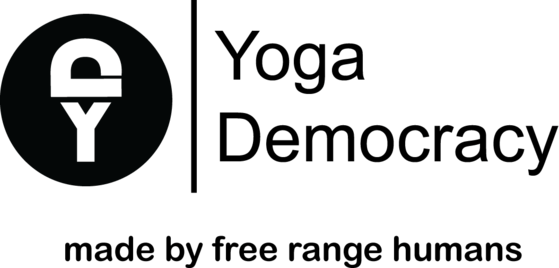 About Yoga Democracy
Yoga Democracy (YD) started in Arizona with a goal to create sustainable and eco-friendly leggings and more. Natalie Oldroyd, owner and creator of Yoga Democracy wanted to create a company whose philosophy is in alignment with the principles held true to yoga. Drawing from the principle of Ahimsa, meaning "to cause no harm," is the foundation for the mission statement of Yoga Democracy.
Their pants are made of 95% recycled fibers and everything is made in the USA. YD takes pride in their reduced carbon footprint through the use of waterless dying processes and recycled materials that go into the manufacturing of all their products. It appears that a lot of time and thought went into the designing and curating of their products and those efforts alone are very commendable! They also donate 10% of their earnings to non-profit causes which help to preserve our Mother Earth.
Yoga Democracy Yoga Mat Review: Mystic Elephant Yoga Mat
I was invited to review Yoga Democracy's new microfiber yoga mats. The yoga mats were introduced in early 2018. I was super stoked they thought of me! I requested the Mystic Elephant yoga mat because…elephants! I received the mat within 3 days. I was also told by Natalie that I could use the rubber side of the mat to practice on if I wished.
The mat arrived in a rectangular cardboard box. When I opened it, the mat was wrapped in plastic and came with a black cotton carrying strap. The yoga mat surface is made of microfiber cloth while the bottom is made with rubber. The all-in-one yoga mat seemed not only unique, but practical. I would never have to carry a towel PLUS yoga mat again. I put my yoga mat to the test in both a hatha (non-heated) environment and then in heated power vinyasa yoga class.
In the hatha class I could immediately feel my hands and feet slipping as I was transitioning from asana (pose) to asana. I was required to engage my muscles more in standing and inverted positions. I liked this aspect of practicing on a microfiber cloth surface very much. Many times we depend on the rubbery surface of a mat to create traction or grip to get into our poses. We should be relying on our bodies rather than the surfaces we practice on. I could see the benefits of practicing on a cloth mat as a way to increase muscle and core engagement.
In the heated vinyasa class, the mat started out pretty slippery but within a few minutes of perspiring (sweating) onto the mat, I could feel the mat becoming grippier where my hands and feet were positioned mostly while in downdog. My sweat did not seem to darken the mat. After practice I rolled my mat up and laid it out to dry when I got home. It dried within an hour. I was very impressed at how moisture wicking the surface was. I also consider myself a below-average sweat-er (it takes a lot for me to sweat). The benefits of practicing on a microfiber mat is that sweat gets absorbed during practice to create a grippy surface and also to prevent slippage.
I also decided to try a home practice using the rubber-side facing up. With the cloth surface underneath, the mat kept slipping on my wooden floor. I would avoid practicing with the rubber side up on a smooth surface. It may work well on a textured surface (such as grass or cement) which would provide traction to keep the mat in place.
Size
YD mats come in one size and are extra long, measuring 72″ x 24″ (183 cm x 61 cm). The mats are also 4mm thick for added comfort. When rolled up the mat is very compact and easy to tote around. I slip the cotton mat carrying strap around my chest.
The mat weighs only 4 pounds, making it one of the lightest mats I've ever used.
Materials
The prints are applied using an eco friendly sublimation technique. This process allows heat to transfer prints onto surfaces without using and wasting any water.
The mat has a microfiber side that's perfect for a sweaty practice. Grip on the cloth surface improves with sweat/moisture.
On the opposite side there is an anti-skid 100% natural tree rubber base that also serves as an alternate surface for less sweaty practices.
Mat is free from PVC, silicone and phthalates, which may be an irritant/allergen to some.
Mat does NOT SMELL.
Materials used to make the mat are 100% biodegradable.
Cost
YD yoga mats are only $79.99. You can use code SCHIMIGGY20 for 20% off the entire YD store.
Pros
All-in-one yoga mat allows you carry everything you need in one product.
The mats won't curl or bunch! Your YD mat will always lay flat when unrolled.
The mat is reversible allowing you to practice on both the rubber and cloth side.
The entire mat is made of biodegradable materials and is eco-friendly.
The cotton strap can be used as a yoga strap during practice. I wrapped the strap around my foot to get into king pigeon.
Beautiful printed designs! I am in love with YD's Mystic Elephant print.
Cons
After a wash, the mat will take an entire day to dry. It also might be dependent on the climate where you live. I live in Seattle and our atmosphere is damp and cold most of the year.
Dust and debris easily accumulates on the cloth surface of the yoga mat. The microfiber surface seems like a magnet for particles. I recommended airing your yoga mat outdoors after your mat has dried to shake the particles off.
Rubber surface is not easily practiced on as advertised. I recommend using the cloth side on an abrasive surface if you want traction.
The logo is very prominently printed on the mats and looks superimposed. It doesn't bother me during practice, however I can see it as a distraction for some. I recommend a more subtle logo placement on future mat prints. The design itself is unique enough to make the mat standout.
How to Wash Your Microfiber Yoga Mat
YD mentions that their mats are machine washable. I recommend throwing them into the wash with gentle detergent on gentle cycle. Afterwards, you can hang dry over a shower rod. Avoid sunlight facing the rubber side as the natural rubber will harden with heat. It took an entire day for my towel mat hybrid to fully dry.
Should I Buy a Yoga Democracy Yoga Mat?
Yoga Democracy's yoga mats are PERFECT for hot yoga practices. You can also use them in non-heated practices however the grip is not as discernible. I recommend getting the mat wet first prior to practicing in both heated and non-heated classes. Many heated studios offer spray bottles filled with water. Water from your water bottle would do the job as well. The microfiber surface provides a considerable amount of grip when dampened. The mat was also easy to clean and care for.
What makes this mat stand out the most are the unique designs. I am obsessed with YD's Mystic Elephant and Georgia prints. I am so glad to see the brand exploring other products aside from apparel.
Where to Buy Yoga Democracy Yoga Mats
You can buy YD yoga mats here. Use Yoga Democracy coupon code SCHIMIGGY20 for 20% off all your orders. YD offers the mats in three prints: Mystic Elephant, Frida, and Georgia (see below). Currently, the mats can also only be shipped within the US and Canada.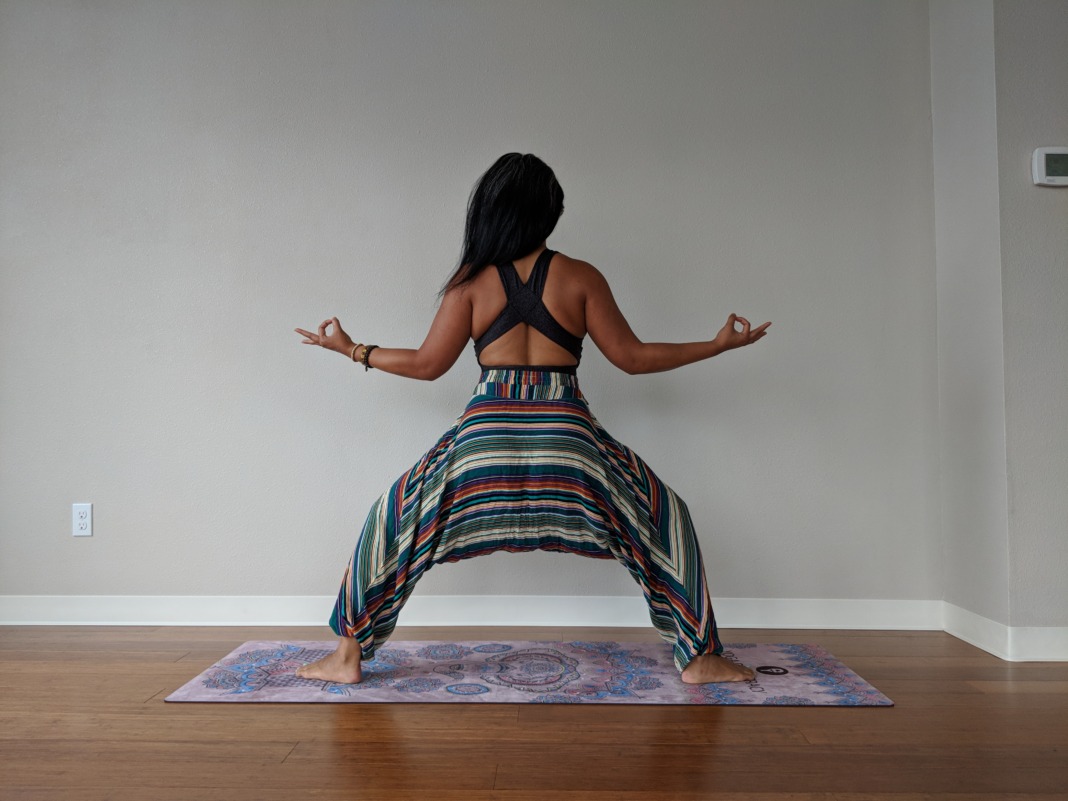 ---
Thank you for visiting today! If you found this encouraging or informative, please connect with us on Instagram, Youtube, Pinterest, Facebook or Twitter. We'd love to meet you!
Sign-up for our monthly newsletter for updates and more. We promise we won't spam you! Feel free to unsubscribe anytime.
For more fitness fashion discounts and offers, please visit our Fitness Instructor Discounts + Brands Directory or favorite brands coupon codes list.
If you're a brand and want to submit a product for us to review, please use this form to get in touch.
This site uses affiliate links. Clicking on or purchasing via an affiliate link may result in commissions for us which help keep the content flowing and lights on at Schimiggy Reviews. You may read more about this in our privacy policy.
**Disclaimer: Although I received this complimentary mat for review from Yoga Democracy, I still aim to provide a true and honest review of all products on my blog. Some links and codes may offer me a small referral fee at NO COST to you. It helps to maintain the website and the keep the reviews coming!**