Reading Time:
5
minutes

I've been eyeing Arthletic Wear for a while. They're a Serbian based company run and owned by twin yogis and artists Milena & Jelena Aleksic. Arthletic Wear was funded through crowd sourcing via Kickstarter. Their style can be described as feminine yet whimsical! My favorite leggings are the Kimono, Blue Panda and Ice cream and donuts leggings!
Use coupon code

YOGANEWS

for a
20% off DISCOUNT

on your ARTHLETIC WEAR! And don't forget to sign-up for their rewards program to continue earning free leggings!
I have been reviewing products for years. I like to inform my readers about yoga products, especially because I wear yoga clothes almost 90% of the time! Every yoga brand is different and has their own sizing and fit standards. Before you spend hundreds of dollars on a outfit that is coming to you from across the world, you want to make sure it's going to fit. So glad we have the internet to help us with decision making nowadays. 🙂
Arthletic Wear just released their new line for 2016 and I am obsessed!!! Below are some of my favorite pieces.
I received the opportunity to review their Kimono leggings and Ariel top.The package was shipped on May 13th and arrived on May 23rd (10 days). Not bad for international shipping! Below is a slideshow of my unraveling and try-ons! I am a size 8 in lululemon tops and size 6 in bottoms. I requested size LARGE in both Arthletic top and bottoms.
Pros
Beautiful prints: Each print is hand drawn and the colors are VIBRANT! The designs look amazing in person and in photos.
Great quality fabric: The fabric is opaque and soft to the touch. The fabric fits like a second skin. The design is also excellent. There are flat seams to prevent chafing and the pants fit at mid-waist (hides muffin top). The weight of the pants are VERY LIGHTWEIGHT.
Great fit: Once you determine your size, the fit is great! The bow in the back is great for aesthetics but will present a problem with supine or savasana poses. I am 5'5″ and the leggings were long enough to be worn over my heels with the hem directly sitting under the arch of my foot. The waistline is high enough for me to not worry about showing my bum in class. #crackattack
No pilling! The fabric is smooth and wears like a second skin. It's a thinner, softer version of Werkshop leggings. Werkshop is still great by the way! Check out my Werkshop reviews here.
Excellent customer rewards program: Earn points for completing social media tasks and get 1 point for every $1 spent.
Cons
Sizing is off (big time): I wear a size 6 in Lululemon and decided to size up to a Large in bottoms. I fluctuate between sizes and brands all the time. This is not a big deal to me but it could be if it's your first time buying size and going by their size chart. I wear a size 8 in Lululemon bras & tops and ordered a large as well. After trying on the top in a large, I've determined a medium would've been a much better fit. I am also a 36B for size reference if that helps. As for the leggings, I bought a size medium pair of Arthletic pants off eBay and they fit SO MUCH BETTER! So if you're a size 6 in bottoms and 8 in Lululemon tops, DEFINITELY go for MEDIUM in Arthletic. The large was too loose in some areas (especially waist and knees). The medium fit perfectly and looks a-ma-zang!
No Bra Cups: There are no openings for bra cups for the Ariel top. I do feel a bit exposed and "nipply." However, if you really want to create openings for bra cups, it's an easy DIY fix. UPDATE: They started adding holes to insert your bra cups for a discreet fit.
The bra is a bit flimsy. For $50 a pop, I'd want more functionality than just a pretty design. I felt that the bra construction lacked the same quality that was given to the pants.
No Gusset!
Get In On This Arthletic Wear PROMO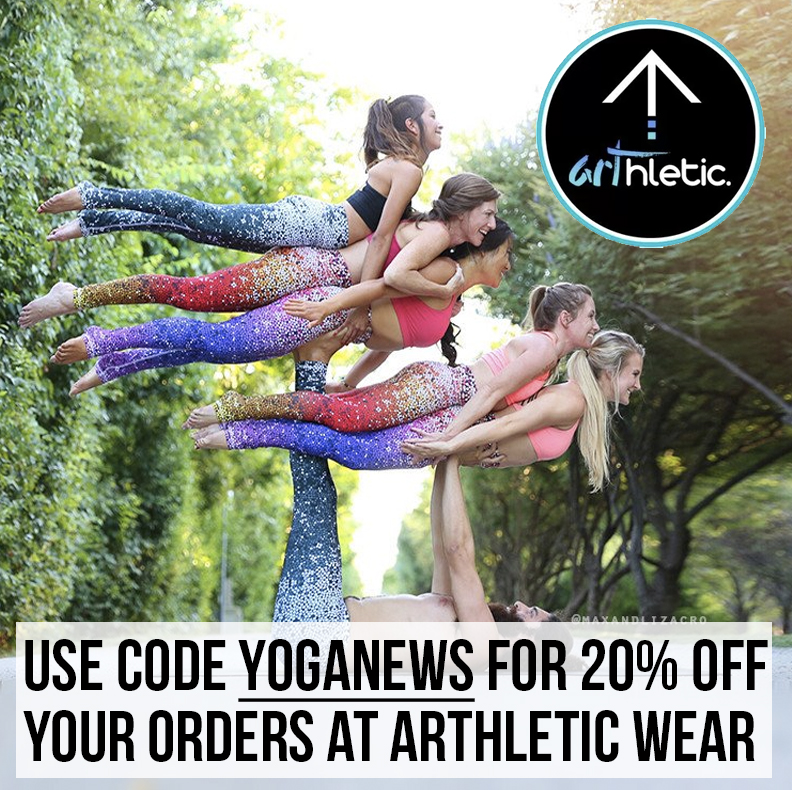 I am all about deals. I have TWO offers below to get your first leggings for only ~$50. You'll have to pay shipping costs (~$17) but that's only a fraction of the original cost of the leggings. The coupons cannot be combined, but you get to pick which one to use.
20% off using Arthletic Wear discount code YOGANEWS
Get 10% off at Arthletic Wear with code SCHIMIGGY
https://www.instagram.com/p/BIjl9rhgXU4/
Also check out my review of their Mermaid leggings. The mermaid leggings are my favorite!! If you have any questions, feel free to e-mail me anytime.
---
Thank you for visiting today! If you found this encouraging or informative, please connect with us on Instagram, Youtube, Pinterest, Facebook or Twitter. We'd love to meet you!
Sign-up for our monthly newsletter for updates and more. We promise we won't spam you! Feel free to unsubscribe anytime.
For more fitness fashion discounts and offers, please visit our Fitness Instructor Discounts + Brands Directory or favorite brands coupon codes list.
If you're a brand and want to submit a product for us to review, please use this form to get in touch.
This site uses affiliate links. Clicking on or purchasing via an affiliate link may result in commissions for us which help keep the content flowing and lights on at Schimiggy Reviews. You may read more about this in our privacy policy.
I received this outfit complimentary of Arthletic Wear. I was not compensated for this review and all opinions are purely my own and 100% honest.