Reading Time:
6
minutes
Updated: 1/24/2022 | B Yoga B Mat Review
About B Yoga
Andrea Morris, B Yoga founder, developed her vision for B Yoga at The Stewart Group, her family's fifth-generation manufacturing and technology company. She was working with an innovative type of rubber, originally created for carpet pads, when she realized that the material's distinctive qualities could make it the perfect yoga mat.
The mats have an exceptionally grippy texture, is eco-friendly and very durable. After endless prototyping and fine-tuning, the B MAT™ was born.
B Yoga launched in February 2014 and brings simple, yet enduring yoga staples to the yoga community. The B Yoga line includes mats, blocks and clothing.
B Mat Options
B Yoga offers four B MAT™options:
The Traveller, Everyday and Strong mats also come in long lengths (85″) for tall yogis.
I bought the B MAT™ Everyday and Strong to put to the test. After practicing with both mats, I determined that I liked the Everyday Mat better for regularly scheduled vinyasa and hatha practices. The Strong mat was perfect for my yin and restorative practice.
The Strong mat is very thick and gives my joints the much needed cushion when getting deep into poses and needing to hold them for a long time.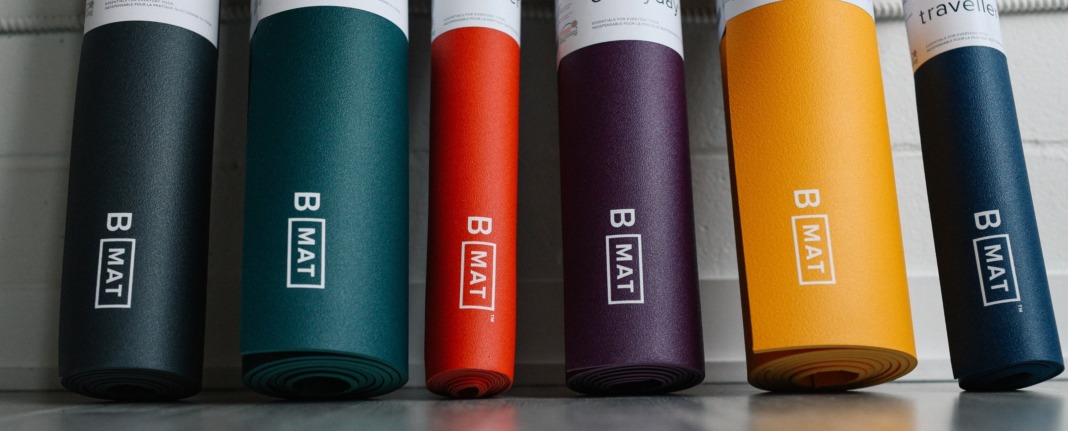 B MAT™ Specs/Details
Below are some B MAT™ specs to help you determine which mat you need.
B MAT™ Option
Dimensions
(regular/tall)
Thickness
Weight
Cost
Traveler
71" x 26" / 85" x 26"
2.0 mm
1-1.2 kg
$48-52
Everyday
71" x 26" / 85" x 26"
4.0 mm
1.6-1.8 kg
$78-85
Strong
71" x 26" / 85" x 26"
6.0 mm
2.2-2.4 kg
$88-95
B Yoga B MAT™ Review
I stumbled upon B Yoga on Instagram in 2014. I decided to click through to read more about the company. I found out that the mat was originally used under wooden flooring and repurposed into an awesome yoga mat. When I received my 200 Hour RYT certification, I gifted myself a set of B MAT™ yoga mats. I now exclusively use the B MAT™ Everyday in my studio practice.
Thickness: Ranges from 2mm-6mm, so you have options. The Everyday mat is great for a powerful vinyasa class. It is firm enough for balancing poses and grippy for inversions and arm balances. Choose the Strong mat if you want more cushioning in your practice, making it great for injuries, Restorative and Yin practices. The travel mat is lightweight and great for toting around on business trips and yoga conferences and festivals. Each mat offers High-Density Cushion for comfort, joint protection, and versatility on any surface (carpet, cement, hardwood floors).
Stickiness & texture: The mats have plenty of grip. No need to wet the mat or towel prior to practice. The texture is slightly grainy and definitely has a rubbery texture. It is not as porous and hard to the touch as a Jade yoga mat (read my review of the Jade mat here). The grip/anti-slip quality is the best I've experienced yet. The thicker your B Yoga mat, the more cushion you have for your practice. With all the options offered, there's a perfect B Yoga mat for everybody.
Price: Ranges from $48-95
Material: B Yoga B MAT™ is made from 100% natural rubber. What I love most about the mat is when you lay it out, it lies FLAT immediately. I didn't have to worry about the mat ends curling up and into my face during practice. It is open cell (porous) so that sweat and water absorb into the mat, but the pores are not large enough for objects to lodge into the mat. My Jade Yoga mat's cells were so large that things would get lodged into the pores.
Eco-friendliness – The chemical smell from the natural rubber dissipates almost immediately after a couple of uses and a wash. Their eco policy is great! The rubber they use is all natural and are made with OEKO-TEX Certified Production for non-toxic emissions allows me to feel safe in my practice!
Size and style: Comes in various sizes and a variety of colors. I opted for a beautiful ocean green color. All the mats are solid colored and look minimalistic.
Warranty: There is a one year warranty on all B MATs. Warranty is only in effect if mat has been cared for in accordance with our Care and Maintenance Instructions. Warranty will not cover damage caused by sun exposure, improper care, and maintenance, or any alterations made to the mat.
How to Care for Your B MAT™
Be sure to avoid leaving your mat under prolonged sun exposure (the heat hardens the natural rubber). Because the mat is natural rubber, lint also tends to stick to the mat. I usually hang dry it on a rod and allow the lint to fall off as the mat dries.
B Yoga mats are also very easy to clean. I use Mrs. Meyers All Purpose Cleaner diluted with water. Plug the bathtub, give the mat a good rub and let it the solution soak into the mat for 10 minutes. Afterwards, (usually while showering) I rinse off the solution and then dry my mat over the shower rod. It takes about one full day to dry.
I recommend washing bi-monthly if you practice 3-5 times a week.
Note: Your mat is still wet if you see lighter patches of color on your mat (see image below).
Best Qualities About the B MAT™ Everyday Mat
#1 Amazing Anti-Slip
If you can get over the initial overpowering smell, the B MAT™ can provide a lot of grip during practice. I've found that the Everyday mat is great for traveling as well. It is much lighter than Manduka mats.
#2 Eco-Friendly
I love that the mat is eco-friendly. It's made of durable natural rubber. You can leave this mat in the forest and it'll slowly disintegrate over time. I can practice on my mat with a sound mind.
#3 Ease of Care
Cleaning the B MAT™ is very easy! It doesn't take more than a 10-minute wash in the bathtub and hang dry for a day. Remember to avoid sunlight at all costs and your mat will last for years. I've had mine for about 4 years now!
Verdict: I could never use another mat!
Where to Buy B Yoga B Mats
B Yoga has generously offered Schimiggy's readers $15 off your first order with this link. Enjoy free shipping on orders of $85+.
If you're a teacher or studio owner, B Yoga also offers a discount through their Ambassador program. Sign up here for awesome discounts in exchange for promoting B Yoga to your students and community!
Thanks for tuning in! I hope this review helps you decide whether to buy a B Yoga B MAT™ or not. If you have the B MAT™, please let me know in the comments what you think. I would love to hear your feedback!
Check out these other yoga mat reviews to determine which one will be best for your practice:
If you found our B Yoga Mat Review helpful, please consider pinning it on Pinterest! Thanks for your support!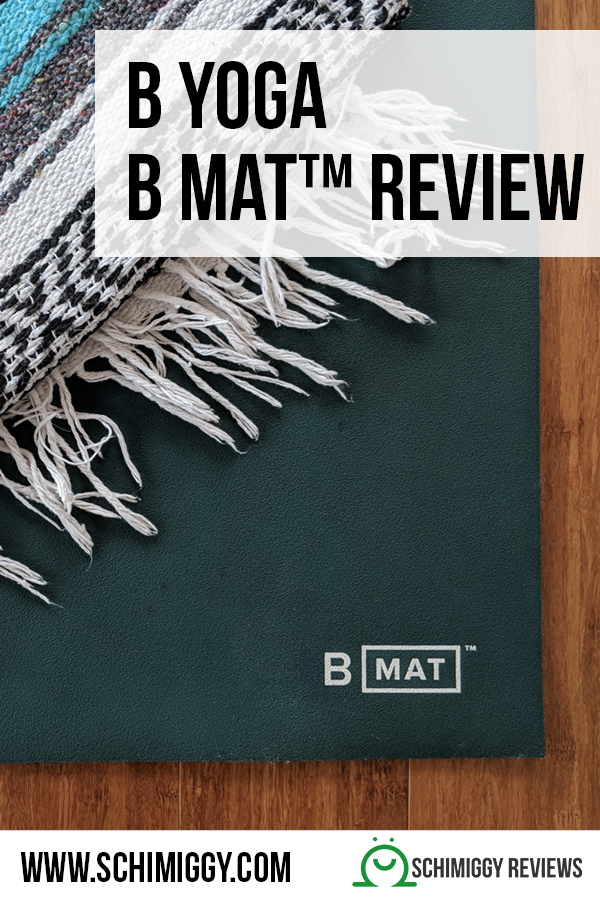 ---
Thank you for visiting today! If you found this encouraging or informative, please connect with us on Instagram, Youtube, Pinterest, Facebook or Twitter. We'd love to meet you!
Sign-up for our monthly newsletter for updates and more. We promise we won't spam you! Feel free to unsubscribe anytime.
For more fitness fashion discounts and offers, please visit our Fitness Instructor Discounts + Brands Directory or favorite brands coupon codes list.
If you're a brand and want to submit a product for us to review, please use this form to get in touch.
This site uses affiliate links. Clicking on or purchasing via an affiliate link may result in commissions for us which help keep the content flowing and lights on at Schimiggy Reviews. You may read more about this in our privacy policy.