Reading Time:
6
minutes
High heels seem to instantly boost your self-esteem. It gives you instant longer legs, makes any outfit "look more attractive," and flatters your figure by giving you model status height. In my younger days, I would wear heels anywhere and everywhere. Eventually, I developed plantar fasciitis and knee and hip pain from the lack of arch support. Plantar fasciitis is when the fascia that runs from your heel to your toes at the arch of your foot becomes inflamed. I went from being able to wear heels all day to only wearing them for 1-2 hours at a time. When that happened, I knew it was time to let this vanity go.
I fully transitioned to wearing only flats in my late 20's. I decided my knee, hip, and foot health were more important than "looking sexy." Luckily I have plantar fasciitis in only my right foot. The foot is comprised of 26 bones, 38 muscles, and 108 ligaments. Our metacarpals (top bones of the feet) break all the time without us even realizing it. About 75 percent of Americans will experience foot problems in their lifetime, making it more difficult to get around and to exercise. Given that our feet support our entire body weight, it is important to take good care of them from the start.
Benefits of Wearing Flats Over Heels
#1 Flats are more versatile and practical. Flats can be worn to work, while traveling, while doing chores, while heading to yoga class, grocery shopping, etc. The possibilities are endless. I can do much more in flats than in my heels. In my heels, I usually have to dress up and that takes up more of my time and energy.
#2 Flats provide more stability and are weather inclement. I can wear flats almost everywhere while doing anything. I live up a hill in Seattle and descending in heels (unless they are super supportive) is out of the question. With flats, I can walk in the rain and up and down to the bus stop easily.
#3 Flats usually pack better during travel and weigh less than heels. I love that my flats can fold up nicely in a rectangular shape and pack into my backpack or suitcase. I use a double compartment shoe bag to keep the dirt on my shoes away from my clothes. It packs pretty flat in my luggage.
#4 Less knee and low back pain issues. Wearing flats won't eliminate joint and back paint, but it can alleviate it. Flats allow the foot to be in more of a natural position, whereas heels are forcing an unnatural position. When picking a flat, it's important to consider one that supports the arch and heel.
How to Choose a Supportive and Safe Shoe
The right shoes can prevent foot and back pain. The support you receive from the ground up has an impact on your spine and posture. Here are some things to look for when choosing a supportive and safe shoe.
#1 Look for a shoe with plenty of arch support. If you have high arches like me, your arch may drop and the tendons and ligaments in your foot may start to wear and tear. The tendons may also become inflamed, causing you to develop plantar fasciitis. If your shoe does not have arch support, consider buying an insole that does.
#2 Pick comfortable shoes from the start. Don't believe that you can "break them in." That never happens. I've had many shoes where I thought that was the case and ended up donating them after three wears. Try on shoes indoors and walk around in them. Test them out before you keep them. many retailers, such as Nordstrom and Amazon, will allow free shipping AND returns so that you can find your perfect fit.
#3 Consider the purpose of your shoes. Wear sneakers or supportive footwear for any type of exercise or when you know you'll be spending long periods of time on your feet.
#4 Think about the material of your shoe. What type of material do you want your shoes to be made of? The material may also be a good indicator of the cost and performance of a shoe.
Ask yourself these questions to determine what material you want your shoes to be:
Do you want leather? Or an eco-friendly material?
Is the material harmful to our environment?
Can this material be recycled?
Is this material sustainable and long lasting?
#5 Avoid pointed toe shoes. Pointy-toed shoes can scrunch the toes together and aggravate or cause bunions and ingrown toenails. A bunion, or hallux valgus, is a painful bony bump that develops on the inside of the foot at the big toe joint. Bunions develop slowly from the pressure of the big toe joint leaning into the second toe. Pointy-toed shoes are not healthy in flats and even less healthy in heels. An ingrown toenail is uncomfortable and can lead to an infection.
#6 Avoid flip-flops and thin flat soles. Flip flops have zero foot support. Lack of proper foot support is a leading cause of plantar fasciitis and Achilles tendinitis. Plantar fasciitis is caused by the excessive pull of the plantar fascia, an arch-supporting ligament, causing pain and inflammation at the heel. Achilles tendinitis is caused by poor mechanics of the foot, leading to overstretching of the tendon. This can sometimes lead to bone spurs. If you're looking to buy a flip flop style shoe, consider a sandal with arch support and ankle straps to stabilize the shoe. I highly recommend Chaco or Birkenstock sandals.
#5 Avoid shoes that are TOO flexible. If you can bend and twist a pair of shoes with ease, that is an indicator that they are not going to be supportive enough. Shoes with good arch support will be difficult to manipulate. Avoid buying shoes that can bend in half like Tieks and Rothy's (use this link to get $20 off your first order).
#6 If you want height, consider wearing wedges or moderately high heels (1-1.5 inches). In lieu of high-heeled stilettos, consider wearing a wedge shoe with no more than a ½- to a 1.5-inch wedge. This slight angle can provide better support and balance. Pick heels that do not cause your toes to contract or Achilles tendon to tighten. Clarks makes awesome wedge heels that also have arch support.
#7 Opt to Wear Sneakers. While athletic shoes are generally supportive, most sneakers have a lifespan of six months or 500 miles due to the softer shoe material. If they're worn out, you could be setting yourself up for injury.
#8 Avoid three- to four-inch heels. High heels can change the alignment of your body, which puts extra stress on your legs, hips, and back. Wearing high heels regularly causes the Achilles tendon to tighten and shorten, which can actually make it painful to wear flat shoes. High heels also create more pressure on the ball of your foot, which causes the foot's natural padding to thin and provide less cushion where you need it most. All of this extra pressure can also lead to calluses.
#9 Alternate your shoes daily. Avoid wearing the same shoes more than four to five days in a row. Rotating your footwear reduces overuse of a muscle group or set of joints. I alternate between sneakers and supportive flats and in the Fall and Winter, I wear boots with the support of my insoles.
#10 Wear orthopedics or an insole with your shoes. If your favorite shoes lack support, consider adding an insole. I wear Rothy's which are eco-friendly but have absolutely no support. To make them supportive, I use Dr. Scholl's insoles to add arch support. For my sneakers, I use custom insoles from Road Runner.
Remember these footwear tips next time you go shoe shopping. You can begin wearing appropriate footwear at any age. I wish I was aware of it when I was in grade school. You only have one pair of feet, so take care of it so that it will last you into your older age. If you are struggling with persistent foot pain, it may be time to see a podiatrist.
If you liked this post, please consider pinning it to Pinterest!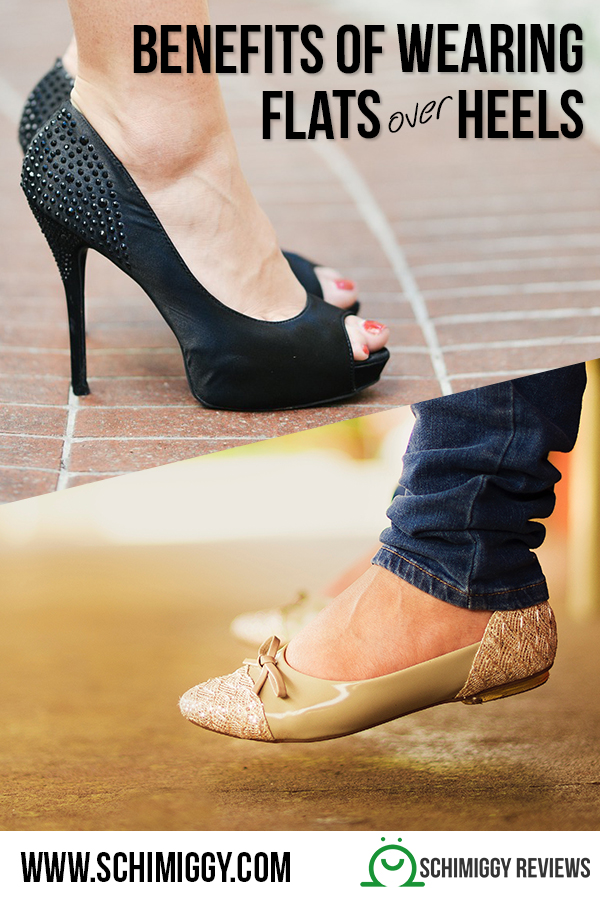 Sources:
https://orthoinfo.aaos.org/en/diseases–conditions/bunions/
http://www.piedmont.org/
http://www.mayoclinic.org/diseases-conditions/plantar-fasciitis/basics/definition/con-20025664
---
Thank you for visiting today! If you found this encouraging or informative, please connect with us on Instagram, Youtube, Pinterest, Facebook or Twitter. We'd love to meet you!
Sign-up for our monthly newsletter for updates and more. We promise we won't spam you! Feel free to unsubscribe anytime.
For more fitness fashion discounts and offers, please visit our Fitness Instructor Discounts + Brands Directory or favorite brands coupon codes list.
If you're a brand and want to submit a product for us to review, please use this form to get in touch.
This site uses affiliate links. Clicking on or purchasing via an affiliate link may result in commissions for us which help keep the content flowing and lights on at Schimiggy Reviews. You may read more about this in our privacy policy.