Reading Time:
7
minutes
Updated: 4/5/2020 | Best Camo Printed Leggings
Camouflage patterns have long been used to allow animals, hunters and soldiers to blend into their environment. The camo pattern has become symbolic of patriotism and survival, and is now used in fashion trends to replicate that symbolism.
When I initially conceptualized this article, I wanted to find the best brands for a particular print. I delved into the camouflage world and found out not only how popular the print is in fashion, but also how it represents strength, stealth, and patriotism.
When worn on the body, camouflage allows these qualities to show themselves in our practice and the way we live our lives.
Many brands offer their own take on this timeless print and I've done the shopping for you. Check out the following brands offering the timeless camo print below.
Best Camo Print Leggings and Tights
#1 Glyder High Power Legging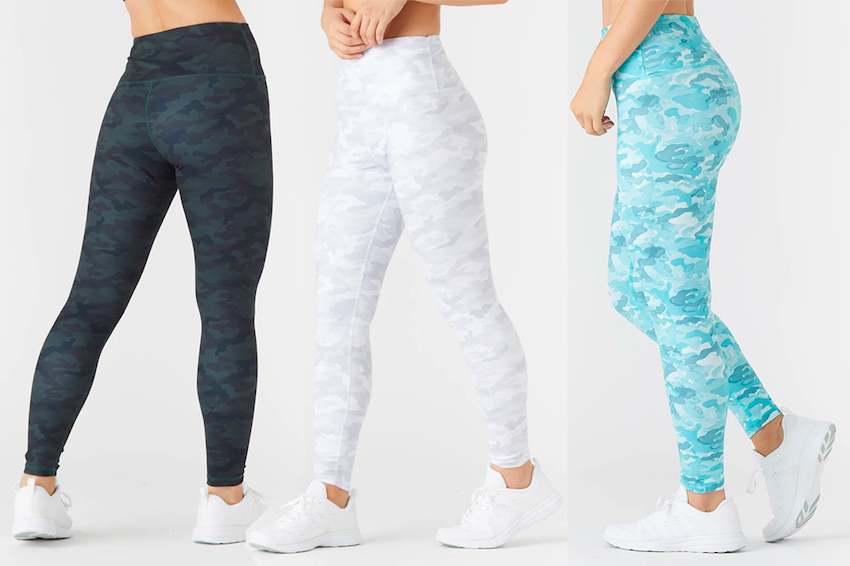 We LOVE Glyder! Their range of camo leggings are eco-friendly, affordable and come in different lengths and colors.
Get 25% off your first Glyder order when you use our link.>>
Read our Glyder activewear reviews here.>>
#2 Terez Camo Leggings
Terez offers their signature heathered camo pattern in different colorways. The fabric has a bit of a shine to it. I recommend sizing up in Terez. They also sell a matching camo top.
Terez can be purchased on Amazon and Carbon38 (use code SHMGY25 for 15% off your orders of $100+).
#3 Ultracor
Ultracor makes some silky, luxe leggings. They're priced at $185 and up but are definitely worth the investment. Their fabric will hold up to all your endeavors.
Buy Ultracor on Carbon38 and use Carbon38 coupon code SHMGY25 for 15% off! Check out our review of Ultracor leggings.
#4 Wear It To Heart (WITH)
Wear It To Heart (WITH) makes this fun ombre rainbow camo legging. I love the fit and it's one of our favorite pants to wear during practice and at any time, really.
Buy WITH activewear on Carbon38 and use code SHMGY25 for 15% off your orders. Right now they have an awesome quartz pink camo colorway.
Check out our WITH leggings review here.>>
#5 Strut This
Strut-This offers camo printed long leggings, Hudson (ruched crop and leggings) and the more sporty Flynn legging (with pockets one side).
They also come in various colors and are even star printed for an added uniqueness.
Buy Strut This activewear on REVOLVE and Amazon.
#6 Goldsheep Troop Long Leggings
If you want camo accents, Goldsheep is the way to go! Their Troop Long Leggings allow you to don badges and camo on your legs.
Find Goldsheep on SimplyWORKOUT. Use SimplyWORKOUT discount code SCHIMIGGY for 20% off regular priced merchandise.
#7 Onzie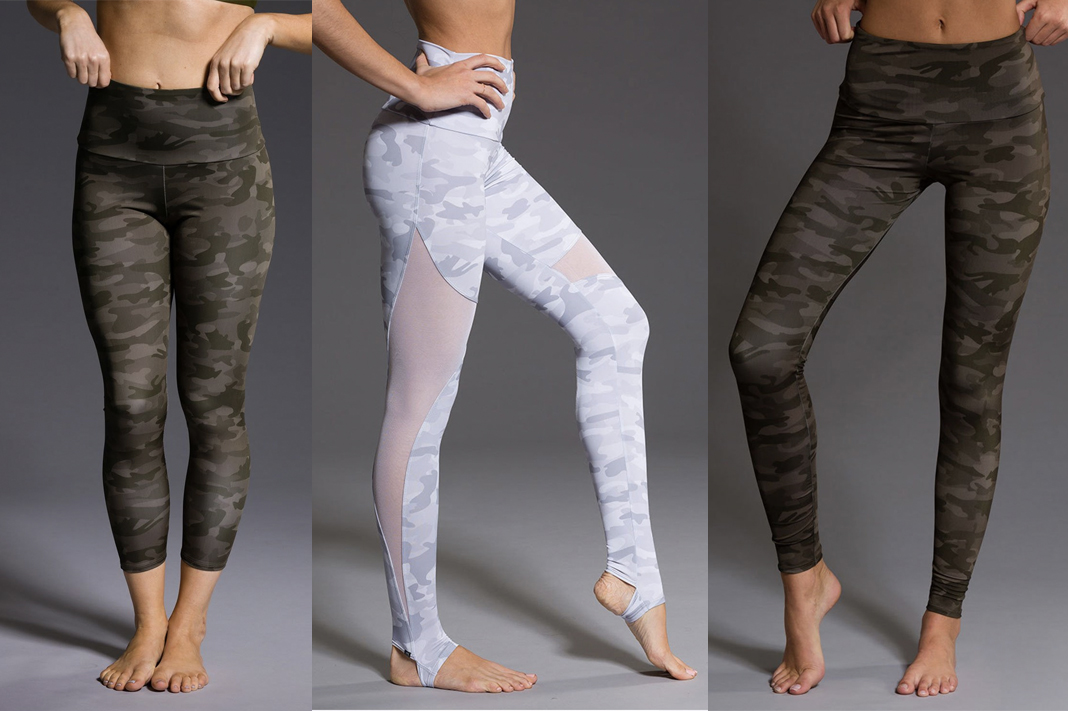 Onzie has several camo printed leggings, including a beautiful white, stirrup and mesh paneled legging. Onzie fabric is typically very silky and sleek.
When shopping for Onzie, make sure to buy your true size as the fabrics stretch a bit.
Buy Onzie on Amazon, Carbon38, SimplyWORKOUT and REVOLVE.
Read our review of Onzie leggings here.>>
#8 Koral
Koral gets creative with multiple camo prints and silhouettes. They're known for pioneering the shiny leggings trend that many other brands soon followed. I recommend sizing up in Koral.
Buy Koral on Amazon and REVOLVE.
You can read our Koral review here.>>
#9 Varley
Varley is a luxe activewear brand for women. Their fabrics are very comfortable and stretchy. We recommend going with your true size in Varley.
Read our Varley review here.>>
Buy Varley on Amazon, Carbon38 (use coupon code SHMGY25 for 15% off your orders) and REVOLVE.
#10 Carbon38
Carbon38 offers camo printed leggings in three silhouettes: Honor Crop, Wildcat and Hero. I love Carbon38 leggings and highly recommend them. The ruched detail at the waistband adds a feminine touch to a patriotic pattern.
Head over to Carbon38 to purchase and use code SHMGY25 for 15% off your first order of $100+!
#11 Noli Yoga
Noli Yoga's Hero Legging is a run rendition of the camo pattern. The stripes through the pattern create an awesome illusion.
Buy Noli Yoga on their webstore and on Amazon.
#12 The UPSIDE
The UPSIDE is an Australian brand that offers luxe and silky smooth fabrics in fun and unique patterns. The fabric feels like Ultracor but without the high price point.
Buy the UPSIDE on Carbon38 and use coupon code SHMGY25 for 15% off your first order of $100+.
Read our UPSIDE review here.>>
#13 Vimmia
VIMMIA is an activewear brand based out of Los Angeles, Calif. They create beautiful prints and silhouettes.
Check out our VIMMIA review here. When buying, we recommend sizing up in VIMMIA.
Buy Vimmia on Amazon, Carbon38 and REVOLVE.
#14 ALO Yoga
ALO Yoga's Airbrushed leggings are their basic long legging. The silhouette comes in various colors, prints and fabrics. They offer a camo print in three different colors.
Use our link to save 10% off at ALO Yoga.
Buy Alo Yoga at Amazon, Carbon38 and Nordstrom.
#15 Chill By Will
Chill by Will is a brand created by two moms who wanted to create sexy and functional workout gear. They offer two camo printed styles: Love Capri and Life Leggings. I love the mesh and ruched detailing.
Buy Chill by Will on Carbon38 and REVOLVE.
#16 Altar Ego Apparel
Altar Ego Apparel is a Boston, Mass. athletic wear company. They took one of the biggest print trends of all times and highlighted it in a whole new way.
Their Camo Fade leggings offer a distressed camouflage that transitions to a beautiful scattered dot print on the lower leg. Strong yet soft at the same time.
When shopping Altar Ego, make sure to size up. Read our Altar Ego review here.>>
Use Altar Ego coupon code YOGANEWS for 15% off all your orders.
#17 Tuff Athletics
Tuff Athletics can be found at Costco stores across the USA and on Amazon. Their price point is affordable and ranges from $12-$18 a pair. The quality is pretty decent.
Read our Tuff Athletics camo leggings review here.>>
A Costco Membership will cost you $60 annually, so it may be better to buy on Amazon if you don't have a membership.
#18 SPANX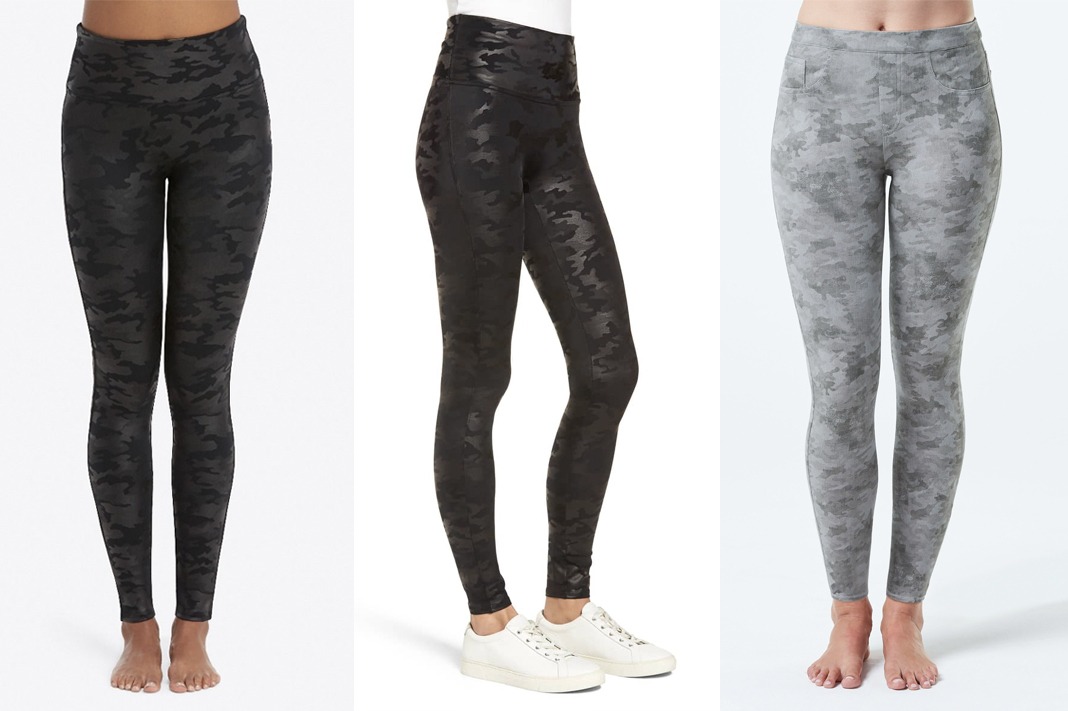 SPANX has expanded their shapewear line to include leggings. They've perfect both the perfect camo and faux leather leggings.
Get 15% off your first order at SPANX when you use this link.
You can also buy SPANX at Amazon, Anthropologie, and Nordstrom. Read our SPANX review for more details on fit, sizing and more.
Read our SPANX faux leather leggings review here.>>
#19 lululemon
lululemon has two camo print variations. One is their regular camo print and the other one is their sequoia print. I love the Align II 28″ in Incognito Camo Multi Grey (ICMI) colorway.
I love the high waist and buttery soft fabric. The leggings cost $98 and have been sold out for months!
They also offered the print in their Fast and Free Tight and Wunder Under silhouettes. There are currently some Incognito Camo Green (ICMG) available for purchase online.
#20 K-Deer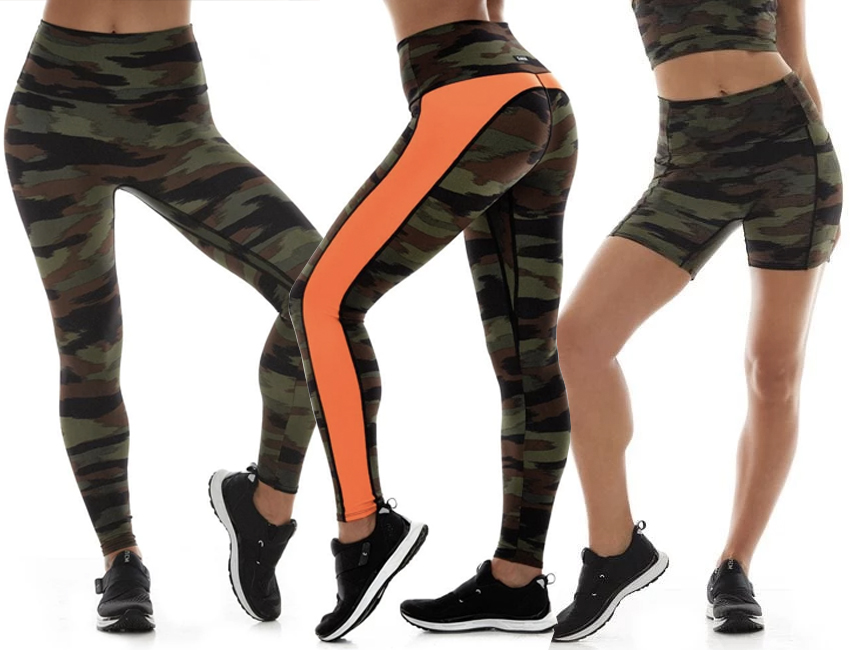 K-Deer released their Peace Out camo printed leggings. The leggings come in long, 7/8 (sneaker), crop and 5″ short lengths. The Peace Out camp print also comes in matching sports bras and tops.
Read our K-Deer reviews here.
#21 PACT
PACT makes sustainable and eco-friendly clothing for men and women. Their fabric is fair trade and is great for the environment.
We recommend PACT for low-impact sports, wearing casually or while lounging around the house. PACT is also super affordable at only $29 per legging!
Get 20% off at PACT when you use this link.
---
Thank you for visiting today! If you found this encouraging or informative, please connect with us on Instagram, Youtube, Pinterest, Facebook or Twitter. We'd love to meet you!
Sign-up for our monthly newsletter for updates and more. We promise we won't spam you! Feel free to unsubscribe anytime.
For more fitness fashion discounts and offers, please visit our Fitness Instructor Discounts + Brands Directory or favorite brands coupon codes list.
If you're a brand and want to submit a product for us to review, please use this form to get in touch.
This site uses affiliate links. Clicking on or purchasing via an affiliate link may result in commissions for us which help keep the content flowing and lights on at Schimiggy Reviews. You may read more about this in our privacy policy.