Reading Time:
5
minutes
While traveling in India, I developed a sinus infection which required us to leave the country temporarily. This made our trip more expensive and we had to change our plans to deal with our illness.
It was then that I realized the importance of face masks when traveling to polluted countries. I currently live in Seattle where our AQI is anywhere between 20-36 year round. Visiting other countries like Vietnam or India made me appreciate our air quality back home.
Still, we wanted to explore the world without falling ill to pollution. We then found out about filtered face masks and decided to explore the best options.
After testing multiple brands, we knew we wanted masks that were reusable and that actually worked! Many masks we found abroad were cheap but still allowed harmful particles to enter our respiratory systems. They were also single-use and contributed to the demise of our environment!
Below are filtered mask brands that we think you should invest in when traveling to polluted destinations.
Best Filtered Face Masks
We narrowed the best reusable filtered face masks down to two companies. Check out our review of each company below to see which one is best for your respiratory needs.
#1 Vogmask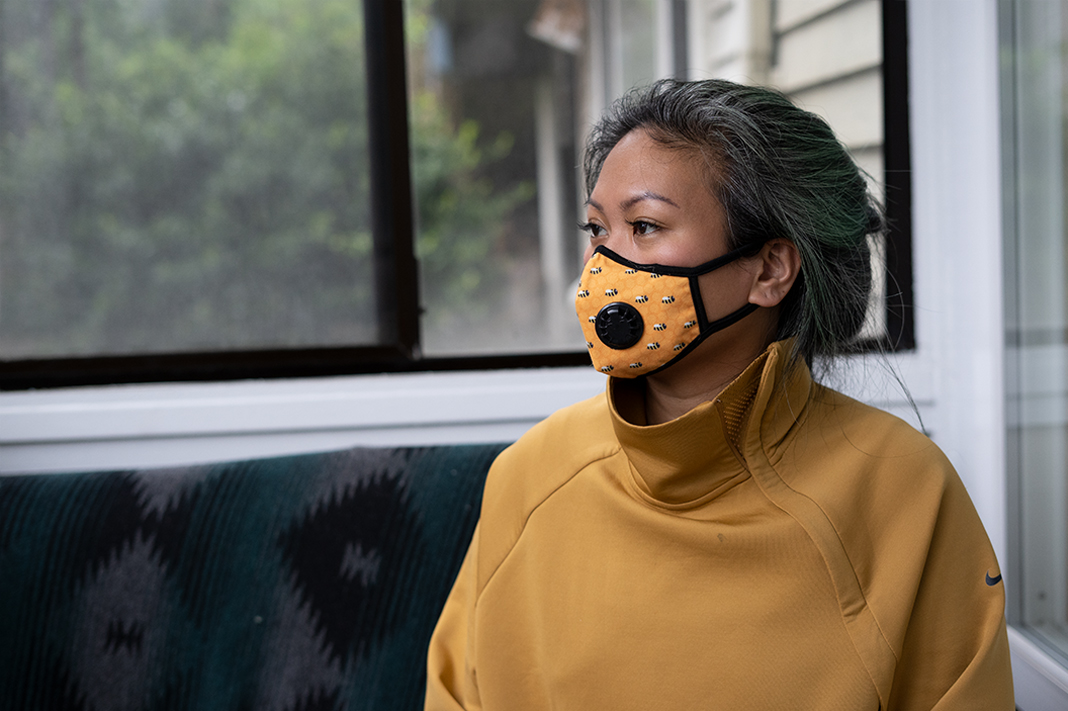 Vogmask is a San Francisco based respiratory mask company. They opened their doors in 2011 and have been on a mission to bring fashionable and reusable face masks to the world. To date, they sell their masks in 41 countries.
Vogmask is used for protection from airborne particles such as PM 0.3, PM 2.5, PM 10, dust, allergens, post combustion particles, germs, shavings, biologics, odors, scents, mold, mold spores, particles in wildfire smoke, volcanic particulate pollution, and other airborne contaminants.
We love the fun designs that resonate with our mood for the day. The masks come in various sizes ranging from S to XL. You can also choose from two materials: microfiber or organic fabric. Price range for Vogmasks run between $33 to $44 per mask.
We recommend consulting with their size chart to find your perfect size.
Vogmasks are also intended to be worn 3 months to a year. They are not reusable long-term. They are hand washable. Make sure the mask is fully dry prior to wearing again.
If you're one to misplace personable belongings, we highly recommend buying a mask strap ($4) to keep your mask around your neck when not worn on the face.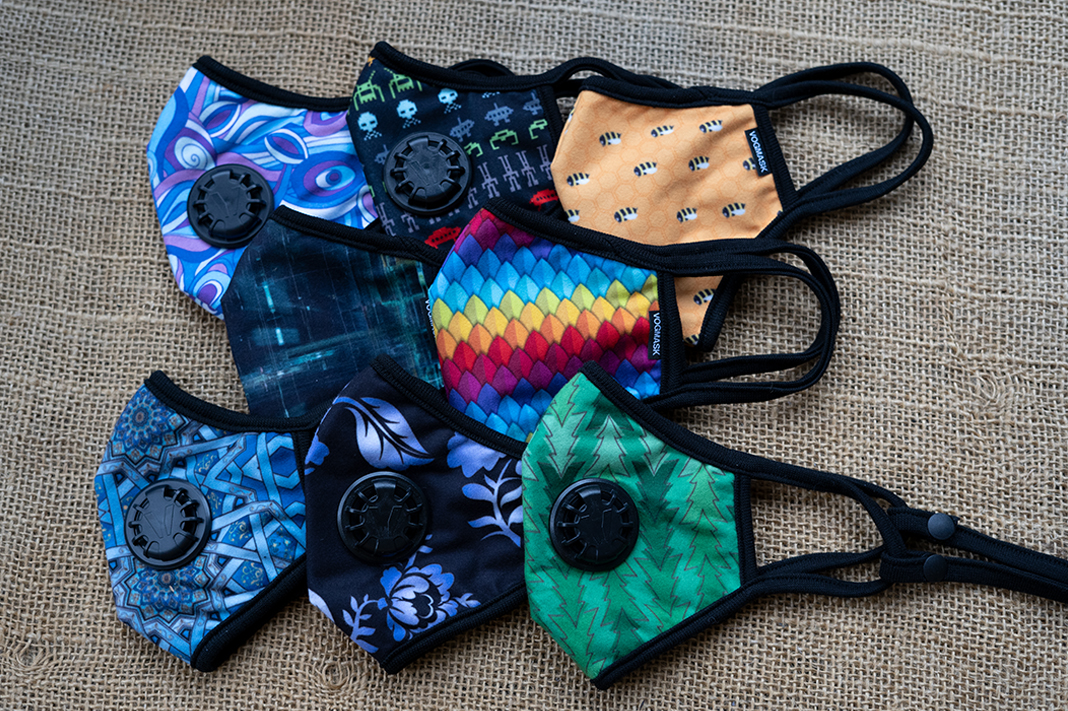 #2 Airinum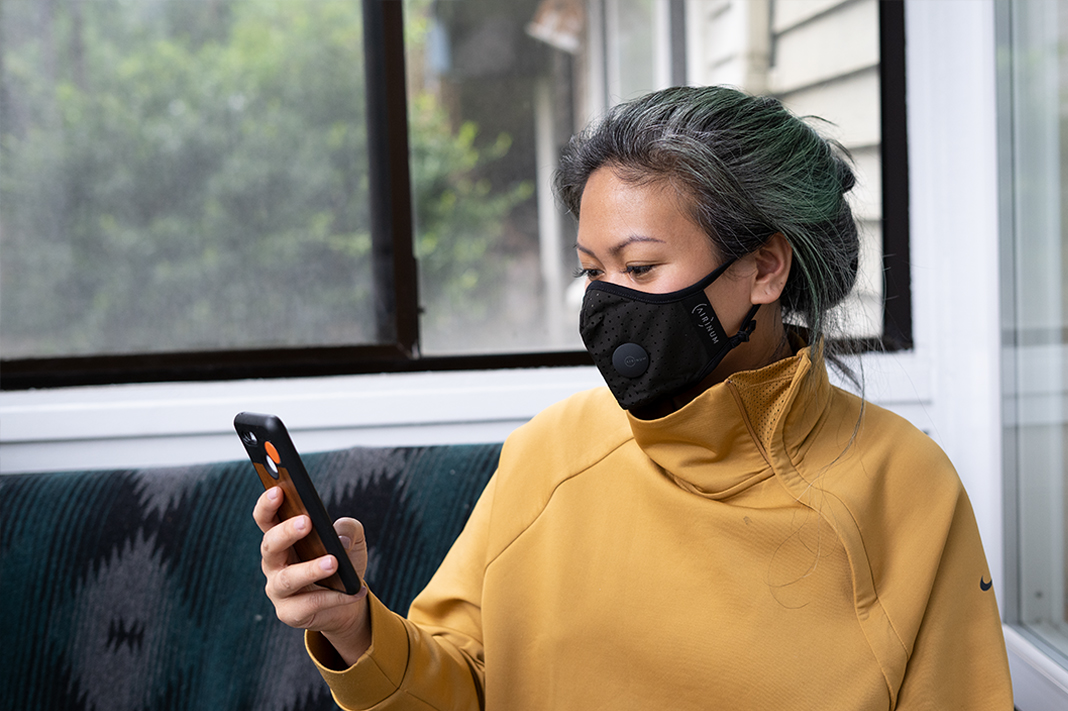 Airinum is a Scandanavian company that creates urban face masks with a reusable design. Their multi-layer face mask filters are made to filter out more than 95% of particles down to 0.3μm in size.
We reviewed the NEMEN face mask ($99 USD) which comes with a polygiene treated mask skin, two mask filters, two onyx air valves, a carrying pouch with lanyard, and a black head strap. Mask sizes range from S to L.
The mask is VERY lightweight. The ear straps are adjustable, allowing us to find the perfect fit. The face mask itself is washable and reusable by hand.
The products come deconstructed but take just minutes to assemble and use. We love the carrying pounch to store our face mask when not in use.
Airinum face masks range from $59 to $99 depending on the style and material.
Although the face mask is more expensive, the functionality and design of the mask is very impressive. This is a mask that we would be able to wear with any outfit.
Airinum is also a member of 1% for the Planet, and give back to preserve the environment worldwide.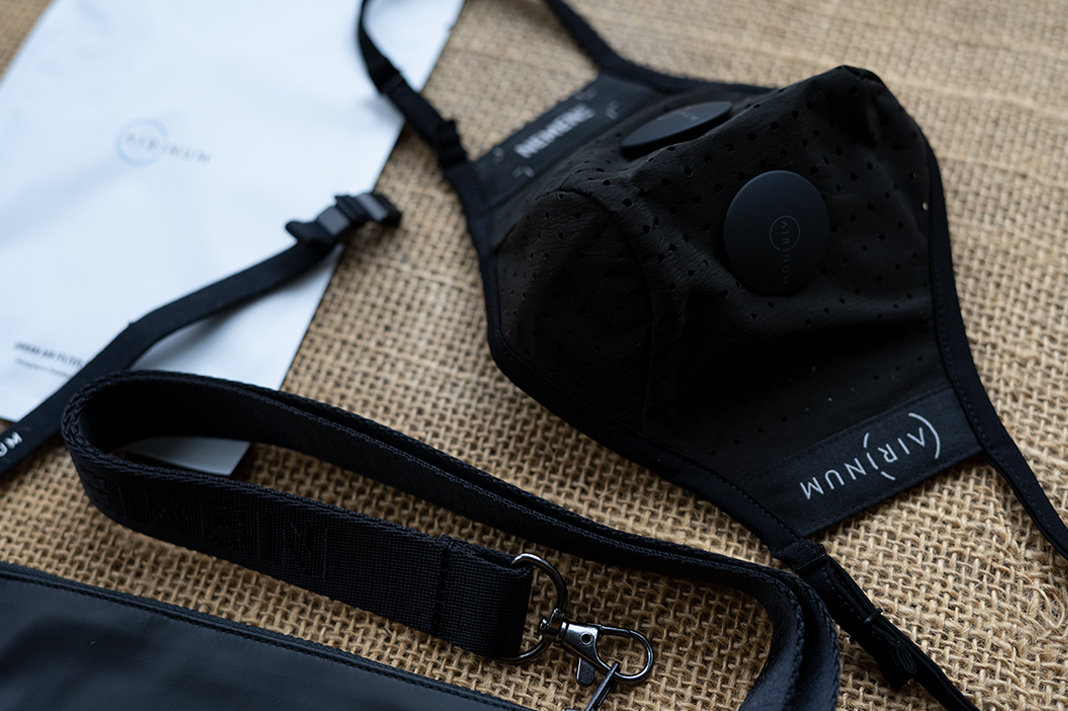 #3 Carbon38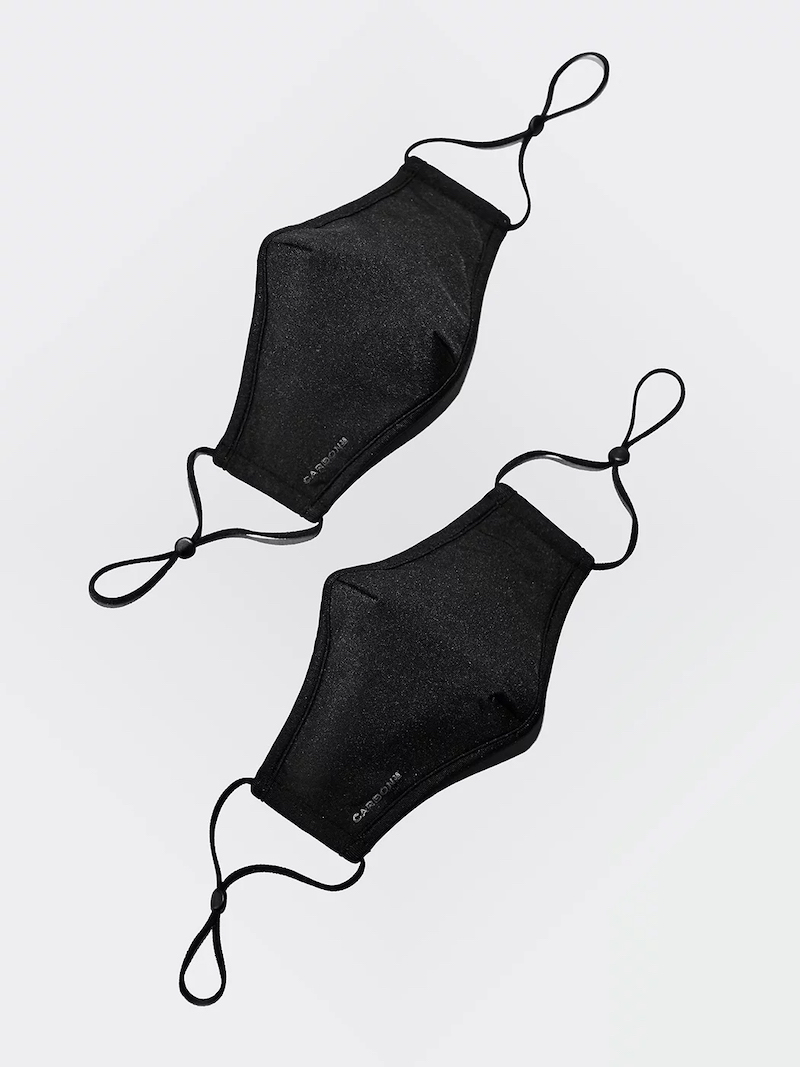 Carbon38 made their own multi-layered filtered and washable filtered face mask!
The masks come in two sizes, are multi-layered for your protection, each kit comes with two masks and all proceeds will benefit Frontline Foods, a non-profit organization that helps keep frontline employees nourished while we battle the pandemic.
Most importantly, the masks are backed by science and are microbial and antibacterial.
Use code SHMGY25 to save 25% off your first order of $100+ at Carbon38.
#4 Cute Booty Lounge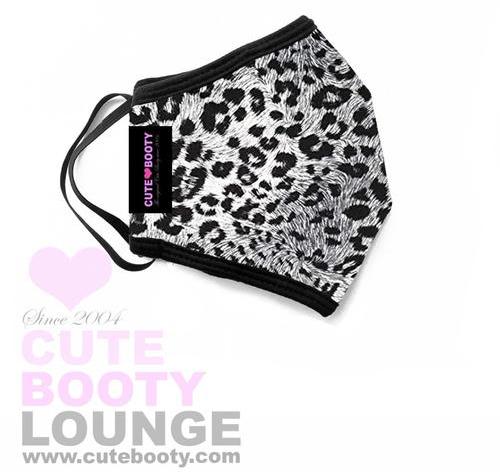 Don't let the cheeky name fool you. This activewear and loungewear brand makes medical-grade reusable masks that come with changeable carbon filters.
Their masks are made of neoprene and other high-quality materials and trims. The prints are also very fun. Choose from leopard print, floral, plain black or white and many more designs.
You can also use them for costumes, travel and festivals like Burning Man!
Use this Cute Booty Lounge link to save 10% off your orders.
#5 Copper Compression
Copper Compression makes washable and reusable masks with a copper lining that disinfects bacteria and filters out at least 95% of airborne particles.
The masks had adjustable straps and can be washed in the washing machine.
#6 02 Nano Masks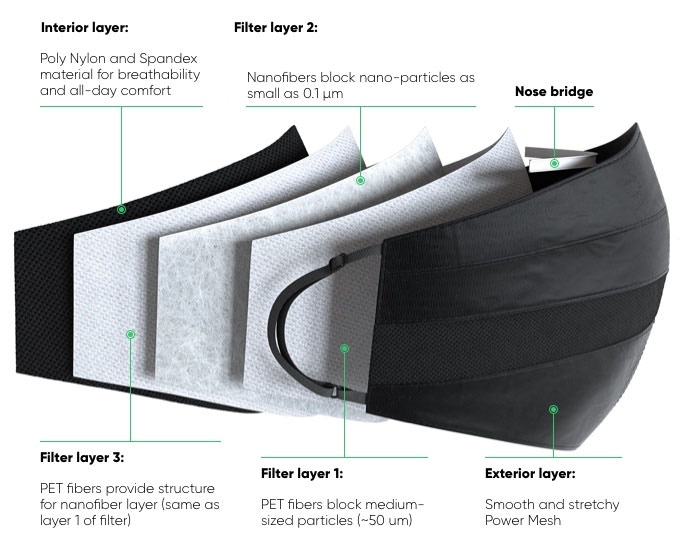 O2 Nano Masks are sustainable and science-based. They're also designed and made locally in San Francisco, Calif. USA.
Choose from different sizes. Each mask comes with removable filters that are also recyclable. The mask itself is washable and quick drying, making it easy to cycle between your masks. You can use the adjustable ear straps to find the perfect fit.
What we really like about the O2 Nano masks are that they're super lightweight and very breathable compared to other brands.
Right now you can back this project on Kickstarter and secure your masks. They're already one-third of the way to their goal after launching in mid-May 2020. For every mask purchased, one is donated to a local essential service worker in need.
#7 Bucket Hat with Removable Shield
And for those who want a little more protection, you have to check out Marigold Shadows' visor bucket hat.
Marigold Shadows makes post-apocalyptic, goth, avant garde clothing that we love. You have to check them out.
Did you enjoy our post on the best filtered face masks? Please share it on Pinterest. Thank you!
---
Thank you for visiting today! If you found this encouraging or informative, please come hang out with me on Instagram, Youtube, Pinterest, Facebook or Twitter.
For more fitness fashion discounts and offers, please visit our Fitness Instructor Discounts + Brands Directory and Events and Sales Calendar pages.
This site uses affiliate links. Clicking on or purchasing via an affiliate link may result in commissions for us which help keep the content flowing and lights on at Schimiggy Reviews. You may read more about this in our privacy policy.

Alex Tran AKA Schimiggy is a fitness fashion, travel, justice, and food-obsessed raconteuse. She currently resides in Seattle and teaches yoga while writing her heart out. Schimiggy Reviews is a lifestyle blog where Alex shares her passions and interests with the world!