Reading Time:
5
minutes
Updated: 5/3/2021 | Best Restaurants in Mexico City
As I sit here thinking about the best places I've ever eaten, Mexico City is definitely on the list of places I would revisit to just eat.
Everything from fine dining establishments to street food is amazingly good. While food is available at every turn, here are our TOP picks for restaurants and street food options worth visiting.
Best Restaurants in Mexico City
Here is our roundup of the best places to dine in Mexico City (AKA CDMX)!
#1 Taqueria Orinoco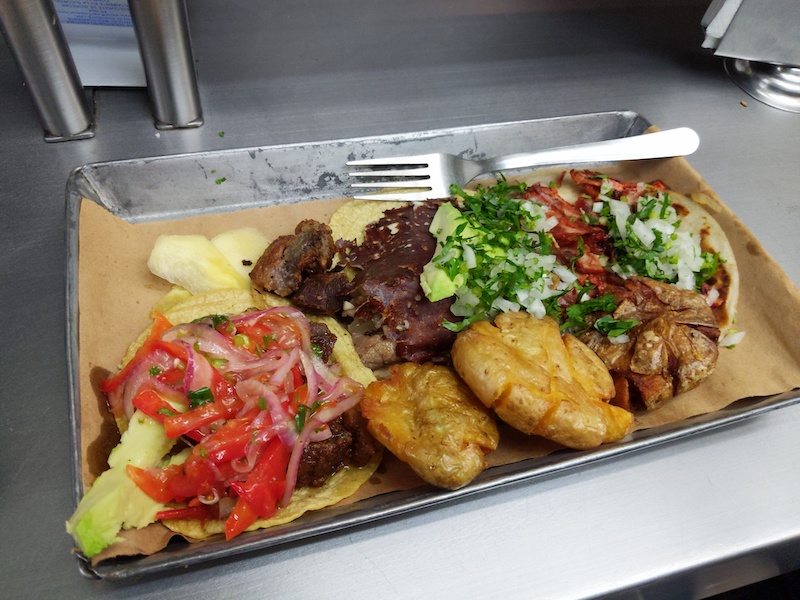 This place is what you would get if In-n-Out served tacos. We absolutely LOVED their salsas, tacos, and the fried potatoes. I would even go as far as to claim that these are the BEST potatoes I've ever eaten in my life.
Service is quicker than anticipated. Do not be discouraged by the long line. You are welcome to do take-out or dine indoors. We dined at the counter and watched the plates of food get quickly churned throughout the evening.
Address: Av. Insurgentes Sur 253, Roma Nte., Cuauhtémoc, 06700 Ciudad de México, CDMX, Mexico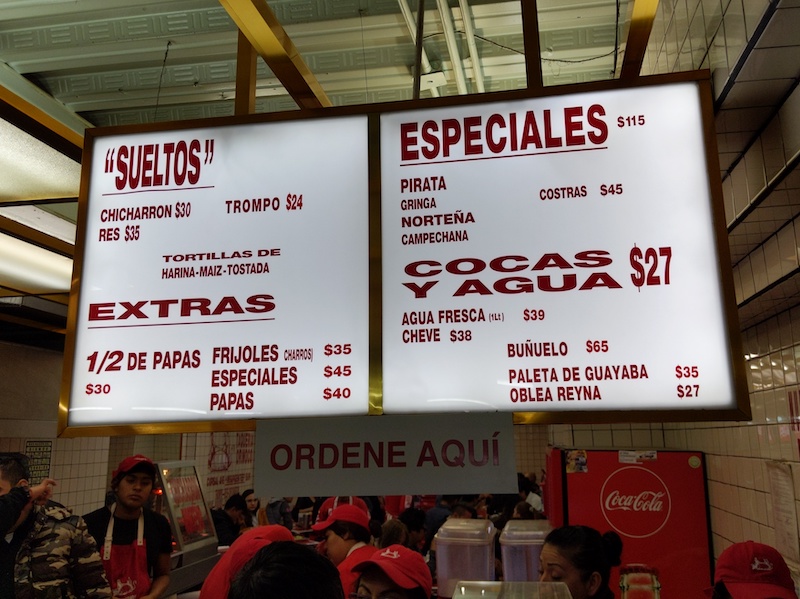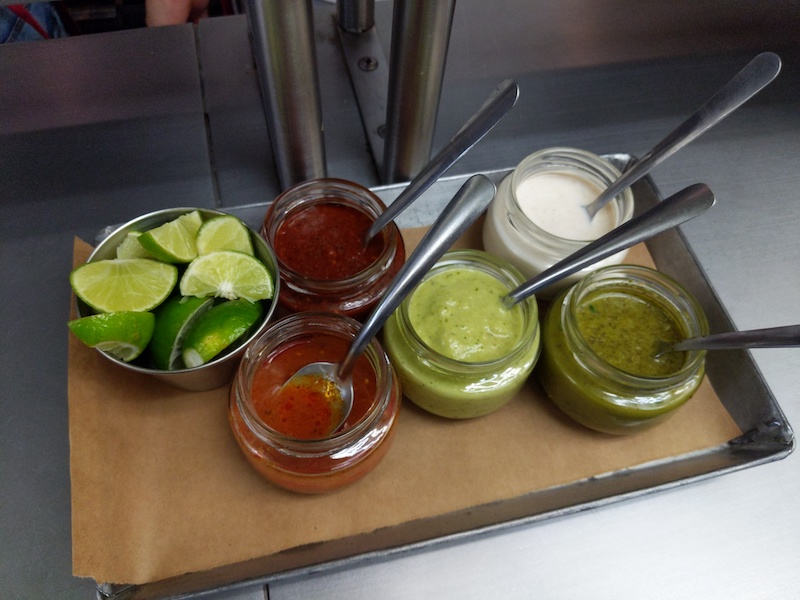 #2 Quintonil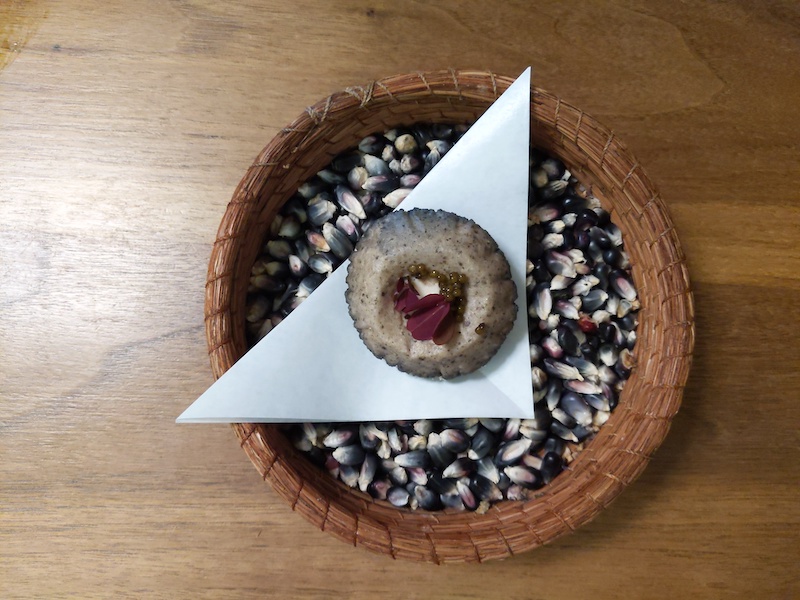 Quintonil is super spendy but very worth it. They offer a tasting menu with local ingredients using ancient practices. The presentation is beautiful and each dish is a surprise of flavor and texture. I was excited to see Mexican food elevated to this level.
The dining room is small, so reservations are highly encouraged. If you have to choose only one fine dining experience on your trip, make it Quintonil. Quintonil is in my top 3 fine dining restaurant experiences ever.
For two persons, we ended up spending around $900 USD with beverage pairings and cocktails.
Address: Av. Isaac Newton 55, Polanco, Polanco IV Secc, Miguel Hidalgo, 11560 Ciudad de México, CDMX, Mexico
#3 Pujol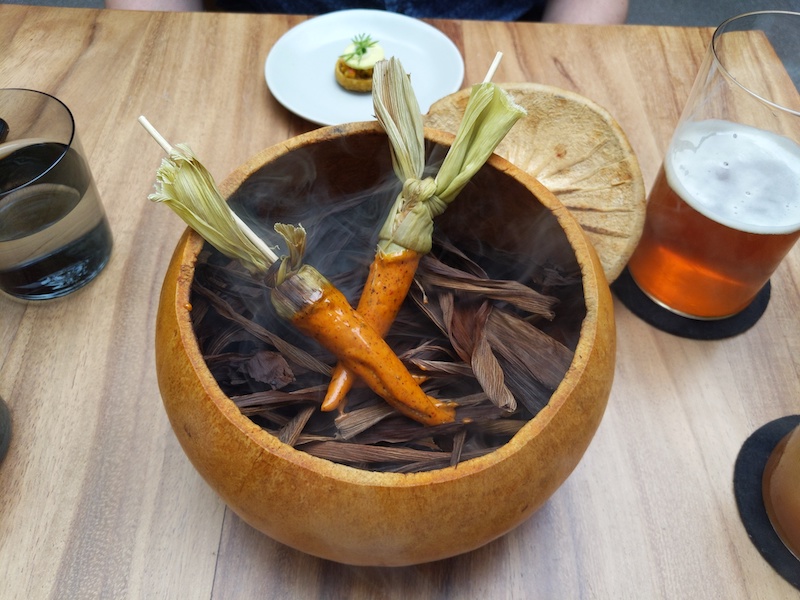 Pujol is another fine dining experience in CDMX. Their tasting menu is creative and very classic. Our favorite was their Mole Madre, where fresh-made mole is added to the base of the old mole to create a complex blend of flavors, marrying old with new. The mole was served with their blue tortillas which were soft and tasty. Need more tortillas? Simply ask the kitchen for more.
We loved their bombardment of desserts in their patio area. It was a great and romantic way to end our meal.
Address: Tennyson 133, Polanco, Polanco IV Secc, Miguel Hidalgo, 11570 Ciudad de México, CDMX, Mexico
#4 The Pozole Nook in Barrio Tepito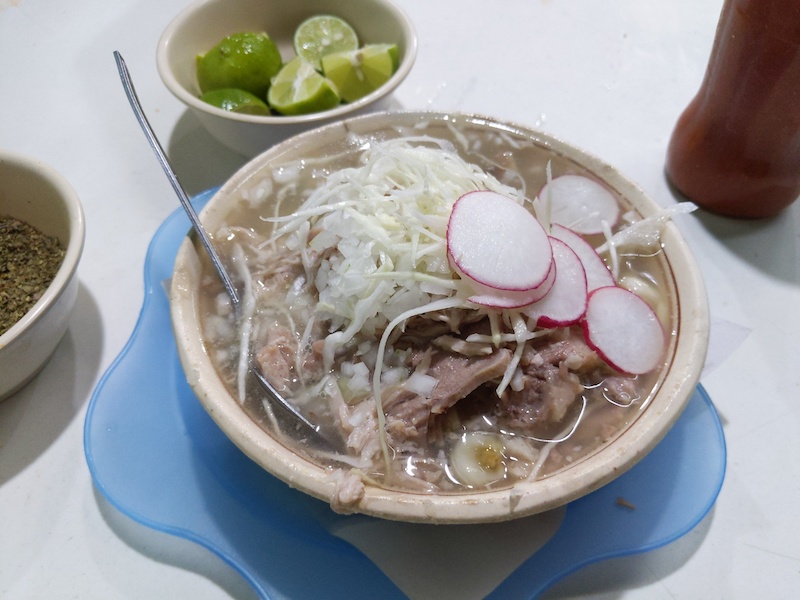 One of THE BEST pozole soups I've ever had was Pozole surtidos (assorted) in barrio Tepito. It comes with bits of offal and crunchy tendon.
There is a huge take-out line, but the option to dine-in option is super quick and you get served faster. Ask for all the toppings and salsas to accompany your Pozole.
Address: Caridad Tepito 9, Tepito, Morelos, Cuauhtémoc, 06200 Ciudad de México, CDMX, Mexico
#5 Migas Chucha

We did not get to try the famous Migas la Guera, but we did find this alternative spot in barrio Tepito called Migas Chucha.
Migas is the Spanish word for crumbs. Migas is made from a combination of day old stale bread and a hearty pork broth. They give you a straw to suck out the marrow. And I gotta say, it was definitely the tasty marrow for me.
Address: La Rcda. 22, Tepito, Morelos, Cuauhtémoc, 06200 Ciudad de México, CDMX, Mexico
#6 El Huequito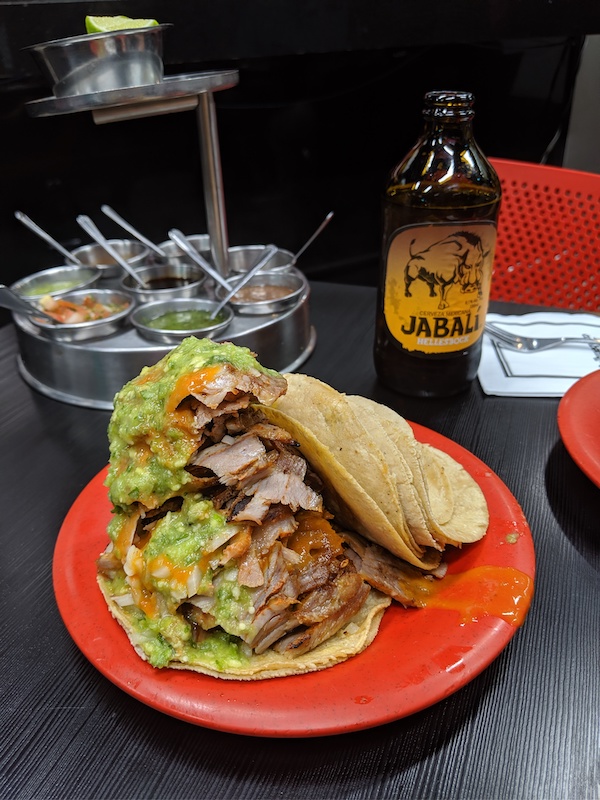 El Huequito serves delicious mountains of El Pastor meat (pork) with tortillas on the side. Use the tortillas to scoop up the El Pastor. One order is enough to serve 2-3 persons, so come hungry!
There are multiple locations throughout the city, but we went to the one below because it's the best!
Address: Calle de Bolívar 58, Centro Histórico de la Cdad. de México, Centro, Cuauhtémoc, 06000 Ciudad de México, CDMX, Mexico
#7 The Carnitas Man in Barrio Tepito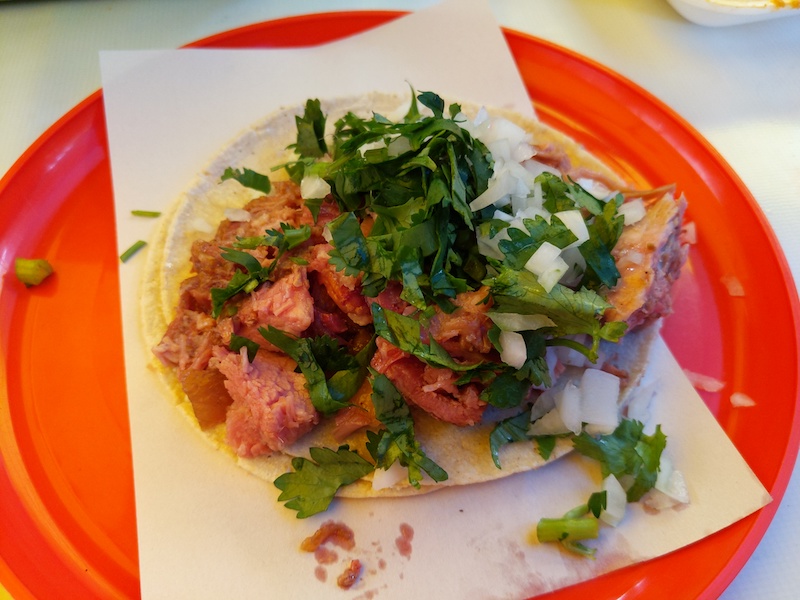 Again, another gem located in barrio Tepito. We walked past this man basting pieces of carnitas (pork) over a huge pot. The tacos are FREAKING amazing. This was better than many other places we tried in CDMX.
We loved seeing the shiny pig snouts over the pot.
Address: Rivero 91-117, Tepito, Morelos, Cuauhtémoc, 06200 Ciudad de México, CDMX, Mexico

#8 Suadero Tacos from Taqueria El Enmascarado Jr

Suadero tacos are a must when visiting Mexico City! Suadero meat comes from the thin cut of meat from a cow or pork between the belly and the leg. It's super tender, silky, flavorful, and is cooked all day in a simmering stew.
You can find suadero tacos at many places (which we have even yet to discover). We tried so many carts and finally nailed it down to this one near the Arena.
Their sauces are HOT HOT HOT and the tacos are so tasty. They do run out early every night, so don't wait too long to get your tacos. I would eat here every day if we lived in CDMX.
And if you're wondering if it's worth it to see a Lucha Libre match, yes 110%! Buy the front row tickets, a michelada, and enjoy the show!
Address: Taqueria El Enmascarado – Roma Nte., Cuauhtémoc, 06700 Mexico City, Mexico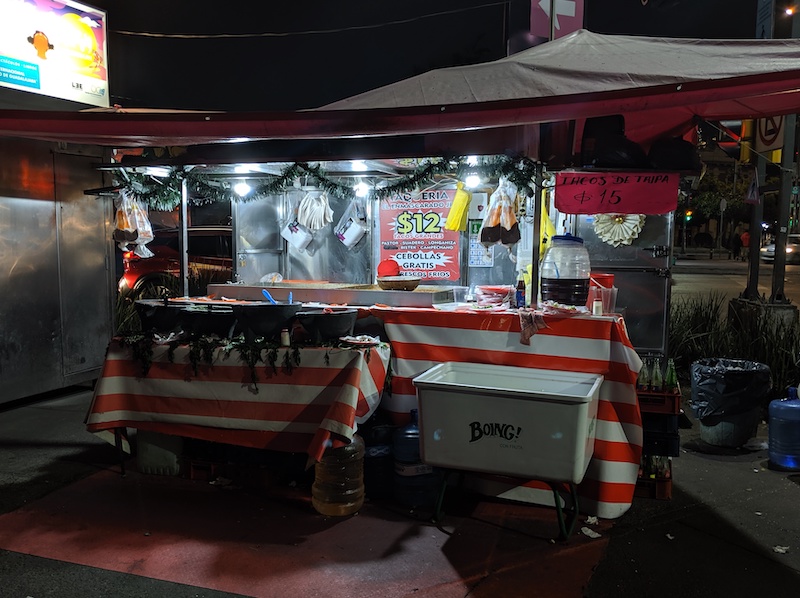 If you found our post on the best restaurants in Mexico City, please share this on Pinterest. Thanks for your support!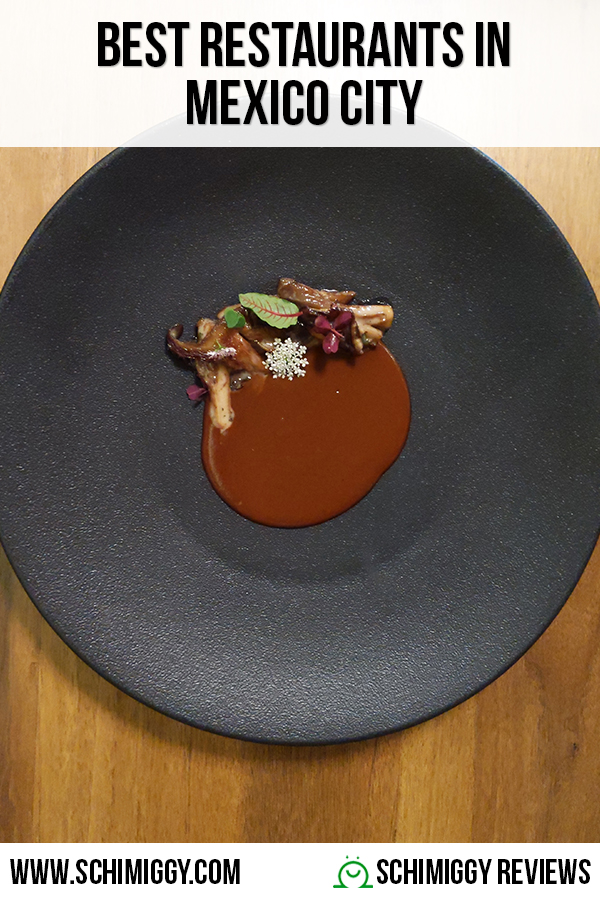 ---
Thank you for visiting today! If you found this encouraging or informative, please come hang out with me on Instagram, Youtube, Pinterest, Facebook or Twitter.
Sign-up for our monthly newsletter for updates and more. We promise we won't spam you! Feel free to unsubscribe anytime.
For more fitness fashion discounts and offers, please visit our Fitness Instructor Discounts + Brands Directory or favorite brands coupon codes list.
This site uses affiliate links. Clicking on or purchasing via an affiliate link may result in commissions for us which help keep the content flowing and lights on at Schimiggy Reviews. You may read more about this in our privacy policy.