Reading Time:
9
minutes
Updated 8/29/2022 | Best Seamless Legging Brands and Their Benefits
Seamless clothing is made from a newer technology that has a myriad of economic and performance benefits. Some will argue that everyone needs seamless clothing in their lives. Some people do not like seamless clothing because it is too restrictive or does not fit properly.
In this article we will explain the following:
What is Seamless Clothing?
The Difference Between Seamless and Regular Clothing
How is Seamless Clothing Made?
What are the Benefits of Seamless Clothing?
15+ Best Seamless Legging Brands
What is Seamless Clothing?
Seamless clothing is made without any stitches, sewing or seams. Seamless technology is a fairly new way of manufacturing garments and has a number of benefits. Seamless apparel is made with newer technology and machinery that can be costly.
What is the Difference Between Regular and Seamless Leggings?
Regular leggings are manufactured in a way where the fabric is cut and then assembled with elastic bands and thread stitching. Most regular leggings will have a visible seam where the fabric is stitched together, such as on the inseam, waistband, front and back rise, and at the ankle.
Because the shape of the activewear is cut from a larger piece of fabric, this may produce waste. This method also allows regular activewear to be uniquely made from a variety of materials and silhouettes.
Seamless leggings reduce and/or eliminate seams which make the apparel look more smooth and form-fitting. Seamless leggings are less labor-intensive and less wasteful. It also takes less time to create seamless apparel, thus reducing wastage.
How are Seamless Leggings Made?
Seamless leggings are made in a similar process that is used to make pantyhose. The way they do it is by machine weaving the thread-like fibers together like you would when knitting. Seamless garments are primarily made from a combination of microfiber yarns, lycra, and cotton.
The fibers create a tube that is then shaped into a pair of legs. The waist and leg opening is then knit into itself and closed off without a visible seam.
A pair of leggings can be completed within a few minutes and without an extensive manufacturing process. Seamless manufacturing has a wide range of applications that include underwear, control-wear, ready-to-wear, swimwear, sleepwear, activewear, and more.
Benefits of Wearing Seamless Activewear
1. Lightweight: Seamless activewear is very lightweight and often weighs less than other fabrics. The manufacturing process allows the activewear to be made from lightweight fibers. Because the activewear is lightweight, it's excellent for keeping cool during workouts and dries quickly afterward.
2. Breathable: Seamless leggings are more breathable than regular leggings. Most seamless leggings have the ability to wick away sweat and moisture during a workout. Seamless leggings are also sometimes made with mesh details that also work to keep clothing breathable and attractive.
3. Made to Fit and Contour to Most Body Shapes: Seamless activewear fits like a second skin and depending on how taut the knitting is, the leggings can have a little to very compressive fit. Seamless activewear is more flexible, making it great for workouts that require bending over (yoga!) or deep squats.
4. No Chafing: The elimination of seams prevents pilling and chafing. Chafing is when a seam rubs against and irritates your skin. Pilling is when fabric brushes up against skin or itself and creates little balls of fabric that can be itchy and unattractive.
5. Very Durable: Seamless clothing is VERY durable. This can mean it's often abrasion resistant and difficult to wear and tear. Your seamless activewear is an investment because it will last for a long time!
6. Reduces Manufacturing Process and Reduces Wastage: Due to the unique knitting and manufacturing process of seamless activewear, the pieces can be made in minutes using advanced technology and often expensive machinery.
7. Endless Designs: Because seamless leggings are made with a machine, the design possibilities for seamless activewear is endless. As you go through the brands below, you'll see various designs of seamless leggings and tights. Some are designed with intricate mesh panels that look fabulous and sexy against the skin.
Best Seamless Leggings Brands
#1 NUX Active USA
NUX Active USA makes seamless activewear for women. They are a women-owned and US-based activewear and leisurewear brand that I first noticed using seamless technology. Read my review of NUX Active here.
Buy NUX on Amazon, Carbon38, and Yoga Outlet.
#2 Love Fitness Apparel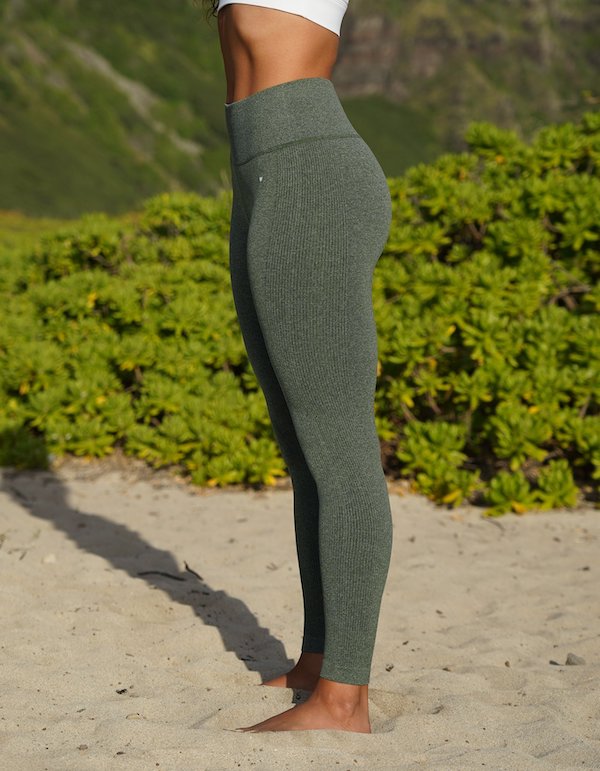 Love Fitness Apparel is a small woman-owned activewear company based out of Hawaii. They make the cutest seamless tops and bottoms for active living. We also LOVE all their pineapple printed apparel.
Use code SCHIMIGGY for 10% off all your orders at Love Fitness Apparel.
#3 Mono B
Mono B makes size-inclusive and eco-friendly activewear. Their seamless activewear is super soft and their designs are very flattering.
Use code SCHIMIGGY for 15% off all your orders at Mono B.
#4 Hylete
Hylete is a men and women's CrossFit-focused activewear brand. They make amazing seamless activewear for women. We love their Luna sports bra and tights.
We recommend going with your true size in Hylete activewear.
Use this link to save 20% off your next purchase at Hylete.
#5 ADIDAS by Stella McCartney
ADIDAS by Stella McCartney makes seamless activewear pieces. I love their designs but have had some issues with opacity. I recommend sizing up in this brand.
Buy ADIDAS by Stella McCartney on Carbon38, Nordstrom, and Bandier.
#6 Moonchild
Moonchild makes luxe seamless activewear. Their seamless bottoms come in solids, prints and textured designs. What I especially love is their tall waistband that hugs everything in. Their seamless fabrics also seem to fit more compressive than many other brands.
We recommend going with your true size in Moonchild.
AKTIV sells Moonchild apparel. Use code SCHIMIGGY10 to save $10 off your orders.
#7 Phat Buddha
Phat Buddha is an activewear brand specializing in seamless activewear for women and men. Phat Buddha makes seamless activewear with color blocks and unique prints and designs.
Buy Phat Buddha on Carbon38, Phat Buddha, and Shopbop.
#8 SPANX
SPANX's Look At Me Now seamless leggings come in various heights and lengths. I am a fan of their high-waist leggings because it's slimming and helps my pants stay up. These leggings are their most popular style next to their Faux Leather Leggings.
Use this link to get 15% off your orders at SPANX. You can also read my SPANX reviews here.
#9 Lululemon
lululemon makes seamless leggings with pretty designs! I love the lattice paisley mesh and have read positive feedback on the fit and performance from women in lululemon discussion groups.
#10 Gymshark
Gymshark is a London-based activewear brand that makes affordable seamless activewear for women and men. They have a huge millennial following. I personally have not tried them but know they are popular amongst a lot of fitness influencers. Buy Gymshark here.
#11 ASSETS by SPANX
I tried ASSETs by SPANX leggings and absolutely LOVE them. You'll have to wear a dress or tunic over the pants but they're pretty darn comfortable. Buy ASSETS by SPANX at Target and on Amazon.
#12 LNDR
LNDR is a high-end seamless activewear brand based in London. Their fabric is also very compressive and feels luxe.
Read our LNDR seamless leggings review here.
#13 ALALA
ALALA seamless leggings and sports bras are comfortable and functional.
Buy ALALA on Carbon38 and at ALALA.
#14 Zella
Zella is part of the Nordstrom Product Group (NPG) and they experiment with various styles and fabrics for men, women, and teens. Buy Zella at Nordstrom and Nordstrom Rack.
#15 Z by Zella
Z by Zella is the Nordstrom Product Group (NPG) activewear brand for Nordstrom Rack. The material is a little cheaper compared to Zella, but the quality is still better than a lot of other brands currently available on the market.
#16 Free People
Free People Movement makes beautiful activewear for yoga and dance. They offer a lot of seamless options that will make you feel effortlessly feminine. Buy Free People Movement on Amazon, Carbon38, Macy's, and REI.
#17 Nike
Nike released their yoga line in early 2019. If you want quality and dependability, Nike is the way to go. Buy Nike on Carbon38, Nike, Nordstrom, and Zappos.
#18 Carbon38
Carbon38 makes seamless activewear with mesh panels. They offer seamless activewear in nude, black, grey and red. Most bottoms come with a matching top.
Use this link to get 25% off your first order of $100+ at Carbon38.
#19 Tory Sport
Tory Burch has an activewear line called Tory Sport. Tory Sport has a collection of seamless activewear that includes leggings and sports bras.
#20 Commando
Commando is comparable to SPANX. Their elastic-free waistband is slimming and the 30″ inseam are great for tall ladies!
Get $25 off $100 when you use this link to shop Commando.
#21 ALO Yoga
ALO Yoga is a super popular brand that is comparable to lululemon. They have a. few seamless designs with beautiful designs. A few of their Airbrush leggings are not listed as seamless, but the jacquard is a seamless fabric.
Get at 10% off ALO Yoga coupon code here.
#22 Astoria
Astoria makes luxe seamless apparel at a very affordable price (only $64). We love their seamless crops, leggings, sport bras, and crop tops.
You will fall in love with Astoria once you give them a try!
Use code SCHIMIGGY15 to save 15% off all your orders at Astoria.
We hope our seamless leggings article was helpful. If you have any questions, please feel free to reach out.
If you enjoyed our best seamless legging brands post, please share it on Pinterest! Thank you!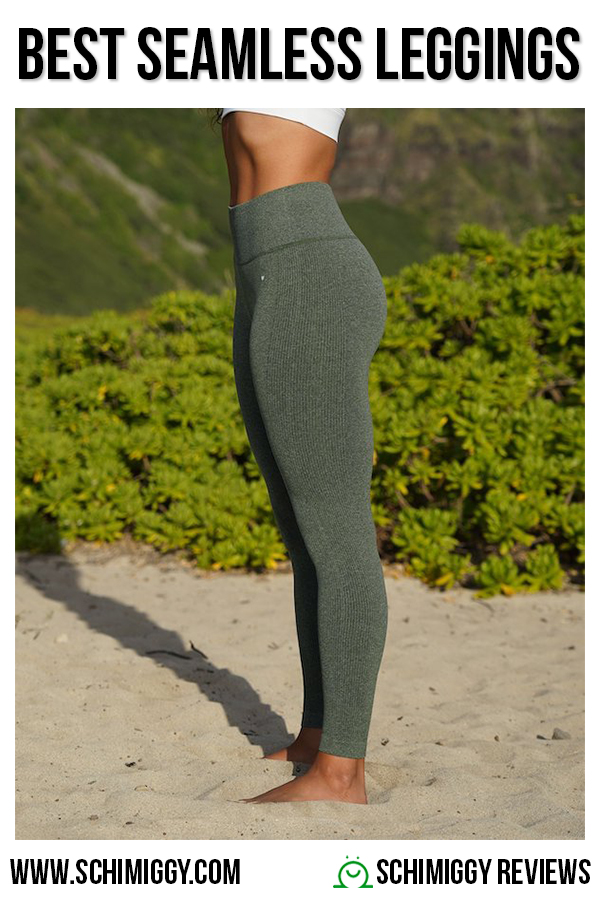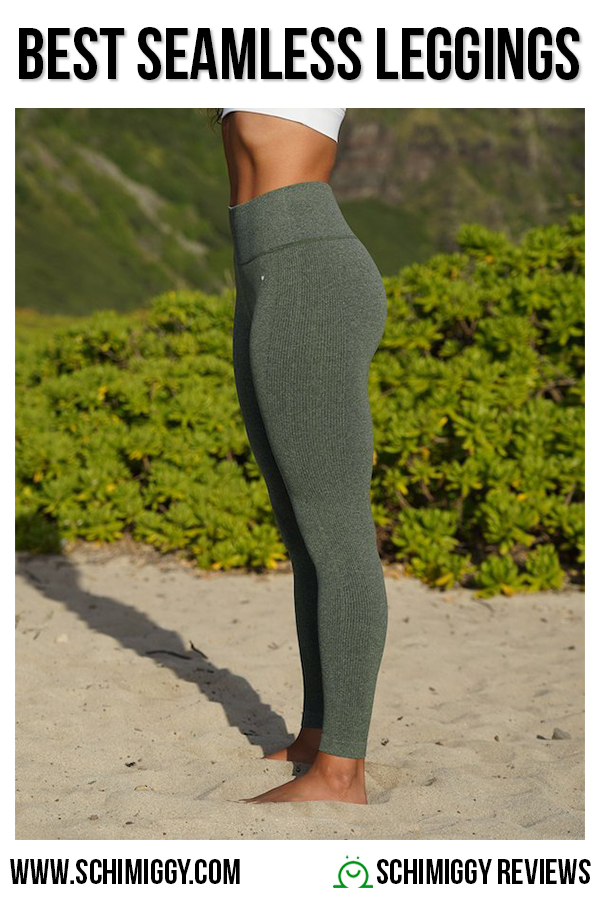 ---
Thank you for visiting today! If you found this encouraging or informative, please connect with us on Instagram, Youtube, Pinterest, Facebook or Twitter. We'd love to meet you!
Sign-up for our monthly newsletter for updates and more. We promise we won't spam you! Feel free to unsubscribe anytime.
For more fitness fashion discounts and offers, please visit our Fitness Instructor Discounts + Brands Directory or favorite brands coupon codes list.
If you're a brand and want to submit a product for us to review, please use this form to get in touch.
This site uses affiliate links. Clicking on or purchasing via an affiliate link may result in commissions for us which help keep the content flowing and lights on at Schimiggy Reviews. You may read more about this in our privacy policy.