Reading Time:
7
minutes
The world is fraught with copycats and fakes. Activewear is not exempt from this problem.
Brands copying other brands not only steal business, but they also create a world in which fast fashion thrives. And that is ultimately bad for the environment.
My goal is to bring to light the problems with design copying and to promote legitimate businesses through my blog.
I compiled a list of brands along with the brand that has copied their designs. This is only a fraction of what I've found. There are probably more activewear copycats all over the world.
I will not be linking the copycat brands to prevent traffic and potential business.
Copycat Activewear Culprits
#1 Electric and Rose VS Target Joylab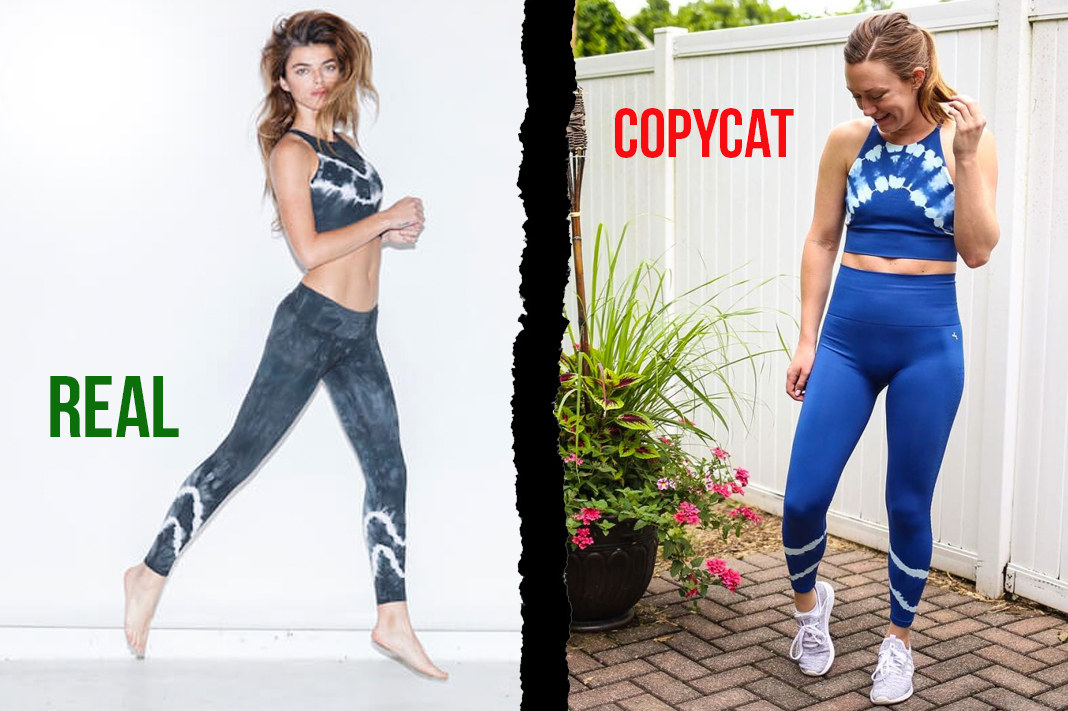 Electric & Rose makes cottony soft and sustainable tie dye activewear.
Target's Joylab (right) is also sustainable, however, their tie dye set is made with seamless fabric. The prints and silhouettes are almost identical.
Target is no stranger to copying other company's successful designs. I would just avoid Target apparel altogether.
#2 Carbon38 VS Vie Active
Oye! When Vie Active released their macrame collection, I almost fainted. This is a blatant copy of Carbon38's Sayang Collection. I am a fan of both brands but I am with Carbon38 on this one.
Related: Carbon38 Review: Sayang Collection in Dahlia Red
#3 lululemon VS 90 Degree Reflex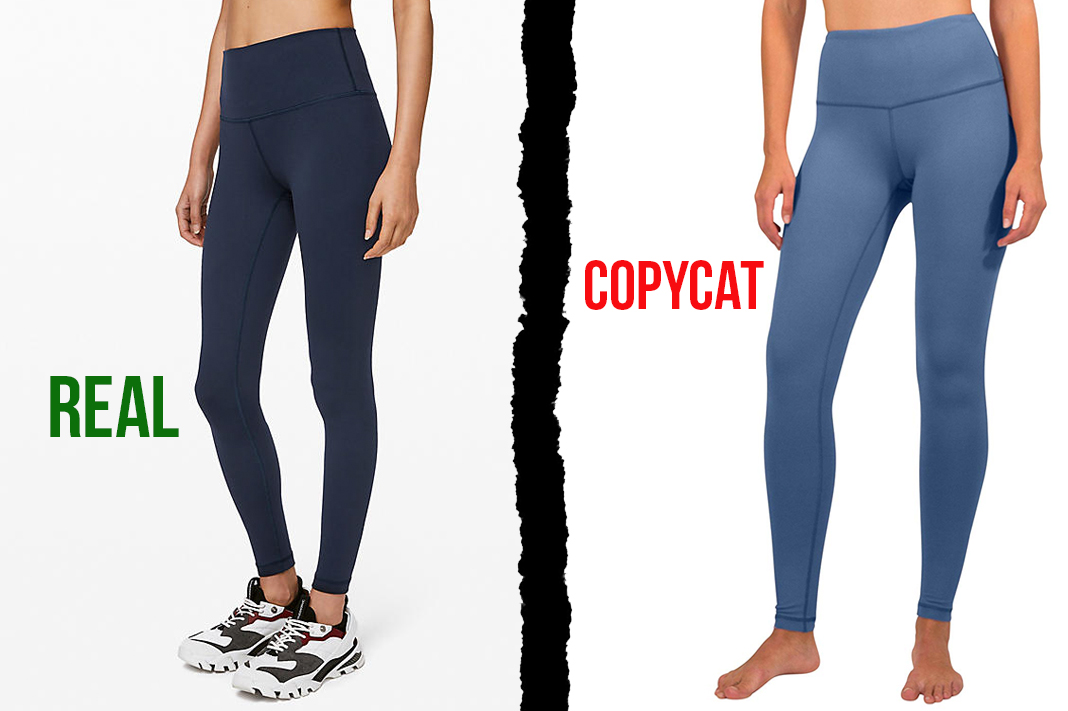 lululemon's Wunder Under Pants (WUP) have had many copycats.
90 Degree Reflex's High Waist Power Flex Tummy Control Leggings is made to fit exactly like lululemon WUP. The major difference is an elastic band in the 90 Degree Reflex leggings and that their fabric feels heavier and is more prone to pilling than lululemon Luon fabric.
People love 90 Degree Reflex because they're cheap, comes in many colors and sold on Amazon.
#4 lululemon Align Pants VS CRZ Yoga Naked Feel Leggings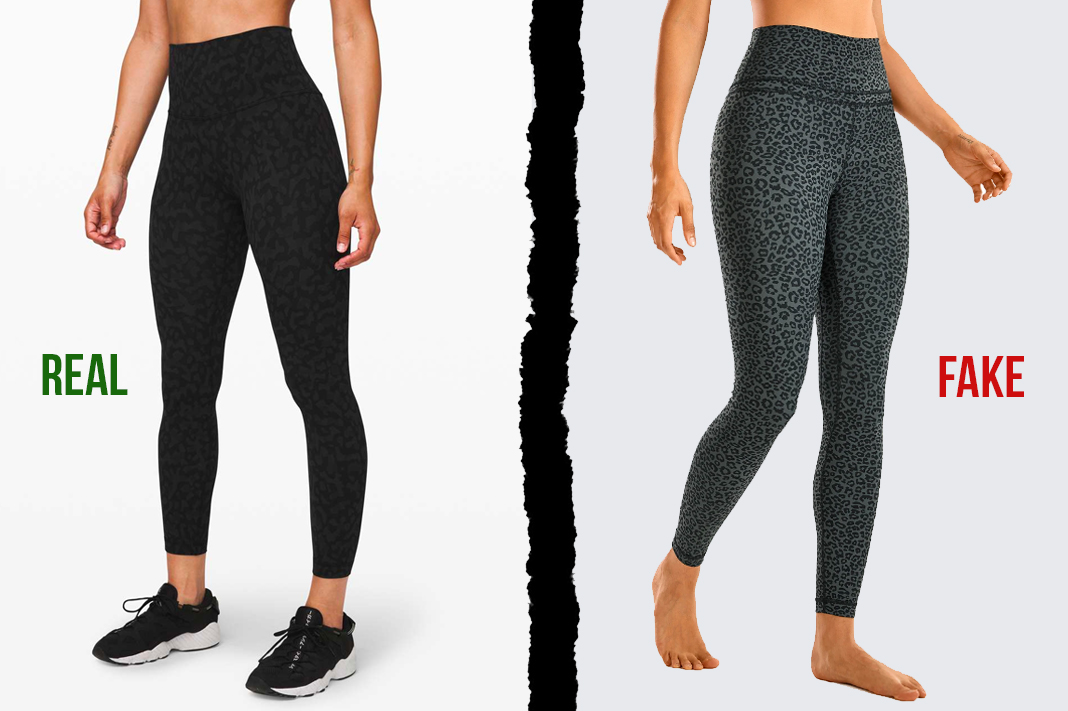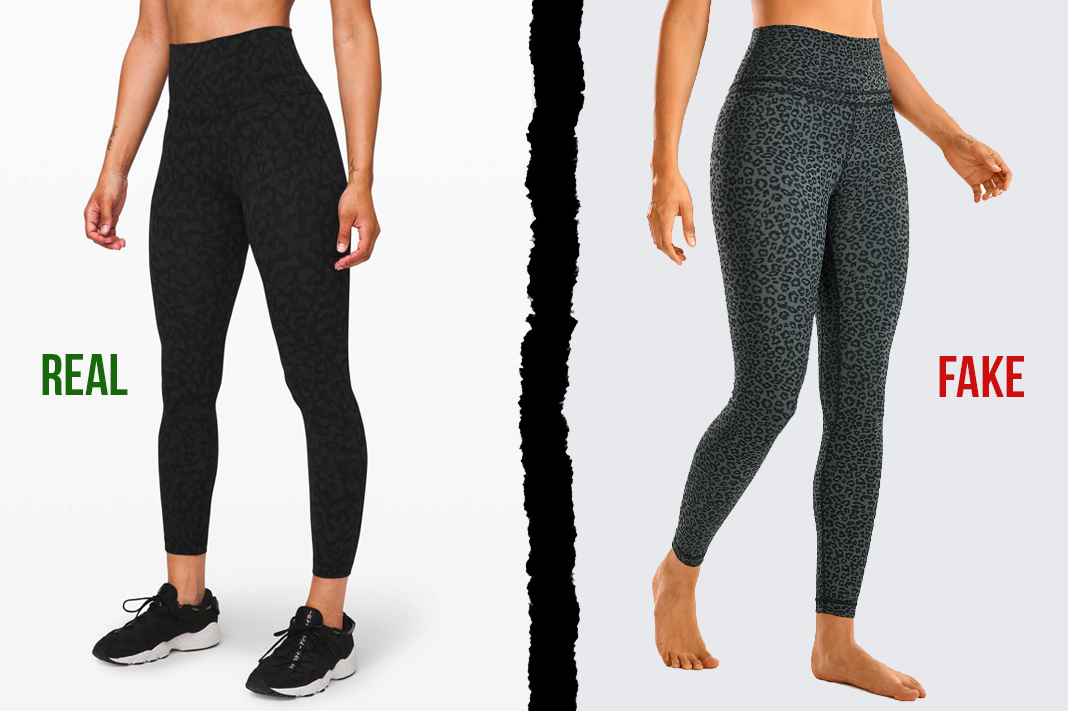 In March 2020, CRZ Yoga debuted their naked feel leggings which are an exact copycat of lululemon Align pants.
The fabric feels a bit more silky and similar to Luxtreme. The silhouettes are almost identical. The price difference is $30 versus $98.
We tried CRZ Yoga and experienced a lot of slippage. We could not get the leggings to stay up.
#5 Inner Fire VS Lotus Leggings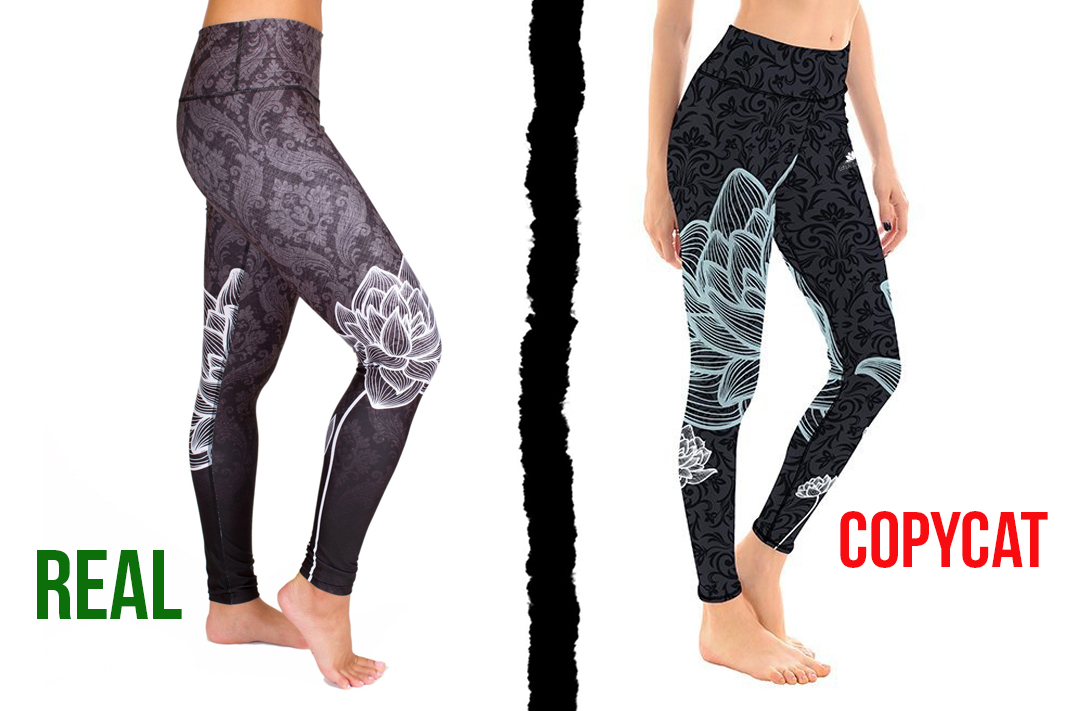 Inner Fire makes leggings from recycled water bottles. Leah Emmott, the owner and creator of Inner Fire pours her heart into each of her designs.
Lotus Leggings (right) is notorious for stealing the hard work of others and printing them on substandard fabric and calling it their own. You'll see more of them throughout this post.
Related: Inner Fire Review: Blossom Leggings
#6 WERKSHOP VS Lotus Leggings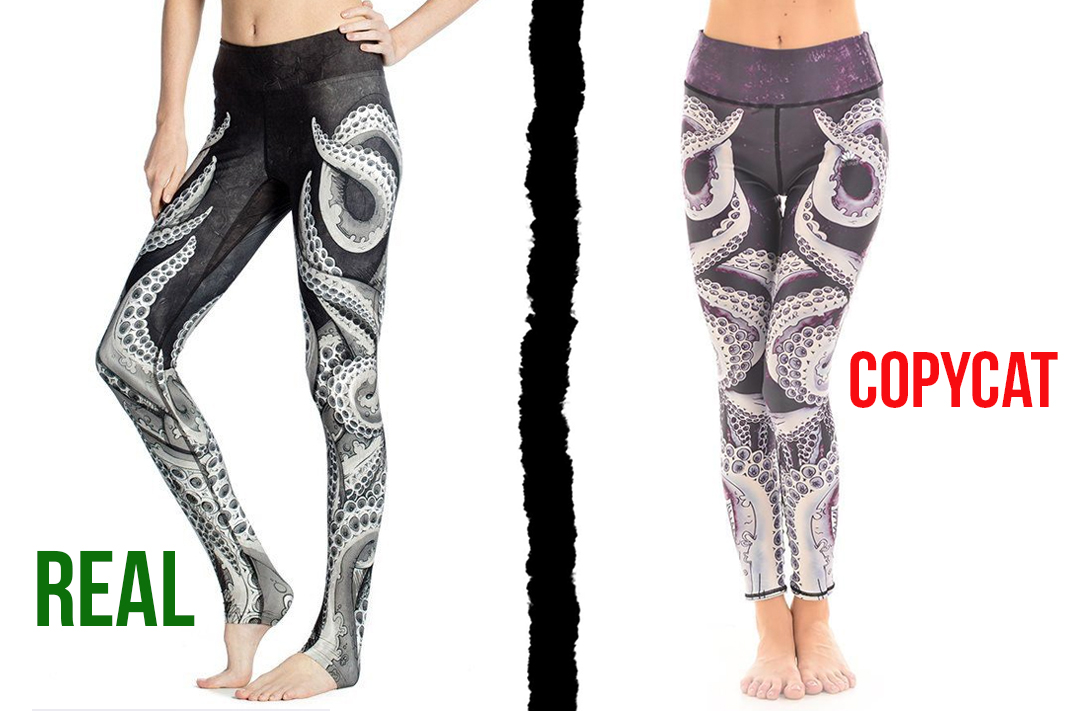 WERKSHOP's owner and artist, Chriztina Marie, hand draws each of her designs. This process can take weeks or even months to perfect. Lotus Leggings steals not one but MANY of her unique designs.
I first found out about Lotus Leggings when Chriztina pointed them out in a Facebook group. Everyone commented on Lotus Legging's Facebook page and they began hiding comments and deleting posts.
Chriztina wrote a post on what she's had to go through with Lotus Leggings. She writes from a small business owner's perspective and how it has impacted her livelihood.
Related: Eagle Rock WORKSHOP Review: Butterfly Crop Leggings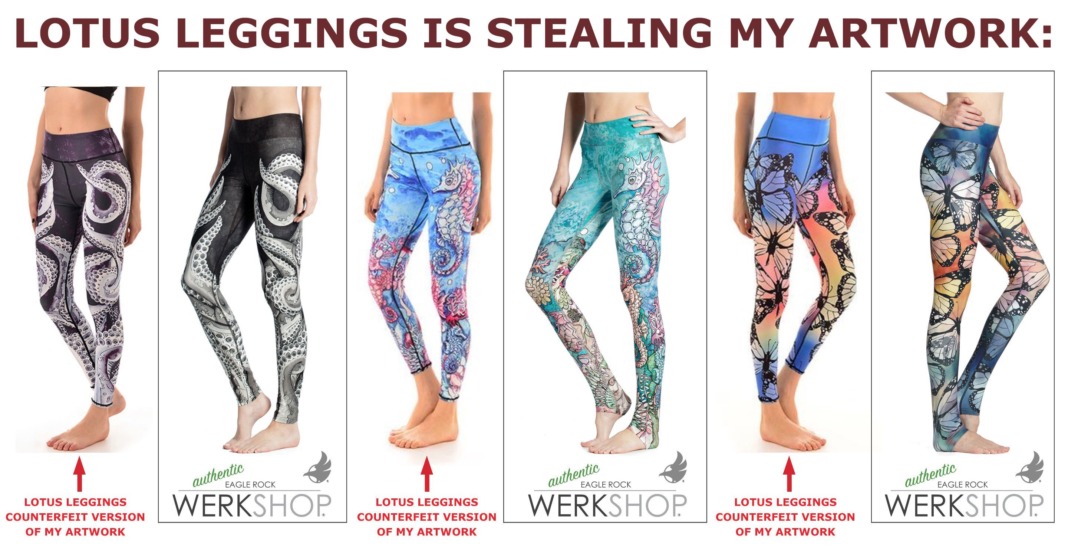 #7 lululemon VS Queenie Ke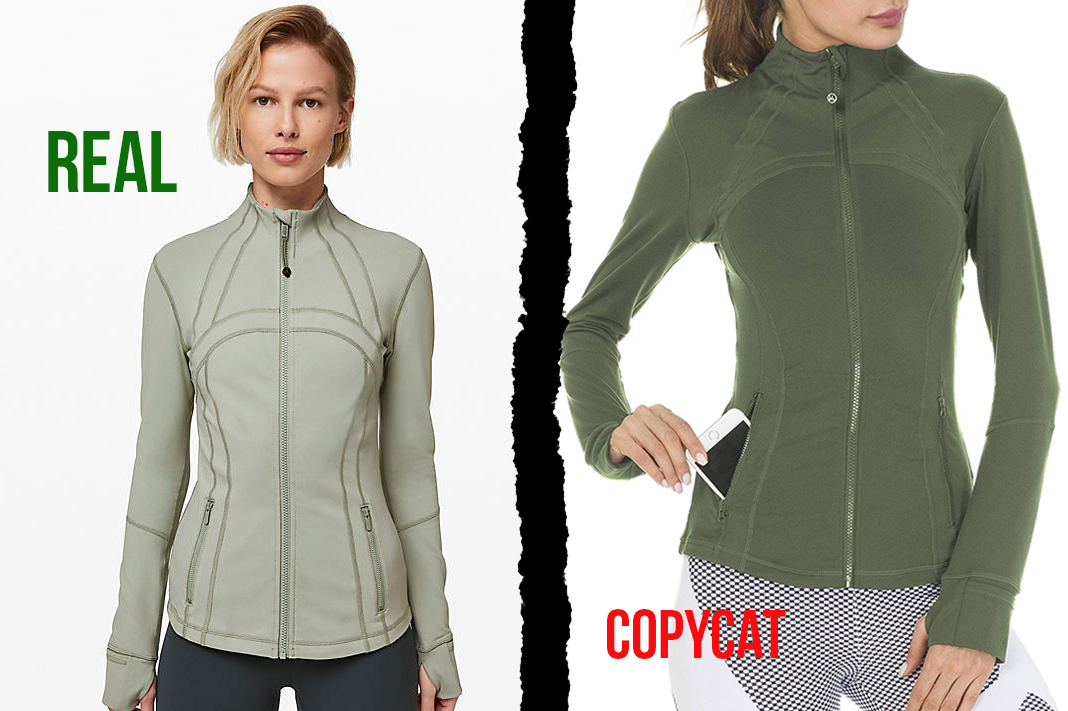 lululemon's Define Jacket dupe looks very similar all the way down the fabric.
Queenie Ke (right) can be purchased on Amazon and for half the price of a lululemon Define Jacket.
#8 Outdoor Voices VS Bandier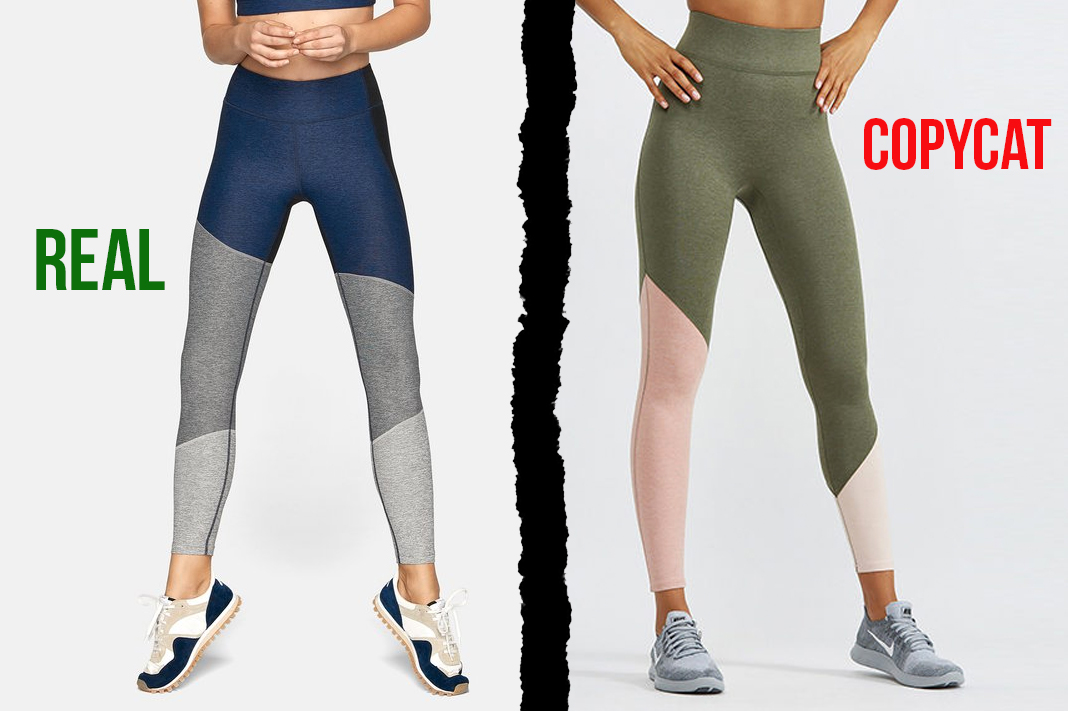 Outdoor Voices and Bandier went head to head when Bandier released their colorblock activewear collection.
The designs are similar but I've seen other brands with dupes resembling Outdoor Voices to the T.
Use this link to save $25 off $100+ at Bandier.
Related: Outdoor Voices Review: Techsweat™ Flex Leggings
#9 lululemon VS Forever21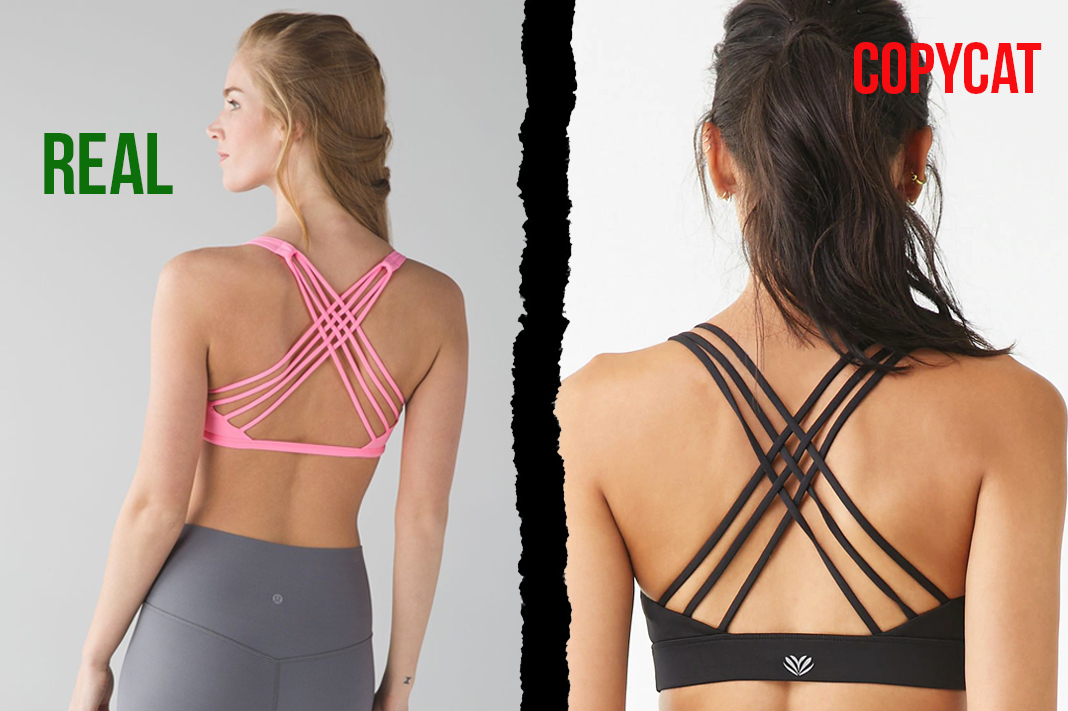 lululemon's popular Free to Be Wild bra has been copied by many brands.
Forever21 copied the design but they're not the only culprit copying lululemon's popular silhouette. The difference between the brands is $48 versus $15 and you also get what you pay for — terrible fabric quality.
#10 Noli Yoga VS Lotus Leggings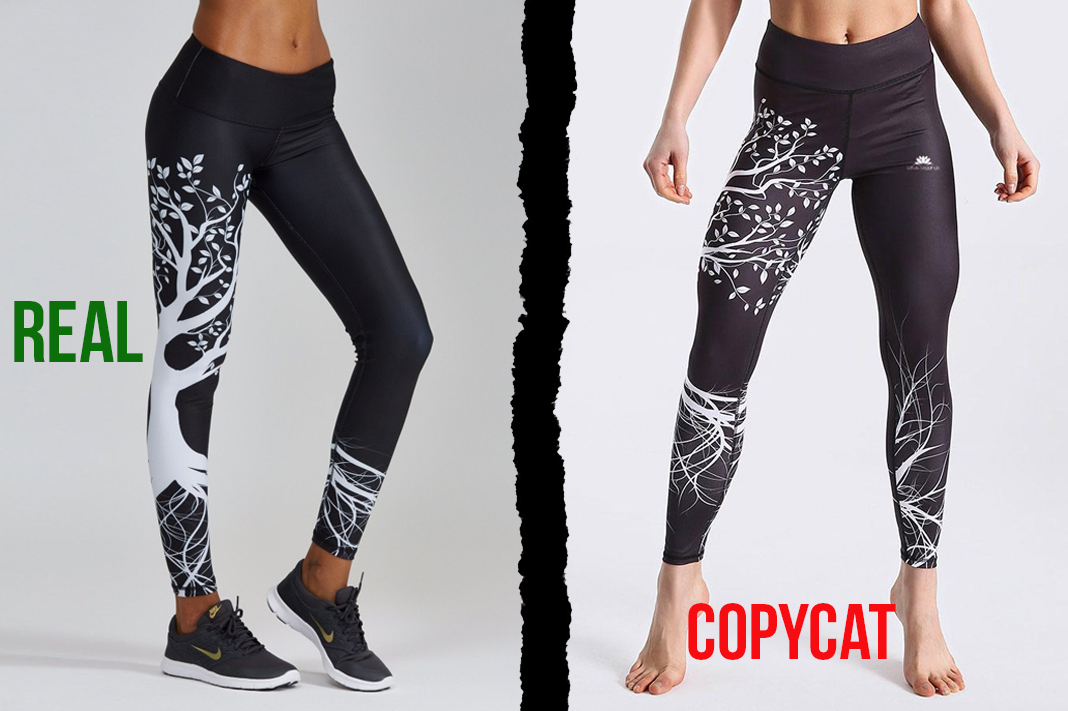 Noli Yoga has a Tree of Life leggings that was copied by Lotus Leggings (LotusXLite White Tree Leggings). The Lotus Leggings variation looks white-backed (printed on white fabric) and stretches to white, showing everything underneath when worn.
Lotus leggings are also $50 a pop and are made of fast fashion fabric. Essentially you're paying for a low quality product at a high price. JUST BOYCOTT Lotus leggings!
Related: DO NOT SHOP Lotus Leggings
#11 Poprageous VS Lotus Leggings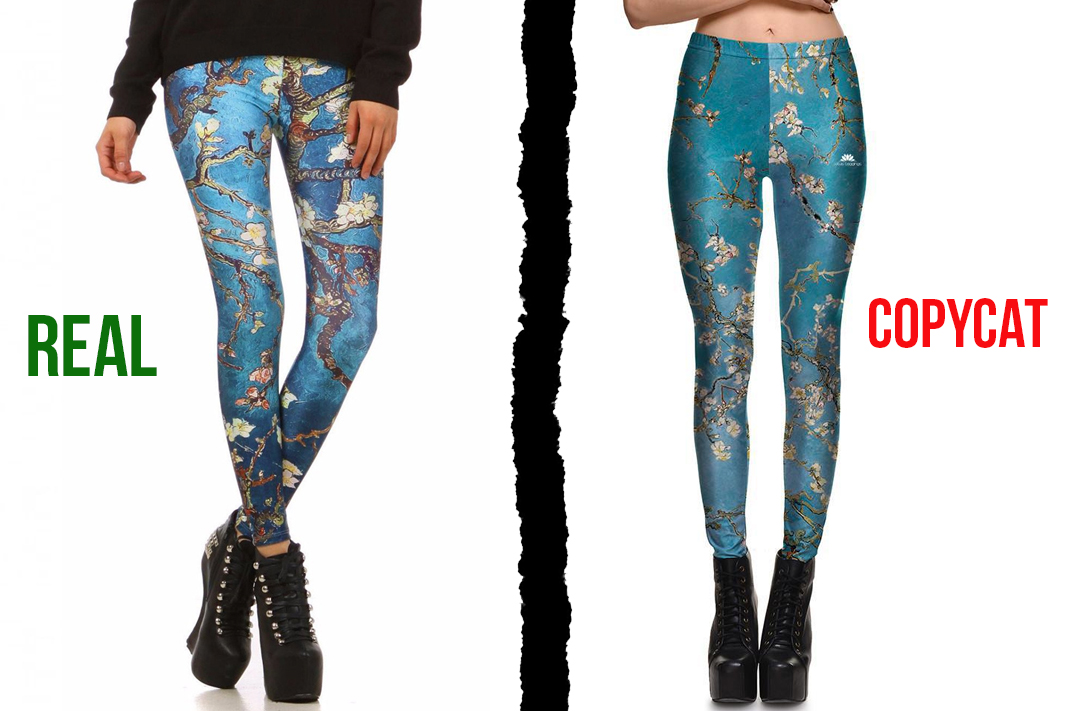 Poprageous makes awesome spandex wear for women. Here are their awesome almond blossom leggings. Lotus Leggings copied them even down to the shoes worn by their model.
#12 lululemon VS Lotus Instyle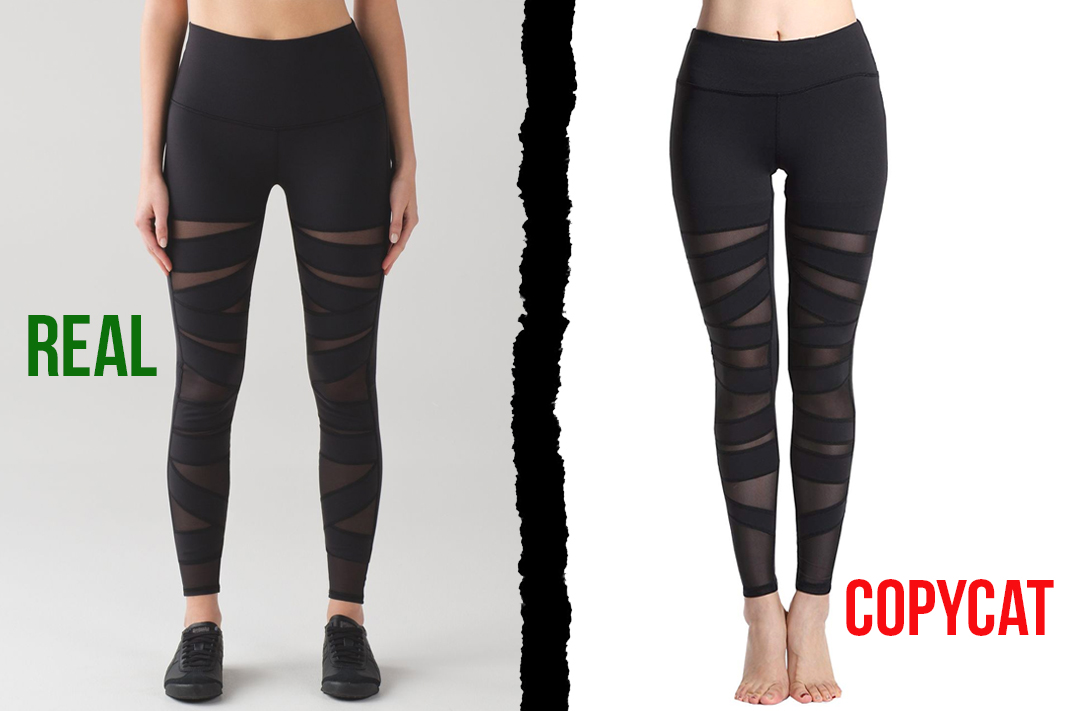 lululemon's Tech Mesh legging ($118) are made with high-quality mesh panels. You can usually tell the difference in quality between the two variations.
The cheaper brand ($25) uses low-quality mesh fabric that itches. The mesh panels also do not stretch as much as lululemon's high-quality technical mesh.
#13 Flexi Lexi VS Lotus Leggings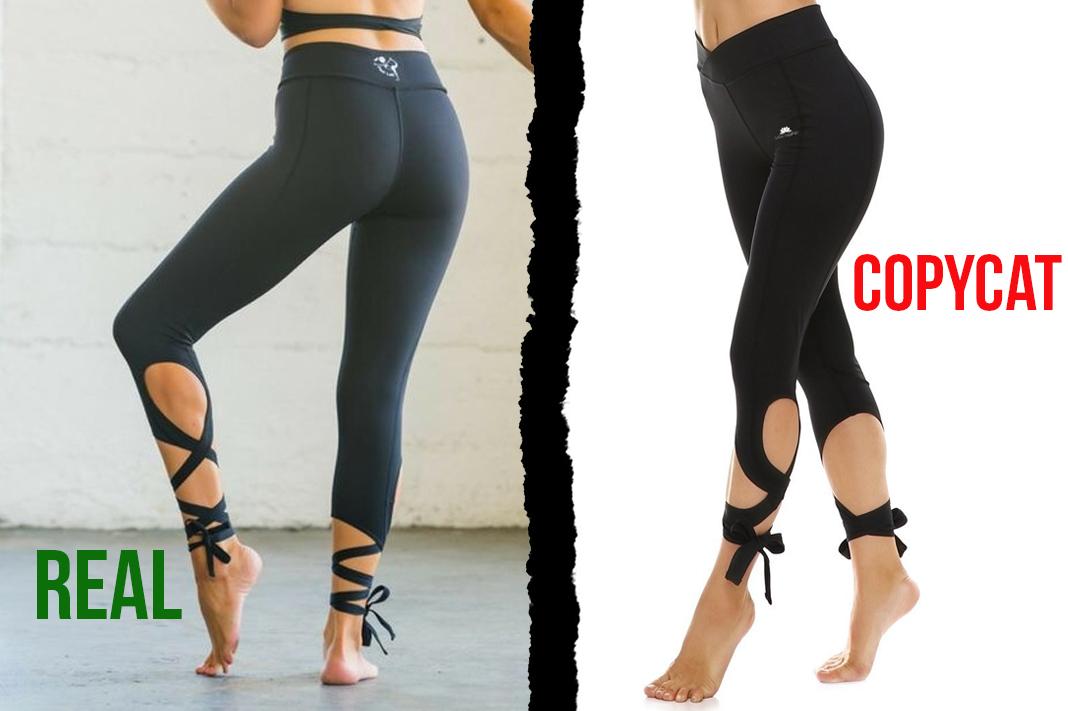 Flexi Lexi also fell victim to Lotus Leggings' shenanigans! *shakes fist*
Flexi Lexi is based out of Thailand and is minority and women-owned. Lotus leggings has copied more than just this style of leggings by Flexi Lexi.
#14 ALO Yoga VS Lotus Leggings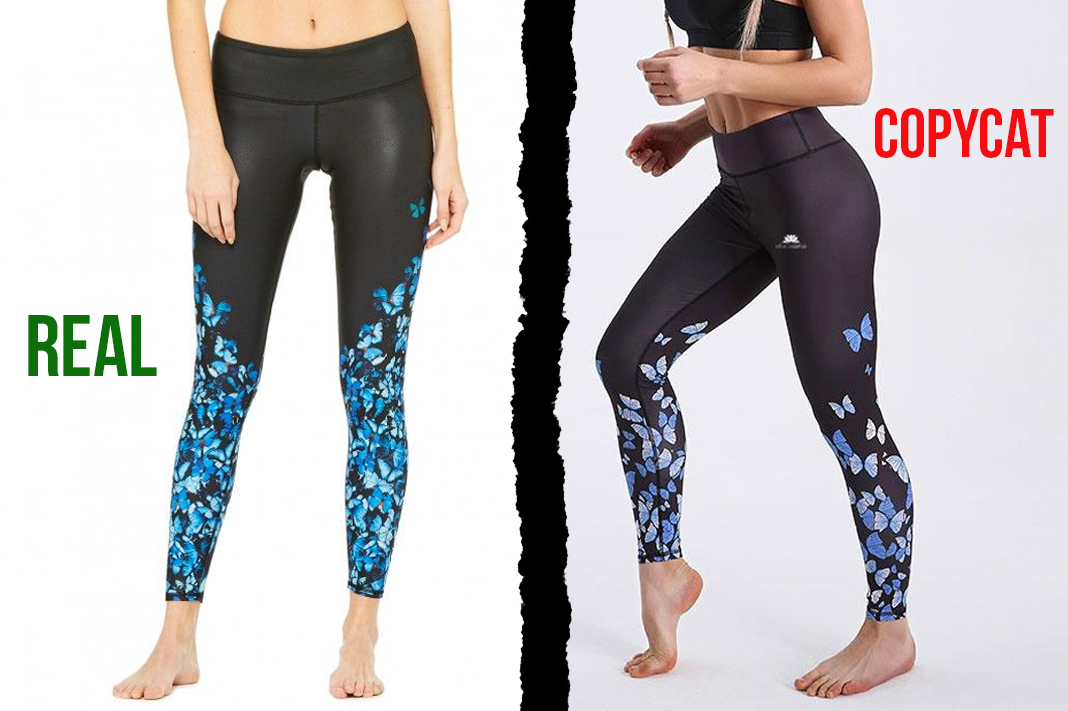 ALO Yoga's blue butterfly leggings were duped by Lotus Leggings. You can tell in the images the fabric quality stretches to white.
ALO Yoga is also not an innocent company. They've been known to shaft yoga instructors and favor more athletic or circus instructors with huge followings. Their business model perpetuates a specific yoga body type that is not inclusive.
#15 Lularoe VS Lotus Leggings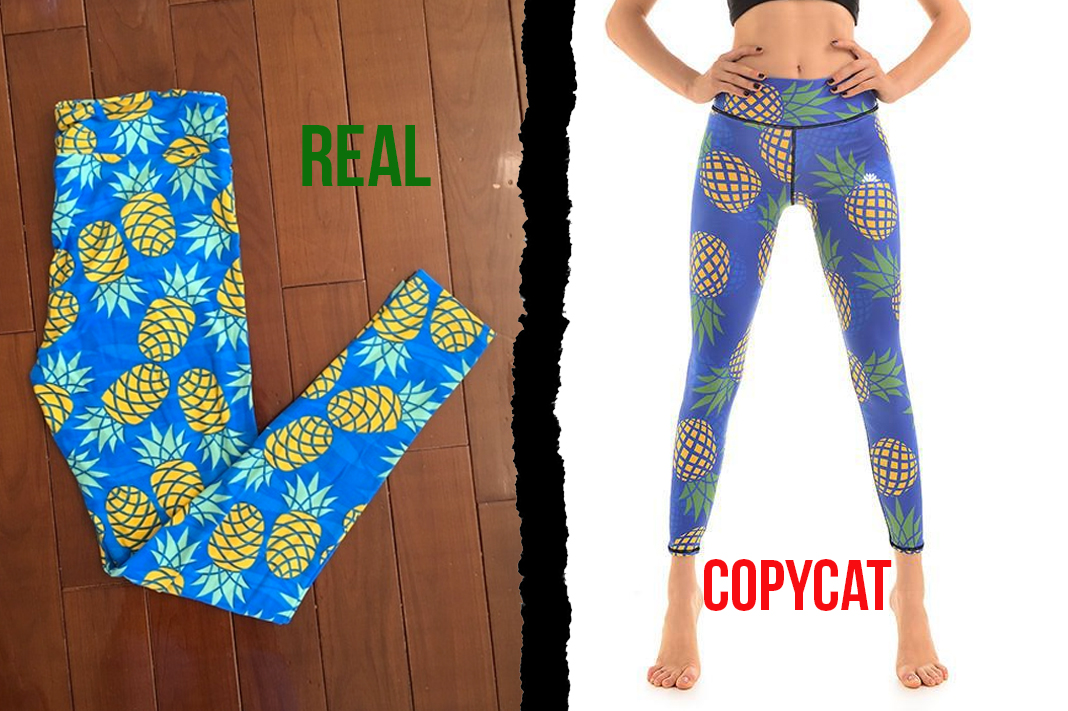 Lularoe's blue pineapple print leggings were also copied by Lotus Leggings.
Lularoe is an MLM with their own faults. Lotus Leggings just has no shame in stealing the best prints and profiting off theft.
#16 CRZ Yoga VS lululemon
CRZ Yoga is a Chinese brand that offers a collection that is almost identical to lululemon.
Their Naked Feel leggings are a different material than the Align Nulu fabric, but the silhouettes are identical!
Related: CRZ Yoga Review | lululemon Dupe Activewear
#17 Chill by Will VS Forever21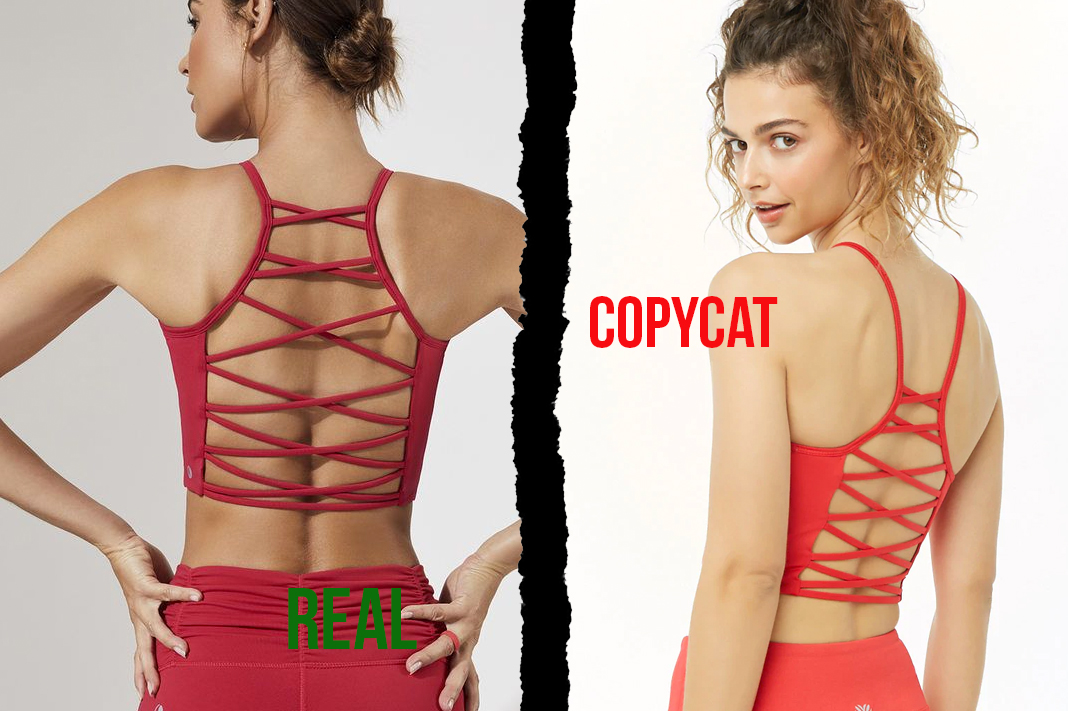 Chill by Will is a luxe activewear brand sold on Carbon38 and other high-end retailers. Forever21 copied their strappy back bras.
Related: Chill by Will Review: Blessed Stripe Leggings
#18 Athleta VS Forever21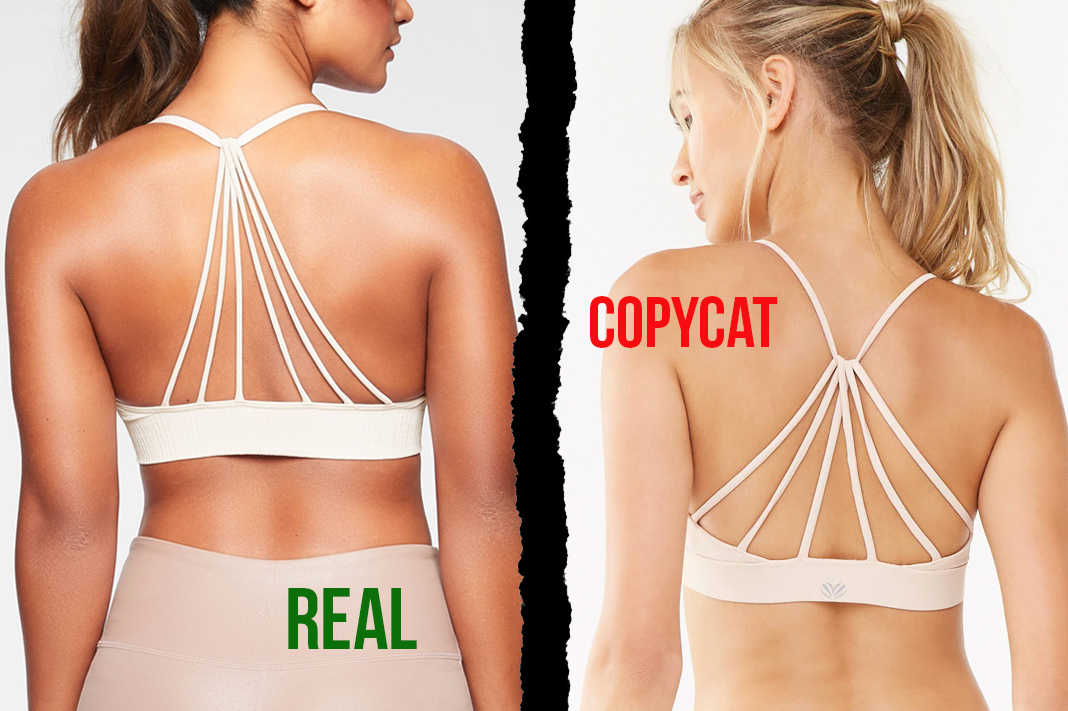 Athleta's Convergence sports bra was copied by Forever21. You can tell the difference in fabric quality and fit. Forever21 also runs small. I wear a small in Athleta and have to size up to a LARGE in Forever21. Way to boost my self-esteem.
You're also better off buying at Athleta because they stand behind their product 100% and will honor returns if something does not perform well or fit perfectly.
#19 K-Deer VS Athleta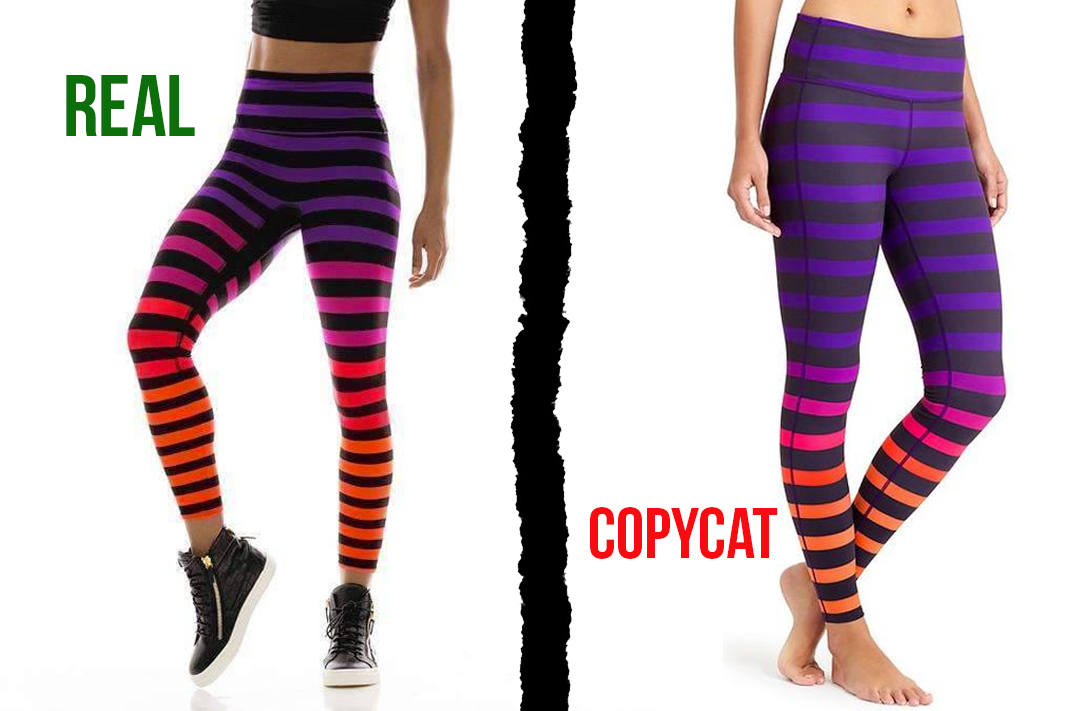 And then there are huge companies copying the hard work of smaller companies. Athleta (right) duplicated K-Deer's Signature Stripe Sophia leggings. ????
Eventually, Athleta pulled their stripe leggings from their shelves due to a combination of public outcry and other quality issues. I later spotted their striped leggings for sale at TJ Maxx.
Related: K-Deer Molly Stripe Leggings Review
Final Thoughts
Seeing these copycat activewear brands profiting off another's hard work is very frustrating. Copycats ultimately steal potential business away from companies who have done all the hard work for them. For most buyers, it's natural to go with a company offering a similar item for a cheaper price.
The best course of action is to direct your hard-earned dollars and support small businesses. It's our duty to look into a brand's ethos and understand whether they're there to make a quick buck or if they're actually present and connecting with their customers.
In the end, we should be responsible consumers and buy directly from brands who put all their effort into creating and growing their business honestly and ethically.
What other brands should we avoid? Take our quick survey and let's take these awful companies down!
---
Thank you for visiting today! If you found this encouraging or informative, please connect with us on Instagram, Youtube, Pinterest, Facebook or Twitter. We'd love to meet you!
Sign-up for our monthly newsletter for updates and more. We promise we won't spam you! Feel free to unsubscribe anytime.
For more fitness fashion discounts and offers, please visit our Fitness Instructor Discounts + Brands Directory or favorite brands coupon codes list.
If you're a brand and want to submit a product for us to review, please use this form to get in touch.
This site uses affiliate links. Clicking on or purchasing via an affiliate link may result in commissions for us which help keep the content flowing and lights on at Schimiggy Reviews. You may read more about this in our privacy policy.