Reading Time:
9
minutes
What is Couchsurfing?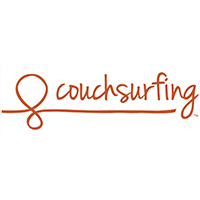 Couchsurfing is a social networking site that connects travelers with hosts who will give them a place to stay. One minute you're face to face with a stranger, and the next you're hanging out in their hometown 3,000 miles away reconnecting over delicious food and beers.
"CouchSurfing is an international non-profit network that connects travelers with locals in over 230 countries and territories around the world." — Couchsurfing.org
It's a global community of travelers from all types of backgrounds. Some are working professionals and some are just people who want to open their homes to friends all over the world. Even though its called "couchsurfing," that doesn't mean you'll always be sleeping on a couch. You could get lucky with a comfy bed in your private room or you might have to sleep on the ground.
Other similar networks include Be Welcome, Global Freeloader and Hospitality Club.
We've been Couchsurfing since 2012. I started hosting and eventually surfed solo and with my partner while traveling abroad. Couchsurfing has brought my partner and I unique and memorable experiences from people living all over the world.
Most importantly, Couchsurfing has taught me to be empathetic towards others and to really enjoy what life brings your way. To date, we have hosted more than surfed and we believe that's what has brought us so much travel karma!
Couchsurfing can be a rewarding experience. It can also be daunting if you've never done it before. Here are some topics we'd love to cover that will help your Couchsurfing be a smooth and safe experience.
In this post, we'll cover the following topics. You can click on the link to jump forward to that section of this post.
Best Practices for Couchsurfing Guests
1. Read through a hosts entire profile before requesting. Hosts will often include very important details and questions in their profiles. If you overlook some important details, you may risk being denied. For example, do not request a stay for two guests when the host only allows one guest at a time.
Your request doesn't need to be lengthy. A couple of paragraphs is plenty. I write no more than 250 words in my requests.
2. Do not copy and paste your requests. It is really obvious to hosts when you spam them with a request that you've sent to dozens of others! Some hosts even ask a question in their profile for you to answer in your application, so keep your eyes peeled.
3. Be considerate. Respect goes a long way. When someone has opened their home to you, make sure you clean up after yourself, tone it down when they're sleeping and behave as you would want a guest in your own home to.
It's a good idea to volunteer to help out around the house in some way. Some guests have cooked, walked our dog or even helped with some projects in our home.
And just to point out the obvious, do not bring additional guests home and do not stumble home drunk at 3 in the morning.
4. Bring a gift. Consider bringing your host a gift like wine, candies, souvenirs or even taking them out to dinner. Typically, a gift from your hometown is a great way to thank your guests for their hospitality.
We usually cater our guests to dinner or drinks if they're hosting us more than 2 days.
As a guest, you should never expect your host to pay for your food, drinks or other expenses.
5. Be flexible. Remember that hosts have their own lives that don't revolve around you. Hosts have to make special arrangements to have guests in their home. Never make last-minute requests because this can be stressful for hosts as well as to you!
Sometimes hosts may need to change their plans due to work or other events. Hosts can cancel last minute, so it's always good to have a plan B. This is a risk you take as a Couchsurfer.
6. Ask if you don't know. If you don't know if a particular activity is allowed in the home, always ask your host. For example, we always get guests who ask if they can smoke weed in our home and we direct them to our patio.
Sometimes staying with someone you don't know might mean that you may have to limit your freedom. A host may require you to be back at a certain time or ask you to leave while they're not at home. Some hosts offer keys and some don't. It is important to ask all the details prior to arriving.
7. Create public trips. When you create a "public trip" on Couchsurfing, hosts from the city to which you are headed to may reach out to you and offer you lodging or want to hang out.
When creating a public trip, include information about why you are visiting and what kind of hosts or people you'd love to meet. I've gotten many offers from hosts from around the world.
It's important to note that when you create a public trip, there's also an opportunity for scammers to contact you. When I created a public trip to India, I received a lot of spam messages. One "couchsurfer" offered their home to me for only $50 USD a night which covered "maintenance fees." I reported this account immediately.
You can also always remove your public trip if you're not happy with the offers you're receiving.
8. Tell your friends and family where you are staying. This is VERY important. Let multiple people know where you are going and who you are staying with. When possible, share your itinerary with someone so that they know what you're up to and how to trace you if you go missing.
9. Pack it in. Pack it out. Do not leave unwanted things at your hosts' home. Feel free to leave gifts and memories, but avoid leaving things like trash or your personal belongings when you leave. Make sure you walk through the area twice and throw away any trash before leaving. If there is absolutely something you cannot take with you, ask your host if they can help you dispose of it or if they can give it to someone else.
10. Learn the local customs and cultures of your travel destination. When traveling to another country, take some time to learn about their customs and culture. Some common ones are rules on tipping, when and where to queue up, the need to buy tickets beforehand or when to and not to give someone a gift.
11. Report rule breakers and creeps. If a host is asking for payment or a host is forcing you to the sleep in the same bed with them after promising you your own bed or couch, report them. This behavior should never be tolerated.
If you feel uncomfortable, make alternative arrangements. Book a hostel or reach out on Couchsurfing to find an alternative host.
Make sure you also have contact information for the local police in case anything goes awry.
Best Practices for Couchsurfing Hosts
1. Include important details about your home on your profile. Include the number of guests allowed, if pets are allowed, the maximum number of days a guest can stay, etc. The more details, the better.
2. Accept or decline a host. The best practice is to accept or decline a host within 48 hours. We recommend downloading the Couchsurfing app so that you can respond to guests through your phone. E-mail alerts are also a great way to know when someone sends a request.
And lastly, the decision to accept or decline is totally up to you. If you do not feel comfortable hosting someone, politely decline. You should include a reason for declining, but that is not always necessary. You always want to invite people who have common interests and whom you can trust into your home.
If you know you are going to be very busy, considering declining requests. We often take breaks from hosting to clean our home, run errands or just get some downtime.
3. Offer guests important information about your home. This can include where to get a key, your address, personal contact information, what time to arrive at your place, and things to do and see while they're visiting.
I typically offer my phone number, address and instructions on how to get into my unit 2-3 days prior to my guest's arrival. As a blogger, sometimes I create guides to help people navigate our city.
Related: Ultimate Travel Guide to Seattle
3. Make sure your room is clean for your guests prior to their arrival. It's best practice to offer clean sheets and a towel to your guests. Afterwards, make sure you clean the room immediately and reset your room for the next guest.
4. Never ask payment from guests. Couchsurfing is a free service for all members. You can be reported for demanding payment from your guests.
Allow them to offer you payment freely if they're using your amenities or want to share the cost of something in your home.
5. Never feel obligated to hang out. Although it's nice to get to know your guest, you should never feel obligated to hang out with them. I usually have dinner or drinks at a bar with my guests. If I am hosting someone over the weekend, we may go to events or festivals.
Best Practices for Both Couchsurfing Guests and Hosts
1. Fill out your Couchsurfing profile completely. The more complete your profile is, the better your chances of getting hosted will be.
For hosts, a more complete profile will clear up any misunderstandings between you and your guest. If you have a pet, please include it in your profile. If you have specific house rules, include them there too!
2. Get verified. When you sign up for Couchsurfing, you will be required to verify your name and address. The cost to verify is only a one-time payment of $65. A postcard is mailed to your home so that you may verify your address using a verification code on the Couchsurfing website.
Many members will only interact with other members who are verified and have references. It's just safer that way.
3. Leave references within the next 5 days. The sooner you leave your reference, the better. When leaving references, make sure you include the most memorable things you experienced and whether you recommend the guest/host or not. One paragraph is enough.
4. Always read through the references. Before you send or accept a request, read through the member's references first. You will learn a lot about someone through their references and profile information.
You might find that someone's political differences may create an uncomfortable environment for you. This will also help you determine if you should decline a request if they have a significant amount of negative or neutral feedback.
How to Join Couchsurfing
Ready to join the Couchsurfing community?
Head over to Couchsurfing and create a profile. When filling in your profile try to make it as complete as possible and include a couple of pictures. If you have any friends on Couchsurfing already, make sure to add them and write them a reference. Don't forget to ask if they can write you a reference back.
Couchsurfing relies on a reference system to keep Couchsurfers safe. If someone has negative references, you should think twice before staying with or hosting them.
Final Thoughts
Couchsurfing is a great way to meet people while traveling on a budget. Yes, you are getting lodging for free, but there are tons of benefits to just meeting the people through this amazing social network. It gives you a chance to meet locals who can show you the city from their perspective, as well and sway you from touristy things that might be a waste of your time.
I owe it to Couchsurfing for connecting me to people I would not have met organically. Many of them are lifelong friends now and I'll cherish all the memories we've created forever.
We hope these tips were helpful. If you have any advice, we'd love to hear them. Just share them in the comments section of this post. ⬇️⬇️
And if you'd like to be my friend, feel free to send me a message on Couchsurfing. We'd love to meet you in person one day! ????????????????‍♂️????
If you liked this post, please pin it on Pinterest!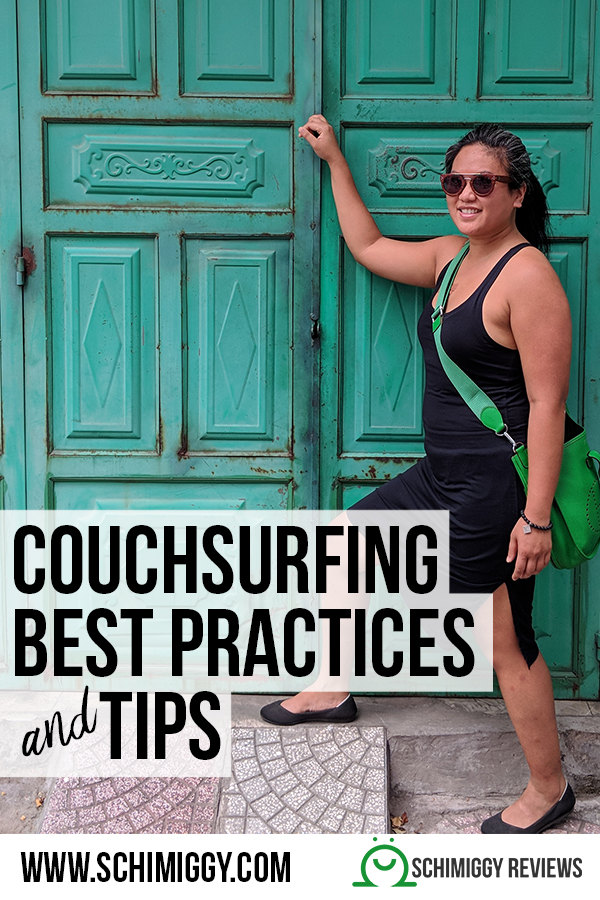 ---
Thank you for visiting today! If you found this encouraging or informative, please connect with us on Instagram, Youtube, Pinterest, Facebook or Twitter. We'd love to meet you!
Sign-up for our monthly newsletter for updates and more. We promise we won't spam you! Feel free to unsubscribe anytime.
For more fitness fashion discounts and offers, please visit our Fitness Instructor Discounts + Brands Directory or favorite brands coupon codes list.
If you're a brand and want to submit a product for us to review, please use this form to get in touch.
This site uses affiliate links. Clicking on or purchasing via an affiliate link may result in commissions for us which help keep the content flowing and lights on at Schimiggy Reviews. You may read more about this in our privacy policy.