Reading Time:
4
minutes
Updated: 1/24/2022 | Gigi Pip Review

About Gigi Pip
Gigi Pip is a men's, women's, and kid's hat company based in Salt Lake City, Utah.
The founders, Jon and Ginger Parrish, came together to create a business that would empower women and allow them to make an impact on how women feel inside and out.
Thus their tagline became, "For the Woman Who Wears Many Hats," which is also screen printed onto the inner band of each and every Gigi Pip hat.
Gigi Pip Review
We've been wanting to try their hats for a while and with so many other collaborations, we just now got time to give the brand a whirl.
Using our own hard-earned money, we invested in the following Gigi Pip hats to review in this post:
Capri Medium Boater Hat ($96) – I purchased this hat at a deeply discounted rate of $44! I purchased the size 59 cm and it fits pretty big on my 58 cm head. I was able to adjust the inner band to 58 cm, which is my head size. The hat still looks oversized but I prefer that look. The quality is excellent!
Dahlia Boater Hat ($94) – I found this hat on the Facebook Marketplace for $35! It was new with tags. I received the size 61 cm, which I was able to adjust to my head to fit. It's cute and I get tons of compliments, so I'll be keeping it. A size M/L would've definitely been a better fit.
Below we'll go over the pros and cons of shopping with Gigi Pip.
Gigi Pip Pros
Size-Inclusive – The majority of Gigi Pip's hat styles are offered in different sizes so you are bound to find a hat style and size that is best for you. There are select styles that come in one size (OS) options. See their complete size guide here. If you need additional help, we've also written up a guide on how to find your perfect hat size. I am a size 58 cm in hats and wear Gigi Pip size M/L hats.
Timeless styles – All their hat styles are very timeless and classic.
Hats are sustainably made. Hats are designed in Salt Lake City, Utah, and are manufactured in heavily regulated factories all over the world. They always ensure their manufacturing partners are paying fair wages and adhering to sustainable manufacturing practices. Read more about how Gigi Pip's hats are made here.
Hats are easy to care for. An expensive hat does not mean that it requires dry-cleaning and is high maintenance. Gigi Pip's hats can be taken care of with just a few cleaning tools. Read their care instructions here.
Hats have an inner lining. The crown of their hats are lined with silky fabric so that it provides additional warmth and prolongs the life of your hat.
They offer hatbands to accessorize and customize your hat! Check out their hatbands, which you can use to customize and make your hat uniquely yours.
Free shipping on orders of $175 USD or more. This equates to the purchase of two hats in order to qualify for free shipping.
Free exchange on the first order to ensure customer satisfaction. All customers receive 1 free exchange to fit the perfect hat size and style.
Gigi Pip Cons
Restocking fee of $8 for returned hats. Gigi Pip offers your first exchange is free so that you can find the perfect hat size and style.
Expensive – Their hats are more expensive when compared to other brands such as Wallaroo and San Diego Hat Company. Their hat pricing ranges from $62 for a visor to upwards of $168 for a wide-brimmed hat.
They do not offer sales often. It's very rare to see a Gigi Pip sale. When they do offer a sale, it's typically during the holidays or Black Friday/Cyber Monday. You can also use code SCHIMIGGY10 to receive 10% off all your Gigi Pip Orders.
They offer a wishlist on their site but you cannot access it. It is more of a restock notification process. I have no idea what is on my list at the moment, but I know it exists. I'll find out what's on my wishlist when I get a restock notification in my inbox.
Should I Shop at Gigi Pip
Yes! We love the quality of the hats and how gorgeous they look with everything we wear. We highly recommend Gigi Pip based on their craftsmanship, style, and sustainable and fair business practices.
If you're new to the brand, we highly recommend checking out their most popular styles:
Where to Buy Gigi Pip
Shop for Gigi Pip hats directly on their website.
Use code SCHIMIGGY10 for 10% off all your orders at Gigi Pip.
You can also visit their brick-and-mortar store in SLC to see the hats up close and in real life.
You can also shop Gigi Pip at these other verified retailers: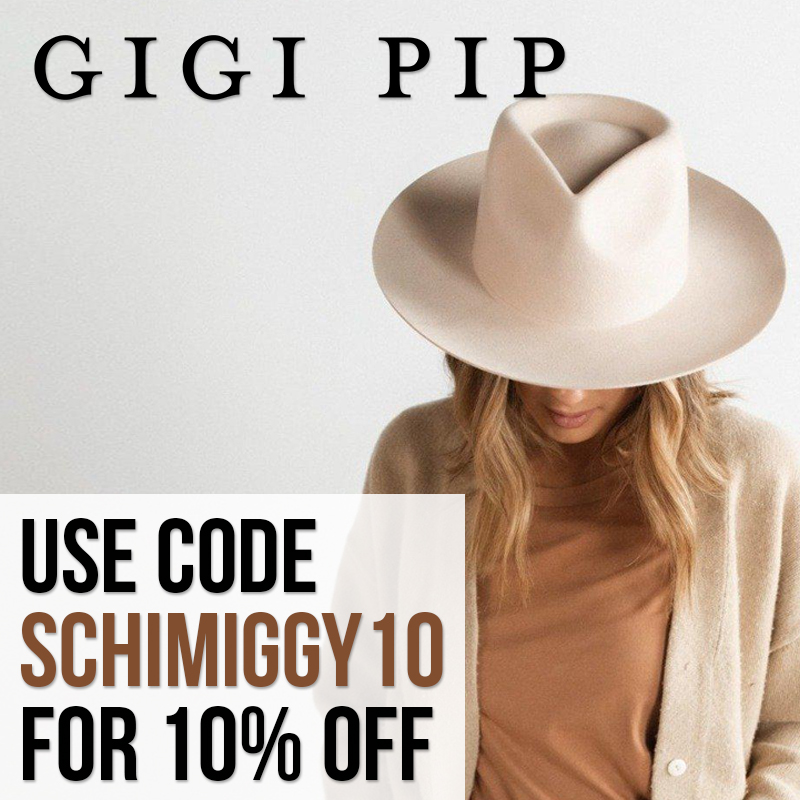 If you found our Gigi Pip review helpful, please share it on Pinterest. Thanks for your support!
---
Thank you for visiting today! If you found this encouraging or informative, please come hang out with me on Instagram, Youtube, Pinterest, Facebook or Twitter.
Sign-up for our monthly newsletter for updates and more. We promise we won't spam you! Feel free to unsubscribe anytime.
For more fitness fashion discounts and offers, please visit our Fitness Instructor Discounts + Brands Directory or favorite brands coupon codes list.
This site uses affiliate links. Clicking on or purchasing via an affiliate link may result in commissions for us which help keep the content flowing and lights on at Schimiggy Reviews. You may read more about this in our privacy policy.