Reading Time:
8
minutes
Current Girlfriend Collective Deals:
Updated: 11/8/2020 | Girlfriend Collective FLOAT Leggings Review

I received a complimentary outfit for this FLOAT leggings review, however, all my thoughts and opinions are 100% honest.
About Girlfriend Collective
Girlfriend Collective (GC) is a women's activewear company based out of Seattle, Washington. GC was created by co-founders and husband and wife duo, Ellie and Quang Dinh.
You might recognize this brand from when they were advertising a FREE LEGGINGS campaign back when they launched in 2016. The campaign was successful at launching the brand into recognition. All you had to pay was shipping and the leggings were at your doorstep.
Through this review, I learned that their business practices were also worth mentioning. They pride themselves in transparent business practices and creating purposeful pieces.
All their products are eco-friendly and either made of certified used water bottles or fishnets retrieved from the ocean. Girlfriend Collective is proud to be a slow fashion company.
This means that their small batch manufacturing process is good for the environment AND good for you. They're a sustainable and environmentally friendly brand that we should all be talking about.
And it doesn't stop there. Girlfriend Collective recently introduced their ReGirlfriend program which makes their production close looped. Buy a shipping label ($7) and send in your used Girlfriend products. You'll receive a $15 credit in exchange for your return. They take the used Girlfriend products and make new products from your old products.
Girlfriend Collective Review: FLOAT Leggings
I reviewed their FLOAT leggings.
Their fabric manufacturing process is done in Taiwan at a fair trade facility and is certified safe by Oeko-Tex. The leggings are then assembled in their SA8000 certified factory in Hanoi, Vietnam, which uses no forced or child labor, mandates fair working hours and safe conditions, allows unionization, and pays living wages (125% of the local minimum wage).
And the best part? Each pair of leggings is made out of approximately 17 certified used water bottles.
Would I say they're eco-friendly? They are definitely more eco-friendly than many other current brands on the activewear market, however, synthetic fabrics still leak microplastics into the ocean through their manufacturing process and every time we wash our activewear.
If you're concerned about microplastics leaking into the ocean, consider investing in GuppyFriend washbag or a microfiber filter ($45).
GuppyFriend is a laundry washing bag that prevents approximately 90% of microplastics from leaking from our activewear and into our oceans, which fish and sea organisms then ingest. You can buy GuppyFriend wash bags at Patagonia and REI.
Girlfriend Collective just announced their newest wash bag! Their proprietary wash bag works just like the Guppy Bag above. It prevents 90% of microfibers from entering our oceans. The bag is only $18. We recommend throwing 2-3 pieces in there for washing.
The microfiber filter (see below) attaches to your washing machine and collects the plastic fibers before they can enter our water stream. This method is more effective than the wash bag and is easy to install.
Have I excited you about Girlfriend Collective yet? Let's move onto the full FLOAT leggings review!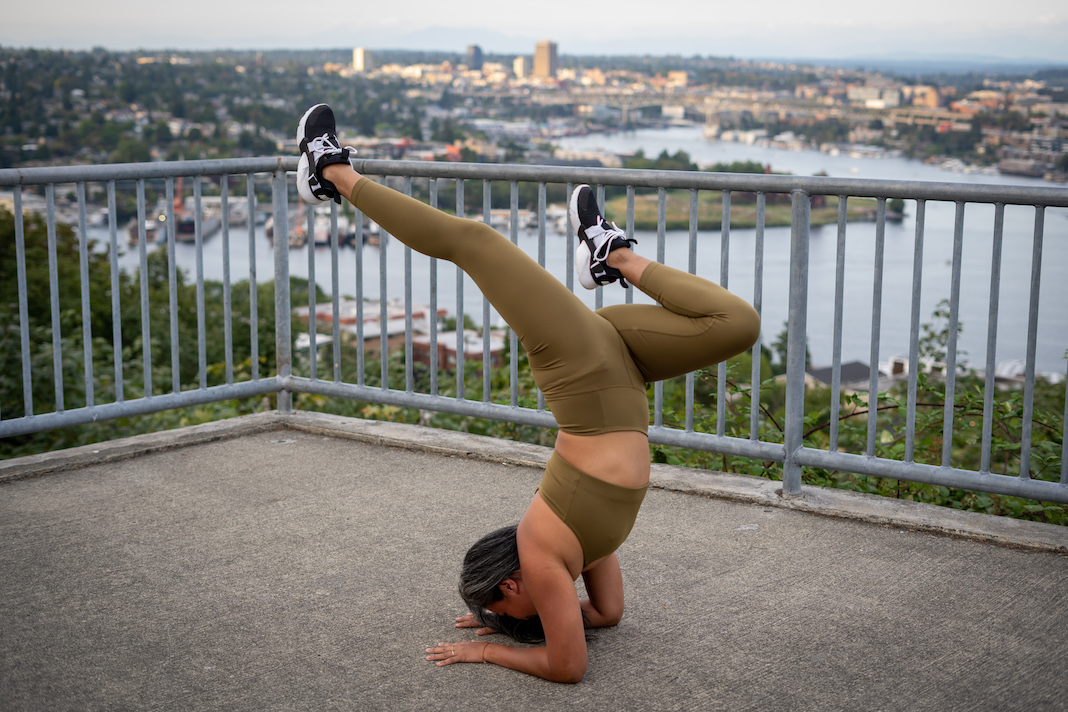 #1 How is the sizing of FLOAT leggings?
The FLOAT leggings run true to size (TTS). I wear a size SMALL in their high rise FLOAT leggings. For size reference, I wear a size 6 in lululemon.
The fit is more forgiving than their original compression leggings due to the fabric being softer and thinner. If you feel comfortable doing so, you can size down for a more compressive fit. If you're in between sizes, we recommend sizing down.
Their sizing runs from XXS to 6XL, making them size-inclusive.
See more information on Girlfriend Collective sizing.
#2 What are FLOAT leggings made for?
The FLOAT fabric is compressive, lightweight, and dry wicking. It's made to handle any activity you put them through.
As of now, the FLOAT collection only comes in essential colors that include black, shadow (gray), midnight (navy), fern (army green), and fig (mauve). The collection offers high rise leggings, bike shorts and matching bras.
While the FLOAT fabric makes for comfortable bras, my only complaint is that I wish they had compartments for bra cups and that they were more compressive. If your body is like mine (athletic and small chested), the bra may be a good fit.
Their FLOAT bras might not be great for those with bigger sized chests.
#3 How long is the inseam on FLOAT leggings?
GC leggings come in two inseams; a regular inseam measuring 28.5″ and cropped inseam measuring 23.75″
GC also makes biker shorts that are perfect for giving your legs some breathing room.
#4 How high is the rise on FLOAT leggings?
The leggings come with a 10 1/4″ rise on S (for each size up/down, add/subtract 1/2″).
The waistband sits 1″ above my navel. I am 5'5″ for reference.
#5 How tall is the waistband of FLOAT leggings?
The leggings have a tall waistband measures 5″ and is very compressive and slimming. The top of the waistband sits 1″ above my navel. The high waistband also prevents any slippage from happening during wear.
Like their original compression leggings, the FLOAT leggings are made with a top seamed waistband construction, which adds to the tummy tucking support.
https://www.instagram.com/p/CF2srGlHjmH/
#6 Fabric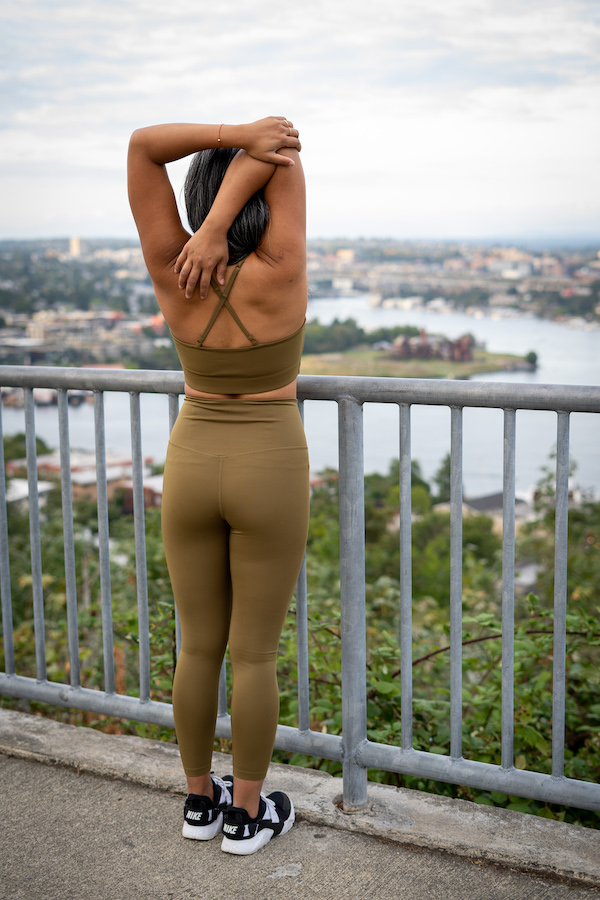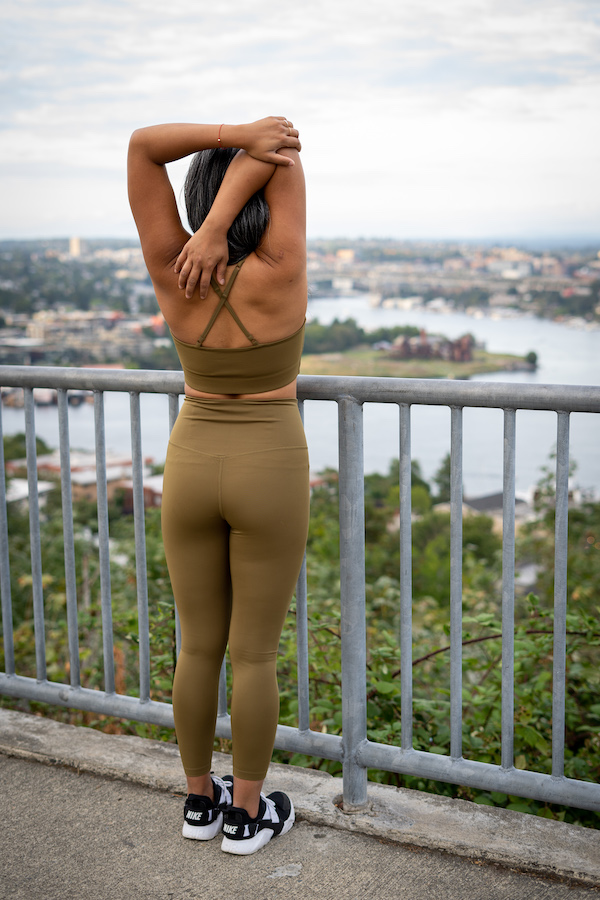 #7 When should I wear FLOAT leggings?
Seriously, the leggings can be worn anywhere and anytime. The v-shaped seams on the back of the pant make the pant look very attractive on the bum. I also wear the pants casually with a denim shirt or oversized sweater.
They are great for all activities, exercises and even while wearing casually or while running errands because they're lightweight and comfortable.
#8 How much do FLOAT leggings cost?
The FLOAT leggings cost $68. Bras are only $38! You can snag $10 off when you use this link.
They're cheaper than lululemon and the quality is way better IMHO.
#9 Do FLOAT leggings have a gusset?
The gusset is triangle-shaped, double-layered, and reinforced with flat-fell seams.
#10 What seams do FLOAT leggings have?
The leggings are constructed with flat fell seams throughout the pant for a chafe free fit.
#11 Do FLOAT leggings have UPF protection?
The leggings offer UPF 50+ protection. Wear them under the sun!
#12 Where are Girlfriend Collective leggings made?
Made in Hanoi, Vietnam. The compression fabric is produced in Taiwan from truly recycled water bottles.
#13 How to care for FLOAT leggings
We recommend washing your leggings inside out and on the gentle cycle with similar colors. Afterward, hang dry your activewear on a foldable drying rack such as this one.
The screen-printed pant details on the inner waistband pant will eventually rub off and fade away with every wash.
And lastly, use GuppyFriend every time you wash your activewear to prevent microplastics from leaking into the ocean. You can find GuppyFriend bags at Patagonia and REI.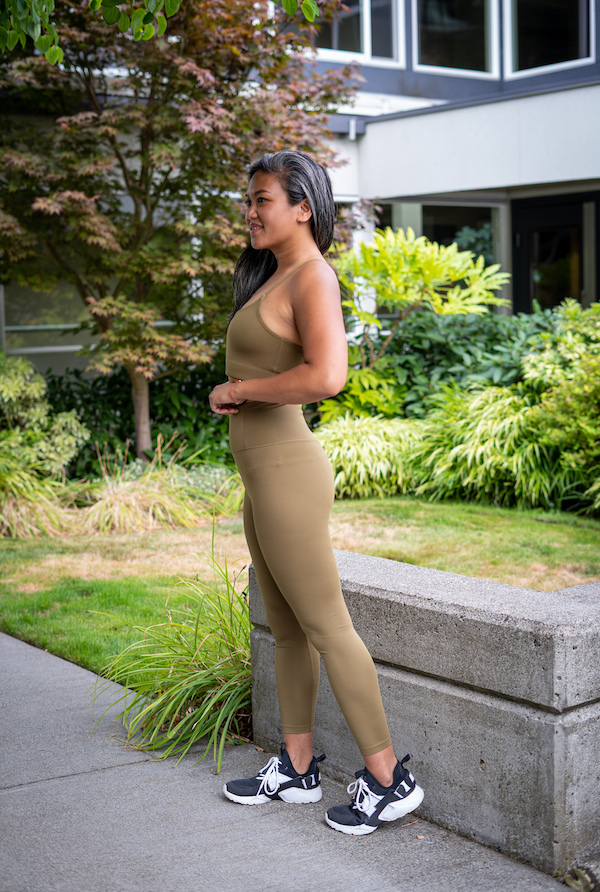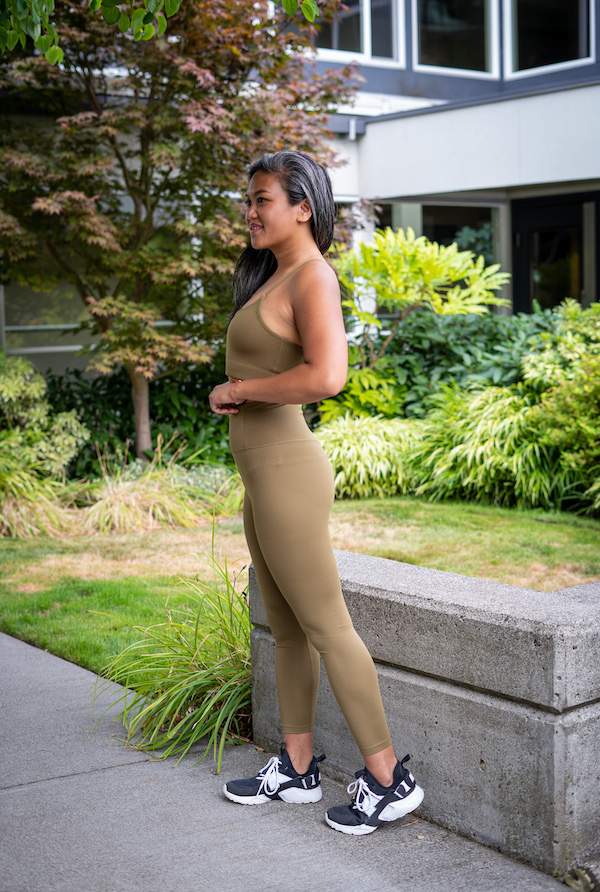 Should I Buy the Girlfriend Collective FLOAT Collection?
YES! I highly recommend Girlfriend Collective's FLOAT collection.
Girlfriend Collective is the most eco-friendly of all activewear brands on the market. They even have a closed-loop system where you can return used Girlfriend products so that they can recreate them into new products. In return, you receive a coupon code toward your next purchase and Mother Earth is happy.
What I love most are their values, business practices, and size inclusivity. Their transparency is respected and I wish that every organization can follow suit in creating slow and meaningful fashion that will help to sustain the world we live in.
The FLOAT collection is lightweight, comfortable, compressive, runs true to size and DOES NOT PILL. It's definitely a step up from their LITE collection, which was great but pilled and snagged like crazy. I would compare them to lululemon Align leggings, except they're cheaper and better for the environment. Sorry lulu!
I hope my FLOAT leggings review has helped you determine that you definitely need these leggings. ????
Related: Girlfriend Collective: Lite VS Compressive Leggings – What's the Difference?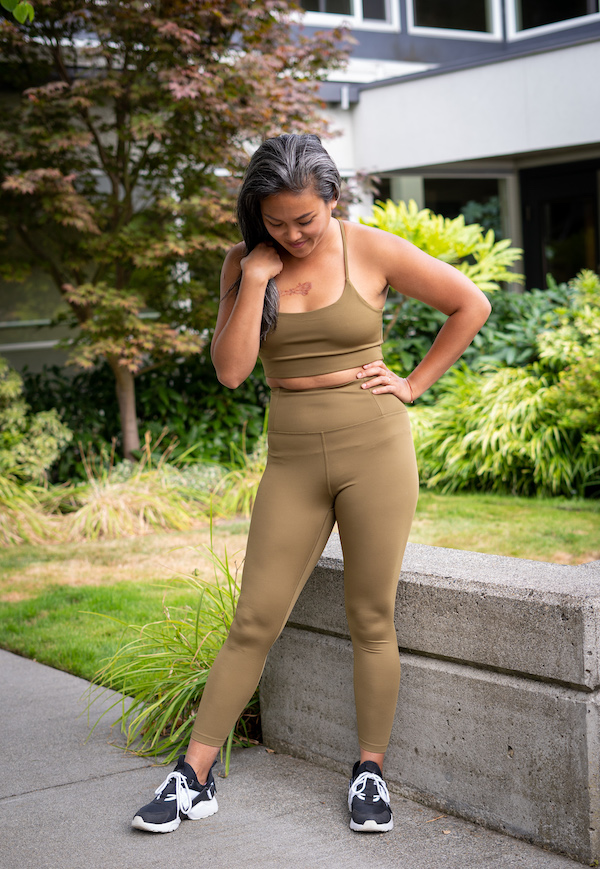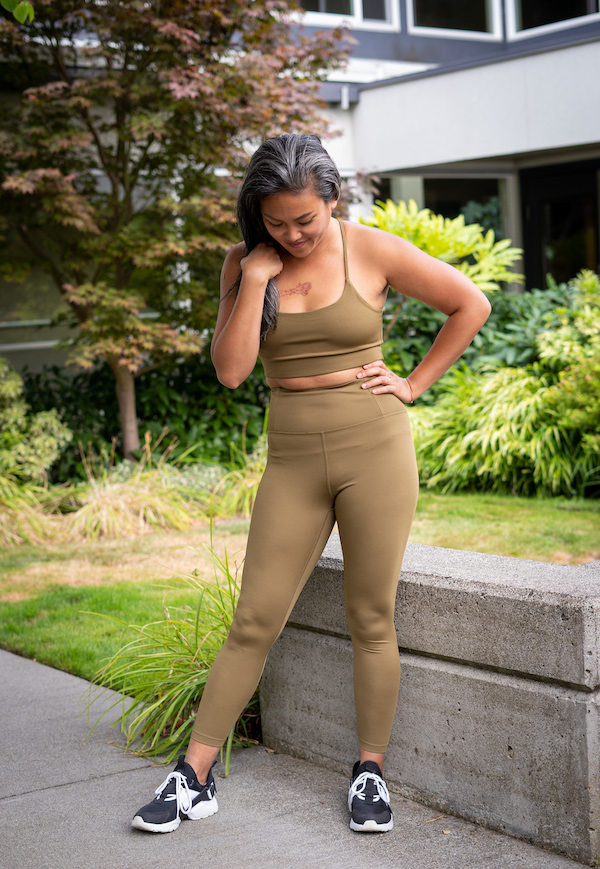 Where to Buy Girlfriend Collective
You can buy Girlfriend Collective on their online retail store. Leggings will range from $68-$78 a pair. Trust me, they are worth it!
Girlfriend Collective Discounts
You can also buy Girlfriend Collective from these other retailers:
What do you think? Are you ready to give Girlfriend Collective a try? Check them out and let me know what you think!
If you liked this post, you might like these other articles:
If you found our Girlfriend Collective FLOAT Leggings review helpful, please share it on Pinterest. Thank you!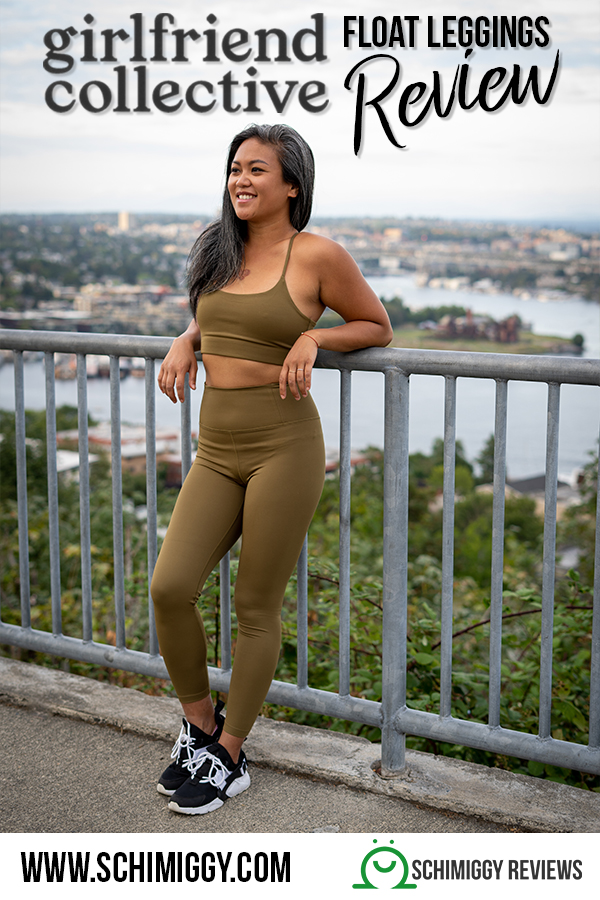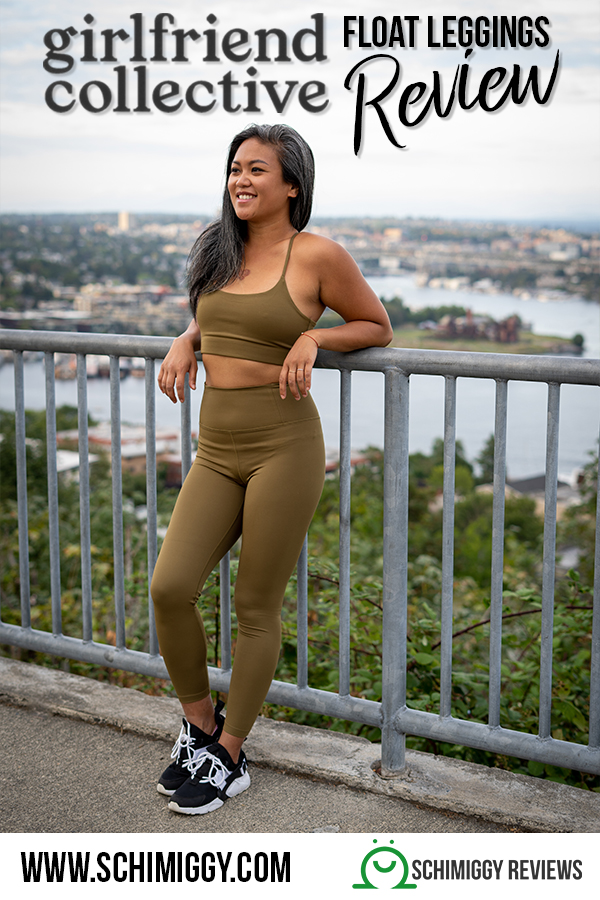 ---
Thank you for visiting today! If you found this encouraging or informative, please connect with us on Instagram, Youtube, Pinterest, Facebook or Twitter. We'd love to meet you!
Sign-up for our monthly newsletter for updates and more. We promise we won't spam you! Feel free to unsubscribe anytime.
For more fitness fashion discounts and offers, please visit our Fitness Instructor Discounts + Brands Directory or favorite brands coupon codes list.
If you're a brand and want to submit a product for us to review, please use this form to get in touch.
This site uses affiliate links. Clicking on or purchasing via an affiliate link may result in commissions for us which help keep the content flowing and lights on at Schimiggy Reviews. You may read more about this in our privacy policy.