Reading Time:
3
minutes

About Herschel Supply Co.
I purchased my first Herschel Supply Co. backpack earlier this year and it has undoubtedly been one of the best investments I have ever made. I am not a huge purse or handbag girl so finding an attractive and functioning backpack is a must for this urban city life. I choose backpacks because I love the convenience of having everything strapped on my back and out of my way while I am running around town completing errands or eating at the best Seattle restaurants. It also rains a lot here, so I really want to avoid ruining my leather or cloth handbags. Although wearing a backpack has become a "hipster" pastime, the reason I carry backpacks is the endless functionality of having a thing that carries your life strapped onto your back.
Herschel Supply Co. Review: Pop Quiz Backpack
I shopped Herschel online. After reviewing the specs, I decided to give the Pop Quiz backpack a try. I am glad I did, and for the following reasons:
The material! The fabric they use is a signature coated cotton-poly fabric and the zippers are waterproof. This bag is definitely rain resistant which is great for our misty/rainy weather. The one I purchased has a purple leopard design. It wasn't really my cup of tea but I grew to like the pattern and colors.
The laptop sleeve in the bag is fully fleece lined and padded so that you know your laptop is safe. There's no need to buy a separate laptop sleeve!
The padded straps are comfortable!
The glasses compartment on the front top of the backpack is totally amazing. I was blown away that I hadn't discovered this feature before.
I also bought it on www.6pm.com for only $41!!! It's normally $70.
There's a one (1) year warranty towards any manufacturer defects with proof of purchase.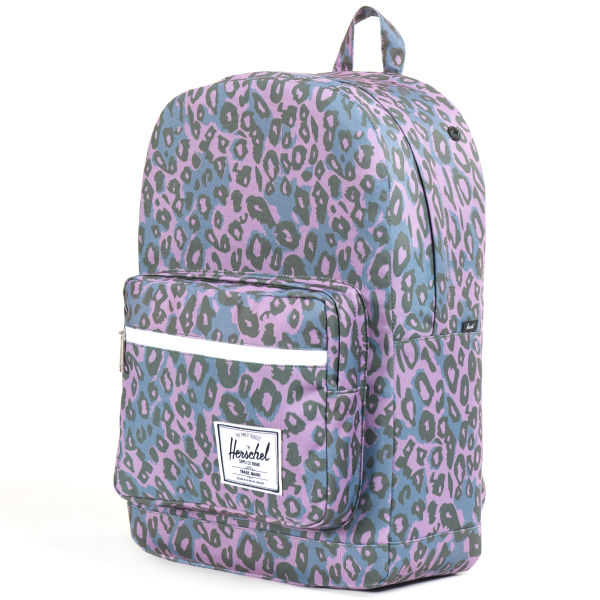 The overall construction of the backpack could be described in two words: sturdy and reliable. This has been my go-to backpack since I purchased it. The resale value is also comparable to the original MSRP since the brand is so new and popular. It's just a matter of time before they will show up on eBay and other reseller sites.
I recently purchased  a cotton canvas Herschel backpack (which I DO NOT recommend btw). The seams came apart and it stained easily. Luckily I was able to contact Herschel's customer service line and exchange it for something I've been wanting to try: the Little America Backpack (LAB) in my favorite color – EMERALD!
I am not sure if I am a fan of this style yet because it's so bulky and the only size they had in the Emerald LAB was the bigger one. I'll wear it around for a while and figure out if it will work for me. As far as space goes, this pack holds EVERYTHING. I mean, I could go five days without having to change the contents of my bag. It's definitely an ideal camping backpack. It also has the padded laptop sleeve, high quality magnetic button closures, faux leather straps, padded back and straps and front compartment. I am missing the sunglasses compartment. Hoping there is some way they can include that in their next design.
Update on Little America – This bag is SO spacious and holds a weekend wardrobe and much more. I am in love with the color and functionality. I highly recommend. It's also very "hip." Portland would be proud.
Where to Buy Herschel Supply Co.
Thanks for tuning in! Please let me know your thoughts and if there are any other cool things about Herschel Supply Co. that I haven't mentioned here.
---
For more fitness fashion discounts and deals, please visit my Fitness Instructor Discounts + Brands page.

Alex Tran AKA Schimiggy is a fitness fashion, travel, justice, and food-obsessed raconteuse. She currently resides in Seattle and teaches yoga while writing her heart out. Schimiggy Reviews is a lifestyle blog where Alex shares her passions and interests with the world!