Reading Time:
5
minutes
When you post your item for resale, it can be on any platform you desire, however, the way you describe it will determine its appeal to your potential of buyers and ultimately determine if you make the sale or not. To maintain consistency, please use the chart below to learn the common Lululemon buying and selling terminology to accurately determine and describe the condition of the item you are selling.
Lululemon Condition Acronyms
If you are selling on eBay, I recommend including as much information as possible in your listing. If you are selling your item in a Facebook group, I would describe by using the following acronyms below:
(Organized from best to worst condition.)
| Acronym | Product |
| --- | --- |
| NWT | New With Tags = An item that is being sold and still has its product tags attached. It has not been worn. These items may be sitting in closets or passed their return date and the seller just wants it sold and gone. This item is still in its best condition. The acronym may be displayed as BNWT=Brand New With Tags. |
| NWOT | New Without Tags = An item that is unworn and unwashed and considered new but without its original product tags. |
| Like New | Item is worn yet appears in new condition. Might have been worn 2-3 times or only washed but not worn. Will often have the size tag still attached and crisp. Has no flaws. |
| EUC | Excellent Used Condition = An item that is gently used and shows slight wear but looks in good repair. There are no holes, pilling, stains, etc. Sellers may add a V(ery) in front to show condition is better than just EUC (i.e VEUC). |
| GUC | Good Used Condition = An item that is in good repair and does display moderate wear. There are usually none to light stains, slight pilling, no broken seams, and no holes/tears. Sellers may add a V(ery) in front to show condition is better than just GUC (i.e VGUC). |
| Bonesy | An item that is used and in fair condition. Has noticeable flaws (stains, tears, pilling, etc.). The item is usually no longer in production and sold at a very low price. |
| Poor | Not wearable and has severe damage and flaws, but can still be used for other purposes. This includes past season items that have tears that can be repaired. |
| Damaged | Items can be damaged due to various circumstances. Item may be missing buttons, broken zipper, the fabric was cut by scissors/razors, or more. Item can be used or new. Damage must be mentioned in the listing. Lululemon stores will repair or exchange items that can be reasonably "damaged out." |
Best Practices When Describing Lululemon for Online Sale
Here are some guidelines to follow when creating product descriptions for you Lululemon merchandise.
Describe any and all flaws in detail. Be honest about what the flaws are and write them out so that there is no need for clarification. For example, if you have a hole in your leggings, indicate where the hole is located, how big it is, and if it can be repaired.
Take and include photos of any flaws no matter how minuscule they are. Photos allow buyers to see the condition of the item. Photos will also clear up any misunderstanding in the event there is a dispute. I even go as far as to record myself with the product when I am selling a high ticket item.
Take photos of the actual item in good lighting. Use a combination of stock photos and actual photos when listing your items. Make sure the selling platform allows the use of stock photos. If they do not, your listing may be removed.
Describe how you care for your products. Buyers will better understand the condition of your item based on how you treat it. I typically say, "machine washed with cold water and hung dry" in my listings for used activewear.
Create a template for your product descriptions. Having a template will help to expedite the process of getting your listings posted. Make sure the template is concise. Wordy descriptions may confuse or deter buyers. Here is a recommended template of things to include in your product descriptions (feel free to copy and use this template):

Brand: Lululemon
Product Name: Wunder Under Pant II
Color: Black – Use the color acronym/code when possible.
Size: 6 – indicate if sizing runs big or small
Condition: New with tags – Use the chart above to indicate the condition of the item.
SB (starting bid): $50
BIN (buy it now): $70
Retail: $98 – It is OK to omit this info if you do not know it. I like to include it so people see the value they are receiving when shopping with me.
Payment: Indicate if you accept PayPal (as gift or with fees as merchandise) or EMT (Canada only). I have also used Facebook pay and Venmo for in-person and online transactions.
Shipping: $5 flat within USA/$10 flat to Canada/Local Pick-up
Cross posted: Indicate if Yes or No

Review sold product listings on eBay, Mercari or Poshmark and see what you would like to use from those previous listings.
Remove old listings. Once you have sold an item and the transaction is complete, delete it from the group. This prevents groups of getting cluttered with outdated posts.
Refer to this Lululemon Glossary when writing your product description. Use acronyms to communicate quickly in Lululemon Facebook groups. Always spell out the acronyms when listing on other platforms such as eBay, Poshmark or Mercari.
What Are Some Common Lululemon Product Flaws
Here is a list of common Lululemon product flaws that you can use to accurately describe the condition of product you are selling. Remember to list everything honestly to avoid any misunderstandings between buyer and seller.
Holes or Tears in the fabric from use or contact with abrasive surfaces.
Broken Zippers
Missing Zipper Pulls – Lululemon's zipper pulls double as a hair tie and are often have a metal or plastic extension on it.
Stains/Spots – Identify where the stains are located and how big they are. Indicate if they can be removed or not.
Hemming – Not really a flaw, but should be mentioned in case someone is expecting something to fit without having been altered.
Broken Buttons/Snaps – Buttons may have broken or torn from the fabric.
Discoloration – May be caused by bleaching or stains from other products getting onto the fabric. I had a hot pink CRB that stained my other Lululemon products.
Stretched Out – This is when the fabric has stretched and caused a product to fit loosely. This happened with my parallel stripe WUPs. They went from a size 6 to an 8 in a matter of months. I was so bummed!
Sueding – Fabric starts to show wear and displays a slight fuzz at the surface. Pilling has not occurred yet.
Pilling – Fabric surface has started to develop small balls of fabric that can be pulled or shaved off by an electric shaver/razor. Pilling can cause itching and look unattractive.
Examples of Lululemon Descriptions for Sale in Facebook Groups
Here are some examples of how people describe product being sold in Facebook groups.
The desired format is: CONDITION | SIZE | COLOR | PRODUCT | PRICE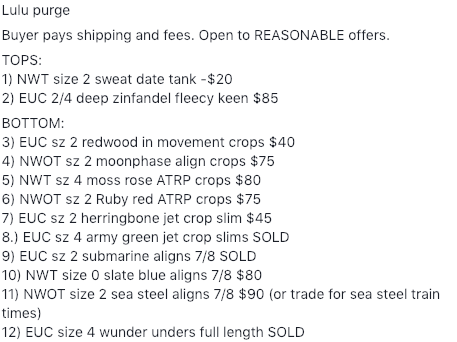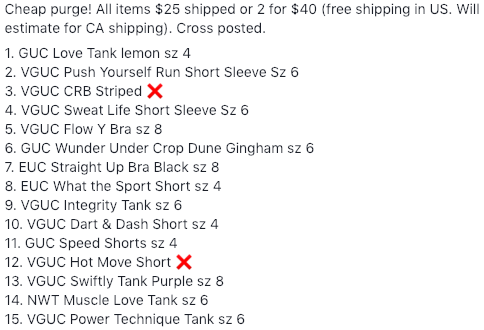 I hope this helped you better understand how to create descriptions for selling your used Lululemon merchandise. Be mindful that everyone understands product conditions differently and not everyone uses a guide. Thanks for tuning in and please let me know if there are other topics you want to discuss in the comments section of this post.
If you liked this article, you may like these too:
Want to know more about lululemon?
We have an entire resource page dedicated to everything lululemon related. Please check it out!
If there are any other topics you'd like us to shed some light on, please let us know!
---
Thank you for visiting today! If you found this encouraging or informative, please connect with us on Instagram, Youtube, Pinterest, Facebook or Twitter. We'd love to meet you!
Sign-up for our monthly newsletter for updates and more. We promise we won't spam you! Feel free to unsubscribe anytime.
For more fitness fashion discounts and offers, please visit our Fitness Instructor Discounts + Brands Directory or favorite brands coupon codes list.
If you're a brand and want to submit a product for us to review, please use this form to get in touch.
This site uses affiliate links. Clicking on or purchasing via an affiliate link may result in commissions for us which help keep the content flowing and lights on at Schimiggy Reviews. You may read more about this in our privacy policy.