Reading Time:
9
minutes
lululemon is a premium activewear brand with a cult following. Their success and popularity has encouraged manufacturers to replicate their products to sell at a fraction of the cost. These fake lululemon items are often referred to as "replicas" or "counterfeit" products.
If you want 100% authentic lululemon, you can buy products directly at the following places:
We realize that lululemon is a bit spendy, so people typically try to find deals on the secondary market. If you go this route to buy lulu, you may run into fake lululemon.
Many people will be unable to tell if something is authentic or fake, especially if you're not familiar with the brand.
In this article, we will help you spot fake lululemon apparel and show you what you can do if you happen to buy counterfeit lulu.
How to Tell If Your lululemon is Fake
There are many identifiers you can look for. Here are the most obvious ways to tell if you're lululemon item is a fake.
#1 Subpar Quality
The quality of fake lululemon products is NEVER the same as lululemon. lululemon uses proprietary fabric that is high quality and tested over and over again for performance and durability.
Fake lululemon will typically feel and perform differently. We'll go over things you should look for below.
Common quality issues seen in replica lululemon products: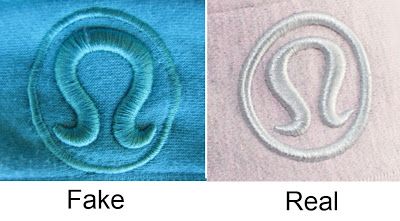 #2 Popular or Best Selling Items are Often Counterfeited
You should always check styles that are very popular or core items. Some of these styles include Align Pants, Wunder Under Pants, Scuba Hoodies, Cool Racerback Tanks, Define Jackets and much more.
The amount of counterfeits being produced is alarming, with most coming from China.
Related: What are the lululemon Core Products?
#3 Reflective Logo is Off
The lululemon logo is a great way to identify if an item is real or fake. On counterfeit pieces. the logo will often look elongated and peel off easily after a few washes. It will also often lack the reflective quality.
Oftentimes, the OM symbol will look off (see example image below).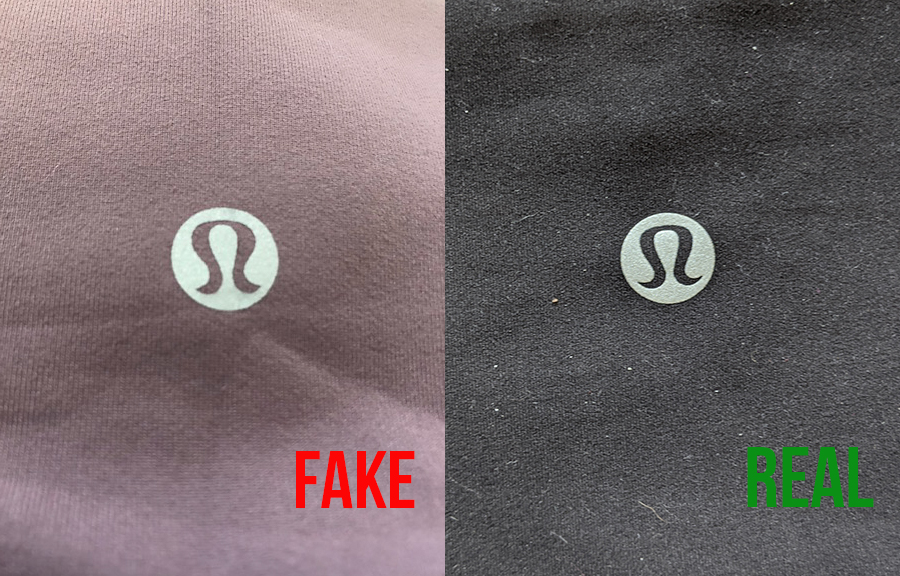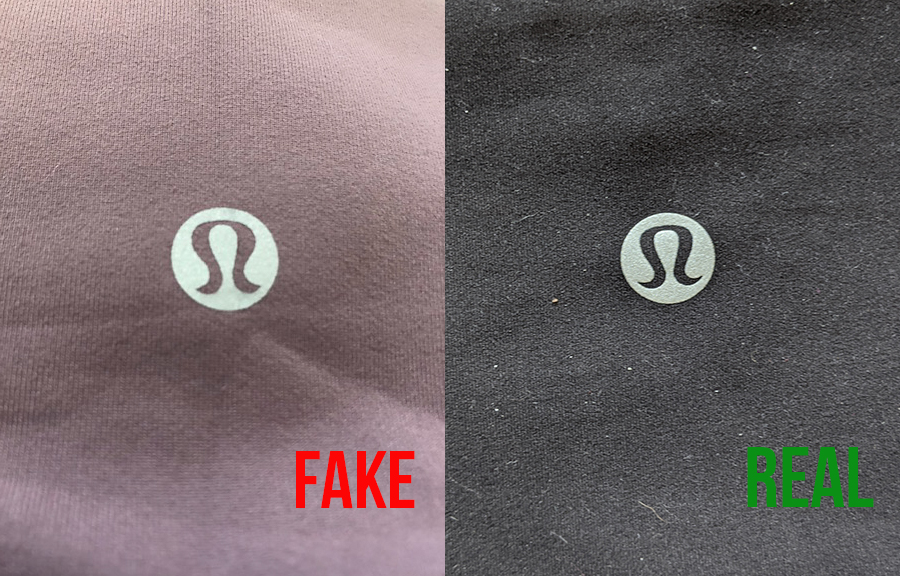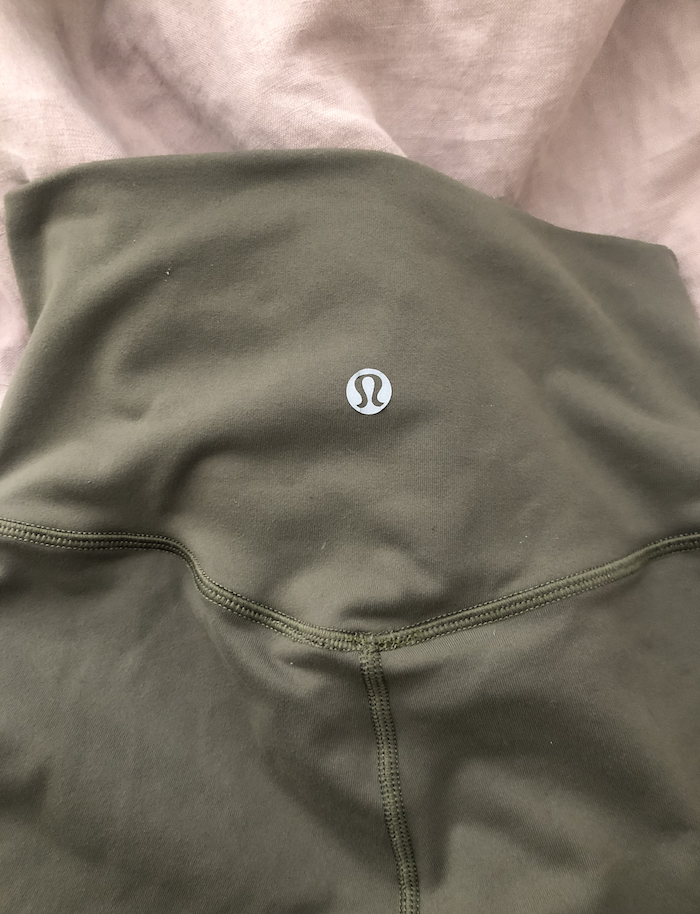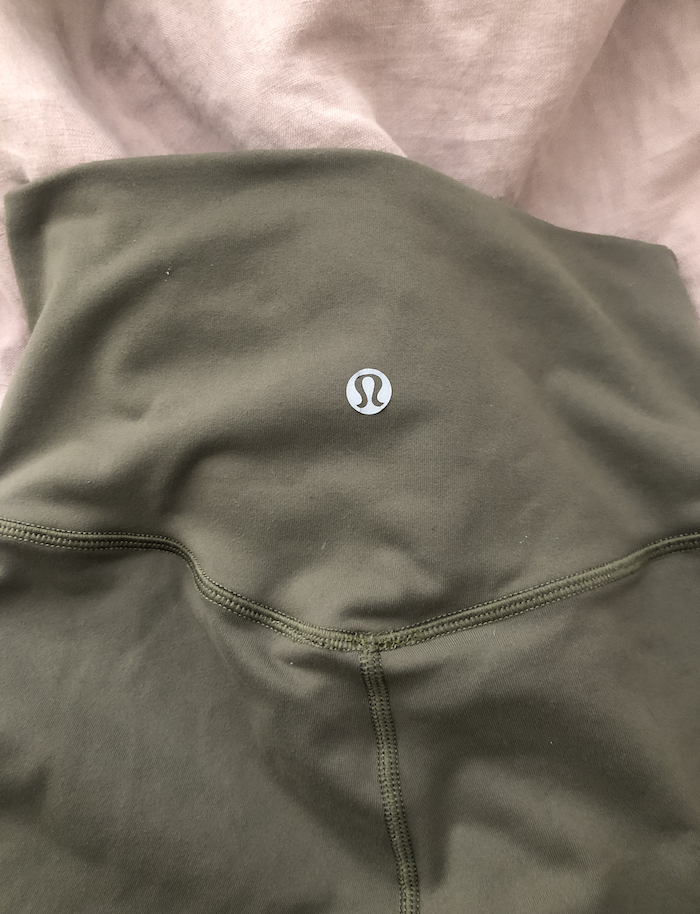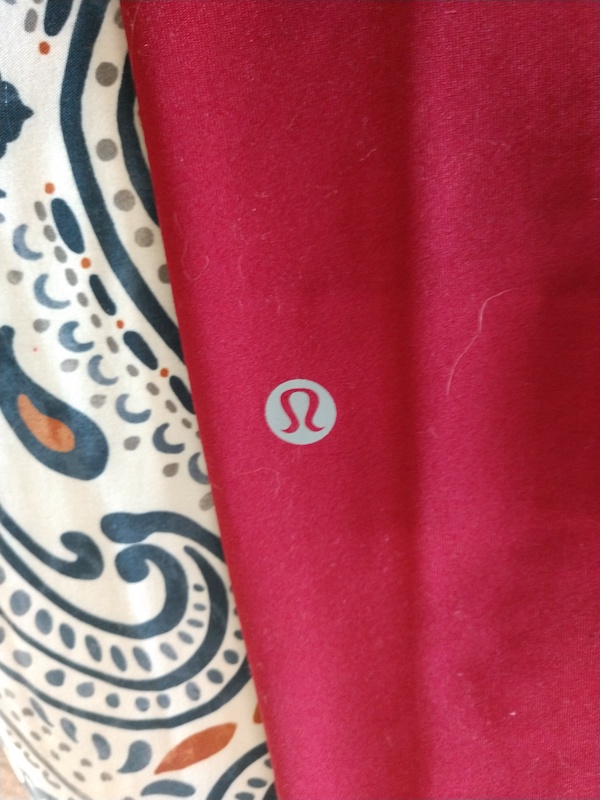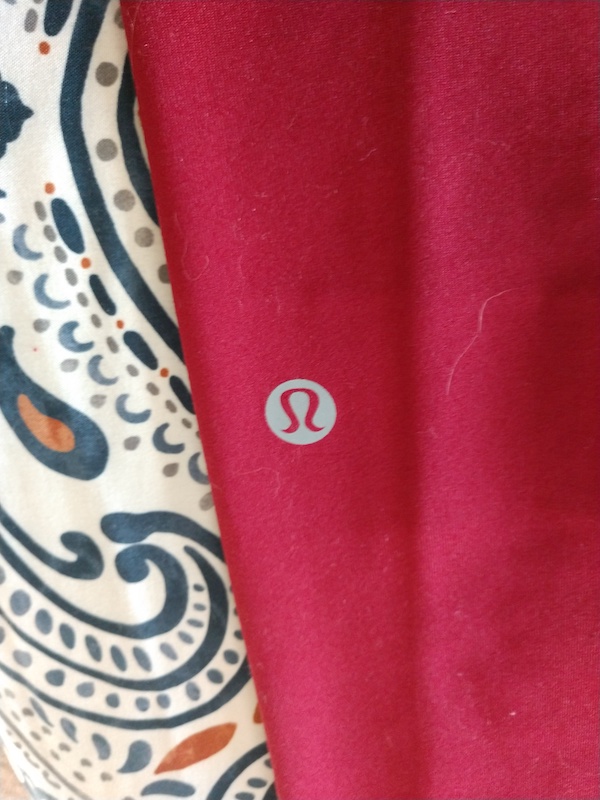 Do not mistake the men's reflective logo as a fake. The men's logo will be hexagonally shaped or have reflective corners (pictured below).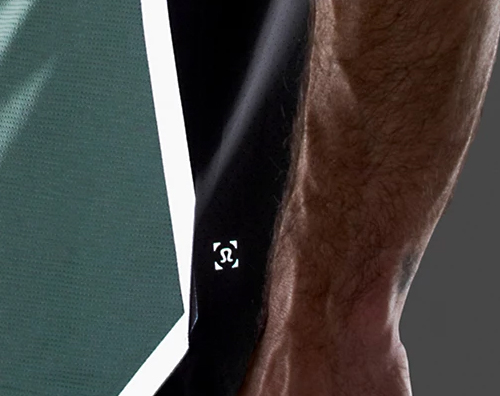 #4 The Print Has NEVER Been in Production
If you question a print or color, verify it's authenticity in a Facebook group (there are many of them) or take it into a lululemon store to verify.
If a print and color cannot be identified, it is most likely fake.
Related: lululemon Facebook Groups: Buy lululemon for Cheap and Meet Friends
#5 Stripes Don't Line Up
Another good indicator of fake lulu is that lines do not match up. Fake lululemon products will often have lines that do not match up or are even sewn on crooked.
If you see crooked or non-matching lines, it's a sure bet to verify if your item is fake or not. I would avoid it altogether because it may not even look appealing when worn.
#6 A Seller Has Too Much Product
If you're shopping a seller, whether they have many positive reviews or none at all, you should quickly scan their inventory to see if they have multiples of the same item. If they do, it's safe to assume that they are counterfeit.
You should read reviews thoroughly prior to buying. You might find negative reviews that indicate that a seller is selling fake products. Afterward, you should always report them to lululemon Guest Education Centre (GEC) and the platform the counterfeit items are being sold on (ie. eBay, Poshmark, etc.)
#7 The Hang and Rip Tags Have Misspelled Words or Weird Font
Prior to buying anything New With Tags (NWT), make sure you ask the seller to provide images of the hangtag so that you can verify a products' authenticity.
A fake hang tag will typically display the following:
Below we'll go over some AUTHENTIC versus FAKE lululemon product tags.
AUTHENTIC lululemon Hang Tags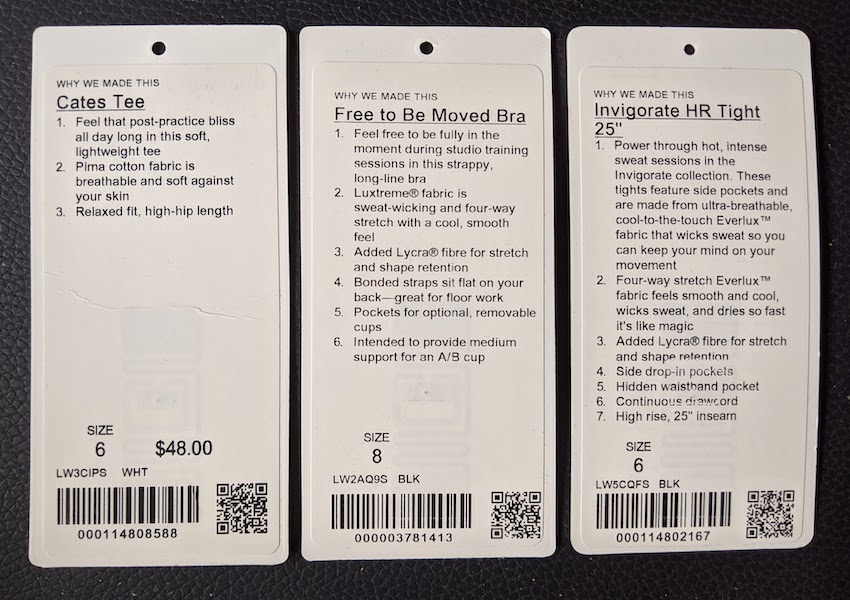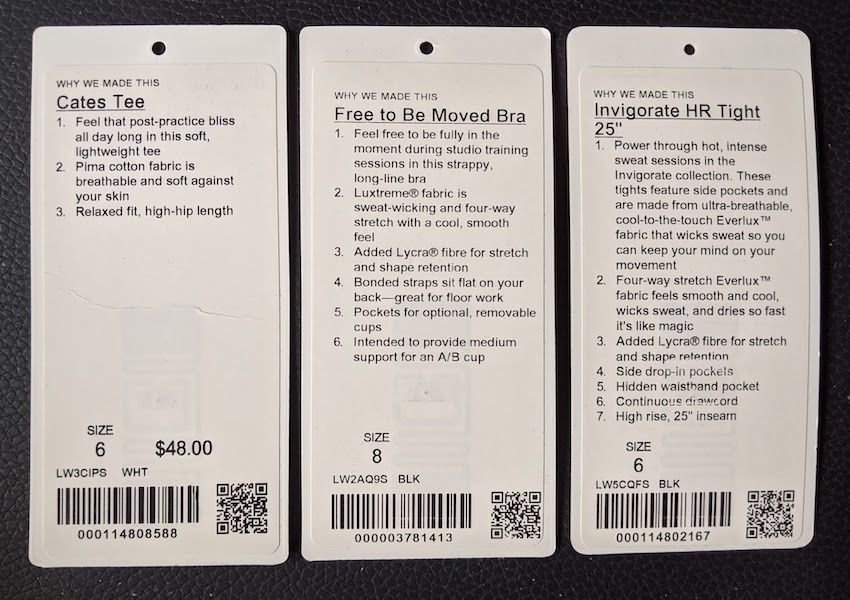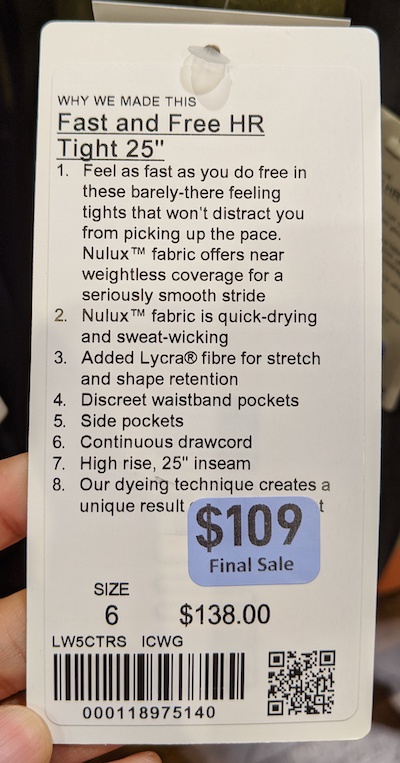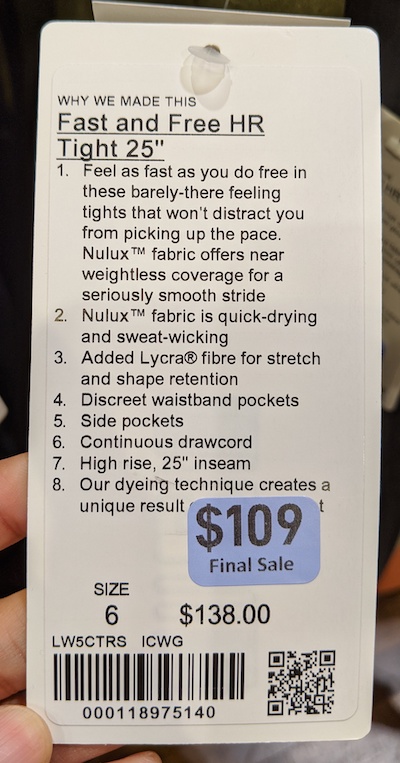 FAKE lululemon Hang Tags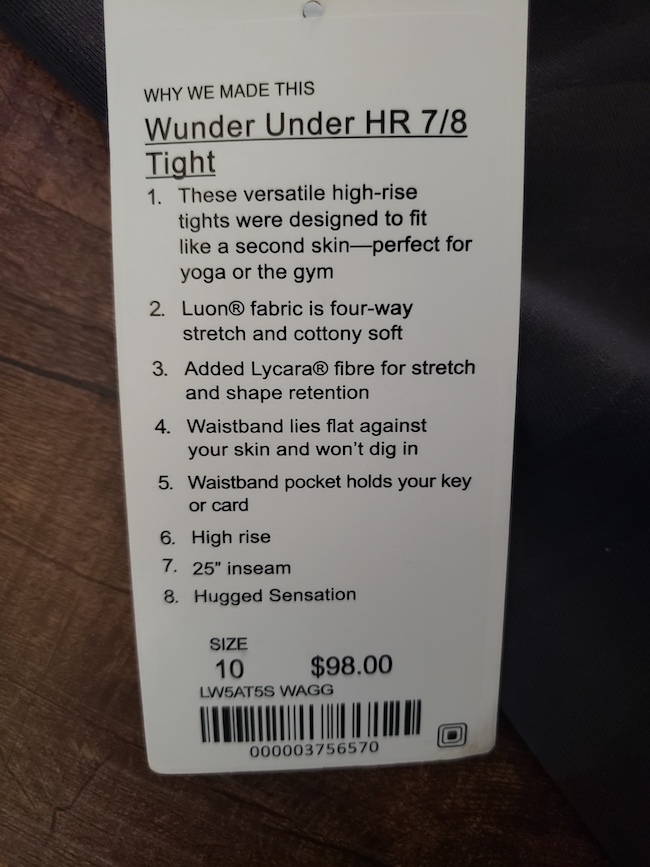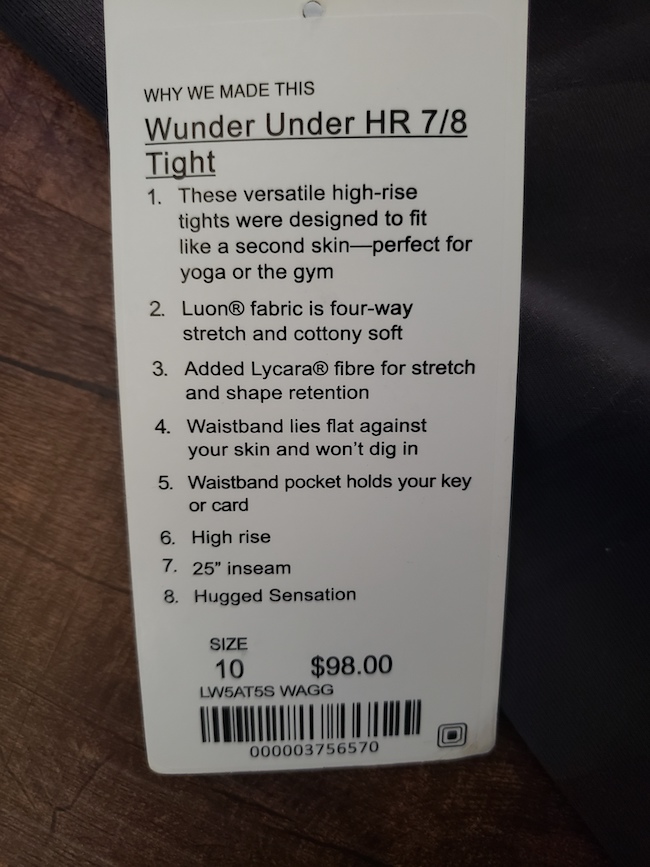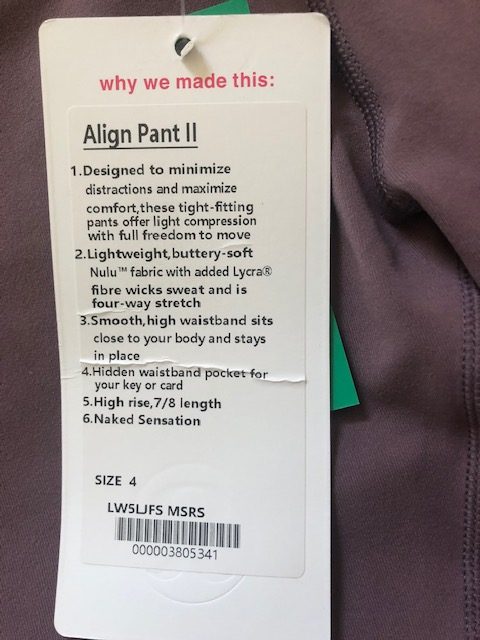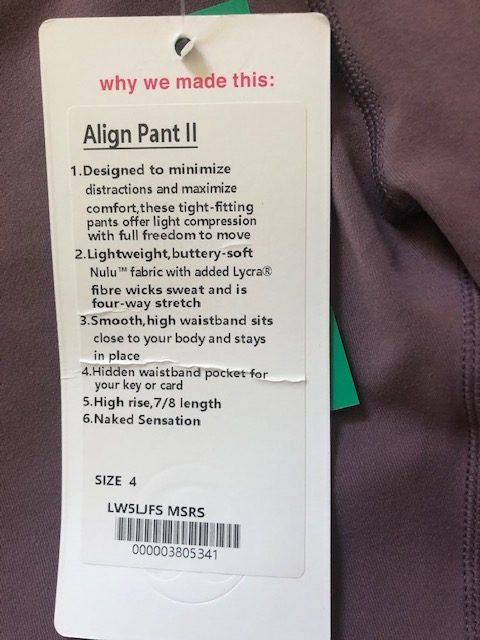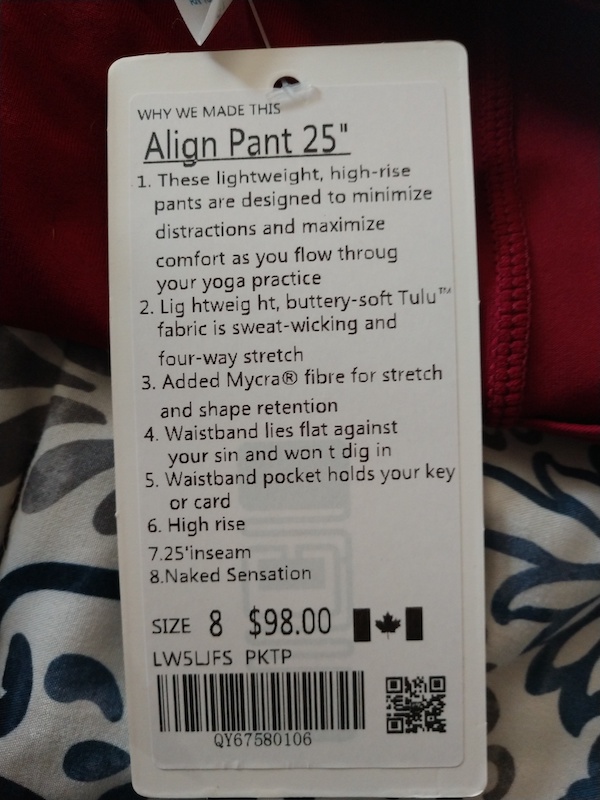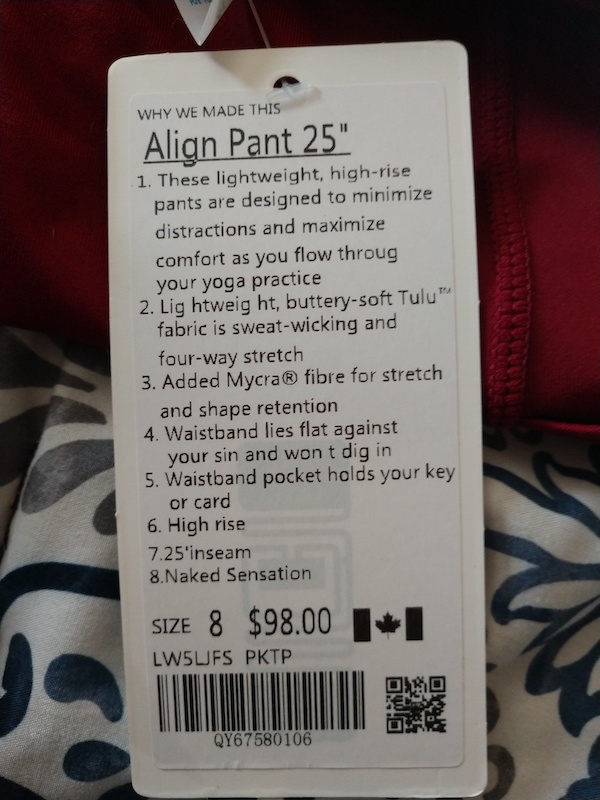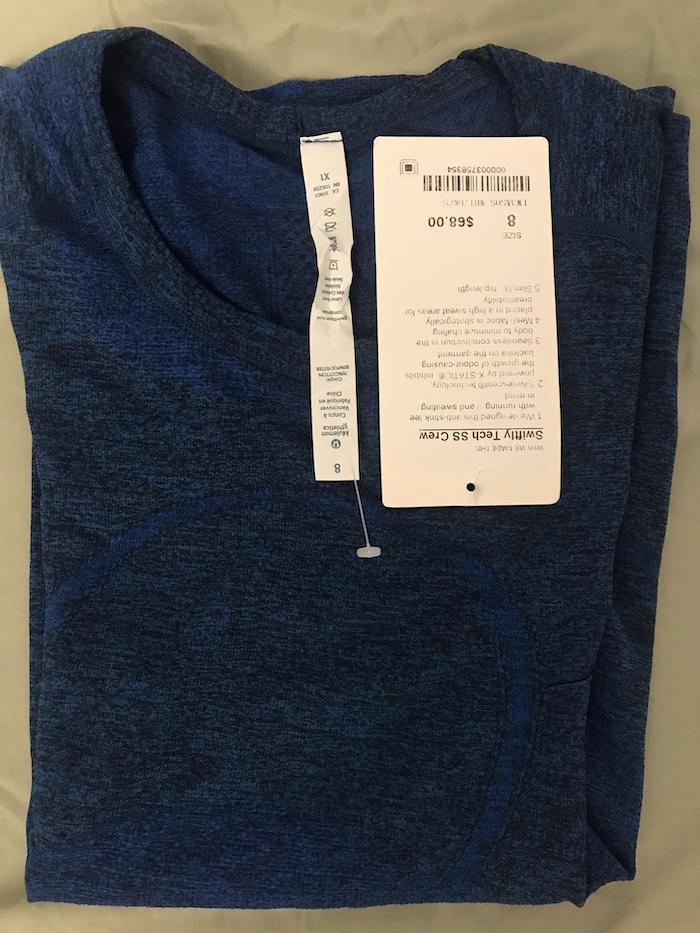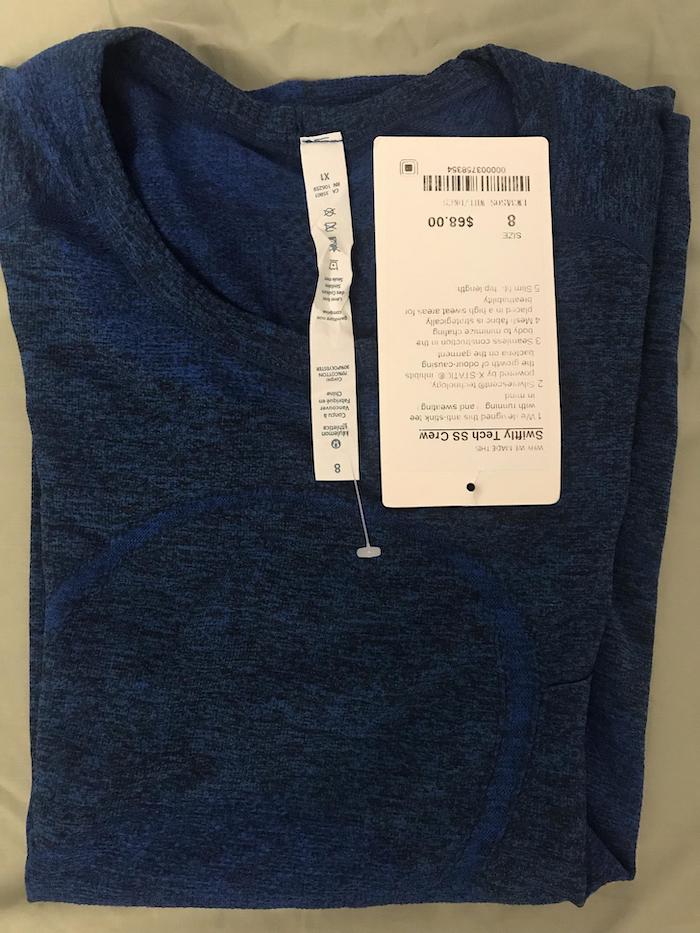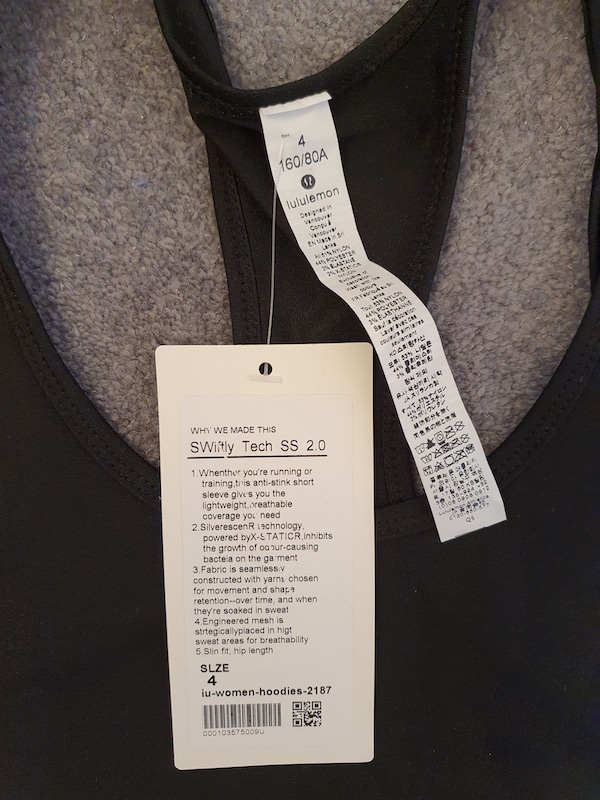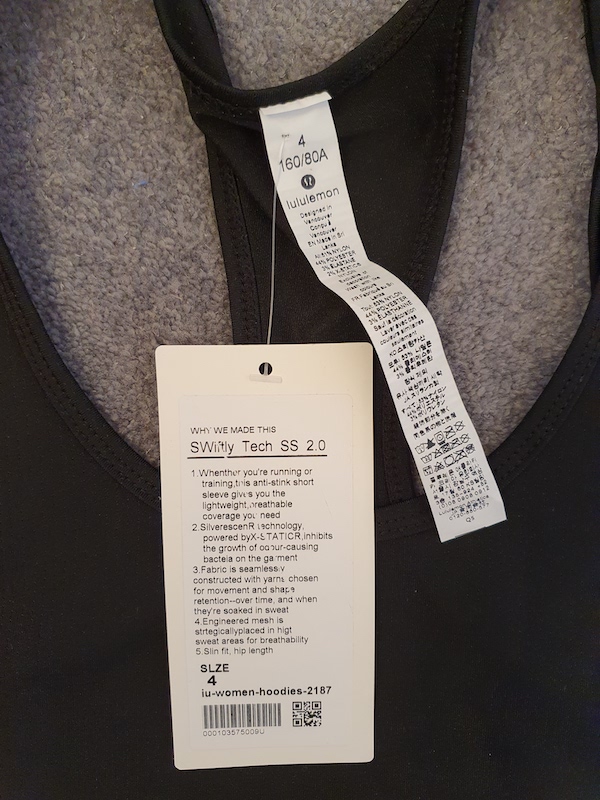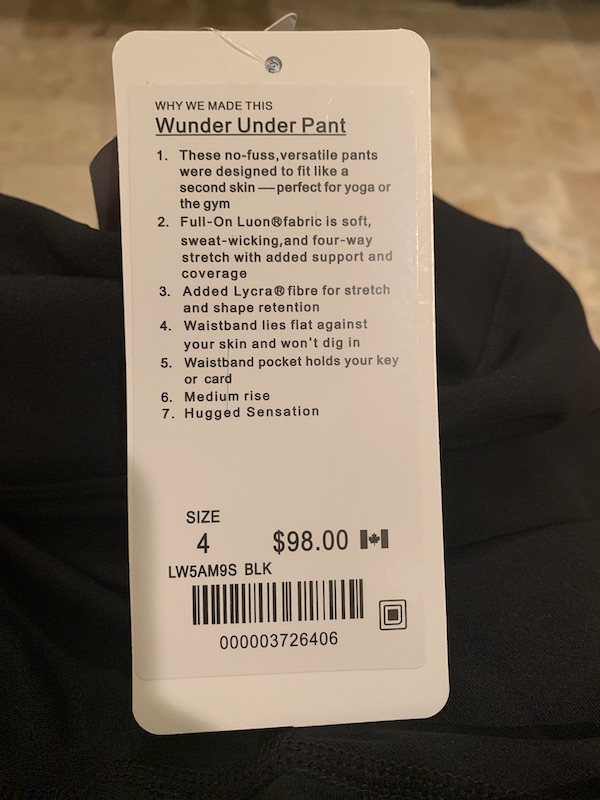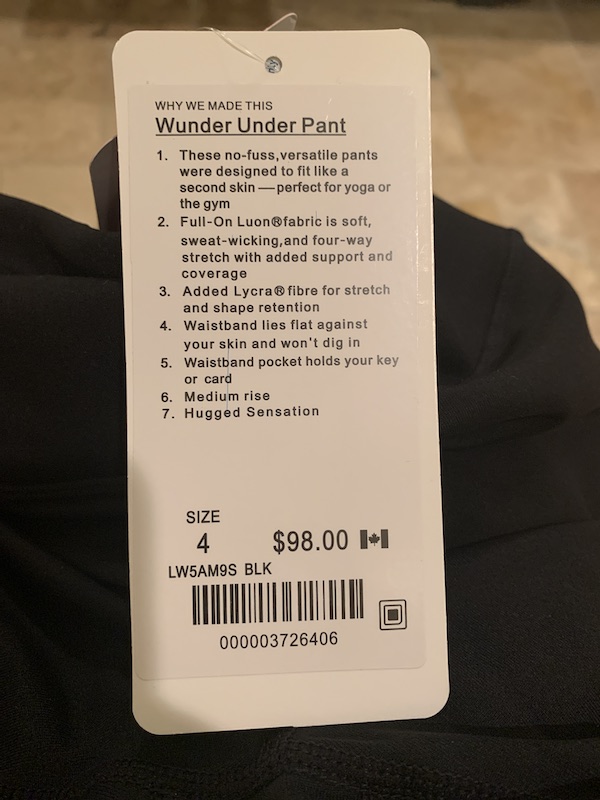 A fake rip tag will typically display the following: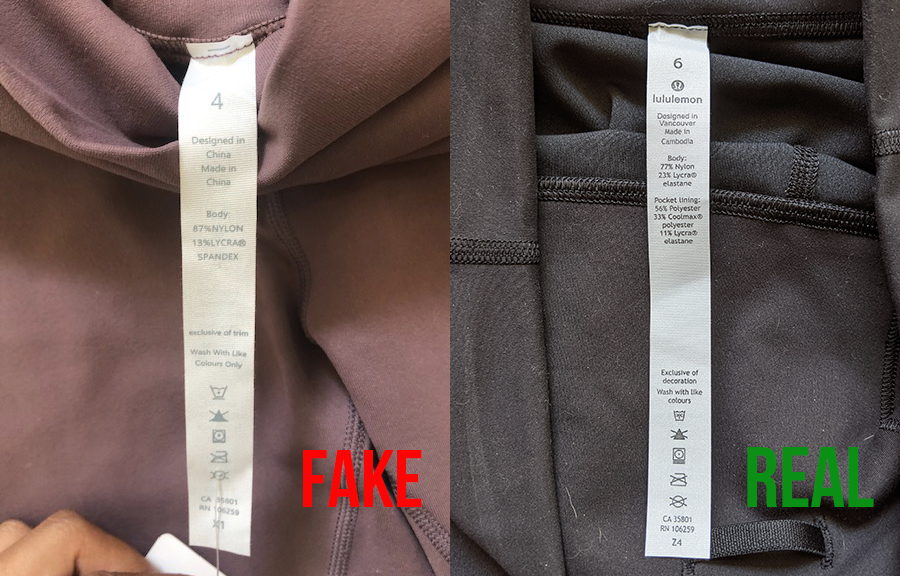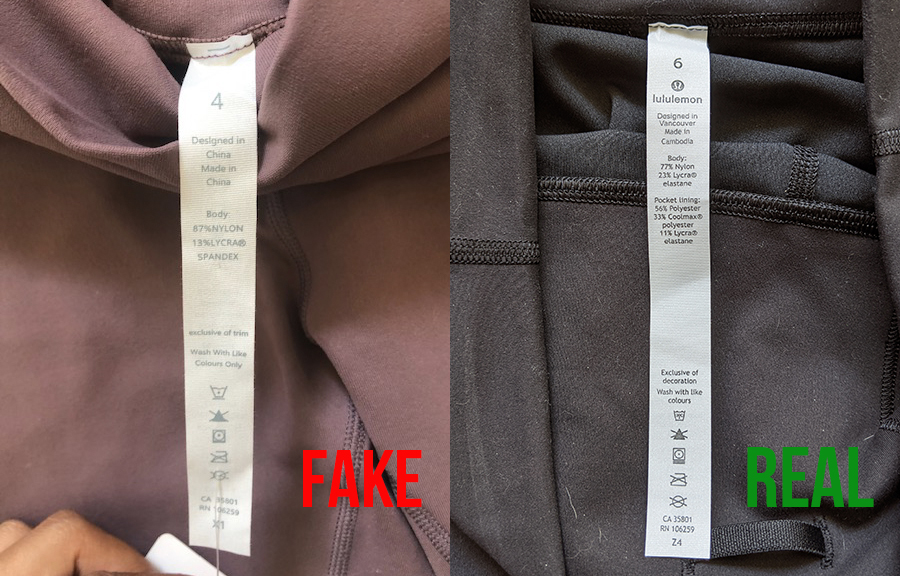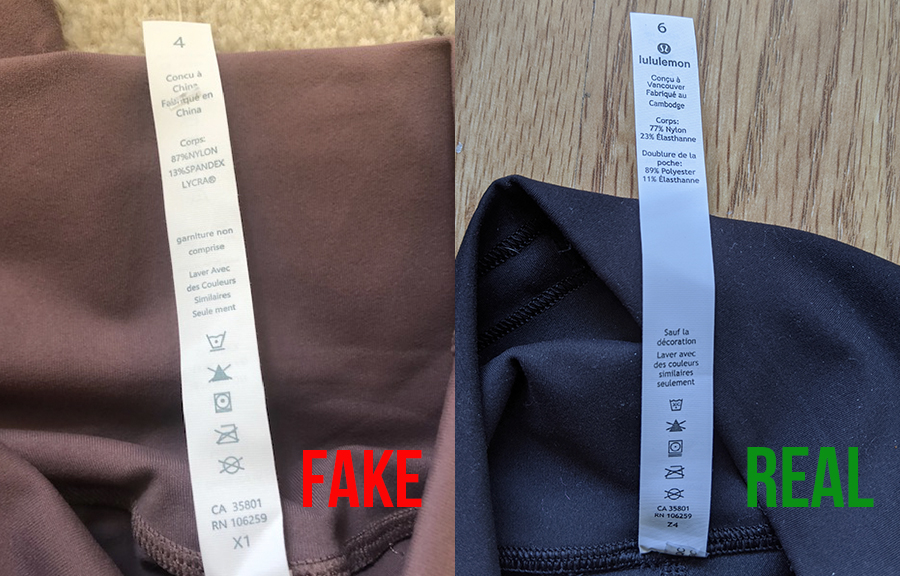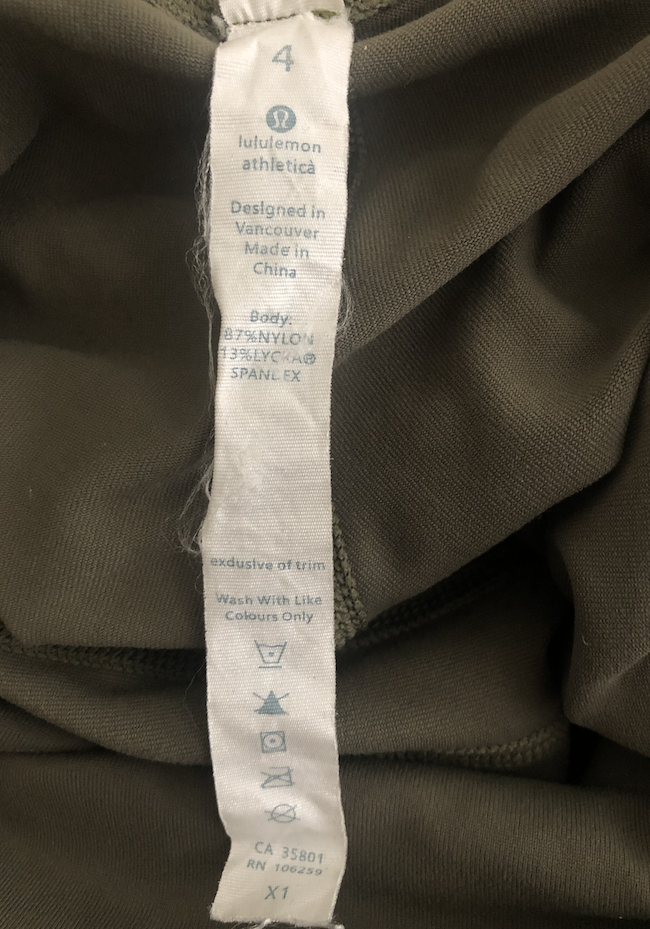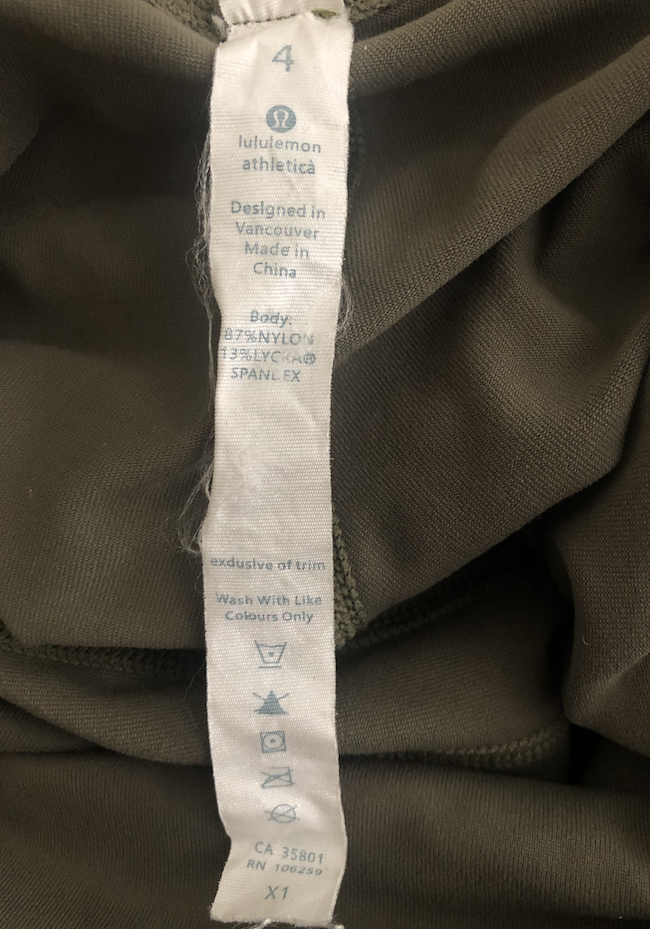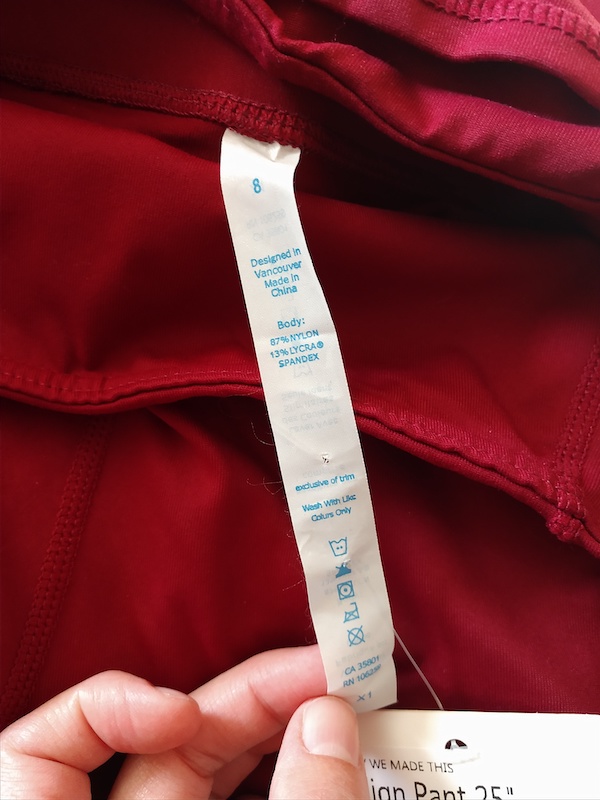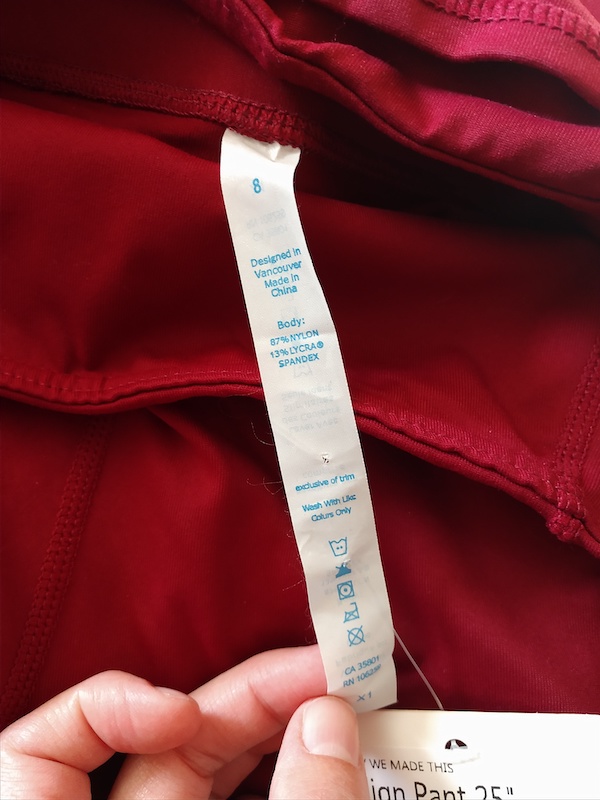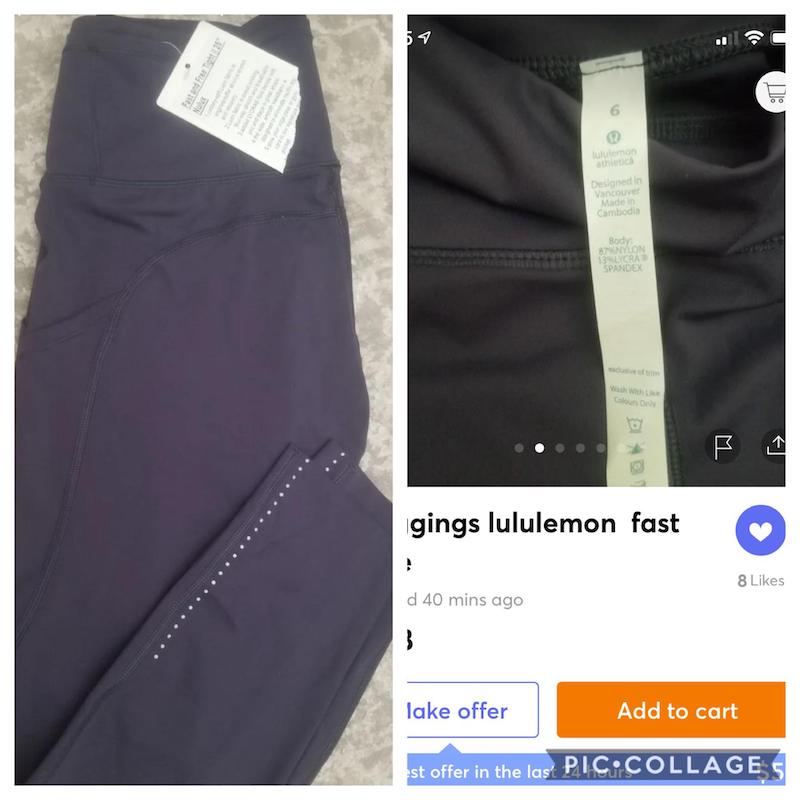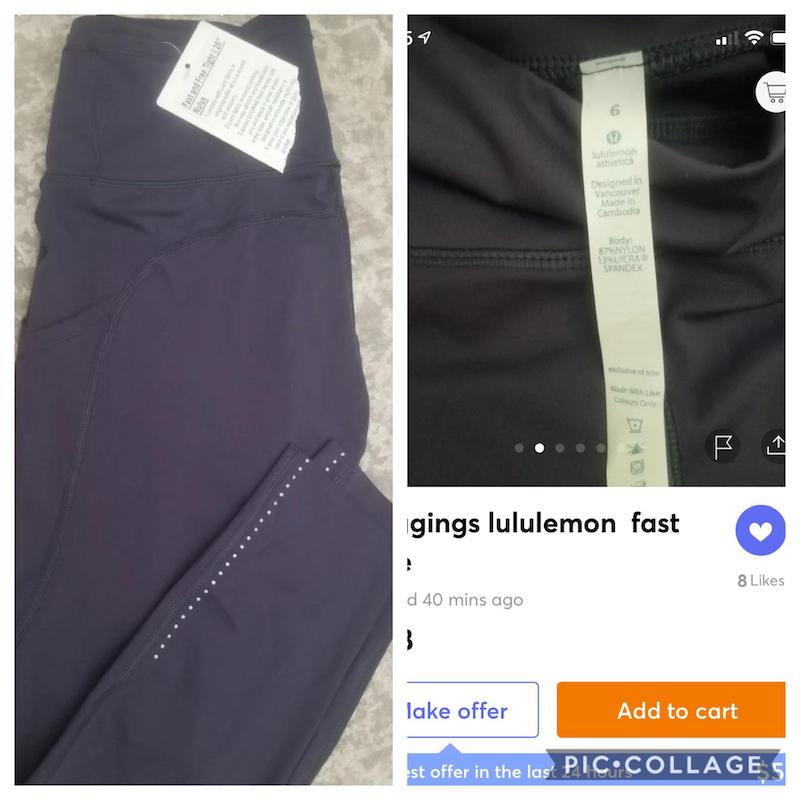 And here is a super vintage lululemon tag from the beginning (around the 2000's). It was before lululemon implemented rip tags.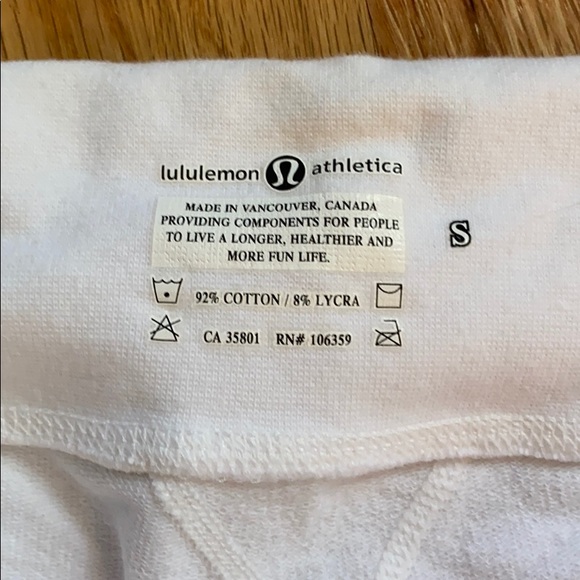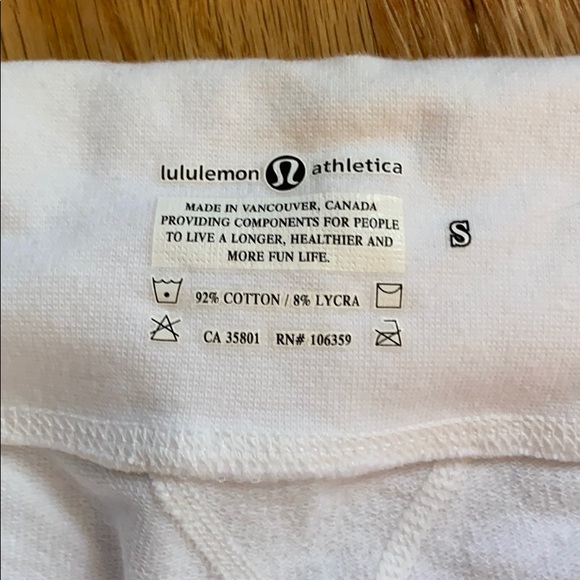 What to Do When You Accidentally Buy Fake lululemon?
Prior to buying lululemon on the secondary market, make sure you pay with a method that guarantees your purchase. This way, if the item turns out to be counterfeit, you can report the seller and the process to get a refund is much easier.
Prior to filing a complaint or opening up a case, you should verify if your item is actually fake. A great way to find out if an item is fake is to verify in Facebook groups or by verifying with us.
If your return is approved, go through with the process to get your refund. Afterward, we recommend reporting the seller to a Guest Education Centre (GEC) representative so that they can look into and stop counterfeit retailers.
Websites and Retailers to ALWAYS AVOID
You should NEVER ever EVER buy lululemon from these websites.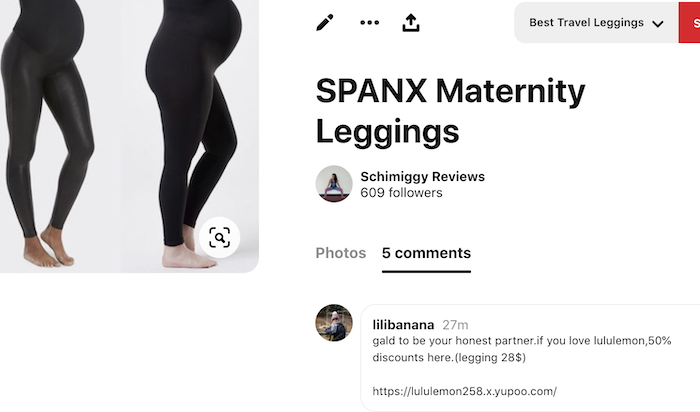 If you come across an online retailer selling counterfeit lululemon, report it to GEC and they will work on getting the website shut down.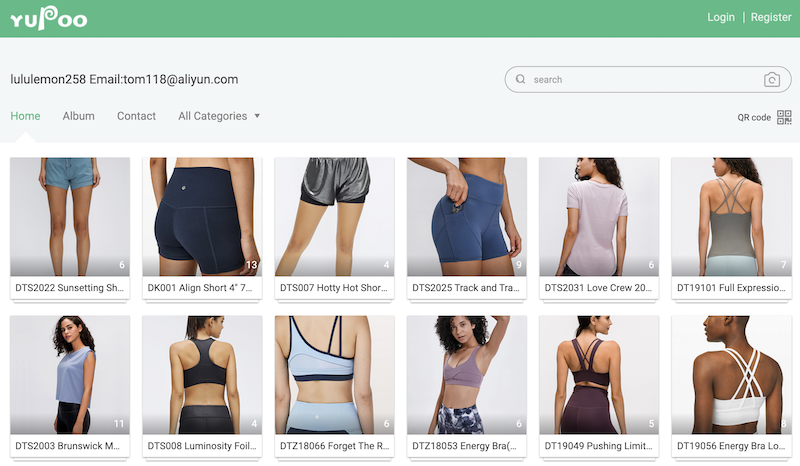 Websites that have been shut down will redirect to a page that looks like this: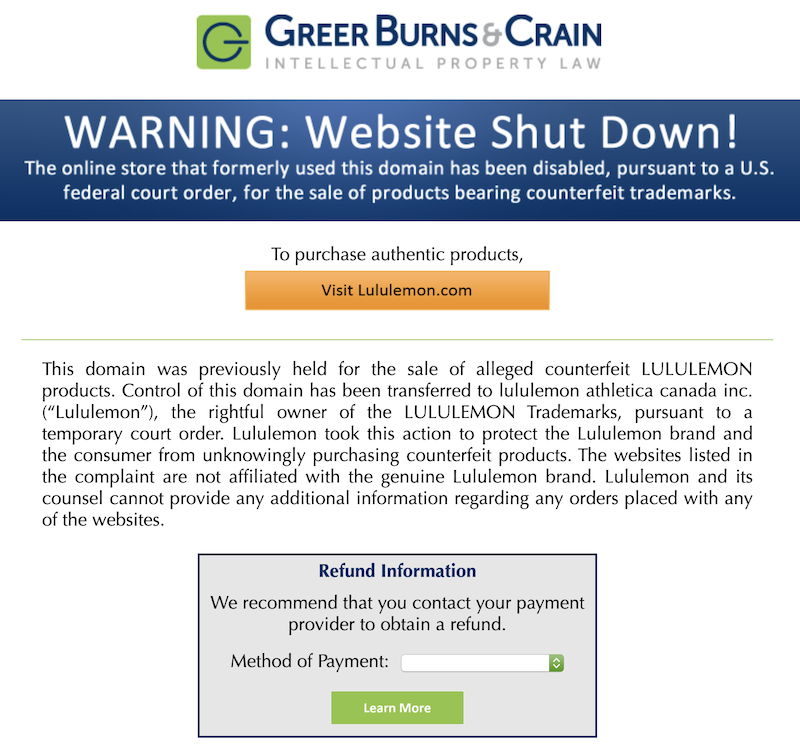 If you'd like for our team at Schimiggy to verify your lululemon item, please send us an email to us along with 3-4 pictures of the tags and product. We will get back to you within 48 hours.
Did you find our how to spot fake lululemon article helpful? Please share it on Pinterest! Thank you!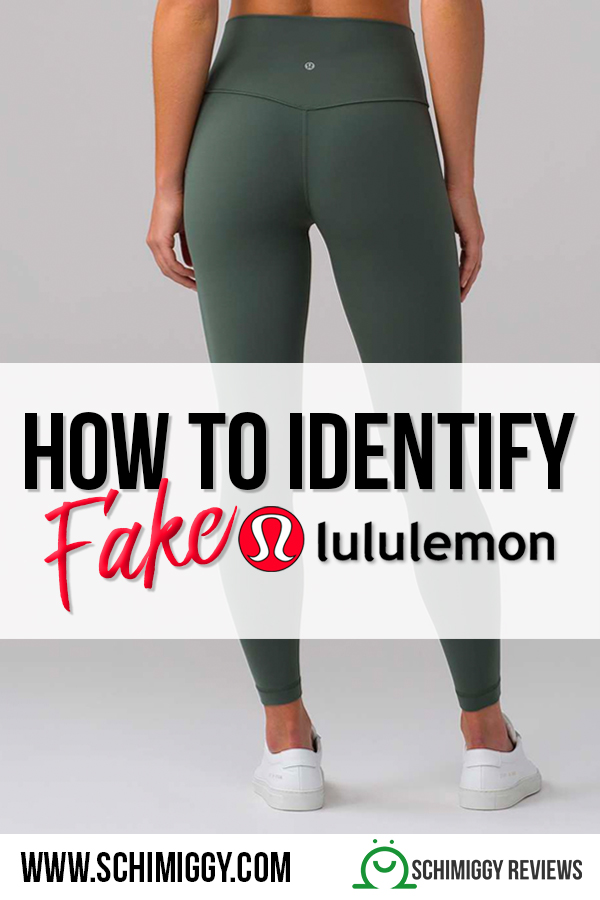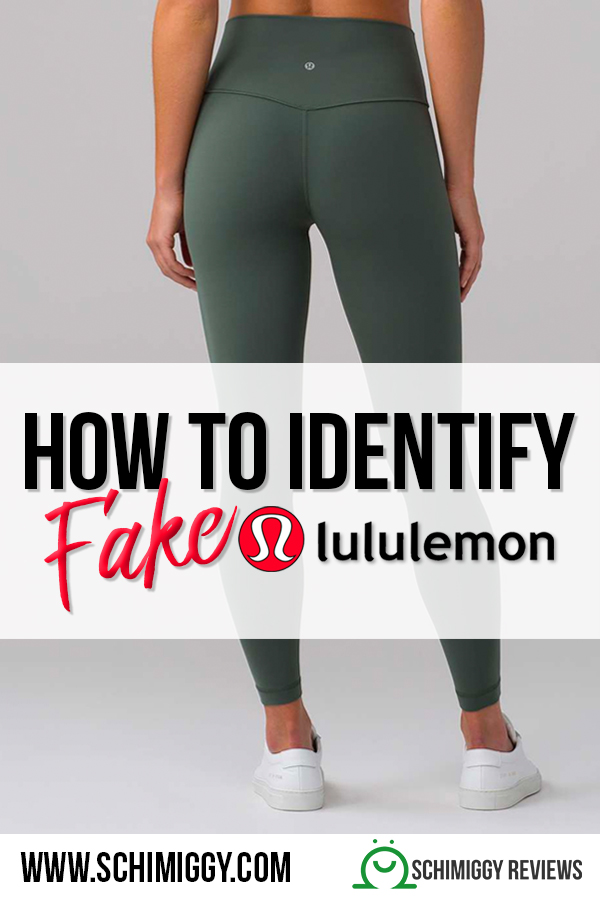 Want to know more about lululemon?
We have an entire resource page dedicated to everything lululemon related. Please check it out!
If there are any other topics you'd like us to shed some light on, please let us know!
---
Thank you for visiting today! If you found this encouraging or informative, please come hang out with me on Instagram, Youtube, Pinterest, Facebook or Twitter.
Sign-up for our monthly newsletter for updates and more. We promise we won't spam you! Feel free to unsubscribe anytime.
For more fitness fashion discounts and offers, please visit our Fitness Instructor Discounts + Brands Directory or favorite brands coupon codes list.
This site uses affiliate links. Clicking on or purchasing via an affiliate link may result in commissions for us which help keep the content flowing and lights on at Schimiggy Reviews. You may read more about this in our privacy policy.