Reading Time:
9
minutes
Due to the fact that there's a lot of competition in the aviation industry, many airlines are slashing prices and making travel very affordable. To combat these low base fares, airlines have started to charge for checked bags, food, drinks, baggage and even advanced seat selection.
These changes bring a significant amount of additional income to airlines. However, we are primarily concerned about the question of, "What do end-users think about this practice?"
No one is happy with having to pay extra, especially when airfare is already a huge cost of most vacation budgets. One way you can curtail additional expenses is to travel with the least amount of luggage possible.
I've seen people check in multiple 50-pound suitcases while traveling across the world. I always think to myself, "What could they possibly be bringing with them across the world?" or "How long will they be gone for?"
I made it a goal to travel light and as minimalistic as possible on every single trip. Why? Because there are so many benefits to traveling light! Here are just a few…
Benefits of Traveling With Only a Carry-On Bag
Avoid checked baggage fees.
Bypassing the airline kiosks upon departure.
Having everything accessible to me throughout my flight.
Not having to wait for my bag at the carousel.
Not potentially losing or getting my bags destroyed in the carousel.
Fewer belongings for thieves to steal.
Easier onward travel.
Packing and unpacking is an easier ordeal.
Knowing exactly where everything is.
Less weight and stuff to lug around town.
Reduced stress thanks to minimalism and purposeful packing.
I learned along the way that one carry-on is enough. Some of my friends still can't fathom how I can live out of a small bag for so long. But it's entirely possible! We'll share our tips on how you can pack just enough for your trip regardless of how long or short it is.
Tips for Traveling Far with a Single Carry-On
#1 Choose the Right Sized Carry-On Bag or Luggage
Most airlines allow a carry-on plus personal item (purse, suitcase, crossbody, small backpack, etc.). Ensuring that your bag fits an airline's carry-on guidelines is very important. It will also determine how much you can pack and what you should leave behind.
The permitted baggage size is typically 56 x 36 x 23 cm or 22" x 14" x 9" inches.
Almost all airlines have strict restrictions for luggage weight and size. Always check airline carry on luggage policies prior to packing. This will prevent any problems when you're about to board your flight.
I've seen people miss flights and get turned away due to having too much luggage, too big of luggage or not paying for the correct amount of luggage that they are trying to bring on board. If you're trying to trick the gate attendant, it may end up costing you more than what you initially paid for your airfare.
What Are My Options?
When considering a carry on bag, you have two options; a travel backpack or carry on suitcase. It's important to determine which one you prefer. Backpacks are great for mobility when you need to walk down dirt paths or narrow roads.
A carry on suitcase holds a bit more and allows you to roll your belongings around without too much strain on your body. I personally find it easier to pack using a carry on suitcase.
Carry-on Backpacks and Suitcases We Recommend
Osprey Fairview 40L Travel Backpack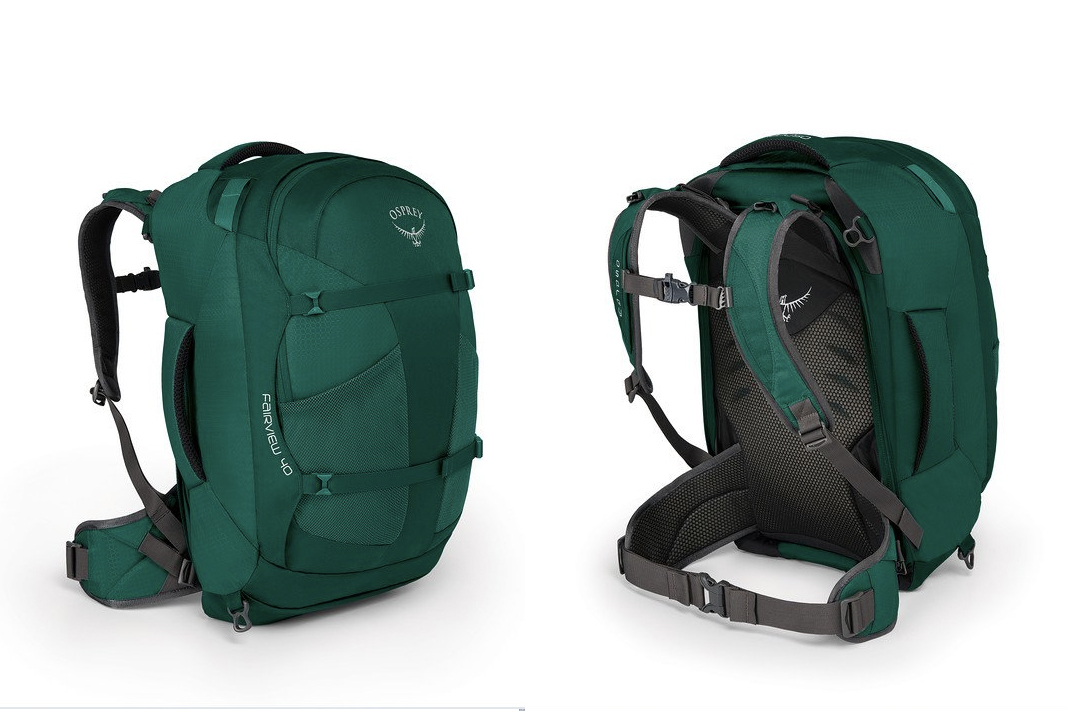 The Osprey Fairview 40L backpack ($188) is the size of a carry-on but it sits on your back. The bag has a main compartment that fully unzips so that you can access all your belongings easily. There's a laptop compartment along with multiple pockets to stow your personal belongings and important documents. The bag has a waist belt, chest strap and back frame so that you can carry your bag with ease. All Osprey bags come with lifetime warranties.
Osprey Porter 46 Travel Backpack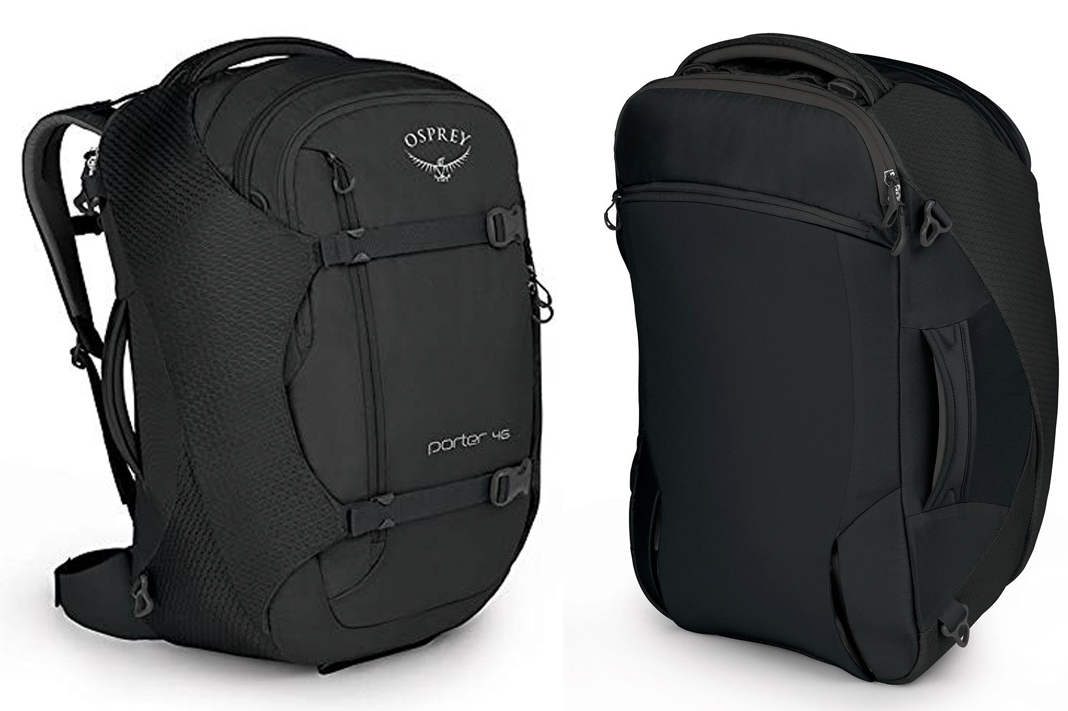 The Osprey Porter Backpack is a little roomier than my Fairview. The compartments in the Porter style are much more clever than my Fairview. The molded sides also allow the bag to compress easily so that it fits into the overhead compartments on most planes.
The bag does not come with a back frame and the straps are a little more complicated to use than my Fairview bag. Overall, it's still a clean looking bag and holds enough for months of travel. All Osprey bags come with lifetime warranties.
Herschel Trade Carry On Rolling Suitcase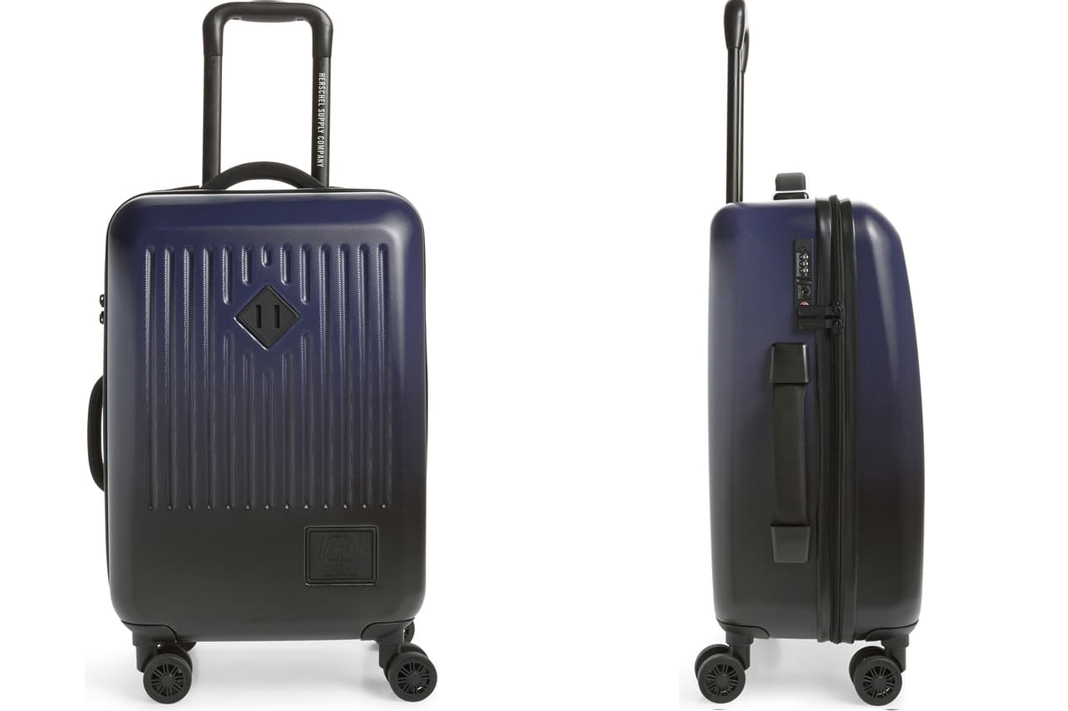 The Herschel Trade Carry On suitcase is by far my favorite. It's sleek and comes with a limited lifetime warranty. I love the durable lining and mesh pocket that separates your items in your luggage. I keep my clothes in the main compartment (handle side) and my shoes, accessories, undergarments, toiletries on the opposite side.
Buy Herschel on Nordstrom or Amazon.
Amazon Basics Carry On Suitcase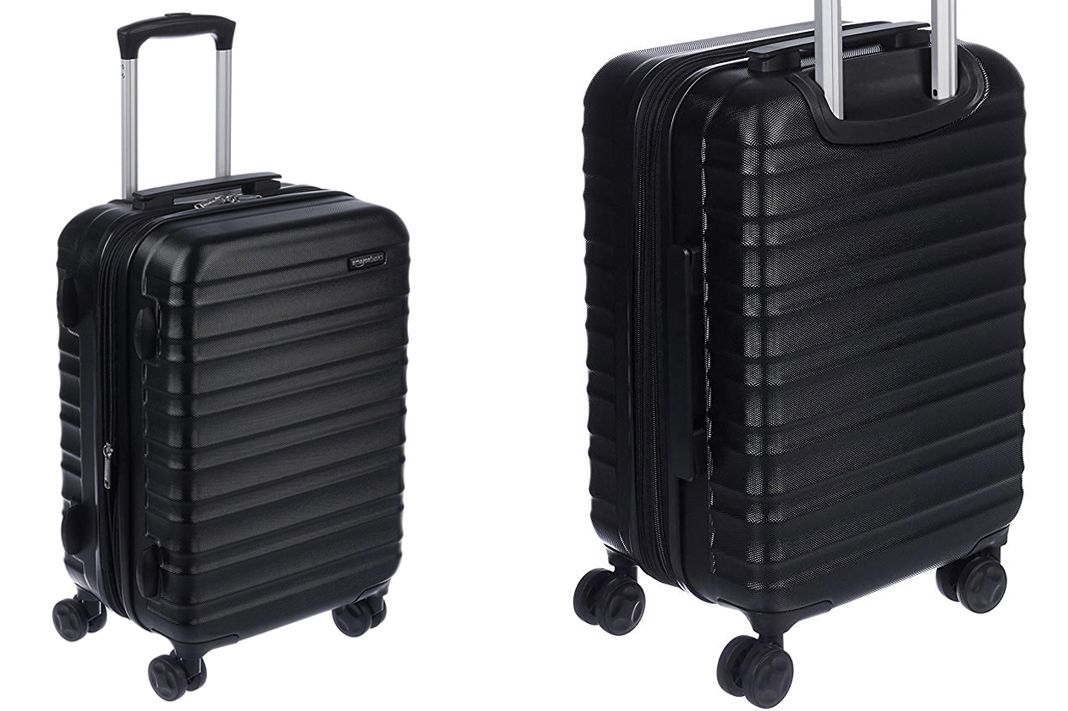 Amazon Basics makes a pretty sturdy carry on spinner. The bag expands and easily packs into the overhead bins. It also comes in various fun colors and sizes that you can nest into each other. We've only had to replace it once but it's been traveling with us for over 2 years now!
#2 Pack a Week's Worth of Clothing
Intend on packing enough clothing for a week. When packing light, anticipate that you'll be doing laundry every 7-10 days. At the end of the week, make time to do your laundry at the laundromat or pay for laundry service.
A week's worth of clothing should give you enough outfit combinations to last a few months. Change up your outfit with accessories and by getting creative with your pieces. For example, wear your thin dresses as tunics with leggings underneath.
Pro Tip: If you have a screen printed shirt, I recommend wearing clothing inside out if you want to wear a solid colored top. You can remove the label if it is too obvious. I've done this plenty of times and it's allowed me to expand my outfit choices and reducing my carry on weight significantly.
#3 Pack Clothing that Matches
People often go shopping to prepare for their vacations. After 10 years of traveling, I've learned that I have everything I need for my trips from now until probably 20 years out.
Think about the things you love to wear day after day and bring those items. They will make dressing for your trip easy.
Find matching clothing for the pieces that you love to wear often. This will allow your wardrobe to be versatile. Include a pop of color or pattern here and there to help your outfits stand out. A good rule of thumb is to limit the majority of your wardrobe to neutral colors (black, white and nude) and choose three primary or secondary colors so that you can mix and match your outfits.
Here is a quick list of items I typically fit into my carry-on bag. You can click on the items to see the exact products that I bring with me on my travels.
#4 Expect to Do Laundry
When you pack light, expect to do laundry while traveling. It's OK to wear certain pieces a few times before you launder.
When sorting clothing in your luggage, make sure you keep clean and dirty clothes apart from one another. Dirt and oils from your soiled clothing can cause bacteria to grow and make things turn a little funky.
Most inexpensive destinations will charge $2-3 USD per kilo of clothing laundered. This service typically takes a day and can be delivered to your accommodation or picked up. We were able to get our clothing laundered and folded for only $6 USD for two people in Vietnam. It was worth it!
In more developed countries, consider using a nearby laundromat. Make sure you have detergent and enough change to use the machines. I use Stoneworks laundry capsules and biodegradable dryer sheets while traveling. I place 3-4 detergent capsules and 3-4 dryer sheets in an empty Altoid tin which saves me a lot of space when traveling.