Reading Time:
7
minutes
Updated: 1/15/2022 | How to Soften Extremely Dry Feet
Disclaimer: I received products from Kneipp body care to include in my review. As always, my reviews are 100% honest and my own. Thanks for reading!
My feet and skin have been dry since I could remember. Some people have skin that is extremely dry while others have feet that stay baby soft their entire lives. For people who are more like me, we'll discuss what causes dry feet and what you can do to soften and remove the hard spots from your soles.
What Causes Dry Feet?
In arid climates, skin can turn try and white. This is embarrassing and looks unattractive.
Hard feet are caused by skin buildup, lack of moisturizer, and pressure against your feet. The pressure creates a foot callus or hard spots on the surface of your feet.
Movement also causes your feet to harden. You might notice that after a run or long period of walking, your feet will feel sore and develop hard spots known as calluses. Sometimes you may even develop crack heels.
What Causes Cracked Heels?
Cracked heels are the most unsightly of all. They occur when skin builds up on your heels, becomes dry, hard and taut. The taut skin eventually cracks when pressure is placed on the foot. The taut skin is unable to expand and instead cracks.
How to Prevent Dry Feet
Preventing dry feet will cause fewer headaches for you in the future. It's easier to prevent them than to treat them.
Here are a few ways you can prevent dry feet:
Moisturize daily
Wearing shoes that actually fit. This will prevent pressure against your feet.
Exfoliate your feet regularly.
What Products Help Moisturize Feet?
Luckily, we live in a world where foot care can easily be done at home. With some time and patience, your feet will be soft in no time.
Here are some products and tips I recommend that are great for combating dry feet. You'll have to be diligent with applying and using these tools in order to keep your feet soft and smooth. Remember, prevention is key to keeping dry feet at bay!
#1 Foot File
This foot file is a must for people with chronic dry feet. After a long day walking around or a long vacation traveling around by foot, my Microplane foot file provides respite and exfoliation for my feet.
I keep my foot file in my shower. It's also compact enough to travel with.
While showering, I use the foot file to scrub away at dead skin cells around the heels, balls, and knuckles of my feet. You can see the little flakes of skin coming off and into the reservoir of the file.
For a more comfortable and effective exfoliation, use a foot spa and soak your feet for 10-15 minutes prior to exfoliating.
Remove your foot from the foot spa and exfoliate each foot one at a time. You'll be surprised at how much dead skin cells will come off your feet. It kinda looked like minced garlic or ginger.
Afterward, dry your feet and apply lotion. Wear slippers around the house so that you do not accidentally slide and fall.
Repeat this process every 2 weeks and every time you return from vacation. You deserve it!
This file also has a contoured handle, so it sits comfortably in your hand while you scrub your dead skin cells away. Make sure to empty the reservoir after each use and wash it regularly in the dishwasher.
#2 Soak Your Feet in a Salt Bath
A foot soak can be therapeutic and great for softening calluses, preparing them for exfoliation. When Epsom salt is dissolved in water, it releases magnesium and sulfate ions, which is known to help with relaxation.
Just add 1 cup of luxurious bath salt to 2 gallons of warm water into a foot bath basin. Stir it until the salt dissolves and then soak your feet for up to 30 minutes. You can add 8-12 drops of essential oils to make your bath smell heavenly.
Afterward, we recommend using a foot file to remove calluses. Complete the treatment by moisturizing your feet with coconut oil or a moisturizing lotion.
An Epsom salt bath is also great for soothing your entire body and softening your skin.
I also recently discovered Mad Optimist, a company committed to making natural body care affordable and accessible. They offer customizable bath soaks in recyclable packaging. Read my full Mad Optimist review here.
#2 Use a Foot Mask to Exfoliate a Layer of Skin Off Your Feet
A foot mask moisturizes and exfoliates your feet in a plastic sock. I've tried it a few times and it makes my feet feel soft and smooth. This is also known as a "baby foot peel" because it leaves your feet feeling baby soft afterward.
Wash your feet prior to using the foot mask. Cut the top of the sock and wear them around your feet for 60 minutes. Make sure the sock sits close to your skin during treatment. I typically wear cotton socks over my foot masks to reduce the amount of space between my foot and the mask. Afterward, wash the foot mask solution off as the water will activate the peel.
I typically wear my foot mask overnight when possible. The essence, or moisturizing liquid, in the sock will absorb into your feet and penetrate more deeply when left on longer. Within 3-7 days, the skin on your feet will start peeling away.
It's important to allow the skin to peel off naturally. If needed, you can apply another foot mask 1 week after the first application.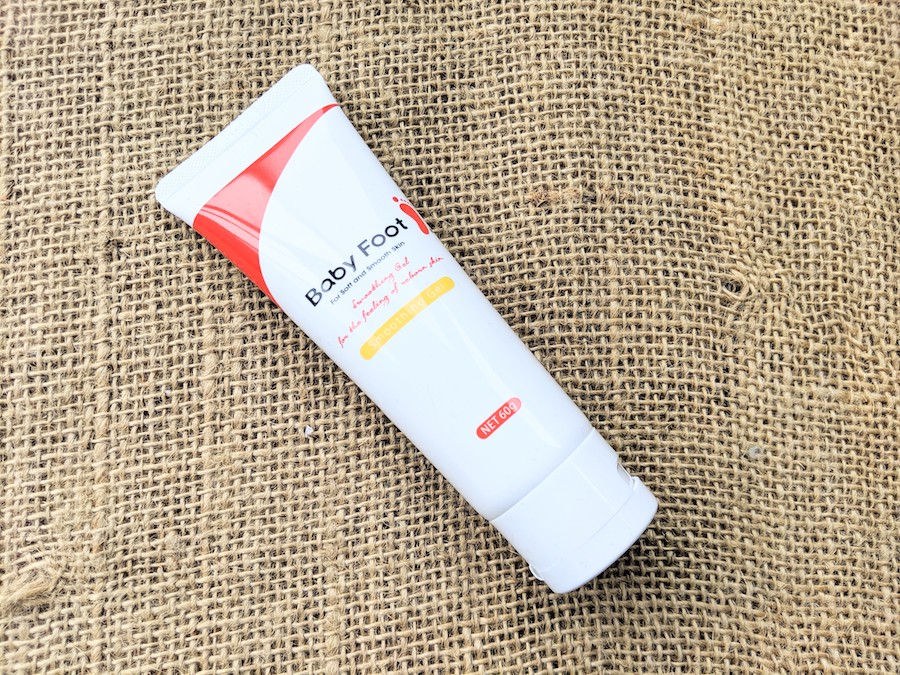 Your feet may feel tender as it peels. We recommend using Baby Foot Smoothing Gel to help with the peeling process.
#4 Exfoliate with a Sugar Scrub or Pumice Stone
3-4 days after your foot mask, you'll start to notice your skin shedding from your feet. It will look horrendous at first, but the fresh soft skin underneath will be worth it!
Once the skin starts to peel, I recommend using a sugar scrub by Kneipp to exfoliate the dead skin cells from your feet and lower legs. This can be done over the sink or in the shower.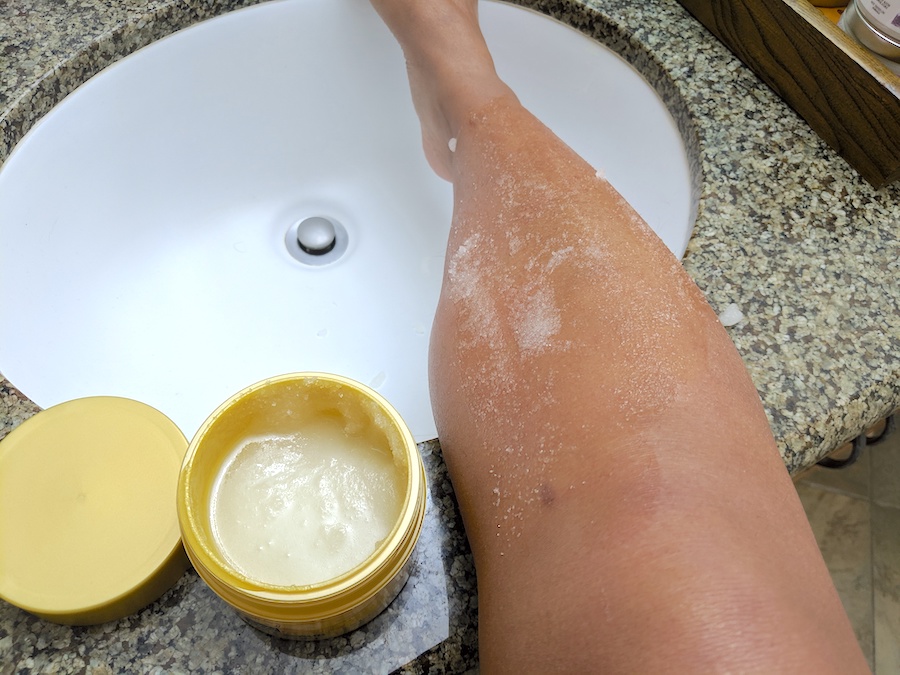 A pumice stone is also a great way to remove dead skin cells. Use in the shower while standing or seated. Just wet the stone and then rub the stone against your feet to remove dead skin cells.
Make sure you clean the pumice stone thoroughly and remove any dead skin cells prior to putting it away. Leaving any dead skin cells can cause mold and bacteria to grow in your pumice stone.
#5 Post the Peel, Keep Your Skin Moisturized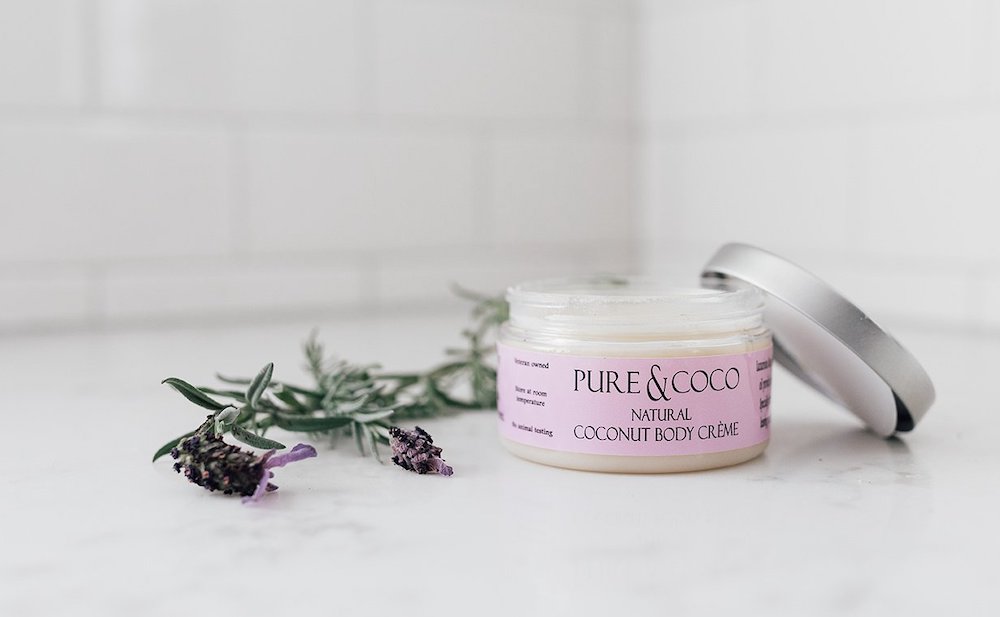 It's super important to use lotions and creams after your foot exfoliation to keep it soft.
Coconut oil is my cure for just about everything. I use a lavender-scented coconut oil and mango butter cream by Pure & Coco. The formula absorbs immediately and doesn't leave a sticky film on my skin.
It's a game changer! The jar is small but goes a long way.
You can also use Kneipp's vegan lotions and bath salts to keep your feet soft.
#6 Get a Pedicure…Often
Once you've got your soft feet, maintain it by following the steps above or you can treat yourself to a regularly scheduled pedicure. Twice a month is a great way to keep your feet exfoliated and feeling soft.
It's not the cheapest option as pedicures can cost anywhere between $20-$60 per session. And when you start adding treatments like paraffin wax and hot stone massages, it can get costly!
We recommend getting pedicures twice a month. It's a great way to keep your feet exfoliated and feeling soft.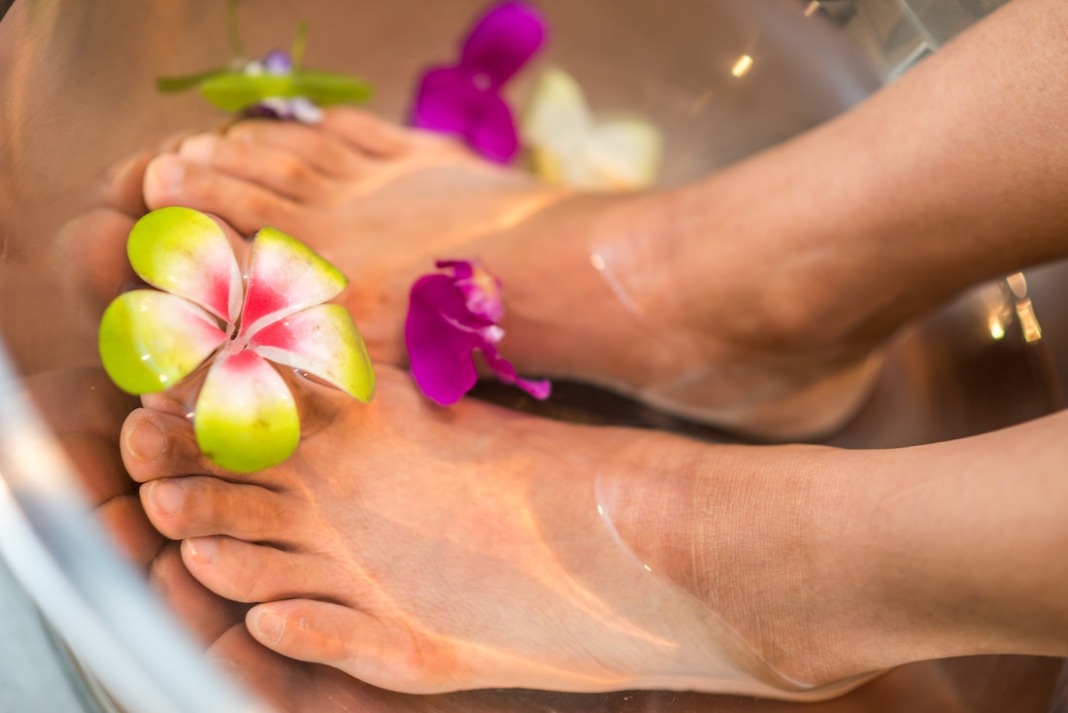 Final Thoughts
There are plenty more ways to exfoliate and treat hard feet, but those are more invasive and might require scissors and scalpels. If these home remedies don't work, we recommend visiting a dermatologist to help you with your extremely dry feet.
Have you tried any of these tools and suggestions? Let us know in the comments what your favorite foot care tips are. We're all ears!
If you liked this post, please consider pinning it on Pinterest!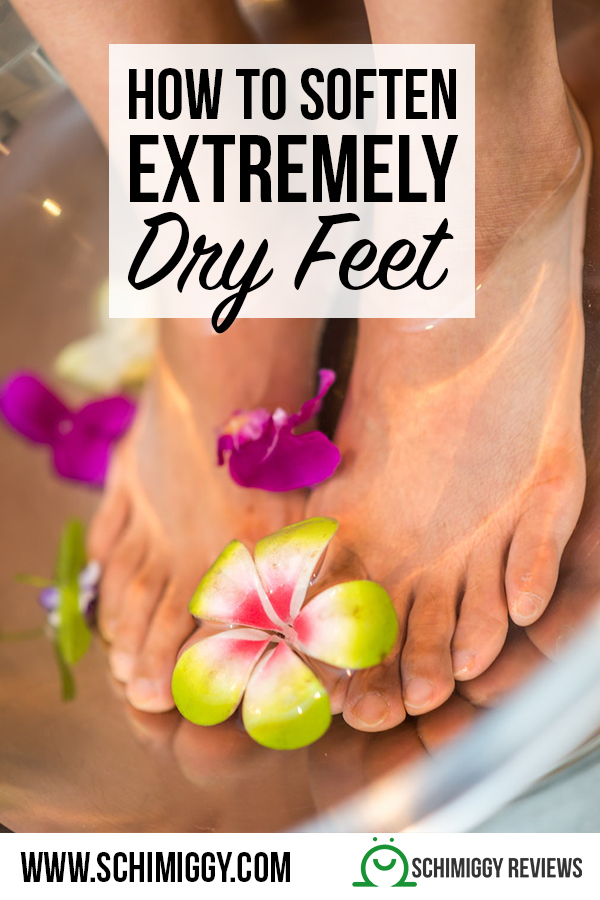 ---
Thank you for visiting today! If you found this encouraging or informative, please connect with us on Instagram, Youtube, Pinterest, Facebook or Twitter. We'd love to meet you!
Sign-up for our monthly newsletter for updates and more. We promise we won't spam you! Feel free to unsubscribe anytime.
For more fitness fashion discounts and offers, please visit our Fitness Instructor Discounts + Brands Directory or favorite brands coupon codes list.
If you're a brand and want to submit a product for us to review, please use this form to get in touch.
This site uses affiliate links. Clicking on or purchasing via an affiliate link may result in commissions for us which help keep the content flowing and lights on at Schimiggy Reviews. You may read more about this in our privacy policy.
References:
https://www.healthline.com/nutrition/epsom-salt-benefits-uses#what-it-is
https://www.medicalnewstoday.com/articles/316572.php
https://www.healthline.com/health/how-to-remove-dead-skin-from-feet#with-caution