Reading Time:
4
minutes
I recently joined Yogaworks and I absolutely love the array of classes they offer! Prior to Yogaworks, I was taking yoga classes at Equinox. Majority of the classes I took at Equinox were Vinyasa Flow (approximately level 2 to 3) and lasted only an hour long. At Yogaworks, I practiced about 5-6 times per week, which means I needed a durable mat.
Some of the classes last 1.5 hours and I've had the privilege of taking Iyengar, Hatha, Vinyasa, and even meditation classes! I have definitely found my own local yoga and meditation studio! I try to practice as much as time allows me. Yoga is liberating and it has enabled me to focus on my strength and balance life on and off the mat!
Now that you know a little about my yoga practice, it's time to move onto the important stuff!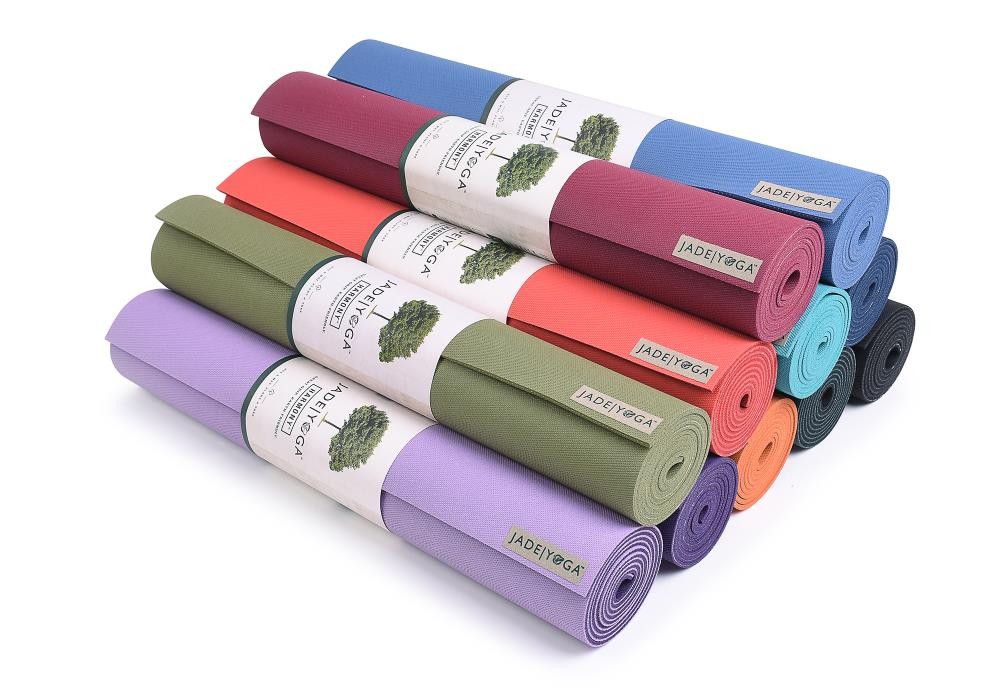 Jade Harmony Yoga Mat Review
Prior to going to Yogaworks, I used Manduka PROlite mats. I have two Manduka Black Pro mats that I used at Equinox. Equinox also provided us with Manduka straps and yoga blocks. At Yogaworks I noticed that I was sweating 3 times more than I had ever sweated at Equinox.
My Manduka mat, unfortunately, became slippery when wet and even the towel could not provide me with enough support and grippage. I became very disgruntled with the product. I was wondering to myself why did I pay top dollar for a mat that begins to ruin my practice halfway through class? I realized that my love for Manduka was waning. I decided to try an alternative yoga mat brand.
I remember in the Equinox retail shop, one of the associates were ranting and raving about a Jade Yoga mat. We had used the Jade Yoga mats in our cardio and strength training classes at Equinox. However, I felt they were always so loose so I did not want to even bother with the brand initially.
It was later that I learned the Jade Yoga mats in the cardio classes became loose due to people using them to plank in tennis shoes. Naturally, rubber on rubber action would cause them to stretch and wear out over time.
Since Manduka was not settling well with me at Yogaworks, I went ahead and purchased a Jade Yoga mat in teal (a portion of the proceeds from the teal mat were to support ovarian cancer awareness)! I loved the fun and bright blue color!
I tried it in class and became HOOKED! The mat allows your hands to grip while in down dog, warrior poses, arm balances, etc.
Jade Yoga Mat Pros
The product is natural and bio-degradable rubber (made in motherland – Vietnam!)
The Jade mats come in fun bright colors.
The mat is porous and super easy to clean (I wash it with a hose in the backyard and hang dry in the garage)
The mat is affordable and costs only $56, compared to Manduka's $70-99.
A tree is planted each time you buy a Jade yoga mat. The fact that they give back to local charities is enough to gain my support.
Jade Yoga Mat Cons
And with the good, there's also the bad.
I can't use it for a prolonged period outdoors or else the sun will ruin the mat. The sun will cause the natural rubber to harden.
There's a strong rubber smell when you first use your mat. However, over time the smell begins to fade and it's no longer an issue. It took me four classes before the smell faded! I left my mat in the trunk of my car and it made my entire vehicle smell! Jade Yoga mats have a rubbery smell from the natural rubber that they are made of, however, it is non-toxic.
The open cell construction (sponge-like) of the mat takes in all the sweat, oil and bacteria from a sweaty practice. I recommend cleaning it weekly if you use it 4-5 times a week. I clean mine every 2 weeks and use a yoga towel on top of the mat during practice. It also takes approximately 4-5 hours to dry.
Because the mat has open cell construction, prolonged use will eventually pull at certain parts of the mat and cause it to stretch out and look wrinkled. This was my biggest gripe about the Jade Yoga mat and it happens within months of use.
Should I buy Jade Yoga?
I've had my mat for over 3 months and I absolutely love it.
Overall, I would buy a Jade Yoga mat for indoor use in non-heated yoga. Heated use will stretch out the mat, especially if you tend to drag your feet on the mat a lot. I currently own two Jade yoga mats and cycle between the different colors depending on my mood and just to keep them fresh.
Jade Yoga mats definitely have the best grip out of all the brands I've tried. However, because of the natural rubber and open cell construction, the Jade yoga mat does not last as long as my Manduka mats. I appreciate that the brand is so green and charitable. Those qualities alone are definitely why you should support Jade Yoga.
Related: Now I mostly use my B Yoga Everyday B Mat and highly recommend this brand. Read my review of the Everyday B Mat here.
Where to Buy Jade Yoga
Buying Jade Yoga on the following sites should typically range between $30-$76. I recommend shopping around the find the best deals.
Thanks for reading my review of the Jade Yoga mat. If you have any questions please feel free to leave a comment!
If you liked this article, you might like these posts too:
---
Thank you for visiting today! If you found this encouraging or informative, please connect with us on Instagram, Youtube, Pinterest, Facebook or Twitter. We'd love to meet you!
Sign-up for our monthly newsletter for updates and more. We promise we won't spam you! Feel free to unsubscribe anytime.
For more fitness fashion discounts and offers, please visit our Fitness Instructor Discounts + Brands Directory or favorite brands coupon codes list.
If you're a brand and want to submit a product for us to review, please use this form to get in touch.
This site uses affiliate links. Clicking on or purchasing via an affiliate link may result in commissions for us which help keep the content flowing and lights on at Schimiggy Reviews. You may read more about this in our privacy policy.