Reading Time:
3
minutes
The lululemon Align pant is one of their best selling pants. The Nulu fabric is buttery soft and they're surprisingly not see-through. lululemon also made them in a plethora of colors and prints.
Like their Free to Be Bras, lululemon fans would collect different colored Align leggings and wear them year-round.
Also, like their Free to Be Bras, lululemon started altering the style of Align pants to fit every style preference. The Align pants now come in different silhouettes so that you're bound to find a style that you love.
We've rounded up all the Align offerings and will continue to update this list as more styles are released. Enjoy!
Complete List of Align Pant Styles
#1 Original Align Pant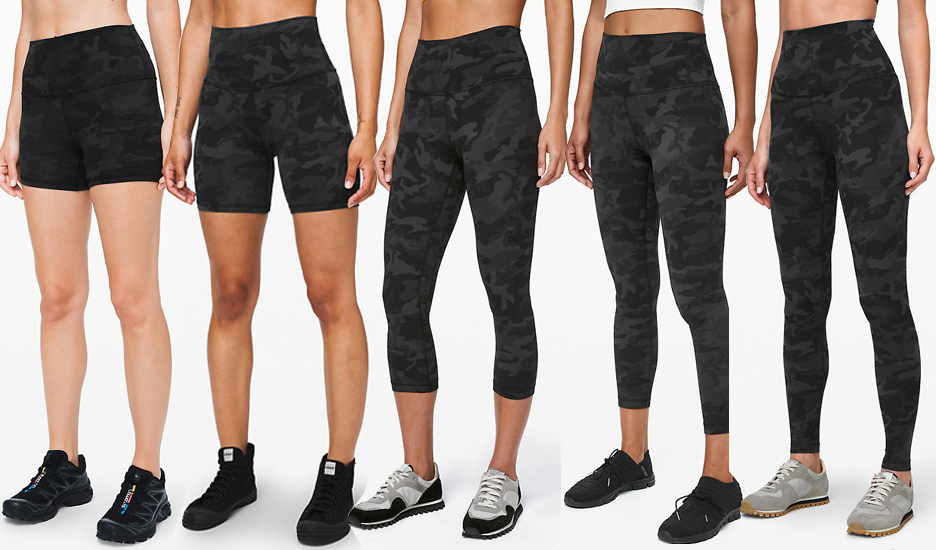 The original Align pant comes with a heart-shaped waist detail on the back. The pants have a decently sized inner pocket in the front of the waistband.
The original Align pant has the most offerings from different colors, patterns, and even lengths.
#2 Align Jogger
The Align Joggers taper at the ankle and are loose fitting. We recommend going with your true size or even sizing up in Align joggers.
#3 Align Petal
The Align Petal pants were released in mid-2019. We loved the petal detail that resembles a tulip.
#4 Align Wrap Waist
The Align Wrap Waist pants look super feminine. The bow can be tied in the front or back of the waist. It also offers some additional camel toe coverage and waistband compression that Nulu fabric often lacks.
#5 Align Cross Waist
These adorable crops are great for shorter gals. The cross waist also offers a slimming effect when worn.
#6 Align Key Hole
The Align Key Hole pants offer just the right amount of peek-a-boo. The key hole detail definitely allows the pant to stand out. We also love the outer seam detail for added shape and contour.
#7 Align Love Knot
As if we weren't already crazy about everything knotted by lululemon. We LOVE the knot detail on the calf area.
It offers a ninja-esque look. Hai-ya!
Final Thoughts
We personally love the Align leggings, but they're far from the perfect legging. Read our review below for more on how we feel about Aligns when they start to wear out.
We still recommend them, but you'll have to be careful with how you maintain them to prevent pilling.
Enjoy all the new iterations of one of the best lulu pants ever!
Related: lululemon Align Pant Review
Shop Align Leggings
Click on your preferred Align pant style below to shop the collection.
[wonderplugin_carousel id="1″]
Where to Buy lululemon
The best way to buy lululemon is online or in one of their physical stores. Search for the store nearest you using lululemon's store locator.
Buying directly from lululemon will ensure that your items are 100% authentic.
Do you like to save money? Here are some ways you can save money on lululemon products:
You can also buy lululemon for less through third-party reselling websites and marketplaces such as:
Which Align pant styles are your favorite? Let us know in the anonymous survey below.
If you liked our lululemon Align Pant Styles post, please share it on Pinterest!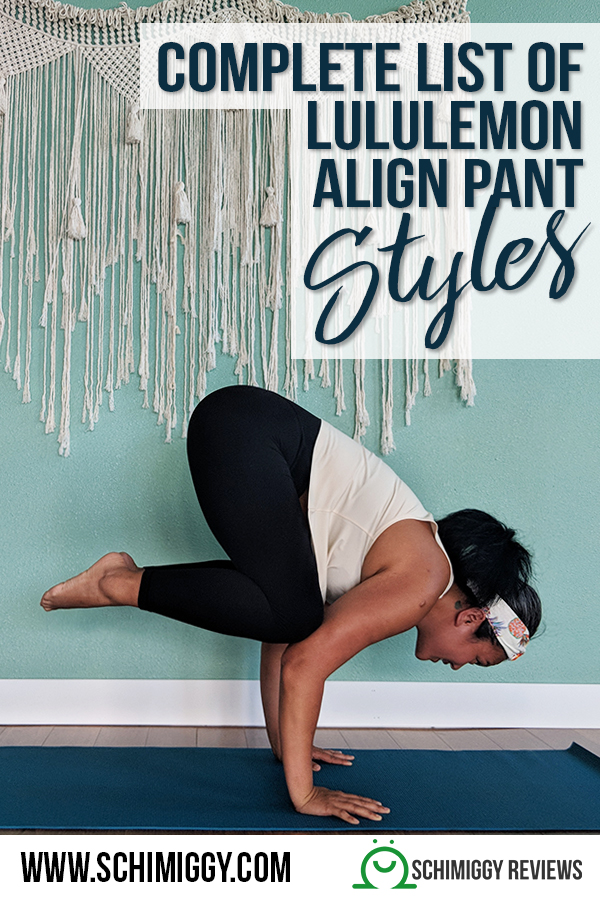 Want to know more about lululemon?
We have an entire resource page dedicated to everything lululemon related. Please check it out!
If there are any other topics you'd like us to shed some light on, please let us know!
---
Thank you for visiting today! If you found this encouraging or informative, please connect with us on Instagram, Youtube, Pinterest, Facebook or Twitter. We'd love to meet you!
Sign-up for our monthly newsletter for updates and more. We promise we won't spam you! Feel free to unsubscribe anytime.
For more fitness fashion discounts and offers, please visit our Fitness Instructor Discounts + Brands Directory or favorite brands coupon codes list.
If you're a brand and want to submit a product for us to review, please use this form to get in touch.
This site uses affiliate links. Clicking on or purchasing via an affiliate link may result in commissions for us which help keep the content flowing and lights on at Schimiggy Reviews. You may read more about this in our privacy policy.