Reading Time:
6
minutes
Greetings from Berlin, Germany!
It's my first time in this city and love how super inclusive the people are and how amazing the food is! It's also pretty cheap compared to many other European cities we've visited. I didn't expect to love it as much as I do. Compared to most European cities, the vibe is chill, welcoming and experimental.
I had a chance to visit the Berlin lululemon store. While browsing the store, I found mostly leggings that I've been wanting to try. Below are my fitting room reviews of some of their most popular and latest legging styles.
What I Tried On:
Fitting Room Try Ons and Fit Reviews
For reference, I am 5'5″ tall and wear a size 6 in lululemon bottoms and size 8 in tops. I have an athletic build and do mostly yoga and weight lifting.
Here are my quick fit reviews of all the items I tried on in the fitting room!
#1 Wunder Under Tight 25″ Lace ($128) – in black and white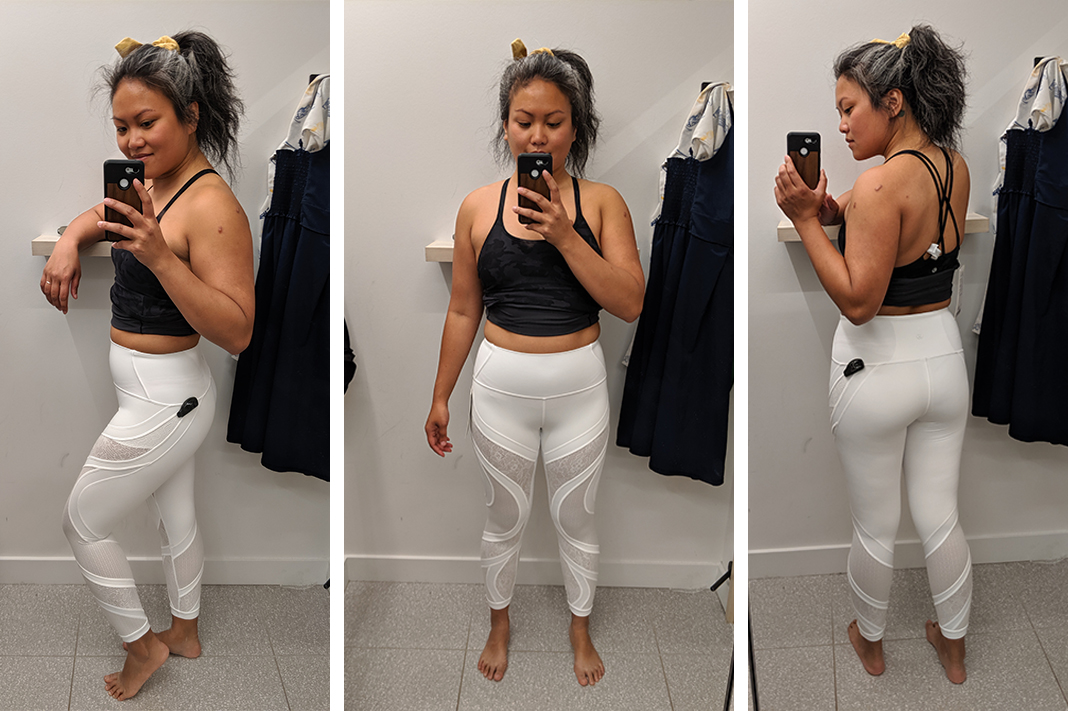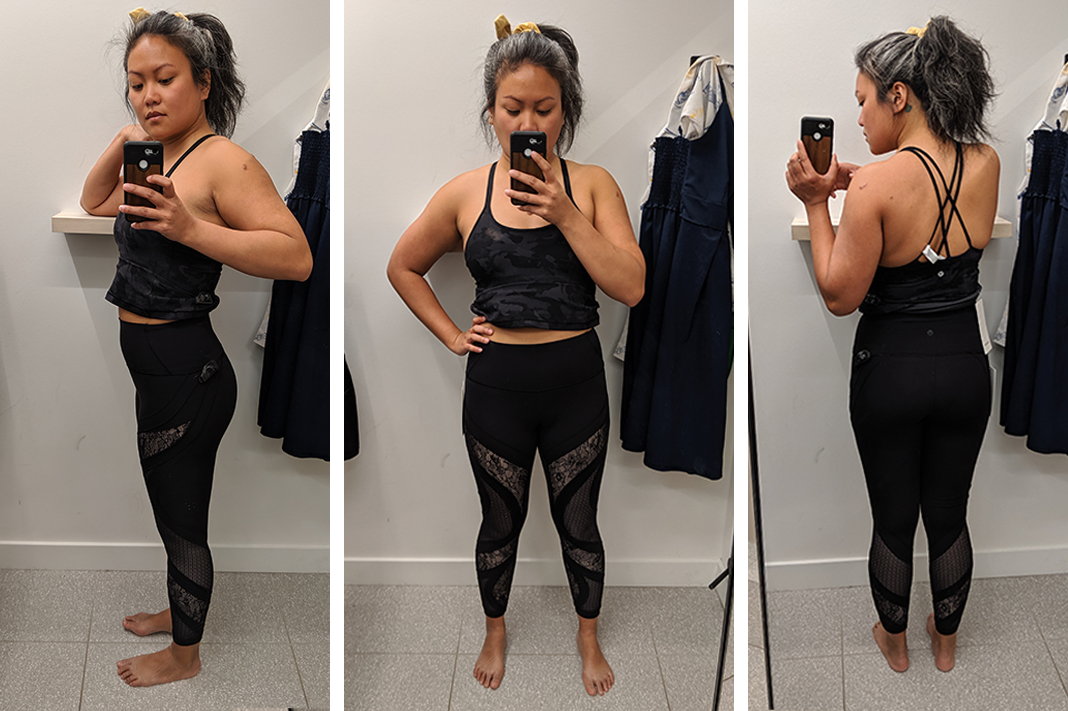 I love a pretty lace panel. The design on the Wunder Under Tight with lace is gorgeous and the leggings are pretty durable for being lace. They're made with luxtreme and are lightweight. I would not be afraid to snag these. I highly recommend them if you're into lacey designs. It also comes in nightcap (greyish blue), black and white.
They went back on the rack! I really liked these leggings but will buy these back in the states where it's cheaper for me.
#2 Forget the Sweat 7/8 Tight ($118)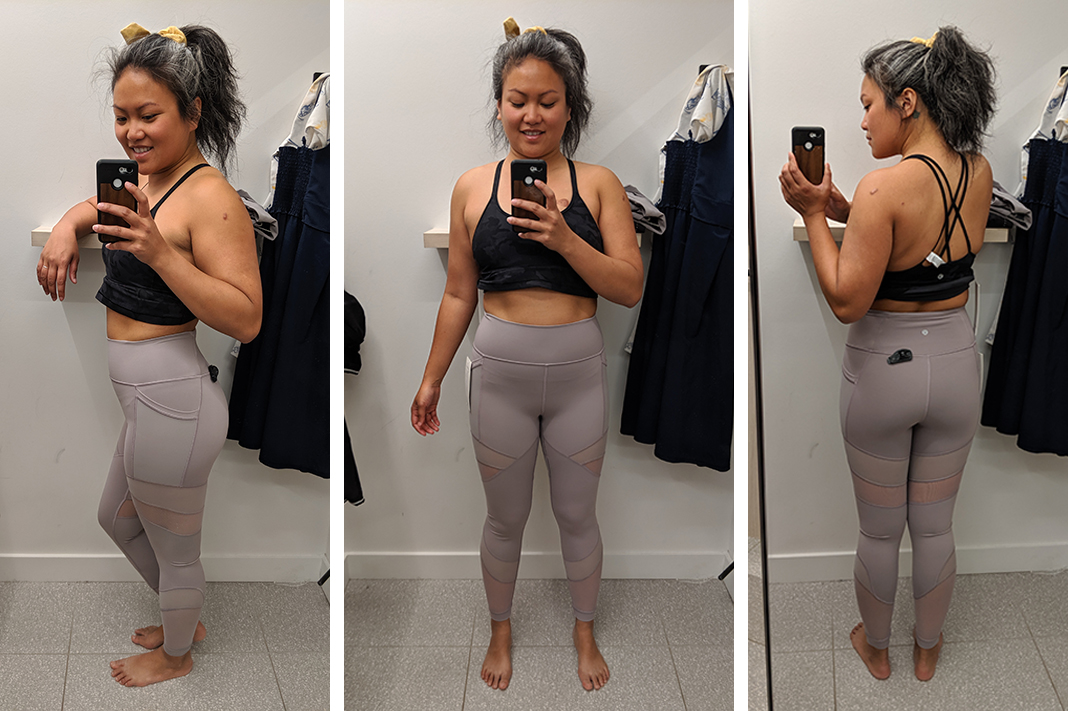 The Forget the Sweat tight was a winner for me. Everlux is like if Nulux and Luon were to have a baby. The fabric feels freaking fabulous however from the look and feel of the fabric, you know it'll eventually pill. The pant comes in dark chrome (pictured above), black and white. My favorite feature of the pant was the mesh pocket (see image below) which looked very subtly sexy.
It's also currently on sale online.
I actually REALLY liked this pant, but it went back to rack anyways. I will buy it when I return to the states.
#3 Clear the Court HR Tight 28″ ($128)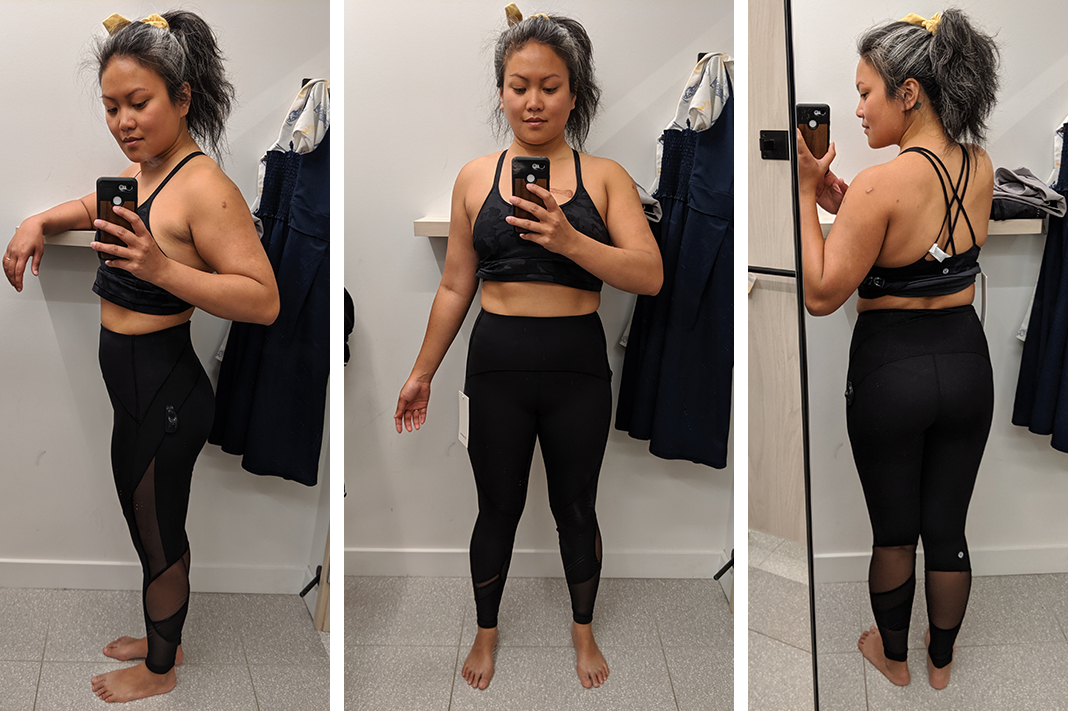 The Clear the Court HR Tight is very interesting. I thought they had sewn it wrong since patterns and lines were not lining up.
Turns out these leggings are meant to be unsymmetrical. The high waist is supportive and covers my muffin top.
One thing I did not like was how constrictive the waistband was. Otherwise, it's a great pant, just not for me.
I sent these back to the rack.
#4 Fast and Free 25″ Tight ($128)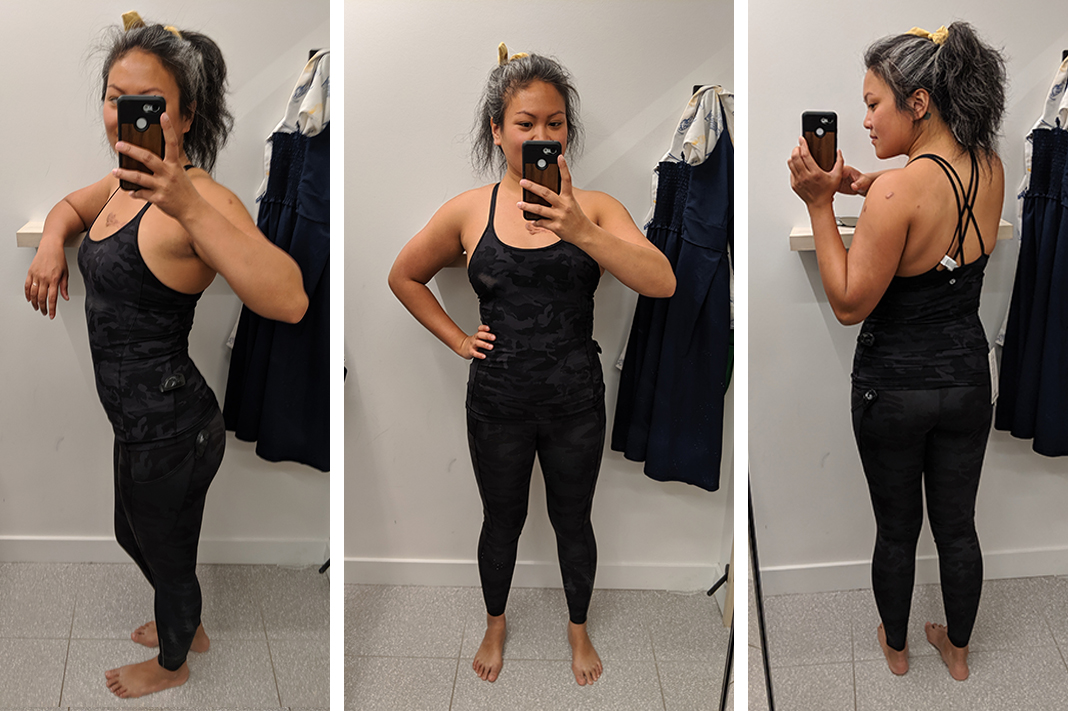 I practically live in my Fast and Free tights. I found the ICMG (incognito camo) Fast and Free tights on the shelf and decided to give it a whirl. The leggings are not white backed and I went with my true size.
The fit was perfect. I would have bought this is I didn't already have ICMG Align pants and Fast and Free tights in another color. These seemed to fit a little tighter than my Fluorescent Multi printed Fast and Free tights.
These went back to the rack. I hope someone else finds these beauts!
Related: Lululemon Review: Fast & Free 7/8 Tights II in Nulux
#5 Early Extention High Rise Tight ($118)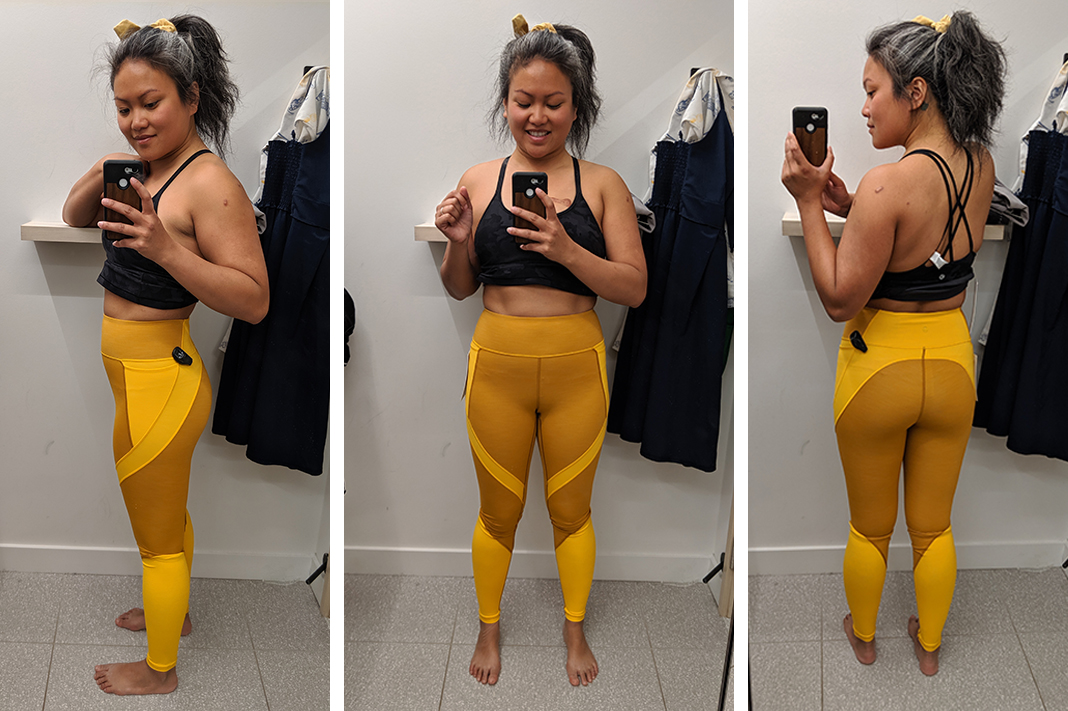 Yay! I got to try my first honey yellow item. The Early Extension Tight is made with Luxtreme and is ever so comfy. The only problem with the pant is the color block panels. It makes the legging look very busy.
If it were a solid honey yellow, I would be all about this pant. The side pocket was also too small for my phone, about 1/3 of my phone was sticking out of the pocket.
These went back on the rack.
#6 All the Right Places Pant ($128)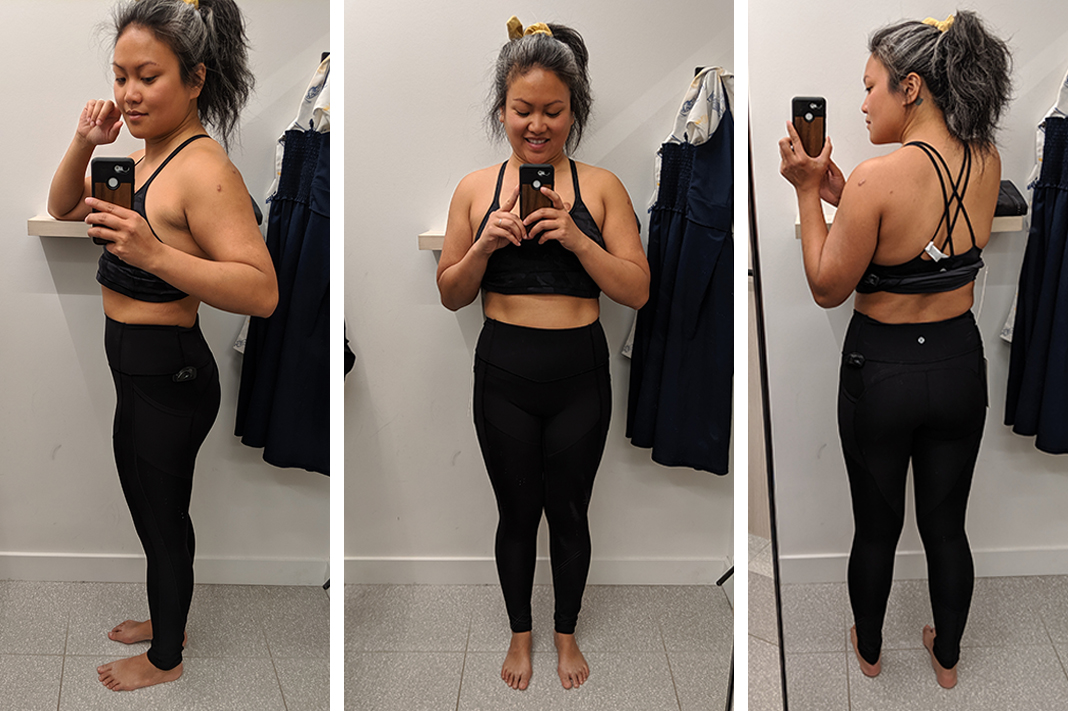 I've probably tried these pants on four times now and in 4 different colors. I know it's a popular pant that people swear by. I tried it on again and it just doesn't sit right on my body.
In black, the All The Right Places tight looks ok, but if you look closely at my crotch (see image below), you can see how wrinkled and unattractive it looks. Even with the flat front panel, you can still see my camel toe. ????
Back to the rack these go! ????????
Related: How to Prevent Camel Toe When Wearing Yoga Pants
#7 Free to Be Tank in Nulux ($58)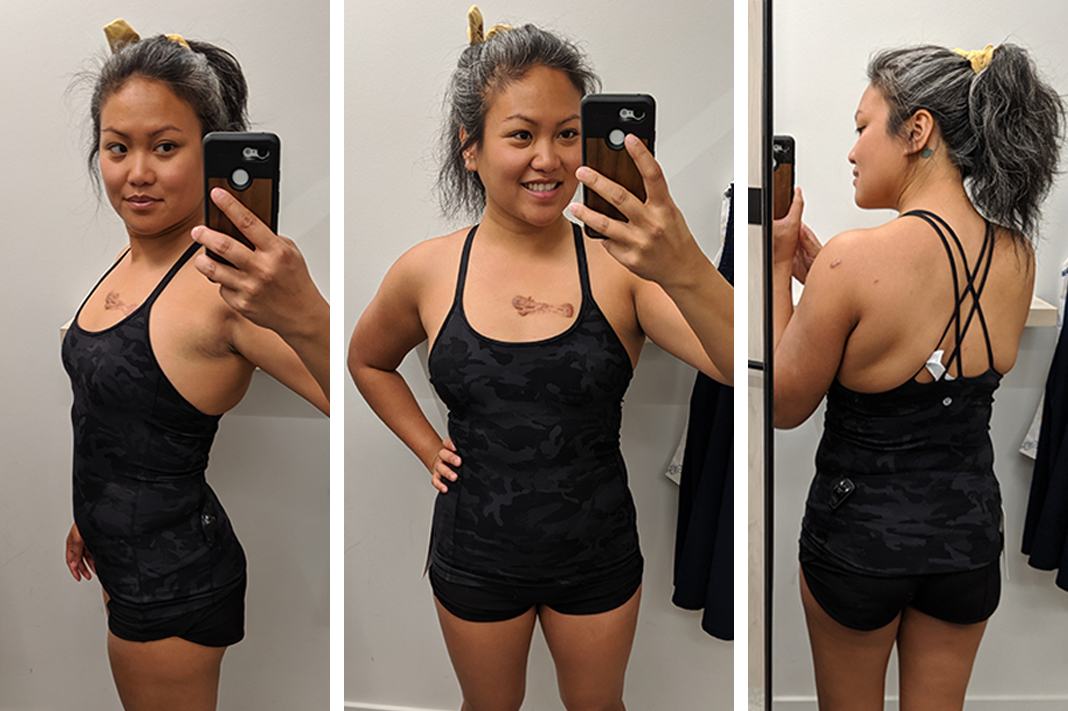 Loved the Free to Be Tank in Nulu in incognito camo! The soft Nulu fabric makes this tank so comfy. I love black grey camo and glad I could pair this with my Align leggings in ICMG. Here I am wearing my Speed Up Shorts with the top.
Read my review of the Speed Up Shorts in my fitting room try on in Lululemon Zurich, Switzerland.
I ended up leaving with the tank top. ????
Berlin Lululemon Store Photos
The store staff speak English very well! They were nice and checked up on me multiple times while wandering the store and in the fitting room.
Final thoughts?
Buying abroad is almost always more expensive than shopping back in the US and in Canada. I calculated how much a pair of pants would be with my discount and it was still ~$3 cheaper to buy in Washington state, USA, even with our 10.1% tax.
When buying in European countries, tax is always calculated, so the ticketed price you see is exactly what you pay.
There was also no special Berlin merchandise. All of what I tried on could also be purchased online at lululemon.com.
Want to know more about lululemon?
We have an entire resource page dedicated to everything lululemon related. Please check it out!
If there are any other topics you'd like us to shed some light on, please let us know!
---
Thank you for visiting today! If you found this encouraging or informative, please connect with us on Instagram, Youtube, Pinterest, Facebook or Twitter. We'd love to meet you!
Sign-up for our monthly newsletter for updates and more. We promise we won't spam you! Feel free to unsubscribe anytime.
For more fitness fashion discounts and offers, please visit our Fitness Instructor Discounts + Brands Directory or favorite brands coupon codes list.
If you're a brand and want to submit a product for us to review, please use this form to get in touch.
This site uses affiliate links. Clicking on or purchasing via an affiliate link may result in commissions for us which help keep the content flowing and lights on at Schimiggy Reviews. You may read more about this in our privacy policy.