Reading Time:
8
minutes
Updated: 3/25/2020 | lululemon Glossary
Welcome to the world of lululemon!
If you're on this page, then you've probably joined a lululemon Facebook group or have been looking to buy aftermarket lululemon products because they're usually HTF or on MD.
Hey! What do those acronyms even mean?
This lululemon glossary will help you understand the acronyms and terms that are often used by the online lululemon community.
The lululemon world is filled with acronyms and terms that may be confusing at first. I remember joining my first lululemon group and thinking the members were speaking another language! I eventually learned the jargon and how and when to apply it.
It took me a few weeks but it's easy to get a hang of the lingo. Soon enough, I was navigating through the lululemon after-market world and discussion groups with ease.
Let's go over some of the most common abbreviations and terms. We like to call these terms retail slang.
lululemon Glossary and Acronyms (in alphabetical order)
First and foremost, lululemon is always spelled with a lowercase letter "l." You can read about how lululemon got their name for more background on the brand.
This list of terms is organized by Term/Acronym – Definition.
If you're looking for a particular term, you can click on the letter below to jump to that section of the glossary.
# | A | B | C | D | E | F | G | H | I | J | K | L | M | N | O | P | Q | R | S | T | U | V | W | X | Y | Z
A
Admin: Members of a group who are elected by other admins to oversee and enforce group rules. They have the ability to add and remove members. They also often volunteer to manage groups without pay. Be nice to your admins.
Ambassador: Ambassadors are selected by specific stores to teach classes in-store and within the community. They are offered free merchandise and marketing opportunities in exchange for promoting lululemon. Ambassadors are usually certified to teach some form of group fitness.
Angel: A community member who offers to purchase an item and mail it to you. They will often find items at their local lululemon store either on markdown or retail. It is customary to tip your angel after a package is received. We recommending tipping anywhere from $2-$5 depending on the item. Most payments are handled prior to shipping.
B
Banned: When a member is permanently or temporarily removed from a group for not following rules, disrupting the community, or scamming other buyers and sellers. Some lululemon Facebook groups will communicate with one another and keep a list of persons who have been banned.
Buy It Now (BIN): The price if you buy an item at that moment without having to wait for an auction to end. BIN is often used when referring to eBay listings.
Bonesy: An item that is used and in fair condition and has noticeable flaws (stains, tears, pilling, etc.). The item is usually no longer in production and sold at a very low price.
Buy Sell Trade (BST): An acronym used to identify a group or platform where buyers and sellers can buy, sell and trade merchandise. It can be any product and brand. The term is not limited to only lululemon products.
Related: Where to Buy and Sell lululemon
Bump: A bump is when someone comments on their own post, usually by typing the word "bump", typing an * (asterisk) symbol, or typing "f" for follow. This causes the post to move to the top of the group page. You'll also get notifications for new comments on that post.
C
Cross Posted: When an item is listed in more than one buying and selling group or shopping platforms such as Poshmark and Mercari.
Related: Mercari Review + Best Practices
D
Damage Out: When an item is irreparable and needs to be damaged out by a lululemon educator or Guest Education Centre (GEC). This item will often be replaced with the same or another item of equivalent value.
Desperately In Search Of (DISO): Something that you are looking for and need ASAP. It can be a unicorn item (rare and hard to come by).
E
Educator: An in-store lululemon employee who is knowledgeable about their products and will help you with ordering, purchasing, trying on in the fitting room, and with returns.
Email Money Transfer (EMT): A payment method available in Canada through their banking system. Buyers and sellers in Canada will use EMT to complete lululemon transactions.
Excellent Used Condition (EUC): An item that is gently used and shows slight wear but looks in good repair. There are no holes, pilling, stains, etc.
F
For Sale (FS): How someone indicates to others that a product is available for purchase.
G
Guest Education Center (GEC): Another name for lululemon's online customer service team that can be reached via e-mail, live chat or phone call. GEC team members can often resolve any issues that Educators in-store can't.
H
Hard to Find (HTF): Something that is rare and hard to find on sale. HTF items typically cost more and buyers are willing to pay higher prices for the items. Some HTF items may be referred to as unicorn items (very rare).
Hemming: A free service offered by lululemon in-store to shorten leg opening, top hems and wrist hems. Simply go into your nearest lululemon store and get your item hemmed professionally. They will also ship hemmed items by request.
I
In Search Of (ISO): People will post in groups and state that they are "ISO" of an item in hopes that someone will reply to that Ad with the item that they are looking for, and hopefully at a fair price.
In My Opinion (IMO)/In My Honest Opinion (IMHO): Referring to someone's sincere thoughts about a product or situation.
L
LULU: The stock symbol for lululemon.
M
Markdown (MD): Items with prices that have been reduced and sold in their We Made Too Much (WMTM) sales section online and in-store. MDs exist both in-store and online, however, MD prices are not always the same online and in-store.
N
New With Tags (NWT): An item that is being sold and still has its product tags attached. It has not been worn.
New Without Tags (NWOT): An item that is unworn and new but without its original product tags.
O
Opacity/Opaque: This describes the see-through quality of apparel. Leggings that are see-through are considered NOT opaque.
Or Best Offer (OBO): Listing in the price of an item where the seller is open to the best offer from buyers. In most groups, once an offer is accepted, the transaction must be honored.
Outfit of the Day (OOTD): A way to indicate the current outfit you are wearing in your photo. The photo is usually posted on the day of and a hashtag is used to make the term available on social media.
Outlet: lululemon offers WMTM merchandise at outlets. At outlets, you'll find great deals and even steals during the holiday seasons such as 4th of July or Black Friday. You are allowed to combine your Sweat Collective discount on outlet merchandise unless otherwise stated.
Related: What You'll Find at the lululemon Outlet
P
Pilling: Pilling is when balls of fabric and fuzz start to accumulate where the fabric rubs against skin or in between the thigh. Most lululemon pants made with Luon or Nulu will pill
The Practice: lululemon's subscription service that includes a pair of men or women's limited edition bottoms and a subscription to local classes in a particular city. The Practice currently exists in Edmonds and Denver.
Related: The Practice: lululemon's Subscription Service – Is it Worth It?
Private Message (PM)/Direct Message (DM): Messaging someone directly in their inbox on Facebook.
PayPal OR Pending Payment (PP): In the comments section, sellers will mark an item as PP to show that it is claimed and pending payment to complete the transaction.
S
Seawheeze: A half and full marathon race put on by lululemon annually. The race is held in Vancouver, BC where lululemon was created and is headquartered. They will offer a capsule collection for each year. These items are usually coveted and only a limited amount is produced and sold at the event.
Size Dot: lululemon uses size dots to indicate sizing and style on their garments. Not all garments have size dots and not all size dots have style information printed on it. Size dots will typically be hidden in a pocket of lululemon apparel.
Related: How to Find lululemon Size Dots and Markers
Starting Bid (SB): The price at which a listing in a bidding group or on eBay begins at. Members can bid by offering a price for that item at or above the starting bid.
Sweat Collective: This is lululemon's instructor discount program. It was formerly known as its R&D program. The discount is 25% off and applies to both regular and WMTM/MD merchandise.
Sign-up for the Sweat Collective program here.
Related: lululemon Sweat Collective, Military & First Responder Discount
T
Thanks in Advance (TIA): Posted after a question or request is made in a group and waiting for answers. It's seen as polite to thank beforehand.
True To Size (TTS): Indicates that sizing runs normal and that you should buy your standard size in a particular product.
U
Unicorn: An item that is hard to find and considered very rare. Many people will pay more than retail for items on their unicorn wishlist. It's important to note that not everyone's unicorn items are the same.
Upload: When lululemon posts new products on their site. This happens once a week before 5 PM EST on Thursdays.
Related: How to Check for lululemon Upload Times
V
Very Excellent Used Condition (VEUC): Items that are almost in new condition and has maybe been worn only a handful of times.
Very Good Used Condition (VGUC)/Good Used Condition (GUC): An item that is in good repair but does display some wear. There are usually no stains, slight pilling, and no broken seams.
W
Warehouse Sale: A huge sale that happens almost annually and takes place in different major cities where lululemon has a presence. The sale extends over a long weekend and hundreds of women come to shop WMTM and MD products from the previous and current seasons. You can often find HTF items as well!
Wanderlust (WL): Indicates lululemon merchandise that was made specifically for Wanderlust yoga festivals. Wanderlust (WL) is a yoga festival that has events around the world. Lululemon and Adidas have collaborated with WL to create exclusive products. These products are usually highly coveted.
We Made Too Much (WMTM): lululemon's sale section on their website. WMTM is filled with MD items that range from 10-70% off! You can stack your Sweat Collective discount on top of WMTM items online and in-store.
White Backed: A term that describes when a print is printed on white fabric. This can cause stretching of printed designs and even cause opacity (see-through) issues. You will hear people describe the fabric as "stretch[ing] to white."
Popular lululemon Clothing Acronyms
Below are certain lululemon items (typically popular core items) and other details that are often abbreviated.
ATRP: All the Right Places pant
BTC: Brave the Cold jacket
CRB: Cool Racerback tank top
DSC/DSP: Dance Studio Crop/Dance Studio Pant
DSJ: Dance Studio Jacket
FTB/FTBW: Free to Be/Free to Be Wild – types of strappy sport bras
F&F: Fast & Free bottoms
LS: Long Sleeve
NLT: No Limits Tank
PS: Parallel Stripes
QS: Quiet Stripes – A super popular print that is HTF and often expensive.
SS: Short Sleeve
Speeds: Speed Shorts
WAFS: We Are From Space – popular stripe-like print that came in many colorways.
WTF: What the Fluff
WUC: Wunder Under Crop
WUP: Wunder Under Pant
Related: lululemon Core Products | Best Sellers
Other lululemon Acronym Tips
Colors: lululemon colors all have an acronym and they are usually located on the top middle above the barcode (see image below). The color code will usually look like one of the following examples:
ICMI = Incognito Camo Multi Gator Green
ICMG = Incognito Camo Multi Grey
TRNV = True Navy
And that sums up what you need to know in order to navigate the online Lululemon world!
We hope our lululemon glossary was helpful to you. If we are missing any acronyms or phrases, please let us know in the comments section and we'll get them added to this list.
Namaste!
If you liked our lululemon Glossary, please share it to Pinterest! Thanks for your support!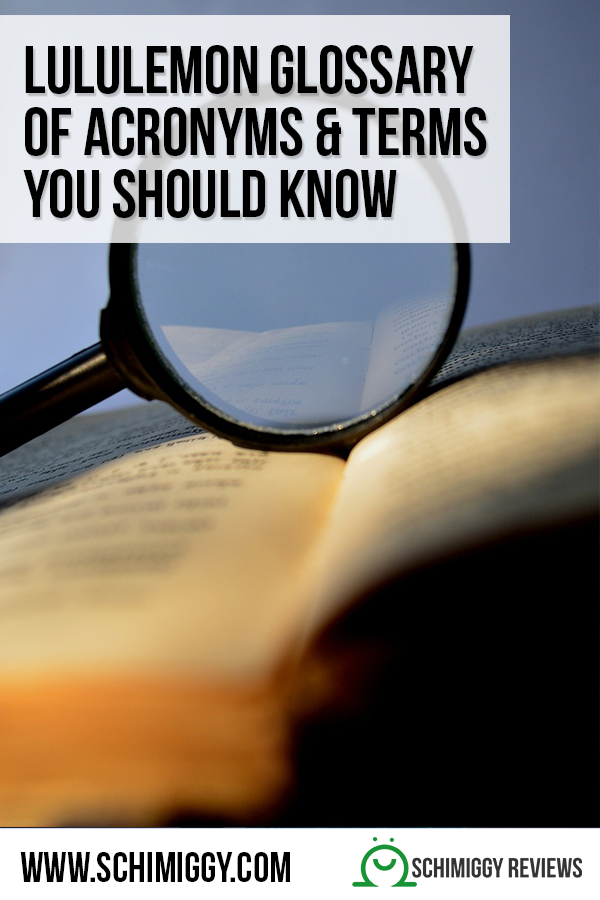 If you liked our lululemon glossary article, you may like these too:
Want to know more about lululemon?
We have an entire resource page dedicated to everything lululemon related. Please check it out!
If there are any other topics you'd like us to shed some light on, please let us know!
---
Thank you for visiting today! If you found this encouraging or informative, please connect with us on Instagram, Youtube, Pinterest, Facebook or Twitter. We'd love to meet you!
Sign-up for our monthly newsletter for updates and more. We promise we won't spam you! Feel free to unsubscribe anytime.
For more fitness fashion discounts and offers, please visit our Fitness Instructor Discounts + Brands Directory or favorite brands coupon codes list.
If you're a brand and want to submit a product for us to review, please use this form to get in touch.
This site uses affiliate links. Clicking on or purchasing via an affiliate link may result in commissions for us which help keep the content flowing and lights on at Schimiggy Reviews. You may read more about this in our privacy policy.