Reading Time:
2
minutes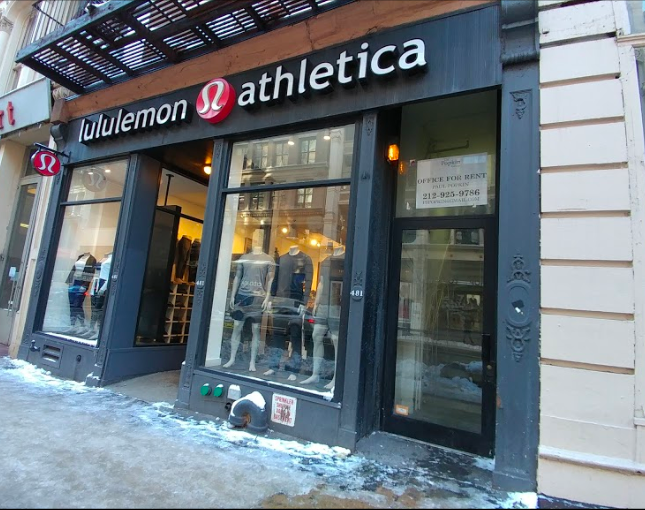 lululemon is Opening a Yoga Studio in SoHo
lululemon, the athletic apparel chain for fit men and women, will be opening it's first yoga studio in SoHo, New York. The Canada-based retailer is known for holding yoga classes in stores among the merchandise. The 9,230-sq.-ft. store at 520 Broadway has plenty of space for an actual studio. The SoHo Lululemon store is just a 5 minute walk from the ALO Yoga SoHo store which also has their own studio. For anyone living in the area, they're in luck with accessibility to brand sponsored yoga instructors and ambassadors.
"This is a particularly interesting project from a construction perspective and we're excited to use our retail expertise to ensure it is a truly memorable addition to the space," said Matthew Schimenti, president of Schimenti Construction, the company hired to complete the build out.
How is lululemon Doing?
lululemon recently reported that revenue was up 25% to $724 million in the second quarter, due mainly to online growth and increasing sales across China. The company ended the quarter with 415 stores.
Schimenti Construction is the main company behind multiple NY flagship store builds. SoHo stores include the Nike flagship store at 529 Broadway and REI at 303 Lafayette.
I personally can't wait! Bring it on Lululemon.
If you liked this article, you might enjoy these:
Want to know more about lululemon?
We have an entire resource page dedicated to everything lululemon related. Please check it out!
If there are any other topics you'd like us to shed some light on, please let us know!
---
Thank you for visiting today! If you found this encouraging or informative, please connect with us on Instagram, Youtube, Pinterest, Facebook or Twitter. We'd love to meet you!
Sign-up for our monthly newsletter for updates and more. We promise we won't spam you! Feel free to unsubscribe anytime.
For more fitness fashion discounts and offers, please visit our Fitness Instructor Discounts + Brands Directory or favorite brands coupon codes list.
If you're a brand and want to submit a product for us to review, please use this form to get in touch.
This site uses affiliate links. Clicking on or purchasing via an affiliate link may result in commissions for us which help keep the content flowing and lights on at Schimiggy Reviews. You may read more about this in our privacy policy.
Source: CSA