Reading Time:
3
minutes
Updated: 1/26/2021 | lululemon Face Mask Review

lululemon Mask Review
I purchased lululemon's double strap face mask ($10) while in Honolulu, Hawaii. It cost $10 and I used my Sweat Collective discount to get 25% off. Woohoo!
Related: lululemon Sweat Collective, Military & First Responder Discount
I found it next to the cash wrap as an add on item. They had it available in black and a light mauve color. I've also seen it in Incognito Camo (ICMI) and other mauve and purple hues too.
I tested my mask on a hike and while doing strength training and it performed great! I did not have to adjust the mask or feel bothered by the fabric and airflow.
Below we'll list our pros and cons of the lululemon face mask.
Pros
Made with Ultralu and Lycra blend. If feels super soft and smooth fabric that feels similar to Everlux. It's thick and plush and feels comfortable against my skin.
Very breathable. I did not feel like my breath was obstructed by the face mask.
The mask doesn't touch my lips! For ladies who like to wear lipstick, this mask is made for you! There is a center front seam that gives the mask some structure so that it contours to the shape of your face without sitting against your lips. I had to adjust the mask so that it did not concave against my lips.
Doesn't pull against the ears. The mask is designed to fit around your head without pulling your ears from behind. It has two straps; one that goes around the nape of your neck and one that sits above your ears around the back of your head.
Built-in neck strap! The strap that goes around the nape of your neck acts like a neck strap. It will keep the mask in place, like a bandana, while you eat, drink or need to go mask-less for a bit.
Machine washable! We highly recommend giving it a wash prior to wearing it. It has a chemical-ish smell coming straight out of the package. Machine wash on gentle and hang dry for a few hours!
Comes with a limited manufacturer's warranty. lululemon will replace or fix your mask if anything happens to it within 3 years.
Budget friendly! The mask is very affordable! For all the technical details and construction, I was expecting the mask to cost more than $10.
Cons
OSFA (one size fits all), but doesn't really. The mask was actually a little tight on my face even after I adjusted the straps. Unfortunately, they only offer one size in masks at the moment.
Not good if you want to wear your hair down. The straps are great for ponytails and up-dos but fits awkwardly if you want to wear it with your hair down.

Update: I found a solution where you wear the mask with the bottom strap around your neck and then pull the mask over your hair and over your ears. It feels very comfortable but does leave a dent in my hair from prolonged wear.

Non-medical grade mask. The mask only slightly protects you from pollution, germs and airborne viruses.
Should I Buy a lululemon Mask?
Of course! At only $10, why not?
It's affordable and constructed very well. It'll definitely be my go-to mask for years to come. I also love that it's reusable and super breathable. And with the neck strap, it'll be hard to lose my lululemon mask!
And before you leave, here's my pro tip for you! While flying or in very crowded places, I recommend wearing an N95 face mask underneath to ensure you are properly sealing your nose and mouth from airborne germs and viruses.
And if you liked this post, you might like our article on how to make mask wearing more comfortable.
If you found our lululemon Mask Review helpful, please share it on Pinterest. Thank you!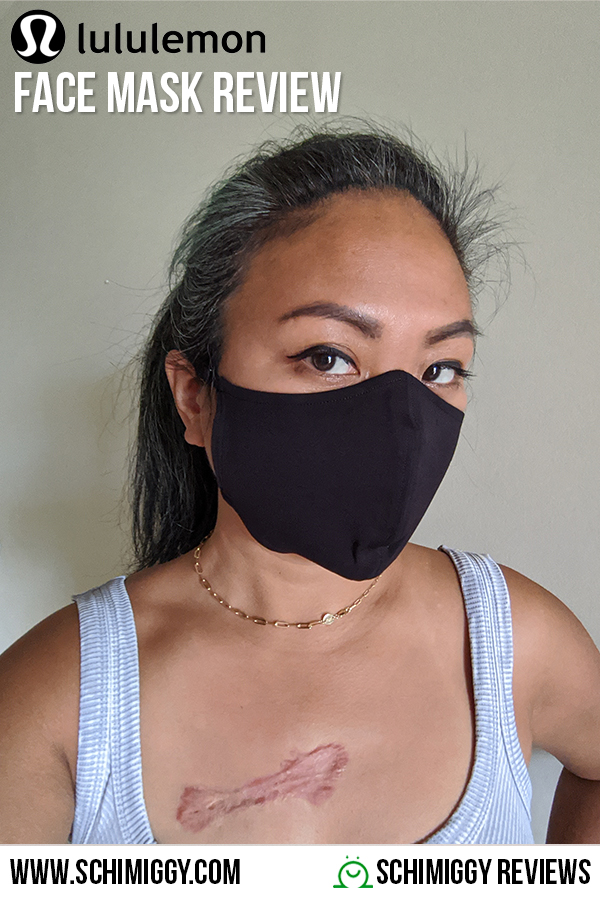 Want to know more about lululemon?
We have an entire resource page dedicated to everything lululemon related. Please check it out!
If there are any other topics you'd like us to shed some light on, please let us know!
---
Thank you for visiting today! If you found this encouraging or informative, please connect with us on Instagram, Youtube, Pinterest, Facebook or Twitter. We'd love to meet you!
Sign-up for our monthly newsletter for updates and more. We promise we won't spam you! Feel free to unsubscribe anytime.
For more fitness fashion discounts and offers, please visit our Fitness Instructor Discounts + Brands Directory or favorite brands coupon codes list.
If you're a brand and want to submit a product for us to review, please use this form to get in touch.
This site uses affiliate links. Clicking on or purchasing via an affiliate link may result in commissions for us which help keep the content flowing and lights on at Schimiggy Reviews. You may read more about this in our privacy policy.