Reading Time:
7
minutes
About lululemon
Since 1998, lululemon has been outfitting women in comfy spandex and fashionable activewear. They've expanded their line to include men's, girls and now bodycare products!
lululemon began in Vancouver, British Columbia and was founded by Chip Wilson. To date, lululemon has reached a $3.3 billion USD revenue and this figure continues to grow. They've definitely made a name for themselves by spearheading the athleisure movement and influencing our style.
Related: How the name lululemon was Created
lululemon Selfcare Review
I purchased the entire lululemon selfcare collection as soon as it was released. Their selfcare line was offered online at lululemon.com and Sephora, and in 6 physical stores throughout the US and Canada. What intrigued me most was how "natural" lululemon claimed all their beauty products were and that the line was gender neutral.
One thing that I noticed right away were the awesome cosmetic bags I received with my order. I also noticed that the products feel very light. I felt that I might have overpaid for massive amounts of packaging and very little product.
Below is my review of their bodycare products as well as their pros and cons.
#1 Basic Balm ($14)
The basic balm is moisturizing but I've definitely experienced better…and for less. The product came in a cardboard tube container and is sealed for your protection. The lip balm has a sweet scent that isn't overpowering. You can use it before, during and after your workouts.
The lip balm is currently available in one size (0.32 fl oz / 9.5 ml).
Pros
Made with natural ingredients such as shea butter, vitamins A, E and F, jojoba oil and organic beeswax.
The soft touch applicator allows the balm to glide smoothly across the lips.
Non-sticky formula won't leave your lips feeling glued.
Applies clear for a natural look.
Ingredients are deemed safe by EWG (low hazard).
Cons
Not vegan (contains beeswax)
Expensive – For $14, I expected more product.
Lip balm has a slight shine, when the product description advertises there would be no shine.
The balm comes in a tube-shaped package. The container is recyclable, however, the amount of packaging was unnecessary.
Verdict?
I don't recommend their lip balm. It's expensive, comes with a lot of packaging and there's barely any balm in the tube.
I have been using Karite Shae Butter lip balm for years, and this product is cheaper AND vegan!
#2 No-Show Dry Shampoo (Full $34/Travel $18)
The No-Show Dry Shampoo is great for post-workouts when you don't want to get your hair wet prior to going back to work. I found that spraying the dry shampoo approximately 6 inches from my scalp in vertical streaks and running my fingers through my hair worked best.
Pros
Travel friendly – Comes in a full (8.3 oz / 246 ml) and TSA approved travel size (2.4 oz / 72 ml)
The product does not leave white residue compared to other products.
The cool and refreshing formula cleans away oil from the surface of your scalp.
The product makes hair feel smooth and reduces frizz. I have frizzy hair and found this as a great way to tame my mane and keep it soft.
Regular use results in a healthier and more balanced scalp over time due to the green and brown algae-derived ingredients in the formula.
Cons
Majority of ingredients fall on EWG's low to moderate hazard scale.
The spray can products can only ship via standard ground. Therefore Hawaii, Alaska & Puerto Rico residents are unable to purchase their spray can products.
It's expensive. Compared to other brands, expect to pay 3 times the price!
The packaging is non-refillable but is recyclable. It's still possible that their packaging may end up in landfills.
Verdict?
The dry shampoo is worth it! I have dry scalp and get dandruff often. After 4 uses, it seems to have moisturized my scalp and thus, I flake less!
The only reason I would not buy it is because I am attempting to go zero waste. I use shampoo bars and will be trying out some dry shampoo options from the Package Free shop.
It is a bit on the pricey side but if you want a better quality dry shampoo, this is it.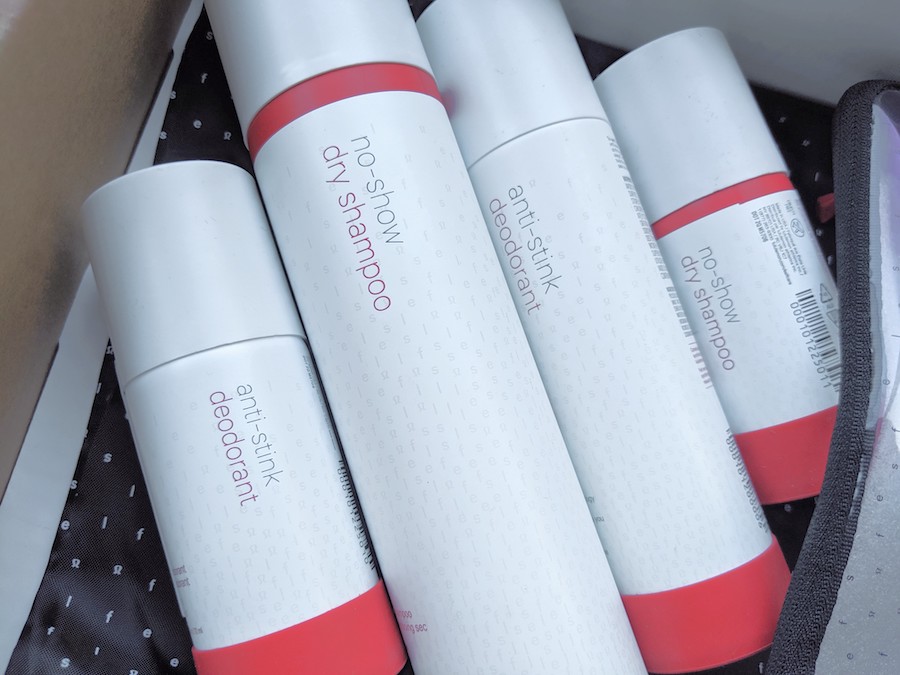 #3 Anti-Stink Deodorant (Full $18/Travel $12)
I was super excited about their natural spray deodorant. I sprayed it on at 8:30 AM and by 10 PM (and after a workout) I finally started to stink. I've found that spraying 5″ away from my armpits for a few seconds provided plenty of coverage. Always apply their spray-on deodorant on clean dry skin.
The aloe lotus scent stuck around longer than the black pepper sandalwood.
Pros
Travel friendly – Available in full (4.2 oz / 126 ml) and travel size (2.4 oz / 72 ml)
The spray can design prevents bacterial growth.
The formula is cooling and dries instantly.
Aluminum free (although there is no real link of aluminum to breast cancer or Alzheimer's). However, aluminum will clog pores to prevent perspiration.
The formula prevents perspiration. I've tried other brands and sweat almost immediately after stepping out of my home.
Comes in a scent for women (Aloe Lotus) and men (Black Pepper Sandalwood). The scent is light and dissipates almost immediately.
Cons
Majority of ingredients fall on EWG's low to moderate hazard scale.
The spray can products can only ship via standard ground. Therefore Hawaii, Alaska & Puerto Rico residents are unable to purchase their spray can products.
The packaging is non-refillable but is recyclable. It's still possible that their packaging may end up in landfills. There is a rubber bottom to prevent the spray can from sliding around.
Verdict?
In terms of performance, I do recommend their spray-on deodorant. It's very easy to apply and comes in two sizes. The women's scent lasts all day.
I plan on buying the larger size when I need more so that I am not buying spray cans too often. However, I would not recommend their deodorant due to the excessive packaging.
#4 Sweat Reset Face Moisturizer (Full $48/Travel $28)
The Sweat Reset Face Moisturizer is your solution to post-workout skin.
The moisturizer returns a balanced color to your flushed workout face and keeps your skin feeling protected and looking smooth for the rest of the day. Just simply apply the moisturizer to your face and neck after your workouts.
I've found that using it post-shower (don't forget to wash your face first) is the best time to apply the moisturizer. I use it once in the morning and again after my evening workouts. A pea-sized amount is perfect for my face and neck. A little goes a long way.
The gel is also cooling and smells refreshing but not strong. My skin just soaks it up!
Pros
Tri-Active gel formula helps to reset your face color by cleaning, calming and hydrating.
Non-comedogenic (does not clog pores)
Can be used daily and especially after workouts.
Travel Friendly – Available in full (1.6 fl oz / 48 ml) and travel size (0.9 fl oz / 28 ml).
The top twists to lock so that it doesn't get all over your gym bag.
Cons
Majority of ingredients fall on EWG's low to moderate hazard scale.
Also comes with a significant amount of unnecessary packaging and is not refillable.
lululemon currently does not have a cleanser to use in conjunction (as a system) with the moisturizer.
Verdict?
I do recommend the Sweat Reset Face Moisturizer. It's expensive and on par for luxury cosmetic brands. The ingredients are cooling (but not menthol stinging cooling) and perfect post a sweaty workout. The gel absorbs immediately and my face is normal within minutes.
The only reason I would not recommend the face moisturizer due to the amount of packaging.
If you're looking for beauty care for active living, I personally recommend FRÉ Skincare. FRÉ is also great for dry skin. They have a tinted moisturizer that I swear by and have replaced all my foundation with.
Related: FRÉ Skincare Review: 123FRE Set
Where to Buy lululemon selfcare?
lululemon selfcare products can be purchased at lululemon.com and select lululemon stores. You can also buy lululemon selfcare on Sephora (online only).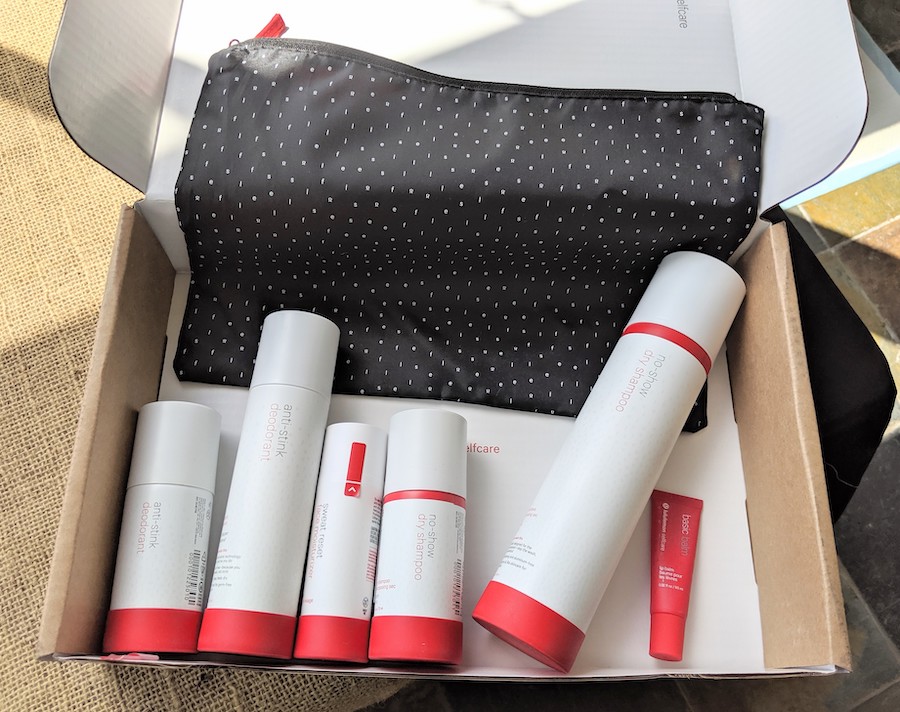 Want to know more about lululemon?
We have an entire resource page dedicated to everything lululemon related. Please check it out!
If there are any other topics you'd like us to shed some light on, please let us know!
---
Thank you for visiting today! If you found this encouraging or informative, please connect with us on Instagram, Youtube, Pinterest, Facebook or Twitter. We'd love to meet you!
Sign-up for our monthly newsletter for updates and more. We promise we won't spam you! Feel free to unsubscribe anytime.
For more fitness fashion discounts and offers, please visit our Fitness Instructor Discounts + Brands Directory or favorite brands coupon codes list.
If you're a brand and want to submit a product for us to review, please use this form to get in touch.
This site uses affiliate links. Clicking on or purchasing via an affiliate link may result in commissions for us which help keep the content flowing and lights on at Schimiggy Reviews. You may read more about this in our privacy policy.