Reading Time:
9
minutes
Updated: 8/9/2022 | How to Get to Machu Picchu
In early 2017, I had the pleasure of seeing one of the New Seven Wonders of the World! This ancient pre-Columbian site is the Lost City of the Inca Empire, best known to the world as Machu Picchu, which translates simply as "Old Mountain."
Machu Picchu overlooks the Urubamba River and is an important UNESCO World Heritage Site. Just one century after its creation, this Inca site was abandoned and never revealed to the conquering Spaniards. It remained lost to the world for over 350 years. In 1911 Machu Picchu was re-discovered accidentally by Hiram Bingham, a US historian.
My partner and I booked our tickets to Chile and decided we'd head over to Peru and ascend Machu Picchu too! We figured why not while we're still in this part of the world. From Chile, we knew that we had to get to Cusco to begin our journey up to this mystical place.
We had only 4 days and 3 nights in Cusco, so we had to use our time efficiently and effectively. We are planning on hiking up the mountain on our next trip. Feel free to use this guide to prepare for your trip up to Machu Picchu!
How to Get to Cusco
We used our points from our Chase Sapphire Reserve card to fly into Lima. We flew with LATAM Airlines and connected in Lima to Cusco. Before heading to Cusco, we spent 4 days in Lima and enjoyed the amazing food and culture of this urban oasis. When flying anywhere in South America, make sure you allow ample time between flights because ALL our South American flights were delayed approximately 15-30 minutes. It was frustrating at times because we were unsure if we'd make our connecting flight or travel arrangements, but thank goodness for yoga!
Take the Train or Hike the Inca Trail to get to Machu Picchu
We landed in Cusco and could immediately feel the pressure in our heads as we boarded off the plane. The altitude in Cusco is over 11,152 ft.
We planned to stay two days in Cusco to get acclimated and then head up to Ollantaytambo and then take the train to get to Aguas Calientes, where the altitude is much lower (6,693 ft.). The altitude of Machu Picchu is 7,972 ft.
How to Get to Ollantaytambo
Option #1: Take a Taxi
We found an official taxi service that cost around $52 USD (or 170 soles) to take us from Cusco directly to Ollantaytambo, where we would board the train that would take us to Aguas Calientes. The taxi ride was 1.5 hours long and our driver offered stops along the way. The taxi service initially quoted us 200 soles but I bargained until we could reduce it to 170 soles. There are unofficial drivers that offered $40 USD to take us to Ollantaytambo but we were unsure if they were trustworthy or safe. Now that I look back on it, I would have happily taken the unofficial taxi and haggled the price to $30 USD (or 90 soles).
Option #2: Take a Bus
This is the cheapest option, but it's also the longest. Take a 15 minute walk or a 5 minute taxi ride into Cusco's main square, Plaza de Armas. Shared colectivos leave every 20–30 minutes to Ollantaytambo. A colectivo is usually a small bus where the collective passengers share the cost of the journey. There are no scheduled times for collectivos, they simply wait until full before heading off. The journey from Cusco to Ollantaytambo takes around about 1 hour and 45 minutes, and costs 10 – 12 Soles per person with a capacity of 14 – 16 people per vehicle. If you have luggage with you, you can either carry it on your lap or have the driver strap it to the roof rack (make sure its strapped on tight). This is also the longest because the colectivos also make stops along the way.
Book your transportation through Bookaway to get to Ollantaytambo now.
Take the Train
After you get to Ollantaytambo, you'll want to book a train through Peru Rail (train) takes you to Aguas Calientes via a transfer/connection in Ollantaytambo. The cost of the entire trip from Cusco to Aguas Calientes is approximately $90-100 USD one way.
If you upgrade to the luxury package, you get a free musical performance on the train.
Hike the Incan Trail (4 Days)
From Cusco you can take a moderate 4 day hike to Machu Picchu. There are guides and donkeys who will carry your belongings as you trek. This is the most popular route trekked by hundreds of visitors each day. Because this route is the most popular you can easily find a tour operator with groups leaving everyday. Joining a group works out much cheaper than a private service.
Approximate price of a basic group service is between $560-660 USD per person. A group service is when a trekking company advertises a fixed departure date and pools all of their clients together. This means that you will be trekking with other people from different parts of the world which can be great fun. The maximum group size is limited to 16 persons. This offers the most economical way to do the Inca Trail. The price for a private service depends on how many people there are in your group but expect to pay around US$1000 per person for a very small group of between 2 and 4 persons. Prices may drop to around US$560 per person if you have a large group of friends. Trek permits are necessary so book well in advance.
Here are some other guided tours if the 4-day option does not work for your schedule.
The Peru Rail (Train) also takes you from Ollantaytambo to Aguas Calientes. The cost of the one way trip is approximately $64-88 USD.
The Inca Rail only offers transportation to and from Ollayntambo to Aguas Calientes. Cost for the Inca Rail is approximately $61-68 USD one way. We chose this option because it was cheaper and we didn't have to find transportation from the airport to the train station in Cusco.
Where to Book Lodging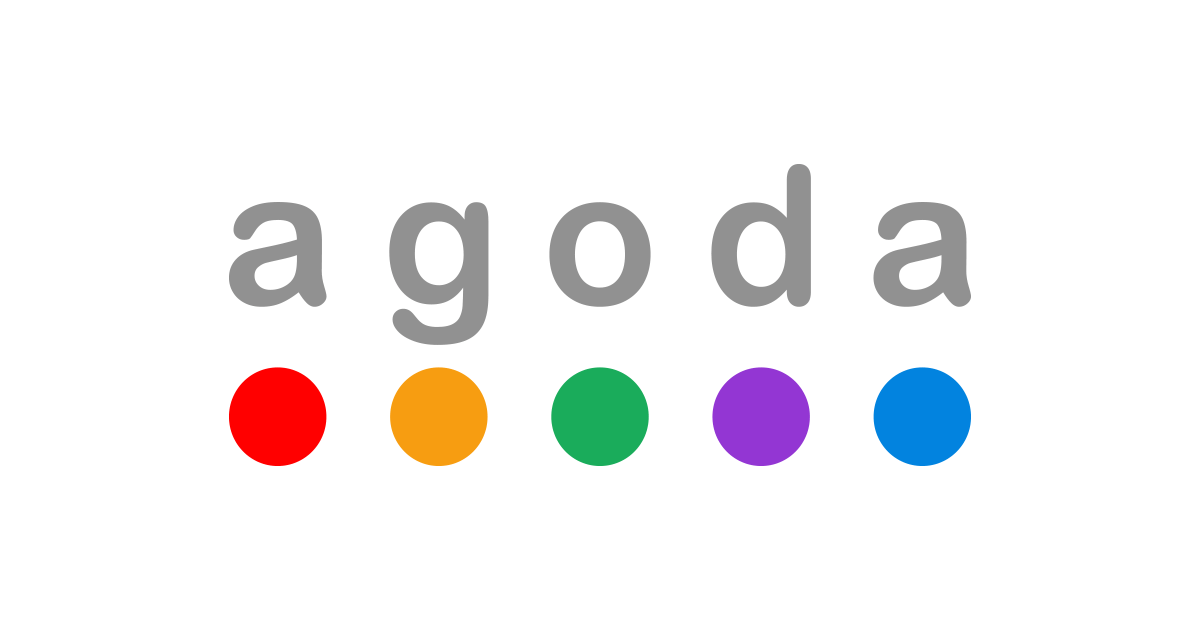 We used Agoda (online hotel booking site) to book of our lodging in South America. We were able to find private rooms for $25-$50 per evening and all of them included complimentary breakfast. Most hotels and hostels will book you first and payment is required at check-in.
Also keep in mind that not all of the hotels/hostels accept credit cards. I love using Agoda because actual people who stay at the hotel get to review the hotel and add their own photos. It's like a Yelp site for hotels. It provides a realistic expectation of how your hostel or hotel is going to feel and look like. We used it everywhere in Thailand and India as well. I highly recommend Agoda!
Where to Buy Machu Picchu Tickets
You can buy Machu Picchu tickets online. The tickets are pretty expensive for foreigners ($70 USD per adult). You can also buy tickets at the Machu Picchu Ticket Office in Aguas Calientes, at the Edificio del Instituto Nacional de Cultura. The tickets are only valid for the actual allocated day. The physical office accepts cash only. The administration allows only 2,500 attendees per day. We went during off season and the top was not crowded.
They do offer student discounts but it has to be through an official program with paperwork indicating that you are a student.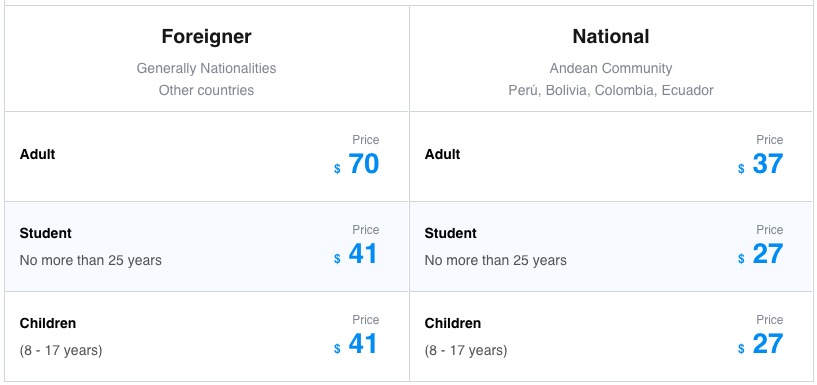 You also have the option of climbing up Huayna Picchu. There are two groups of 200 persons allowed up Huayna each day. We plan on doing the climb on our next trip when we are in Cusco for at least 5 days.
How to Get Up the Mountain
By Bus
The easiest way to get up and down from Machu Picchu is to take the Consettur bus. The journey takes approximately 25 minutes. The bus climbs the steep road and a series of switchbacks up to the entrance of the ruins. The cost is $24 RT or $12 one-way for a Foreign adult. You can buy bus tickets up to 7 days in advance. The tickets are valid for 3 days but for only a single use. You must also show your travel document (passport) to buy a ticket.
Bus Operation Times:
Aguas Calientes to Machu Picchu 5:30 am – 3:00 pm
Machu Picchu to Aguas Calientes 6:30 am – 5:45 pm
If you want to catch the first bus up to Machu Picchu at 5:30 am, I'd recommend you buy your bus ticket in advance (either online or at the ticket office) and arrive at the bus stop at least 45 minutes early to get near the front of the queue. You'll see a long line of buses waiting to take visitors up to Machu Picchu. Buses depart as soon as they are full so for the first hour or so buses are departing sequentially one after the other.
If you are on a really tight budget and feeling adventurous you can always hike from Aguas Calientes to Machu Picchu following a footpath which cuts across the switchbacks. It's a fairly strenuous ~90 minute trek uphill. The hike should not be attempted with young children or when its very wet as the path can be slippery.
A friend of mine took the train to Aguas Calientes and then hiked up to the mountain. That is a totally viable option if you're short on time.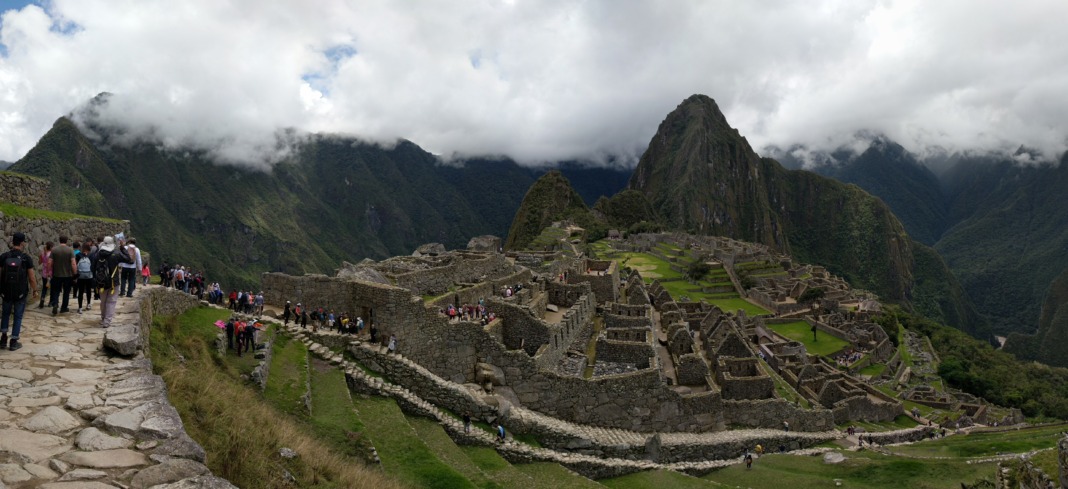 What to See in Machu Picchu
Once up there, be sure to check out the following landmarks and activities:
Hut of the Caretaker of the Funerary Rock – Now restored with a thatched roof. Also known as the "Watchman's Hut."
Temple of the Sun – The only round building within Machu Picchu. Very close to the ceremonial baths and the summit.
Royal Tomb – Just below the Temple of the Sun, complete with altar and sacred niches.
Sacred Plaza – with viewed platform overlooking the Urubamba River and the Cordillera Vilcabamba
Temple of the Three Windows – Located to one side of the Sacred Plaza, with trapezoidal windows.
Principal Temple – an imposing structure with some damage to one of the corners, caused by soil movement
House of the High Priest – located in the Sacred next to Machu Picchu's Principal Temple and close to the Sacristy
Intihuatana – A shrine reminiscent of a large sundial that was used by Inca astronomers to predict solstices as well as a portal to communicate with the divine.
Central Plaza – Divides the residential and industrial areas from the ceremonial sectors.
Prison Group – A labyrinth of cells and passageways. Watch your step!
Temple of the Condor – A area with a detailed carving of a condor's head.
Take a selfie with the agile llamas.
Eat some granadilla on top of the ruin. Be sure to pack out what you bring in.
Here's a gallery of landmarks to familiarize yourself with the ruins before heading up.
Don't Forget to Get Your Passport Stamped!
As you head back down the mountain via foot or bus, don't forget to stamp your passport on the way out. There's an awesome Machu Picchu stamp that is known as one of the rarest stamps to be collected by world travelers. It's one of my best souvenirs yet!
Visit the Salt Mines and Moray on Your Way Back to Cusco
On the way back you will most likely take the train back unless you want to do that 4 day trek again.
Outside of the Ollayntambo train station, we found a taxi driver who was willing to take us to the Salinas de Maras (Salt Mines) and Moray for only $40 USD (in 2016). It costs 10 soles to access the salt mines and 40 soles per vehicle for Moray.
After the two sites, it's an hour's drive on the way back to Cusco.
We went a second time in 2022 and the cost was now $70 BUT we were in a luxury sedan, so the ride was much more comfortable. Our driver also stopped in a textile store on the way back to Cusco and we received a cool demonstration of artisanal yarn dying and weaving.
View this post on Instagram
Hope this guide is resourceful to anyone visiting Machu Picchu. It is definitely worth the trip whatever route you take. I look forward to visiting this magical site again in my lifetime.
---
Thank you for visiting today! If you found this encouraging or informative, please connect with us on Instagram, Youtube, Pinterest, Facebook or Twitter. We'd love to meet you!
Sign-up for our monthly newsletter for updates and more. We promise we won't spam you! Feel free to unsubscribe anytime.
For more fitness fashion discounts and offers, please visit our Fitness Instructor Discounts + Brands Directory or favorite brands coupon codes list.
If you're a brand and want to submit a product for us to review, please use this form to get in touch.
This site uses affiliate links. Clicking on or purchasing via an affiliate link may result in commissions for us which help keep the content flowing and lights on at Schimiggy Reviews. You may read more about this in our privacy policy.