Reading Time:
6
minutes
Updated: 1/24/2021 | Manduka Yoga Mat Review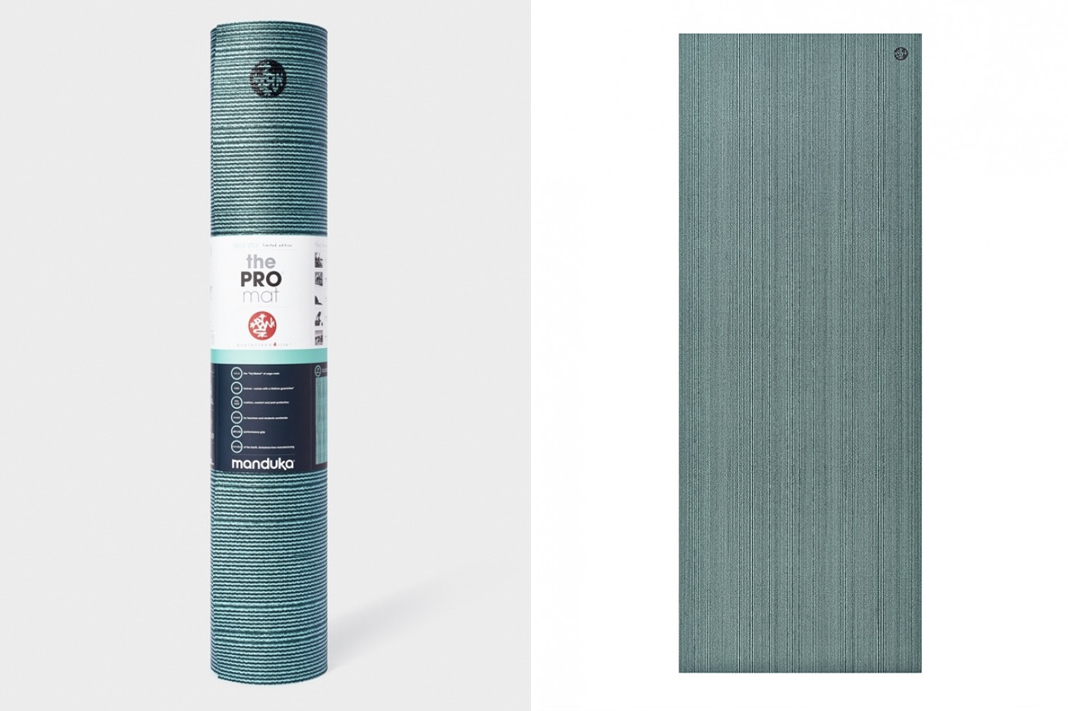 About Manduka
In 1997, Peter Sterios, an architect turned yogi, discovered a simple, elegantly designed black mat whose combination of firm grip and complete support revolutionized his yoga practice. In honor of the yoga masters who inspired him, he sought to share this amazing product with others. Thus the Manduka yoga mat was born.
Peter chose the name Manduka in homage to his teacher and mentor, Shandor Remete, whose core practice and teaching always included the ancient Hatha Yoga Pradipika pose, Mandukasana or frog pose. The frog also represents one of Earth's most fragile species and is a great reminder to practice ahimsa, or loving-kindness, to the world around us as well as ourselves.
Manduka began as a yoga mat and accessory brand and in 2016, they expanded into activewear.
The quality and performance of Manduka mats, yoga accessories and activewear are still unmatched in the marketplace. They are still crafted using simple, enduring, natural, and whenever possible, renewable materials.
Manduka Yoga Mat Review: PRO Yoga Mat
If you have an active practice, you could easily exhaust on average one yoga mat each year. Manduka wanted to create a sustainable yoga mat and potentially the last one anyone would ever need. Manduka guarantees that their mats will never wear out.
The PRO yoga mat comes in the standard size mat (71″ x 26″) or an extra-long option (85″ x 26″). The two versions weight 7.5 pounds and 9.5 pounds, respectively. They also offer the Pro Squared mat (78″ x 78″; 26 pounds) made ideally for couples yoga practice and even acro yoga.
All in all, Manduka PRO yoga mats are considered the luxury brand of yoga mats and are promised to withstand the most vigorous of yoga practices.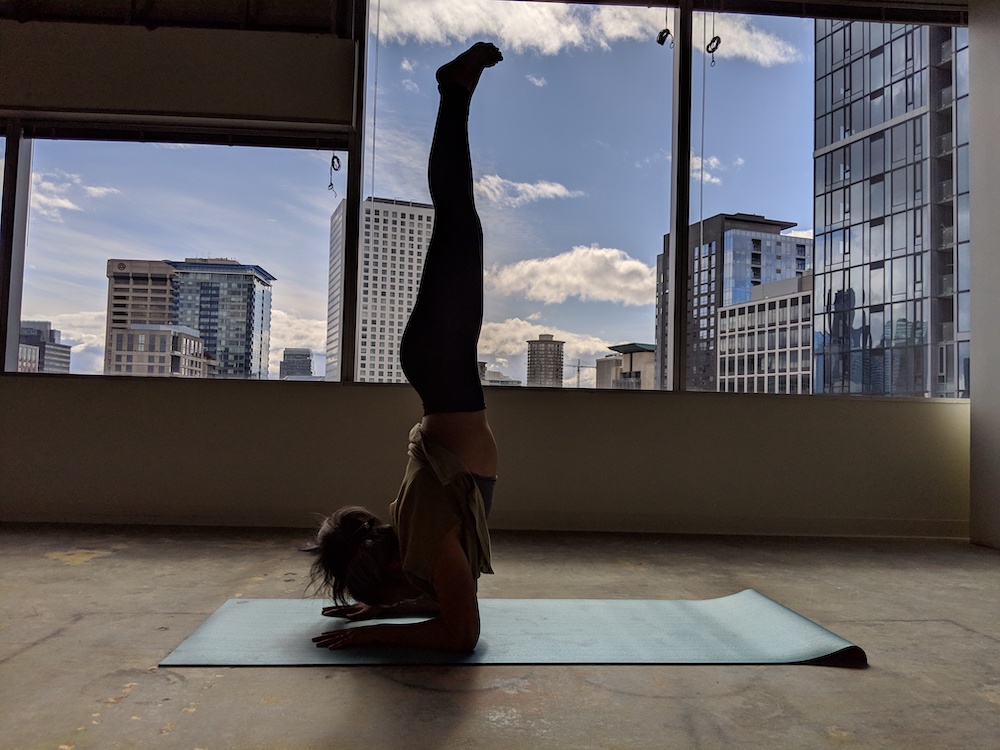 I received my PRO yoga mat in the color Sea Star within 3 days of ordering. It rolled out neatly and had a slight smell to it. I used it in a Vinyasa class and within a class, the smell had dissipated.
The mat is thick and heavy. Throughout my class, the mat stayed put. I also fell in love with the metallic teal color. It reminds of the sparkling ocean under the sun. Another reason why I chose this color was the name. My brother calls me See-star, his funny way of pronouncing sister.
Let's go into the pros and cons of the PRO yoga mat.
Pros of the Manduka Yoga Mat
Lifetime Guarantee: If your mat tears or starts to disintegrate, Manduka will replace your mat at no cost.
Stability: The Pro yoga mat will not wrinkle or curl under. This mat will not move and disturb your practice.
Durable: The overall construction of the mat makes it able to handle a heavy-duty practice. I have used my mat in HIIT classes.
Slip Resistance: The jute texture of the mat surface makes it so that my hands don't slip during practice. The slip resistance increases the more you practice on it.
Mat Thickness: At 1/4″ (or 6 mm) thick, it offers a great cushion for knees and joints.
Closed-Cell Construction: The mat is dense and does not have air pockets. The closed cell construction prevents sweat from absorbing into your mat. Surface clean your mat after each use.
100% Latex-Free
No Odor: There is a new yoga mat smell when you first open the package, but it quickly dissipates by the end of your first yoga class. If it does bother you, considering using mat cleaner and a towel to give it a quick rub down before your first use.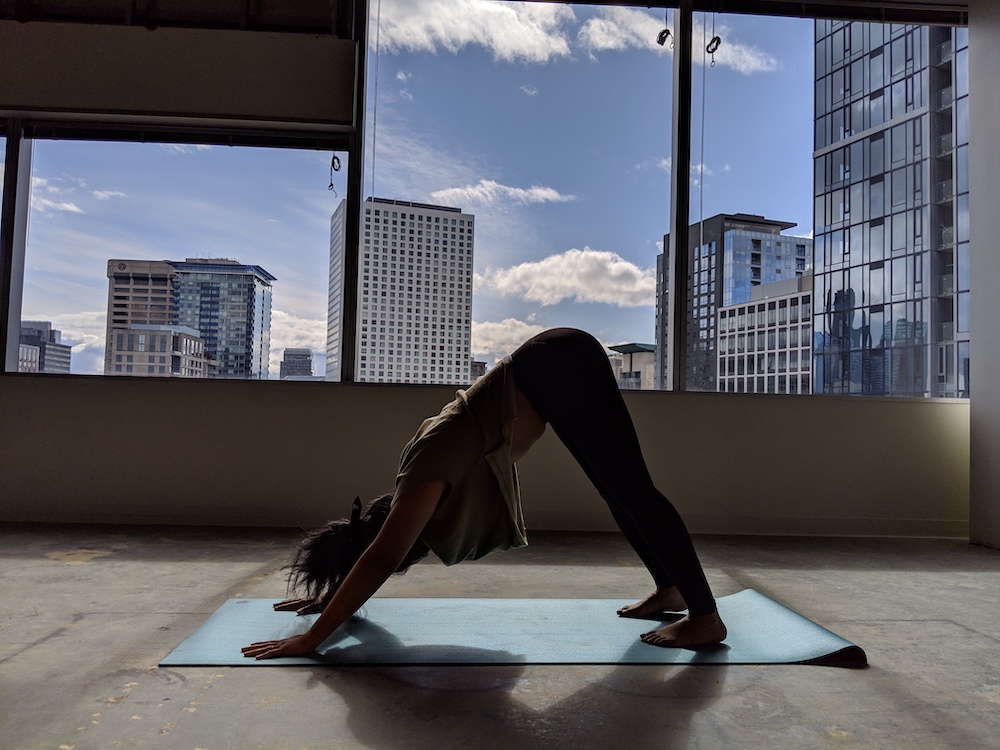 Cons of the Manduka Yoga Mat
Cost: The Pro mat ranges from $108 to $150! It's not cheap.
Takes some breaking in
Grip Issue: Can be slippery at first, especially if you have a sweaty practice. You can apply the salt method to speed up the wear of your yoga mat.

Break the mat in using the salt method. Sprinkle a liberal amount of salt over the surface of the mat and rub it against the mat with your hands. Let it rest for 24 hours, and then wipe it clean with a damp cloth. The more you twist, roll, and use your Manduka mat, the softer and more supple it will become.

Too Heavy: At 7 pounds, the PRO mat is a heavy option to consider carrying around town. We recommend buying a Go Play mat carrier to help you tote your mat around.
Material

PVC, no matter how sustainably it is sourced, is still PVC.
PVC mats will not break down.
Many people have valid concerns about mats made from PVC given its impact on the environment, both during manufacturing and in waste disposal.
Related: Guide on How to Clean a Yoga Mat and Keep it Fresh
Should I Buy a Manduka Yoga Mat?
If you want something long-lasting and durable, then the Manduka yoga mat is for you. Due to its weight, the PRO yoga mat is great for leaving in the studio if your studio offers mat storage rental or for home practice. I would not travel far or long distances with this mat due to its heavy weight and size. However, it is not possible to travel with thanks to all the portable yoga mat bags.
The mat is made of very dense foam, so it serves as a sturdy and firm surface to practice on. The grip factor is great for a normal yoga practice. I practice Hatha, Vinyasa and Yin yoga. I sweat an average amount in my yoga classes. If you tend to sweat a lot, I highly recommend pairing your Manduka yoga mat with one of their Yogitoes microfiber mat towels. These towels also have rubber dots to keep your towel in place.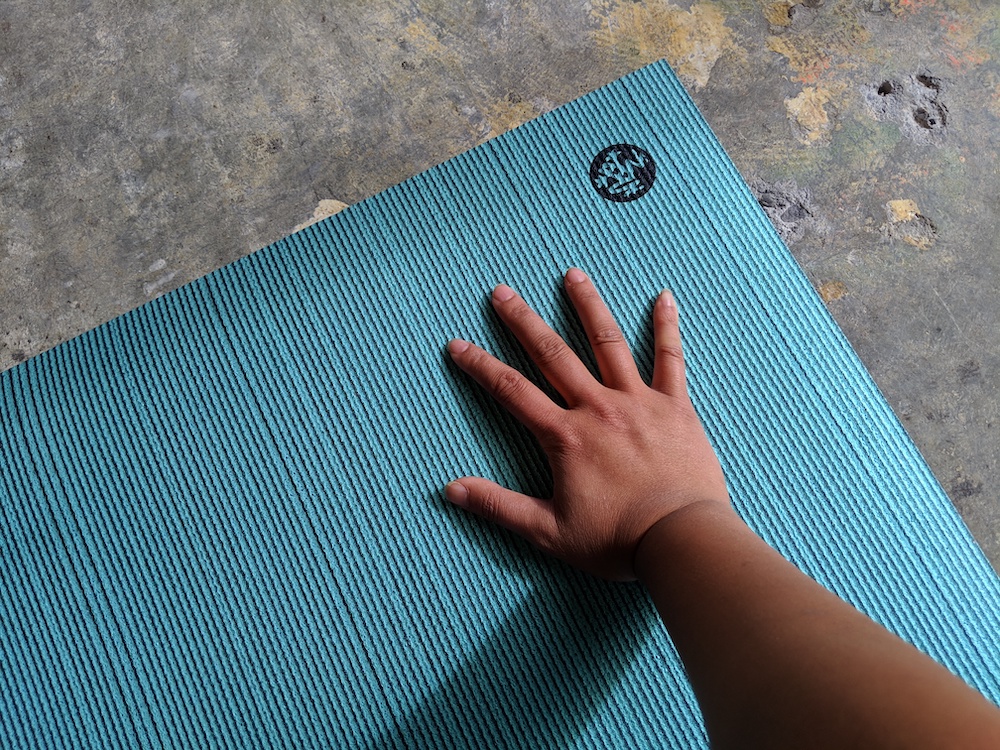 If you're looking for something more lightweight, Manduka does offer travel yoga mats and the PROlite mat, which weighs only 4.5 pounds, 5 mm thick and also comes with a lifetime guarantee. And if you're willing to wait, Manduka will be releasing a THIN version of their Pro mat soon.
If eco-friendliness and PVC is a major concern, consider Manduka's eKO series. eKO series products are made from natural rubber from non-Amazon rubber trees without any toxic glues or foaming agents. Rubber trees are a sustainable crop, and the harvesting and manufacture of ethical rubber products have less impact on the environment.
Yes, Manduka is a bit pricey, but think of it as an investment in your health. The good news is, if you decide on a Manduka Pro yoga mat, expect this to be the last mat you'll ever need.
Related: If you're looking for the ultimate travel mat, we recommend the YOGO Travel yoga mat. For more info, read our review of the YOGO mat.
Where to Buy a Manduka Yoga Mat
Did our Manduka yoga mat review convince you to give them a try?
Head over to the Manduka website and use code SCHIMIGGY for 15% off all your orders at Manduka. Coupon code expires June 1st, 2019.
You can also buy Manduka yoga mats from the following retailers:
Carbon38 – Use code SHMGY25 to save 15% off your first two orders.
Mercari App – Use code SYVFUT to save $20 off your first order.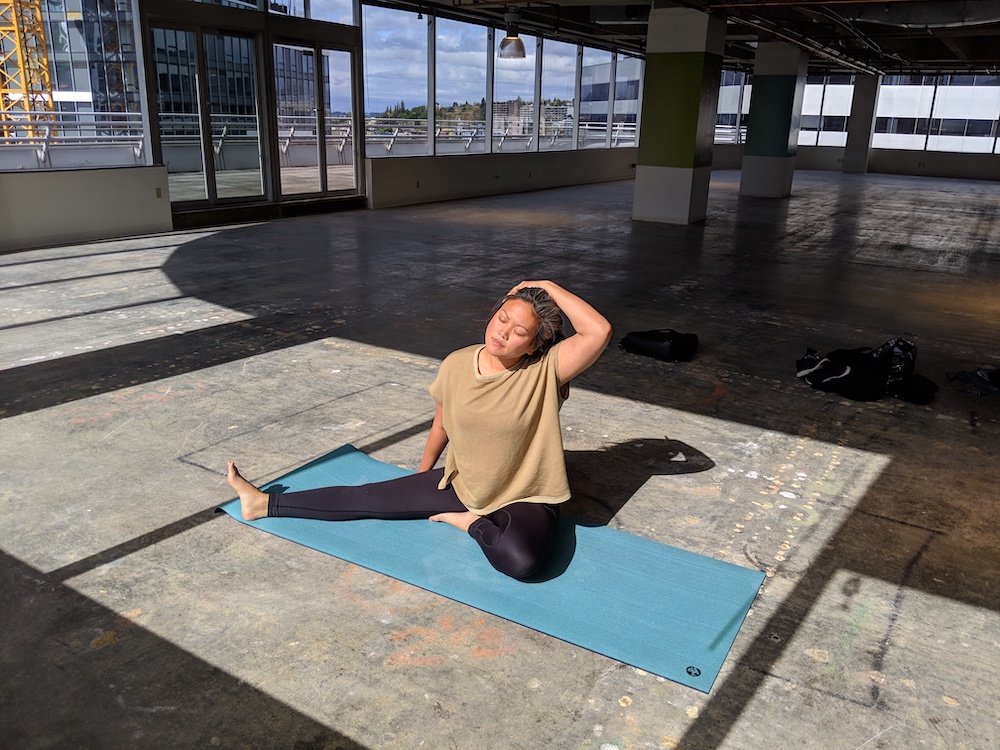 If you found our Manduka Yoga Mat review helpful, please pin it on Pinterest! Thank you for your support!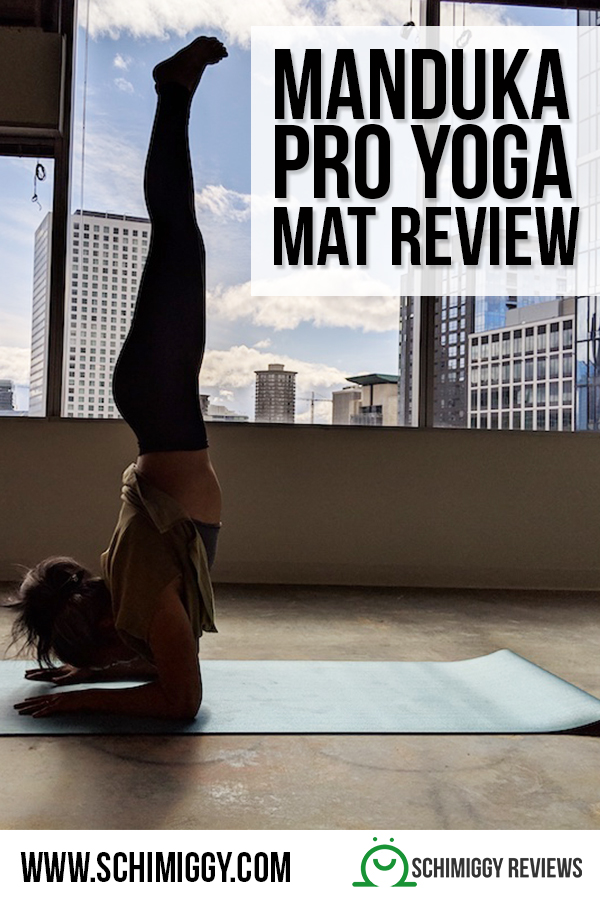 If you liked this article, you might like these posts too:
---
Thank you for visiting today! If you found this encouraging or informative, please connect with us on Instagram, Youtube, Pinterest, Facebook or Twitter. We'd love to meet you!
Sign-up for our monthly newsletter for updates and more. We promise we won't spam you! Feel free to unsubscribe anytime.
For more fitness fashion discounts and offers, please visit our Fitness Instructor Discounts + Brands Directory or favorite brands coupon codes list.
If you're a brand and want to submit a product for us to review, please use this form to get in touch.
This site uses affiliate links. Clicking on or purchasing via an affiliate link may result in commissions for us which help keep the content flowing and lights on at Schimiggy Reviews. You may read more about this in our privacy policy.