Reading Time:
7
minutes
When your schedule gets busy, your health often takes a backseat. Going to yoga studios can be time-consuming when your day is filled with errands.
Luckily, we have these things called apps that help to simplify and make our lives more efficient.
Online yoga class apps allow us to practice yoga anywhere and anytime. It also gives you an opportunity to connect with instructors from around the world and receive high-quality yoga lessons in the palm of your hand at a fraction of the cost.
Here are our top picks for online yoga class apps that you can use to practice yoga anywhere and anytime.
Best Online Yoga Class Apps
#1 MyYogaWorks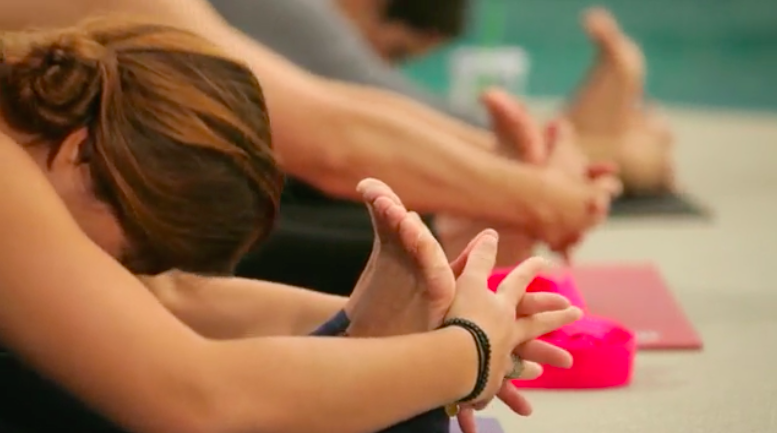 MyYogaWorks offers yoga classes from their network on studio instructors. YogaWorks was created by Matzy Ezraty. Now their studios and online platform offers a wide range of practices including Vinyasa, Ashtanga, Kundalini, Jivamukti and more.
Pros
Access 1,300 yoga classes.
Classes are offered via mobile, tablet or desktop.
World-renown yoga instructors that you can also visit at one of their physical YogaWorks studios.
Cons
I could not really find anything negative about MyYogaWorks.
Cost: $15 USD per month | Free 14-Day Trial
Teachers: 40+ professional YogaWorks teachers including Alexandria Crow, Kathryn Budig, Mia Togo, Danny Poplun, Jessica Seabern (one of my very FIRST yoga teachers) and more.
For a limited time, enjoy an entire year of premium online yoga at MyYogaWorks for only $45 with code: MYWYEAR45.
#2 Openfit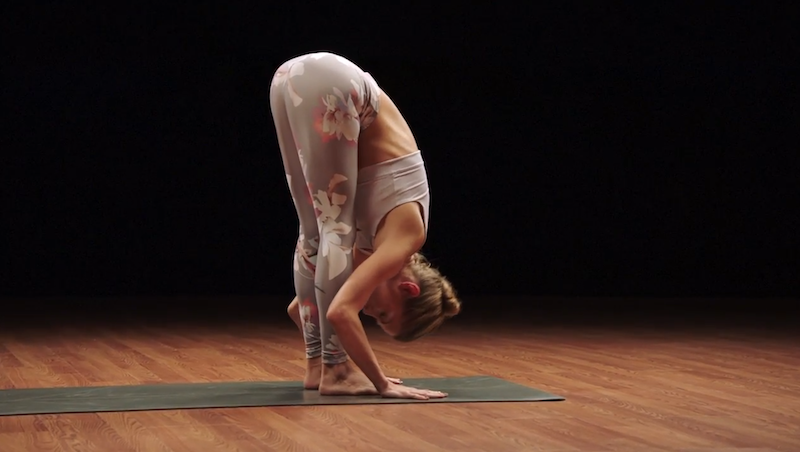 Openfit offers a Yoga52 program, that's essentially 1 yoga class per week. They also offer Barre, Tough Mudder, Rough Around the Edges and 600 seconds fitness programs with your membership.
Pros
30-day Trial
Yoga classes from world-renown instructors.
Excellent video production.
Can be accessed on desktop and mobile phone via the Openfit App.
Track the amount of time spent on their fitness modules and stay on track with your workout goals.
Cons
The video needs to be playing on the screen in order for audio to work. I cannot work out with only the audio playing.
Videos cannot be downloaded and accessed offline.
Cost: Subscriptions start as low as $8.33/month (or $99/year) | Free 30-day trial
Teachers: David Regelin | Odette Hughes | Micki Duran | Brent Laffoon | Marie Grujicic
#3 LES MILLS On Demand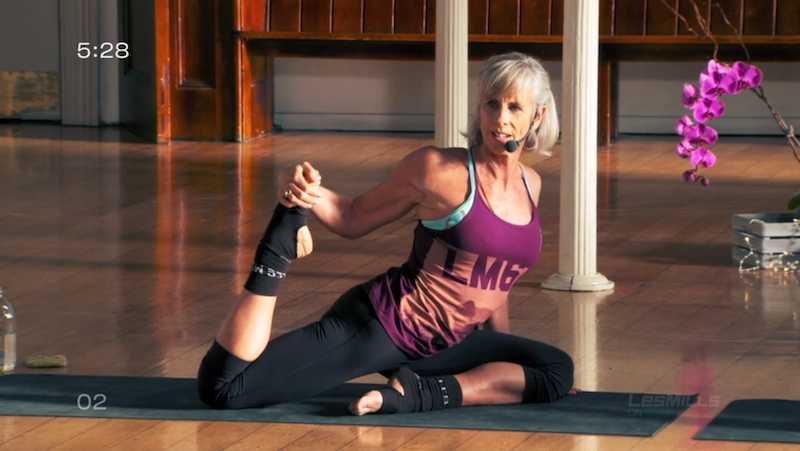 LES MILLS brought people BodyPump and BodyCombat. Now they offer online courses via their OnDemand subscription program.
Pros
The app includes other LES MILLS classes such as BodyCombat, BodyPump, RPM, BodyStep, BodyAttack and more. You won't run out of classes to try.
Mind and body apps include BodyFlow and meditation tracks.
Classes are accessible via mobile, tablet or desktop.
Videos are downloadable and can be accessed without WiFi.
Audio can be played without video. Feel free to plug your earphones in and move whenever and wherever.
Cons
The music is a bit loud and makes it hard to hear the instructors. This is mostly due to the live recording of all their fitness videos.
Cost: $12.99 month-to-month or $139 for an annual membership ($11.58/month) | Free 21-Day Trial
Teachers: Caley Greyling-Jack | Dr. Jackie Mills | Diana Archer Mills | Ann-See Yeoh and much more!
#4 Equinox +
Equinox is a luxury gym brand with locations across the US. Their online program, known as Equinox +, offers hundreds of classes conducted by their top-notch instructors.
The membership is $40 a month and they even offer a 7-day trial period for those who want to give their online program a try.
#5 ALO Moves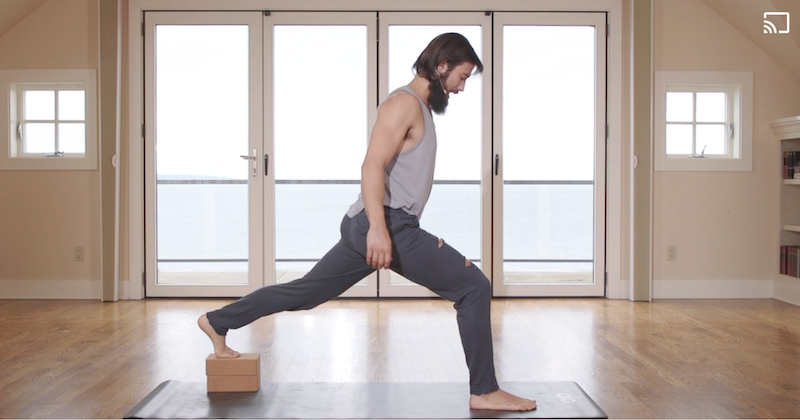 ALO Moves is an online subscription for mind and body fitness classes. ALO Moves was created by ALO Yoga, a men and women's activewear brand.
Pros
Yoga classes taught by world renown yoga instructors and popular Instagram yogis.
Offers Pilates, Barre, HIIT, Dance Cardio and more fitness classes.
Operates on mobile, tablet and desktop.
Offers a module for teachers to learn how to assist in their classes.
Cons
Many of the classes seem acrobatic, which slightly takes away from yoga philosophy.
Cost: $20 per month or $204 annually | Free 14-Day Trial
Teachers: Briohny Smyth | Hiro Landazuri | Caley Alyssa | Laruga Glaser | Melini Jesudason | Mackenzie Miller | Eoin Finn | Laura Sykora | Dylan Werner and many more!
#6 lululemon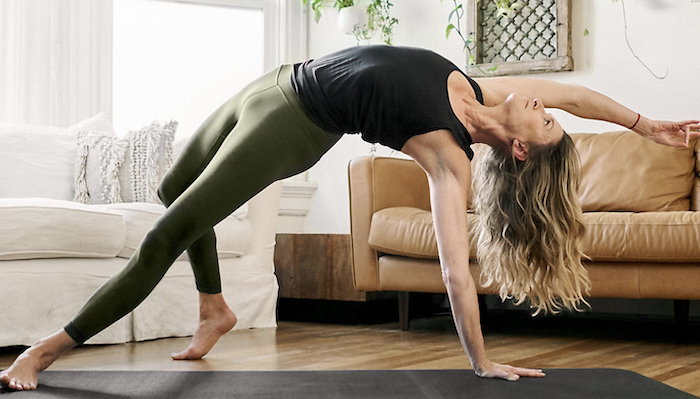 Yes, lululemon offers free online yoga classes with a few of their global ambassadors. There are not many videos, but we think it is awesome that they offer free classes with some of the top yoga teachers in the world.
You'll find classes by Baron Baptiste, Janet Stone and more.
Check it out and let us know what you think!
#7 Gaia

Gaia yoga brings a wide variety of yoga, meditation and mindfulness classes into the palms of your hands.
Pros
Over 8,000 courses and shows to stream.
Works on mobile, tablet and desktop.
Offers live streaming events with Live Access package.
Share videos with friends for free. Friends get 24 hours to access videos.
Courses offered in multiple languages such as French, German, Spanish and more.
New videos are released every week.
Claims they are not influenced by corporations.
Cons
I couldn't find any cons for Gaia.
Cost: $11.99/month | $99 Annually | $299 for Live Access to All Gaia Events | $.99 cents for 2-Week Trial
Teachers: Rodney Yee | Ryan Leier | Desiree Rumbaugh | Dharma Mittra | Kino MacGregor and many more!
#8 Downdog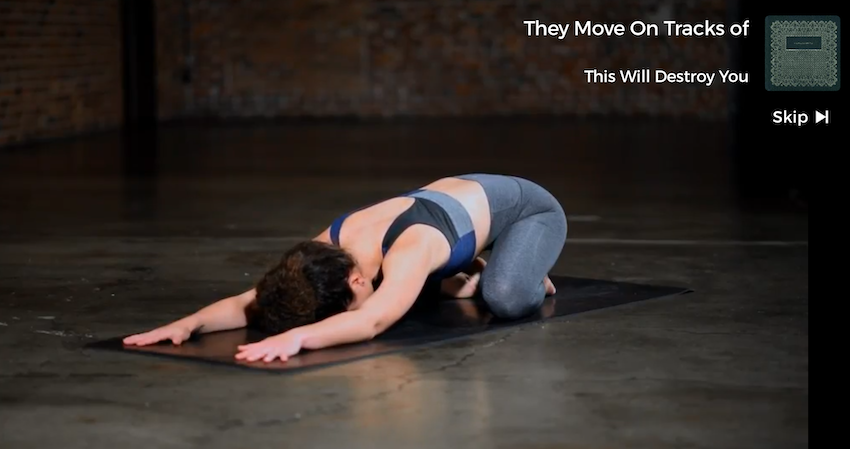 Downdog's mobile app allows you to practice anywhere and anytime…for FREE! Downdog was created in Seattle by Carlos Ormachea and Ben Simon.
Pros
You can skip songs or turn off background music.
Classes range from 5 to 90 minutes.
You can choose from a variety of difficulty levels and even set the time you want to spend in savasana.
Cons
Advanced instruction was more representative of an intermediate level class.
Cost: Free
Teachers: Adrienne Rabena | Andreas Fetz and many more!
#9 Yoga Glo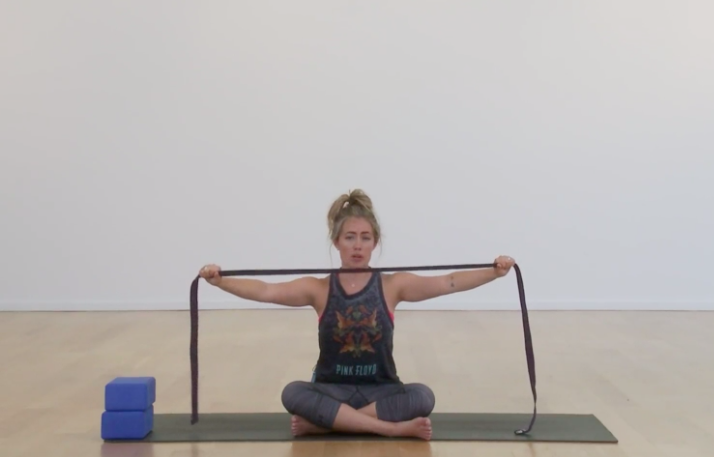 Pros
Gain unlimited access to over 2,500 videos.
Integrates with Roku, Apple TV, and Google Play.
Available on mobile, tablet and desktop.
Cons
No introductory or trial deals. You cannot check out the service prior to enrolling.
Cost: $18 per month | Free 15-Day Trial
Teachers: Kathryn Budig | Elena Brower | Jason Crandell | Dice Iida-Klein | Tiffany Cruikshank | Amy Ippoliti and many more!
#10 Asana Rebel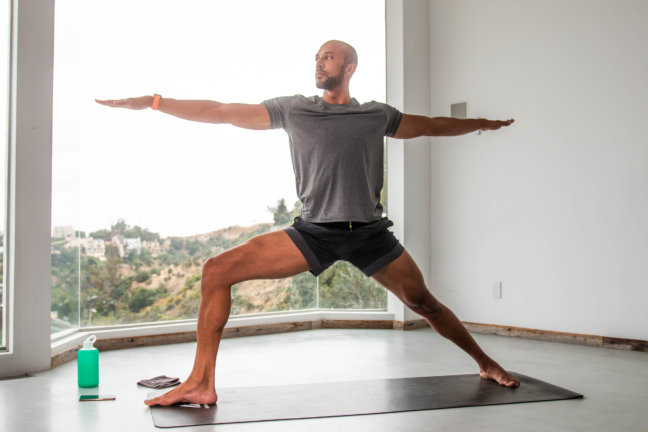 Asana Rebel brings yoga classes to you on your mobile phone via a downloadable app.
Pros
Offers yoga and meditation classes along with mindfulness activities and meditation and relaxation music.
Available on mobile and tablet.
Cons
Does not offer a trial program, so you can't test it without subscribing and paying to access the courses.
Cost: $49.99 for 3 months or $79.99 for 12 months
Teachers: Rocky Heron and much more!
#11 Find What Feels Good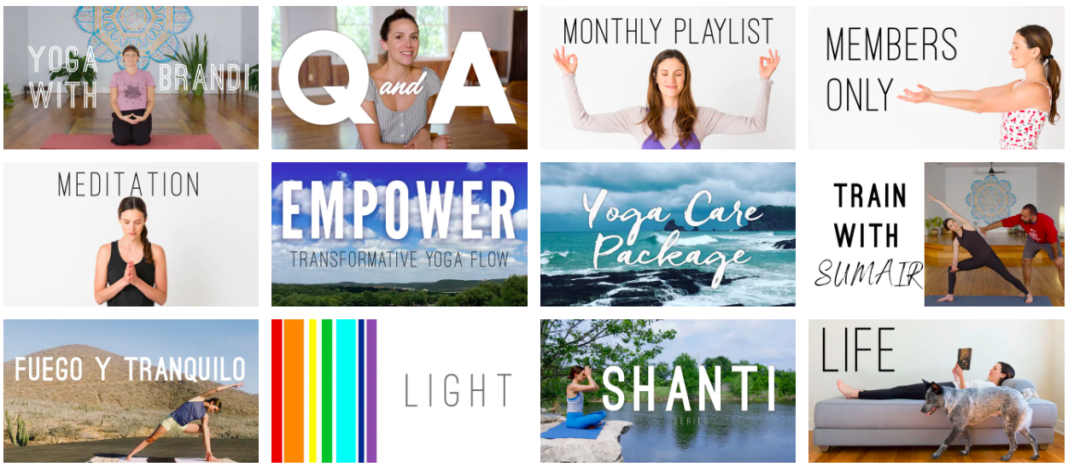 Find What Feels Good was created by Yoga with Adrienne on her Youtube channel.
Pros
Offers yoga, meditation and lifestyle classes.
Cons
Seems to be focused on only one instructor.
Cost: $9.99/month | Free 7-Day Trial
Teachers: Yoga with Adrienne and guest instructors
#12 Daily Burn

Daily Burn offers a wide array of fitness classes.
Pros
Offers Yoga, Cardio, Pilates, Barre, Strength Training, Muscle Building & more.
Daily 365 program offers a new exercise each day.
Stream on mobile, tablet, through an app on your Amazon Fire Stick/Roku or via desktop.
Your profile keeps track of your goals, completed workout sessions and more.
Cons
Background music is a bit loud and can be hard to hear instructors.
Cost: $14.95/month or $26.95 for Premium Membership | Free 30-Day Trial
Teachers: Ariel Kiley | Briohny Smyth | Andrea Speir and much more!
#13 Udaya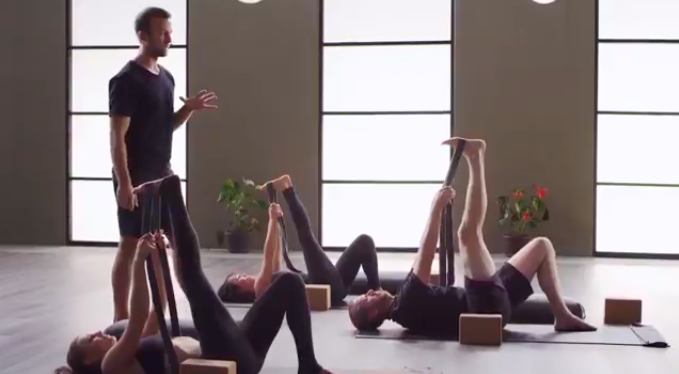 Udaya offers a great variety of fitness classes from experienced teachers from around the world.
Pros
Offers yoga, pilates, barre, aerobics, mindfulness/philosophy classes and more.
Classes are offered other languages such as Spanish, Bulgarian, German and more.
Modules can be accessed via mobile, tablet or desktop.
Cons
Cost is most expensive out of all subscription services.
Cost: $18.99/month or $90/6-month Subscription Options | Free 14-Day Trial
Teachers: Travis Eliot | Sharon Polsky | Vytas Baskauskas | Adam Hustler | Marisa Weppner and much more!
Final Thoughts
Online yoga class apps are a great option for getting your yoga in wherever and whenever you need it. It's also super affordable and great for people who travel often or don't have access to a yoga studio.
It's important to note that online yoga classes should never be a replacement for in-person yoga classes. Practicing with others allows you to build community (Sangha) and interact with teachers in person to get more in-depth advice and assistance with your practice.
We hope you enjoyed this article! Do you have a yoga app that you love? Let us know in the comments section of this post. Namaste!
If you liked this post, please consider pinning it to Pinterest! Thanks for your support!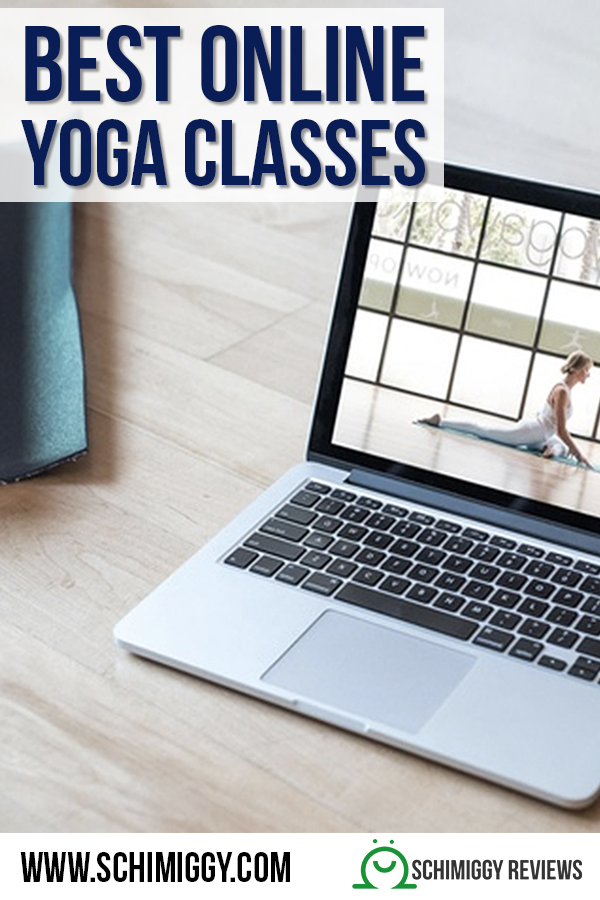 ---
Thank you for visiting today! If you found this encouraging or informative, please connect with us on Instagram, Youtube, Pinterest, Facebook or Twitter. We'd love to meet you!
Sign-up for our monthly newsletter for updates and more. We promise we won't spam you! Feel free to unsubscribe anytime.
For more fitness fashion discounts and offers, please visit our Fitness Instructor Discounts + Brands Directory or favorite brands coupon codes list.
If you're a brand and want to submit a product for us to review, please use this form to get in touch.
This site uses affiliate links. Clicking on or purchasing via an affiliate link may result in commissions for us which help keep the content flowing and lights on at Schimiggy Reviews. You may read more about this in our privacy policy.