Reading Time:
10
minutes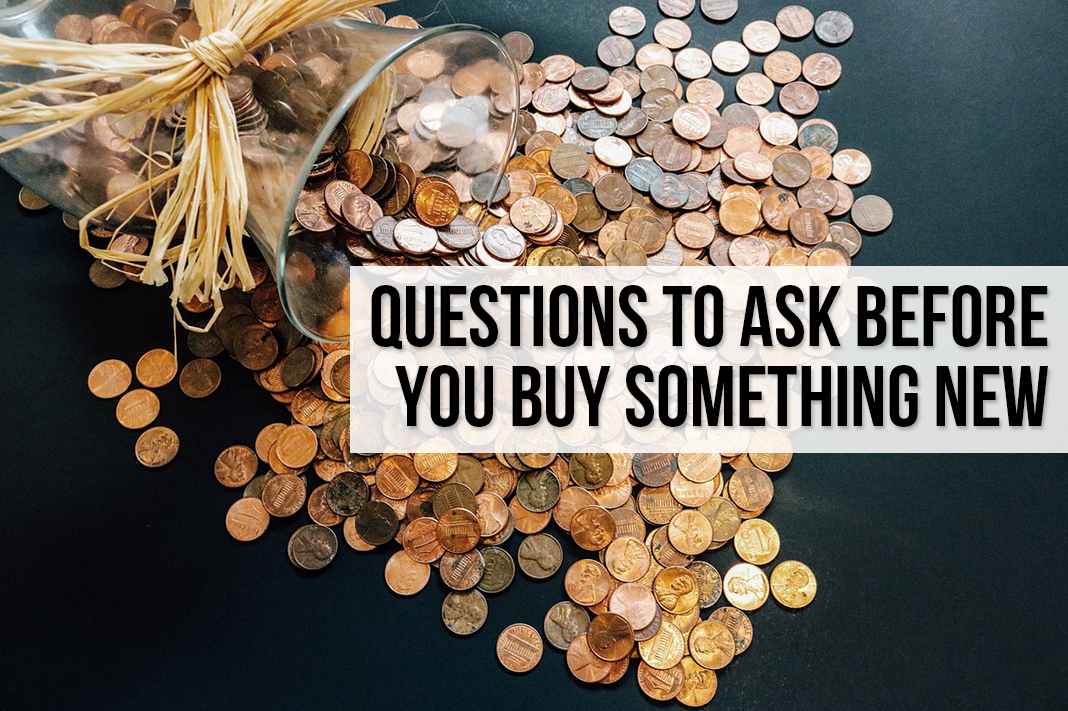 According to Mark J. Perry of American Enterprise Institute, the average American home size has nearly doubled in the past 50 years while the number of inhabitants is shrinking. Homes are 1,000 square feet larger than they were back in the 1970s. With more space, people are also more likely to fill the space by buying things to make the home feel more full. When we overfill our homes, that's when buying things becomes a problem.
According to the SpareFoot, 9.4% of US households have offsite storage. The storage industry is $38 billion dollar industry that is benefiting off people's need to space. And the average American household credit card debt is $5,700. People are working longer hours and more jobs to pay back their debt from accumulating too much stuff. That time can be spent on hobbies or with family and friends.
After watching Marie Kondo's Tidying Up series on Netflix, I ended up purging a third of my belongings and I am still working on that process. I can tell you that a lot of those things never really meant anything to me. They were almost always 100% impulse buys because I found a deal. Why I held on to it for so long baffles my mind and in a way makes me feel embarrassed that I let it go for so long, and upsets me about our consumeristic society.
In order to combat unnecessary spending, I have put together some questions that will help you think before you spend. Use these points as a checklist to prevent the vicious cycle of consumerism, especially if it affects you negatively.
#1 Do I already own something that can fulfill "the need?"
This step should be done even before you exit the home. When approaching a need, determine what "the need" is and if you already have something in the home that can fulfill "the need." Take some time to determine the purpose of your problem. What is it going to help you achieve and why you need to achieve this need.
An example is when it's cold outside, my need is outerwear. I ask myself if there is something I currently own that would fulfill that need. Immediately your mind perceives a gap in your life that can be fulfilled with an object. The question is whether it is with something you currently own OR something you will need to buy.
This question does a great job of pointing out the things you already have that can fulfill the need. Creative thinking can help fulfill a need. In our home, instead of buying paper towels, we've collected 15 small hand towels that we use to wipe counters, use as napkins, and use in the shower. We wash the towels and reuse them after we are done, thus reducing our landfill waste. Sometimes we can find a use for things in an unexpected way if we think out of the box.
Another thing to be mindful of is that our minds may also resort to the need to upgrade what we already have due to minor cosmetic imperfections. We may have a jacket that has a hole in it. Instead of buying a new one, we can patch it up with a needle and thread.
#2 Can I borrow it from someone?
This is one of my favorite questions to ask myself. Often, when I need an item just for a one-off use or for extremely rare use, it makes a lot of sense to just borrow it from a neighbor or a friend. I get to know my neighbors so that we can exchange things when we need to. I also offer my belongings to my friends so that they do not have to go out and make a purchase for something they may use only once. If I have large appliances or even duplicates of anything, I am more than willing to offer it to someone else in need.
The benefits of borrowing are multifold. Borrowing can bring people closer and create a sense of community. Borrowing also prevents waste and reduces our carbon footprint. Borrowing also extends the usefulness of a product by fulfilling a need for multiple people. I ask friends to borrow things by texting, posting on Facebook or even group chats. Things that I tend to borrow are books, kitchen appliances, and formal dresses.
If you don't have friends or family that live nearby, consider joining a Facebook Buy Nothing group in your area. There is one in about every major city or neighborhood. Members will post requests and giveaways to other community members in the group. You arrange a meeting spot, usually in public, and accept the items you need at no cost. Items that I've received have included pet food, appliances, clothing, and even furniture. When you're done with the item, consider giving it away to someone else in the group! Be mindful to not accept things that you don't need to avoid cluttering up your home with unnecessary stuff.
An easy way to search for a Buy Nothing group is to search the words "Buy Nothing Group [City/Neighborhood]" in Facebook. Request to be added to the list. A group administrator will reach out to you to verify your location with your home address. You can only join one Buy Nothing group at a time. This prevents members from double dipping in other cities and neighborhoods. Social networks are just places where friends are waiting to be made.
#3 Can I get it for cheaper or even FREE?
There are lots of websites where you can find people to trade or swap items with you or who give away items for free. Before using your hard earned cash on a brand new printer, check out websites like Craigslist.com or Freecycle to see if you can something for free or a cheaper alternative. There are also yard sales or sales at the rubbish tip where you may be lucky and find a bargain. If all else fails, check out Facebook groups in your area for selling items or ask a friend or family member if they are looking to offload some items.
If you're still convinced that you need to make the purchase that you originally planned, the best option is to check out the thrift store or consignment shop. If it is a food item, maybe the discount grocer. At thrift stores, the old adage "one's man's trash is another man's treasure" rings true for a lot of people. People are constantly donating or selling high-quality or new items all the time.
Other places to look for discounted merchandise is eBay, Mercari, or Poshmark. You can view a list of places to buy and sell used and new merchandise here.
My favorite way to get items I need for free is to use Facebook Buy Nothing groups I mentioned above.
#4 Can I exchange what I need for a service or an item that I currently have?
Exchanging or bartering for what you need is a great way to offload what you don't need to get what you do. People trade online and in-person more often than you think. Poshmark is a great outlet to conduct clothing, shoes and accessories trades. They have rules in place that protect people who trade clothing and other items. Members agree to trade and pay shipping to exchange items. When you receive the item, you confirm the trade in the app and the transaction is complete!
In Seattle, we have clothing swaps where men and women get together to exchange used and new clothing. This gives you an opportunity to freshen up your wardrobe and hang out with friends. A lot of times these clothing swaps will involve wine, which makes it even more fun to shop from other people's closets.
You can also ask for trades on Craigslist, and on Facebook either in groups or by posting for a need on your wall.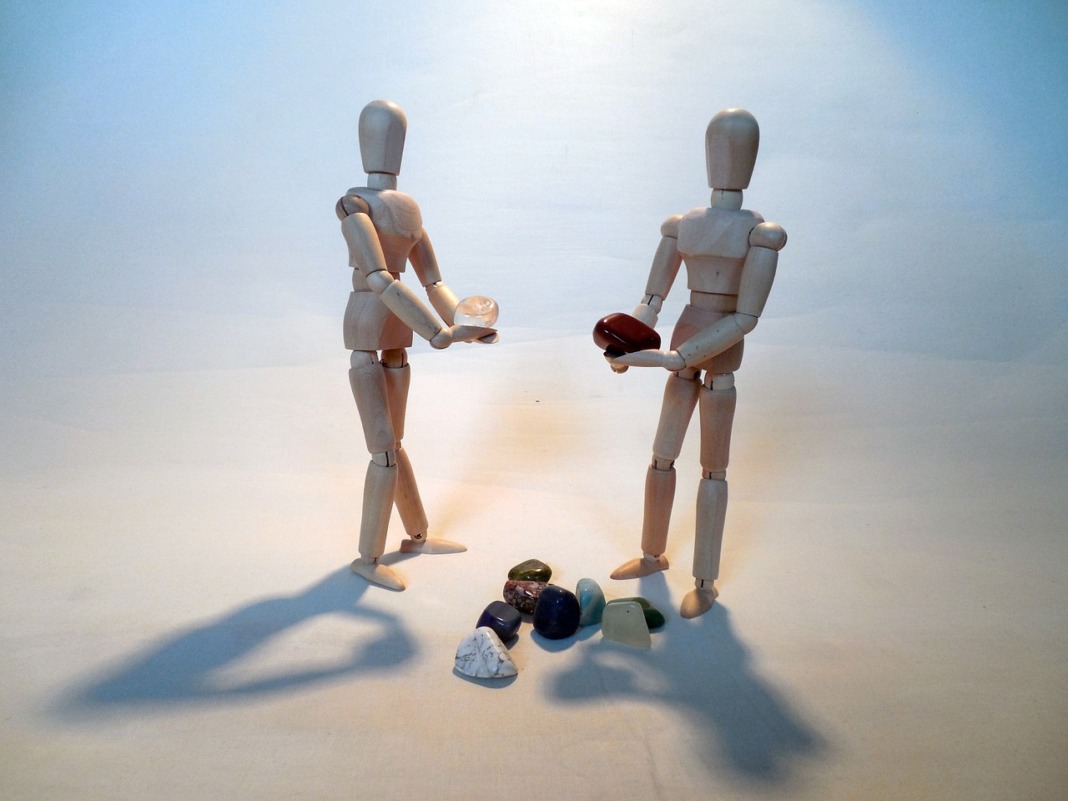 #5 Can I make it myself?
We buy a lot of household items that we can simply make ourselves. The only thing we're saving ourselves when buying at the store is time and convenience. Instead of buying frozen meals, consider meal planning for the entire week. Buy discounted groceries and make a dish that you and your family can eat for the entire workweek. I am able to create $1 meals for an entire week when I plan ahead. It's also healthier for me to eat prepared food rather than frozen food which can contain a lot of chemicals and soy.
There are fringe benefits to making things yourself. By deciding what you buy and create, you have far more control over what chemicals go into your food, you ultimately consume better quality food and make less of an environmental impact. This ultimately impacts the taste of your food and its health benefits. And health and environmental benefits usually outweigh saving a bit of money.
In the end, many grocery and household purchases boil down to convenience, but there are times when convenience should be set aside to have better results for less money by contributing a bit of your own time and effort to the mix.
One thing I don't recommend making at home is DIY laundry detergent. It seems cost-effective, but it boils down to science and it's not as clean as you think it is.
#6 Do I need it right now?
Consider what will happen after you have this item. Will you use it daily? Monthly? Annually? Maybe only once? Is it even worth it then? If you can delay your purchase a year or more, then you most likely do not need to be buying this product at all. Also think about any issues that may come up if you decide to buy this product, such as increasing your debt and paying unnecessary interest, or causing you to be unable to pay for necessities such as rent or food. Asking yourself this question may eliminate the cause for certain purchases entirely.
If something really interests me, I will add it to my wishlist and revisit it every few weeks to see if the price has gone down. I place my items in my Nordstrom cart constantly, only to find myself deleting it the next time I revisit my cart. I will sometimes buy items on my wishlist if they are heavily discounted and priced for Nordstrom Rack (price usually ends in $.97).
#7 Will this create additional debt for me?
Ask yourself if this purchase will create additional debt for you. If you don't have any current debt, ask yourself if you can pay it off without having to pay interest. My rule of thumb is to never pay interest EVER. Yes, it's possible! It's called living within your means and never on credit. Only use credit when you can earn points and miles for things you would normally purchase, such as food or even utilities. If you can't pay off your credit card each month, it's probably not worth buying.
When I was in college, I paid $500 for a purse. I know, how frivolous. I ended up paying the purse back within a year, however, the $500 turned into $547. The additional $47 might not sound like much, but it could have gone towards my phone bill for the month.
Avoid paying interest on credit cards at any cost.
#8 Have I looked into alternative solutions?
There are always multiple ways to approach the same problem. It just takes some creativity to find an alternative solution. A lot of blogs, such as thi one, will offer multiple solutions to a common problem.
Here's an example on how we can save money getting around town. Say you need to get from point A to point B. How do you decide to do it? Here are some options you might choose.
Option 1: You can buy a car, insurance, gas, and parking to drive from point A to point B. This can cost hundreds to thousands of dollars.
Option 2: You call an Uber and get there for $6.95.
Option 3: You use public transit for $2.75.
I would opt for Option 3 because it's the most cost effective and better for the environment. I live in Seattle, so most places where I drive my car, I will be required to pay parking which costs at least $4 per hour. Sometimes the cheapest solution is the most simple. Quicker and more resource heavy solutions can be more expensive and really put a dent in your budget over time.
#9 Have I looked online for discounts?
Are you still deciding if you should buy a particular product? If you're still looking, use the internet to help you find the best deal. Nowadays, with a competitive retail market, many brands and retailers are open to discounts to move product off the shelves. It doesn't always mean you should buy into a good deal.
Ways to find the best price and discounts.
Price-check the item across every reputable online seller. Stores I always check include Amazon and Walmart. I also check out resale marketplaces such as eBay, Bonanza, and Mercari. Google shopping also features the best deals and comparisons when searching for a product.
If an item is not urgent, use websites like Camel Camel Camel or Slickdeals to find the best deals posted by sales hunters and member. I set e-mail alerts that notify me when an item goes on sale. By the time I receive an alert, I am usually no longer in need of the product and save my money for another day.
Search for coupon codes online. The best way to find coupon codes is to use search operators to search specific terms. An example is using quotation marks to find exactly what I am looking for so that junk doesn't show up. If I were looking for a coupon code, I would search "Carbon38 Coupon Code" and find exactly what I need.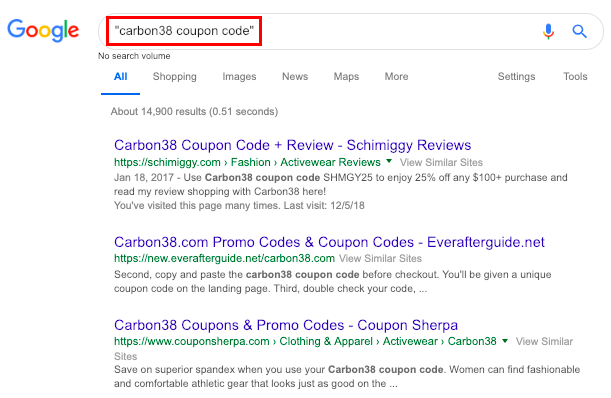 For groceries and household supplies, I'll usually check weekly ads on via Flipp before making a trip to the store. A lot of grocery stores will also have apps that can be loaded with coupons. Websites that I check for coupons and deals include Redplum or Penny Saver and save the coupons for anything I might buy. I don't use them immediately but instead, wait for store sales on those items so that I can use the coupon on top of the sale. This is how couponing works. And sometimes you can even get the item for free!
Final Thoughts
For all my purchases (big or small) and especially major purchases (i.e. large appliances, furniture, etc.), I use all of these questions as a checklist. The ultimate goal is to make smarter decisions about spending money by determining if you actually need the item. If I can actually prove to myself that this item is an essential need, then I'll begin moving through the steps to secure the lowest price on the item. I will always try to buy things secondhand so that I reduce my carbon footprint.
You don't need to use all of these questions on smaller purchases, but I highly recommend you ask at least one question each time before you invest in a small purchase. Talking out loud is especially helpful because hearing your voice and it makes an impact cerebrally and auditorially, having a huge impact on your impulse buying. Be honest with yourself when going through this process because when you finally decide to buy something, it will have been purposeful and done with thought, which also aids with increasing mindfulness and emotional health in your daily life.
Did you enjoy this post? Please consider pinning it and sharing it on Pinterest.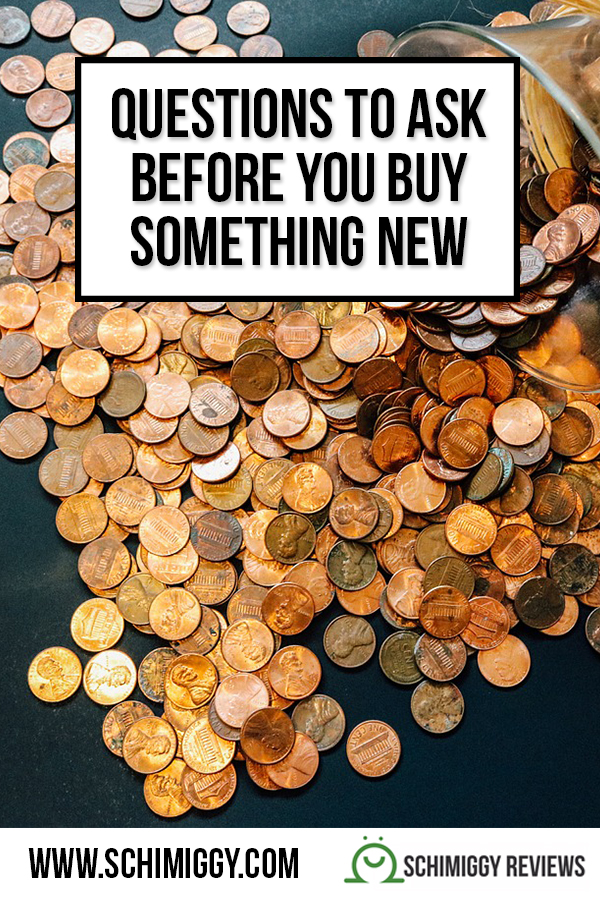 ---
Thank you for visiting today! If you found this encouraging or informative, please connect with us on Instagram, Youtube, Pinterest, Facebook or Twitter. We'd love to meet you!
Sign-up for our monthly newsletter for updates and more. We promise we won't spam you! Feel free to unsubscribe anytime.
For more fitness fashion discounts and offers, please visit our Fitness Instructor Discounts + Brands Directory or favorite brands coupon codes list.
If you're a brand and want to submit a product for us to review, please use this form to get in touch.
This site uses affiliate links. Clicking on or purchasing via an affiliate link may result in commissions for us which help keep the content flowing and lights on at Schimiggy Reviews. You may read more about this in our privacy policy.