Reading Time:
3
minutes
UPDaTED: 3/5/2021 | Sharklet ReviewAbout Sharklet
Sharklet Technologies is a medical supply company that took their patented Sharklet technology to create a revolutionary product for the yoga industry. The Sharklet material is made to mimic that of shark skin. The material is made with material that inhibits germ and bacterial growth.
Not only does Sharklet make yoga mats, they also make medical equipment and antibacterial tape. It's no surprise they entered the yoga industry to create a yoga mat that performs great and is antibacterial.
Sharklet Review: Antibacterial Yoga Mat
This is my first review of an antibacterial yoga mat. I was super stoked because yoga mats can get pretty gross with consistent use. Your sweat and oils can buildup on a yoga mat and cause fungal infections or even pimples and other skin concerns.
I received the yoga mat in a gorgeous white marble to review.
Sharklet Yoga Mat Specs
Before we go into the Pros and Cons, here are some details of the Sharklet yoga mat.
Dimensions: 183cm x 66cm x 4.0mm | 7.2ft x 2.6ft x 4.0mm | Also comes in longer length.
Weight: Approximately 6.31 lbs
Colorways: Black Marble, green marble, white marble, pearl gray
Pros of Sharklet
Amazing grip! The Sharklet by far has THE BEST grip we've ever experience. The surface is grippy yet smooth. Even with a generous amount of sweat, we did not experience slippage during practice. We are stoked about the anti-grip quality.
Made from super durable materials. This mat is super durable! I am not concerned with being a little rough with my yoga mat.
Patented antibacterial design. The patented micro-patterned structure is designed to keep safe and away from contamination. Provide the needed traction and allow for smooth transitions between poses.
Odor free. The yoga mat is 100% odor free as soon as you get it out the package.
Sustainably made. Sharklet yoga mats are made of natural rubber that will decompose over time.
Great cushion. The yoga mat has great cushion for your joints. If you need additional cushion, we recommend using a knee pad by Yoga Rat or SukhaMat (our personal favorite!!!).
Height inclusive! Comes in XL length for taller practitioners.
Comes in different colors and patterns: black Marble, green marble, white marble, pearl gray
Easy to clean. We used a wet towel and some vinegar to clean the surface of the mat. It does not collect debris like other sticky yoga mats.
Non-slip bottom. Don't worry about mat slippage on the top OR bottom of your mat. The Sharklet yoga mat stays put.
Cons of Sharklet
Expensive. A Sharklet yoga mat will run you $83. It's still cheaper than other competitors like Liforme and Manduka.
Heavy. The mat weighs a little over 6 pounds.
Not machine washable. Luckily the surface of the yoga mat is easy to clean up with a damp towel.
Related: Manduka PRO Yoga Mat Review
Should I Buy a Sharklet Yoga Mat?
We HIGHLY recommend the Sharklet yoga mat. Not only does it have a ton of grip, it's also super high-quality and durable. It's a yoga mat that we'll practice on for a long time.
It's totally worth the investment whether you are a new or experienced practitioner.
Related: Yoga Props You Need and Want
Where to Buy Sharklet
Buy Sharklet yoga mats here. Use code SCHIMIGGY20 for 20% off all your orders.
Sharklet also makes a mat carrying strap to complement your mat.
Sharklet also offers a 15% off student discount program. Simply send in your student information and receive a code towards your purchase.
If you found our Sharklet Review of their antibacterial yoga mat helpful, please share it on Pinterest. Thanks for your support!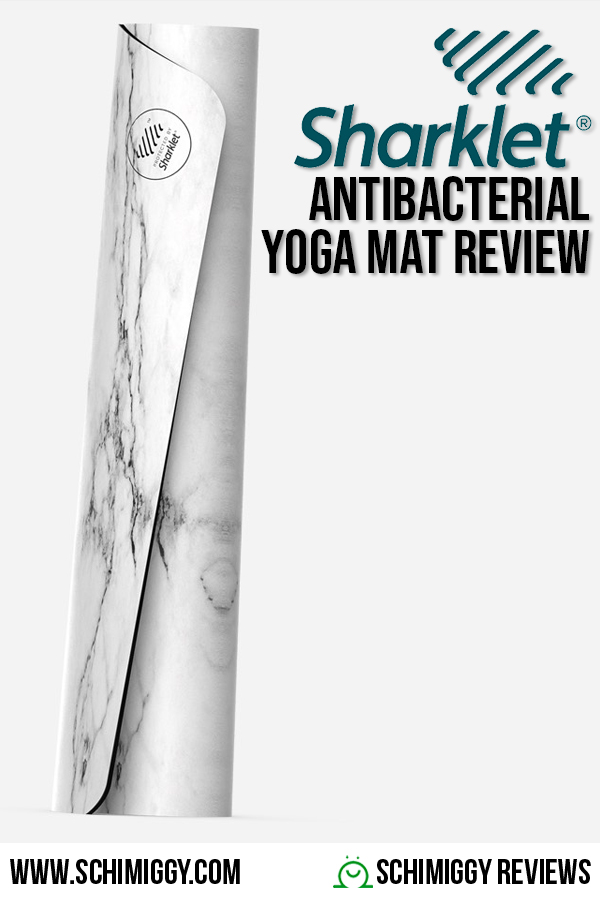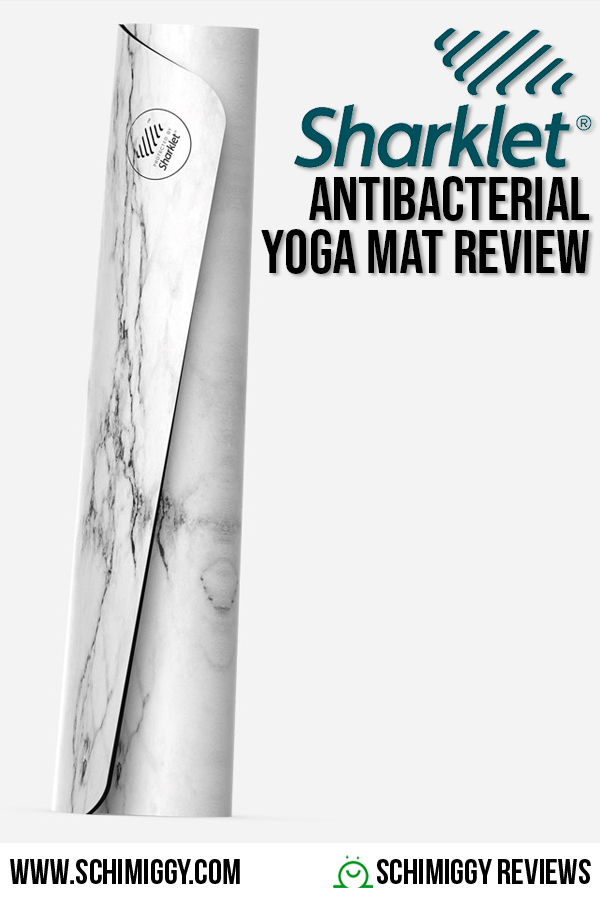 ---
Thank you for visiting today! If you found this encouraging or informative, please connect with us on Instagram, Youtube, Pinterest, Facebook or Twitter. We'd love to meet you!
Sign-up for our monthly newsletter for updates and more. We promise we won't spam you! Feel free to unsubscribe anytime.
For more fitness fashion discounts and offers, please visit our Fitness Instructor Discounts + Brands Directory or favorite brands coupon codes list.
If you're a brand and want to submit a product for us to review, please use this form to get in touch.
This site uses affiliate links. Clicking on or purchasing via an affiliate link may result in commissions for us which help keep the content flowing and lights on at Schimiggy Reviews. You may read more about this in our privacy policy.