Reading Time:
5
minutes
Updated: 10/29/2019 | Best Sweaters to Wear with Leggings
Since we live in our leggings, sometimes the only way to spice up an outfit is to pair it with an adorable and comfortable sweater.
A sweater automatically transitions any workout outfit from the gym to street. Luckily there are tons of sweaters on the market that will complement any pair of leggings. The only issue is, "How do I determine which sweaters I want?"
Luckily there's no shortage of sweaters to go with leggings. You have options and that's great! I get to try out a bunch of brands and support companies in selling their products. Here are my list of top sweaters to go with all your leggings. I've also included discounts were applicable. Feel free to use and share the savings with your friends!
https://www.instagram.com/p/BcvzPxUFpai/?taken-by=schimiggy
Best Sweaters to Wear with Leggings
LnA is an LA based brand that makes these unique cut-out sweaters. The fabric is soft. Imagine Spiritual Gangster fabric without logos. I love the Earl Sweater and Leon Sweater.
Buy LnA on Amazon, Carbon38 and at Zappos. Get 15% off at Carbon38 with code SHMGY25.
Carbon38's cashmere collection will get you cozy real fast after a sweaty workout. My picks are the Carbon38 Cashmere collection Bell Sleeve sweater and Carbon38's Passport Collection Hong Kong sweater.
Buy Carbon38 here and use discount code SHMGY25 for 15% off!
Anthropologie curates a mean sweater selection during the Fall and Winter seasons. My favorites are the Moth green wrap sweater and Cuffed-Sleeve Turtleneck Tunic ($128). Currently all sweaters are 25% off until 12/23! Definitely check it out! If not to buy, at least get some inspiration from how they style their pieces.
This holiday season I am wearing the Lorena Flutter Sleeve Pullover ($98) with black leggings and boots.
#4 Varley
If you're looking for the best comfort + fashion combo, Varley is definitely for you. I love the Keystone Sweat cold-shoulder (comes in black and grey) and Kingsmill V-Back sweaters.
Buy Varley sweaters at Amazon, Carbon38, REVOLVE, and Sculptique. Use code SHMGY25 at Carbon38 to get 15% off.
Use code ALEXANDRA at Sculptique to get 20% off. Both work on regular priced merchandise only.
Nordstrom's Product Group (NPG) sweaters are worth giving a try! I love their Treasure and Bond line which is similar in quality to Free People. The Leith collection is similar in look and quality to Target brands.
My picks are the Treasure and Bond x Something Navy Crewneck sweater in green and Leith Twist Sleeve sweater.
J.O.A. stands for Just One Answer. I purchased a ribbed asymmetrical one-shoulder crop sweater of theirs earlier this year. It's been my go to sweater for cocktails and brunch and looks amazing with both skirts and leggings. Next up on the sweater list are the Ruffle and Tie Front sweaters.
Buy J.O.A. at Amazon, Anthropologie, Nordstrom, REVOLVE, Shopbop and Zappos.
#7 ALO Yoga
ALO Yoga's feminine sweater designs are perfect for brunching and casual wear around town. When you want to feel comfortable with an urban flair, ALO Yoga is the way to go. My favorites are the Uplift Sweater (left) and SOHO Sweater (right).
Buy ALO Yoga at Amazon, Carbon38, Nordstrom, and Zappos.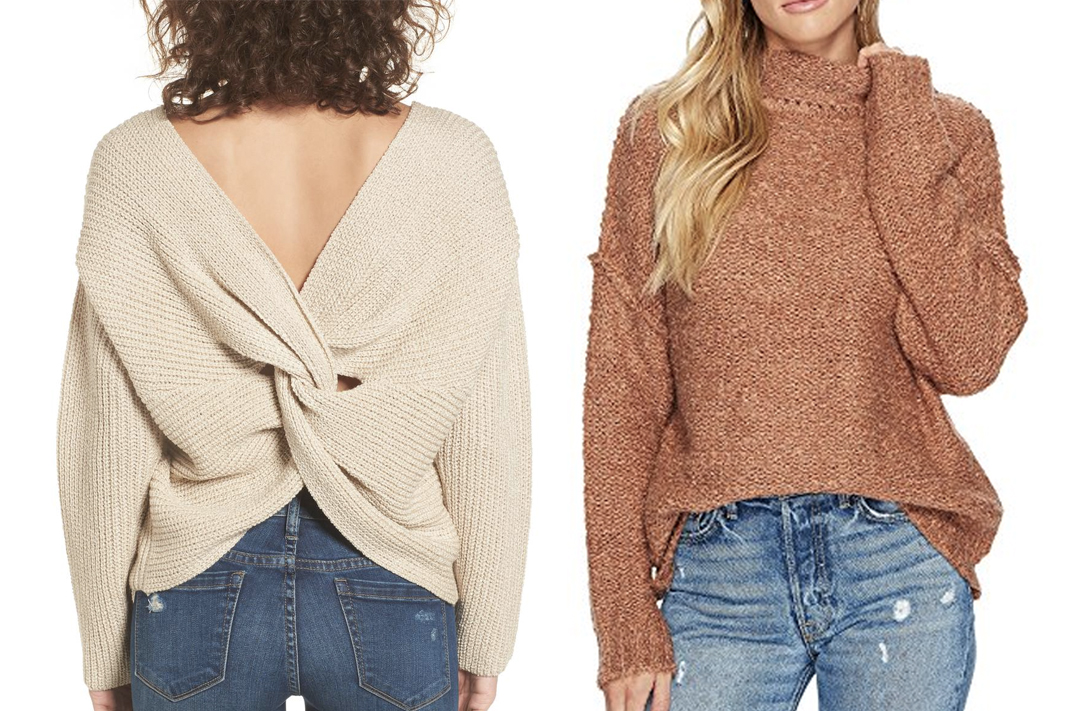 ASTR the Label makes cute wrap knit sweaters. I especially love their back wrapped sweater ($65) and chunky knit Darleen sweater ($98). Their styles come in various colors and knit fabric feels super plush.
Buy ASTR the Label at Nordstrom and Zappos.
There's Free People offering the ultimate bohemian style to any wardrobe. Instantly change your wardrobe with one of their chunky sweaters. My favorites are the Heart it Laces ($148) and Ottoman Slouchy Tunic ($148).
Shop for Free People at Amazon, Nordstrom, REVOLVE, Shopbop and Zappos.
Finally on the list we have Joie. Joie makes beautiful sweaters from the best fabrics. Imagine being cuddled by 100 kittens at once. That's the quality of Joie IMHO and the price point definitely reflects the quality of their pieces. My favorites are the Dannee Sweater ($248) and Helice off-shoulder Sweater ($318).
Buy Joie at Amazon, Nordstrom, REVOLVE, and Shopbop.
Did you like our best sweaters to wear with leggings lineup? Let us know your thoughts in the comments.
---
Thank you for visiting today! If you found this encouraging or informative, please connect with us on Instagram, Youtube, Pinterest, Facebook or Twitter. We'd love to meet you!
Sign-up for our monthly newsletter for updates and more. We promise we won't spam you! Feel free to unsubscribe anytime.
For more fitness fashion discounts and offers, please visit our Fitness Instructor Discounts + Brands Directory or favorite brands coupon codes list.
If you're a brand and want to submit a product for us to review, please use this form to get in touch.
This site uses affiliate links. Clicking on or purchasing via an affiliate link may result in commissions for us which help keep the content flowing and lights on at Schimiggy Reviews. You may read more about this in our privacy policy.