Reading Time:
5
minutes
On my recent trip to Thailand, I was scammed into a riding a Klong boat around a canal, when all I wanted was to see the Reclining Buddha at Wat Pho. Here's my recount of how it all went down as well as other scams you should watch for in Bangkok.
Meeting the Scammer
We were on our way to check out Wat Pho's famous Reclining Buddha. The Grab vehicle (Thailand's version of Uber) dropped us off on the end of the temple without an obvious entrance. We began to walk around the perimeter of the temple when a gentleman approached us. He greeted us with a smile and spoke English very well. He convinced us that he was a grade school teacher with male students aged 12-16. The gentleman was posted next to Wat Pho temple and the Grand Palace waiting for the perfect victims (i.e. us).
He stated that the temple was closed due to a Buddhist holiday. He also informed us that we should return around 6 PM to watch the celebration of the former Thai King. It all sounded believable because he spoke English and almost no one in Thailand speaks a lick of English. I was also impressed at how nice and accommodating he was to us lost travelers.
First of all, I was raised Buddhist and had never heard of a Buddhist holiday in the middle of November. Maybe I was not Buddhist enough because I didn't know about this "holiday." I felt that was strange because the online hours stated that the temple was open until 6 PM and we were in the area at around 2 PM. He then brought up the idea of riding a Klong boat. The Klong boat is a traditional Thai boat with an awning and is very colorful (pictured above).
The gentleman also indicated that there was also a floating market that was open only once a year. Of course, that sounded very fishy, but at the same time very intriguing. I didn't want to miss out this year! We HAD to go! All the while, I am thinking, why would this school teacher want to scam me. He would behave how he'd want his students to behave right? WRONG! Scammers will say anything to get your business and earn their cut.
Let's Get on the Klong!
Regardless of all these red flags, the idea of riding a Klong boat through the canal still seemed really intriguing. Before I could say anything else, he invited us to follow him and took a quick 5-minute walk to the dock.
At the dock, I was greeted by two attendants and a group of tourists who boarded the boat with us. We were charged 900 Baht (~$27) per person, which is less than their normal price tag of 1,200 Baht per person. So nice of them to offer us a deal! Woohoo!?
Later on, we learned that these Klong rides should've cost less than $8 USD per person and that this organized tour was not worth what we paid. The three "floating market" boats were selling things you could typically find in a 7-Eleven in Thailand. The tour was only one hour long and really not that exciting. I would have gladly skipped this on my next visit.
Some perks of the ride were that we saw Monitors (huge lizards). And lots of them. They were perched on ledges and swimming in the water. We also saw an artists village and many colorful homes on the canal which made for great pictures.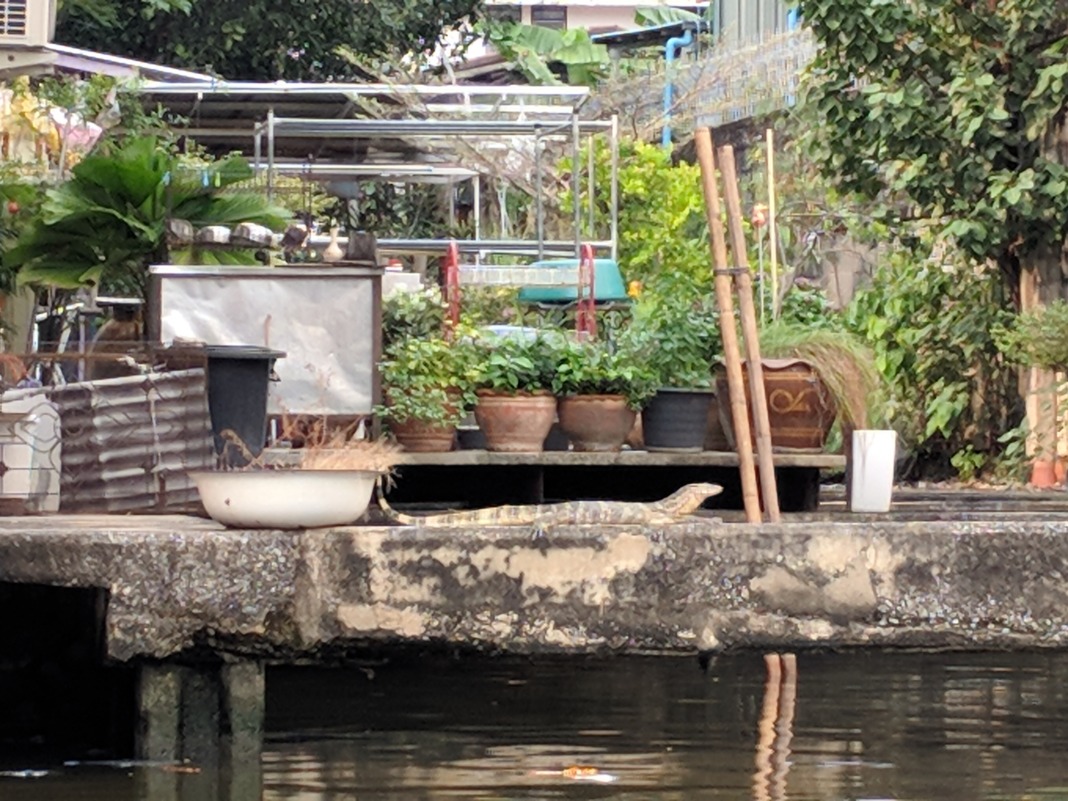 Monitor Lizard hanging out on a cement block. And like that, you have now also taken the Klong boat tour. You're very welcome.
In retrospect, I would have definitely haggled for a lower price. I would have gladly paid 300 Baht (~$10) for the ride. Oh well, this experience definitely added to the adventure factor of our trip!
List of Scams in Bangkok
If you ever visit Bangkok, definitely be aware of these scams!
Avoid a Trip to the Jewelry District – Scammers will recommend a visit the Export Center in a tuk-tuk to buy discounted jewelry. The jewelry is FAR BELOW what the stores tell you it's valued at. Take the amount and divide it by 15. It's not worth it.
Avoid klong rides that are more than 300 Baht! Haggle it down to that price and walk away. Usually, vendors will agree to your price. Don't settle for the first price ever.
Avoid dating Thai girls. I know this sounds bad, because who doesn't deserve a little love. Young Thai girls are hunting for men (usually older and with deep pockets) to support their "dreams" and lavish lifestyle in Thailand. One Thai girl may have more than one foreign lover and multiple streams of income coming in monthly.
ALWAYS haggle! Start low and if you see the vendor getting frustrated and finally explaining why things cost the way they do, ask them to meet somewhere in the middle. I would say start at least 80% off and work up to maybe 60% off the original offer. Never buy merchandise for the full price.
Carry small change to bars. In a girl/ping pong show/ladyboy bar, always carry small change. Keep your big denominations in a safe place (ie. locked in your hotel). Carry a lot of 100 Baht bills. In a ladyboy bar, my friend paid 700 Baht for three beers. He gave the girl a 1,000 Baht bill and the change was never returned to us. They won't care how much you complain and yell. To prevent that, bring small denominations when you're enjoying all the nightlife that Bangkok has to offer.
Set your price before you buy. When watching a show, make sure you agree to a set price. Some bars will charge you extra for every show you watch. I went as far as to record my guy in case he changed his offer later. Luckily he was honest and the video was deleted shortly after!
Despite the scams, Thailand is still one of my favorite countries to visit. The people are all very friendly, it's inexpensive and there's so much to experience and do! We eventually made it to Wat Pho Temple and I was able to still appreciate it's beauty even with all the scammers waiting around the perimeter of the temple.
Lesson learned here? Even if you do fall for these scams, don't let those rotten apples spoil your trip! Learn from it and share your experience with others.
Thanks for tuning in. Bon voyage!
If you're looking for a place to stay, check out this list of accommodations.
---
Thank you for visiting today! If you found this encouraging or informative, please connect with us on Instagram, Youtube, Pinterest, Facebook or Twitter. We'd love to meet you!
Sign-up for our monthly newsletter for updates and more. We promise we won't spam you! Feel free to unsubscribe anytime.
For more fitness fashion discounts and offers, please visit our Fitness Instructor Discounts + Brands Directory or favorite brands coupon codes list.
If you're a brand and want to submit a product for us to review, please use this form to get in touch.
This site uses affiliate links. Clicking on or purchasing via an affiliate link may result in commissions for us which help keep the content flowing and lights on at Schimiggy Reviews. You may read more about this in our privacy policy.