Reading Time:
9
minutes
I recently returned from my 10-day trip to South Korea and was surprised to find out that we were there during Korean Thanksgiving, or Chuseok (pronounced choo-sock). Chuseok lasts a week and people usually leave the city an return to their villages surrounding Seoul.
Chuseok is a Korean celebration in which they honor ancestors and deceased relatives. The holiday also serves the purpose of keeping the family together in a time when work and other obligations may separate people, much like our American Thanksgiving.
Traditionally, Chuseok is also when South Koreans celebrate the Autumn harvest after a season of hard work. Chuseok is held on the 15th day of the 8th month on the lunar calendar and coincides with the fall equinox. This year's Chuseok fell on October 2-6, 2017.
Click here for future Chuseok dates to help with your planning.
During Chuseok, Seoul was very quiet. There were still businesses operating in the touristy areas. We also took a quick weekend getaway to Busan where there is plenty do the weekend before Chuseok.
---
How to Get to Seoul
I flew via Air Canada into Incheon International Airport (ICN) on a flight deal out of Seattle, Wash. My plane tickets were purchased through Orbitz for only $595. There are several ways to get from the airport to Seoul, South Korea.
When we arrived, we rented a portable wifi device (~$4 USD per day) and took an Airport Limousine (16,000 KRW) that took us by charter bus to Seoul's City Center.
On the way back to the ICN we took the train which cost 4,250 KRW and included one transfer from Myeongdong into Seoul Station.
I would definitely recommend taking the train in and out of the city. It takes approximately the same amount of time as the Airport Limousine and is much cheaper.
Once you are in Seoul, definitely get a T-Money card and keep it loaded. It will allow you to ride the subway system around Seoul, ride taxis and even take the train to and from ICN airport. You can buy the T-Money card within the station or at local convenience stores.
15,000-20,000 won is a good amount to load onto your card for a 5-day trip.
What to do During Chuseok
Here is my list of recommendations of what to do while you're in South Korea during Chuseok. The official Chuseok day falls right in the middle (usually a Wednesday) of the week. I've also listed the recommendations in order of preference.
#1 Visit Hwaseong Fortress
Hwaseong Fortress was named a UNESCO Heritage site in 1997. The fortress was built from 1794 to 1796 by King Jeongjo of the Joseon Dynasty to house and honor the remains of his father Prince Sado, who had been executed by being locked alive inside a rice chest by his own father King Yeongjo after failing to obey the command to commit suicide.
Talk about tough love!
Located 30 kilometers (19 miles) south of Seoul and enclosing much of central Suwon, the Fortress includes King Jeongjo's palace Haenggung.
Other sights to see in this area are the Golden Buddha, Suwon Eco Mobility Village for arts and crafts and Suwoncheon, the mainstream that flows through the center of the fortress. It's lined with beautiful hanging trees and flowers.
Duration of Visit: 3-5 hours (easy day trip)
How to Get to Hwaseong Fortress from Seoul:
From Seoul, the best way to get there is by a combination of bus and train. If you're a foreign traveler, I advise using Google Maps to find a route that will take you to the fortress. It's about a 40 minute ride from center city.
From Myeong Dong, we left around 10AM and took the Euljiro 1(Il) ga (transfer station) to Jamsil (see Seoul subway map). From Jamsil, you'll have to stay underground and walk to the Bus Transfer Center and take the 1007 bus straight to Suwon.
It will take you through the fortress gates and towards the plaza where you'll see kites flying and the palace in the background. From there you can hike up to the top where you can take in an amazing view of Suwon.
Note: The routes change throughout the day, which means that my directions may not align with the time you want to visit Suwon. I recommend using Google maps to get directions heading there and then again when heading back to Seoul.
#2 Myeongdong Marketplace
Myeongdong Marketplace seemed to be open 24/7 while I was there. After 9PM, the streets are filled with food vendors. Clothing and accessory vendors are there all day long. Dine on spiral potato sticks, egg bread (gyeran pang) and spicy rice cake (ddeok bokki). The dishes range from $2-5 USD and are easily sharable. My favorite vendors were the socks for 1,500 wan (or $1.20 USD).
I walked around the shopping center and ended up getting 8 free face masks! You will see women offering a free face mask if you enter their store. There is no obligation to buy. Face masks usually run $2-3 USD a mask. They have great deals on beauty products, and the more you buy, the better deals and more free beauty products you'll get.
The stores surrounding the vendors also seem to be open during Chuseok. The retails stores were a bit overwhelming as the employees will watch and cater to you like hawks.
The employees probably earn a commission and are therefore aggressive on the sales floor. I stick to outdoor vendors as there is no pressure to buy and some are willing to negotiate/haggle with you.
Duration of Visit: 3-4 hours
I could stay here all day. If you're staying in the same area as we did, you may find yourself revisiting the market several times during your trip. I stayed at the Aloft Hotel in Myeongdong and the shopping center is located just behind the hotel.
#3 Gyeongbokgung Palace
Gyeongbokgung Palace was the main royal palace of the Joseon dynasty. The Palace was built in 1395, and is located in northern Seoul. Gyeongbokgung is the largest of the five palaces built by the Joseon dynasty and served as the home of the Kings of the Joseon dynasty and their staff and soldiers.
Gyeongbokgung was destroyed by fire during the Imjin War and abandoned for two centuries. In the 19th century, all of the palace's 7,700 rooms were restored during the reign of King Gojong.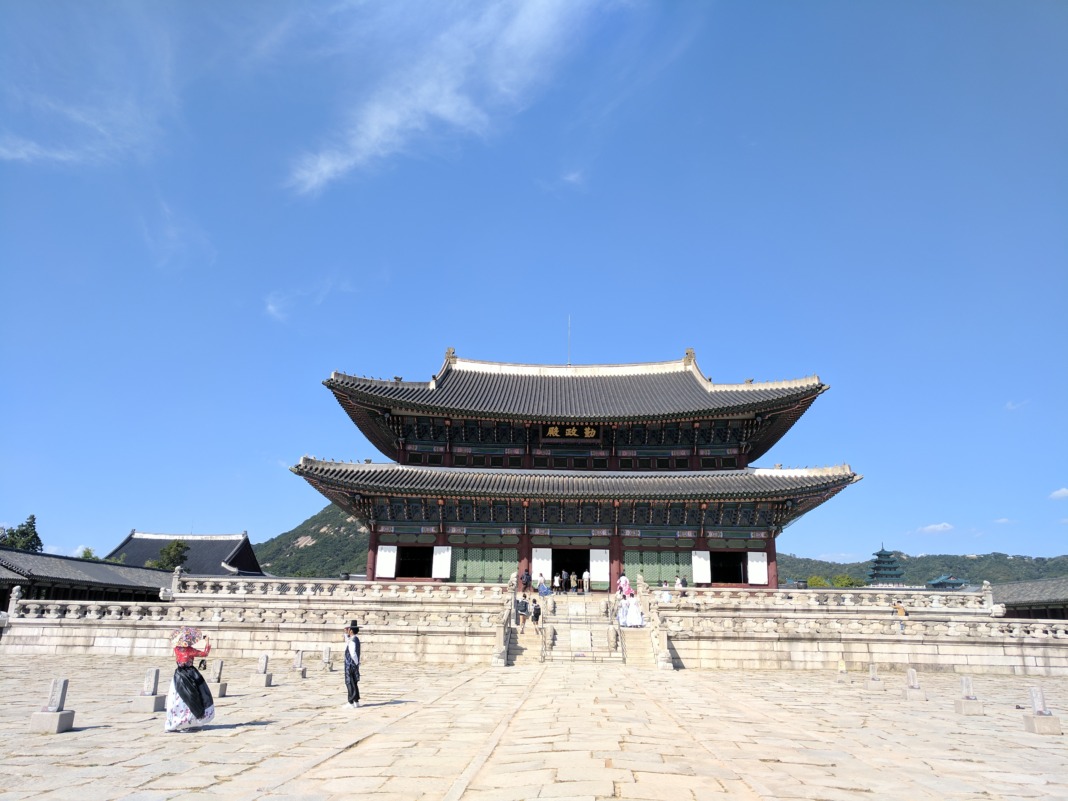 Today you can visit the Gyeongbokgung Palace for 6,000 KRW or (~$5 USD). If you rent a hanbok (traditional Korean clothing), your entry into the palace is free! It's pretty fun to walk around the palace while looking like royalty and blending in with the architecture.
Towards the end of the palace tour, I highly recommend the National Palace Museum of Korea. I learned a lot about Korean History. It was an eye-opener for me to see how Koreans lived centuries before technological advancements.
It's definitely worth a visit and is included with your entry fee into the palace grounds.
Duration of Visit: 2-4 hours
#4 Namsan Tower
Namsan tower AKA the N Seoul Tower is a communication and observation tower located on Namsan Mountain. At 236m (774 feet), it comes in as the second highest point in Seoul. It was built in 1971 and serves as a broadcasting station for Korean media outlets (such as KBS, MBC and SBS).
Today its a very popular tourist attracting. I attempted to go up the tower twice but was very discouraged by the long wait lines. The Tower is open 365 days a year. The last observation deck viewing is at 11 PM and the last elevator ride is at midnight.
Cost to go up the tower is 10,000 KRW. I am from Seattle where the Space Needle is a tourist attraction and didn't see the allure of heading up a tower in another country after having to wait in line for an hour and a half at 8 PM only to get an hour to visit the tower. Next time I'll visit during the day.
Entry is also free if you dine at the upscale French n'Grill restaurant in the tower.
Duration of Visit: 2-3 hours
#5 Thanks Nature Cafe
This little cafe in Hongdae offers an opportunity to hang out with not one, but TWO sheep, all while you sip on some coffee or enjoy a shaved ice dessert (bingsu). The sheep were very friendly to customers. You may pet and take photos with the sheep but they won't necessarily pose for your perfect snap.
We went back here twice to charge our phones and obviously hang out with Honey and Sugar (the resident ewe and ram). Thanks Nature Cafe is definitely worth a visit while you're in Seoul!
They also have ample charging stations and around the sheep too! I would take advantage of this if you're low on battery.
Duration of Visit: 1-2 hours
#6 Trick Eye Museum
The Trick Eye Museum is also located in Hongdae. I would definitely recommend visiting if you haven't been to one of their locations yet. It's an interactive museum where you can be a part of the installations.
I personally think it is fun but also overpriced ($18 USD). The museum only lasts approximately an hour before you are deposited into an arcade room with no re-entry. Make sure you spend enough time in the museum prior to departing.
It's located in the same building as the Love Museum and Ice Museum. Entry fee for the Trick Eye Museum also includes entry into the Ice Museum.
Download the Trick Eye Museum app to utilize their free WiFi and view the installations through the app lenses to create cool effects using video or photo. While the app effects are pretty cool, it also caused myAndroid phone to crash repeatedly. Make sure to delete it after you've exited the museum.
There is no re-entry into the museum, however, they do update their installations on a regular basis. Make sure to keep the bottom of your ticket stub for 50% off future visits at all their museum locations.
Their other museums are located in Hong Kong and Singapore.
Duration of Visit: 1-2 hours
#7 Seoul Sky Tower
The Seoul Sky Tower, also known as the Lotte World Tower, is open 365 days a week. If you are looking for a panoramic view, go no further. It is 123 floors high and offers amazing views of Seoul and beyond, provided good weather and clear skies. It costs approximately $30 USD to go up.
Once up you can purchase food and merchandise from the stores on top, but buyer beware – the prices are as high as the tower. Many people consider the tower a tourist trap, but it's worth at least one visit.
Come early to avoid the long lines that wrap around the stairwells up and down the building. I recommend getting there at least 2-3 hours prior to their closing hour.
Duration: 3-5 hours
Location: The tower also is right next to the Jamsil subway station.
This concludes my list of must see and do's in Seoul for Chuseok. Although a lot of attractions were closed, there was still a considerable amount of things to do!
What have you done while in Seoul during Chuseok? I'd love to hear your recommendations!
I'll definitely be going back in the near future. South Korea is such a fun destination and I would go back in a heartbeat.
---
Thank you for visiting today! If you found this encouraging or informative, please connect with us on Instagram, Youtube, Pinterest, Facebook or Twitter. We'd love to meet you!
Sign-up for our monthly newsletter for updates and more. We promise we won't spam you! Feel free to unsubscribe anytime.
For more fitness fashion discounts and offers, please visit our Fitness Instructor Discounts + Brands Directory or favorite brands coupon codes list.
If you're a brand and want to submit a product for us to review, please use this form to get in touch.
This site uses affiliate links. Clicking on or purchasing via an affiliate link may result in commissions for us which help keep the content flowing and lights on at Schimiggy Reviews. You may read more about this in our privacy policy.