Reading Time:
4
minutes
Masturbation is a very important self-care routine for any woman. Having the right product will make the experience more accessible and enjoyable.
I started masturbating in my late teen years. I purchased my first dildo and then found out about vibrators.
Vibrators come in many shapes and sizes and with the industry valued at $27 billion dollars, there are SO MANY OPTIONS to choose from.
Related: Best Vibrators for Couples, Men and Women
I received the Tracy's Dog clitoral vibrator to review on Schimiggy. And just in time for quarantine lockdown.
For those without a partner? We've got you covered.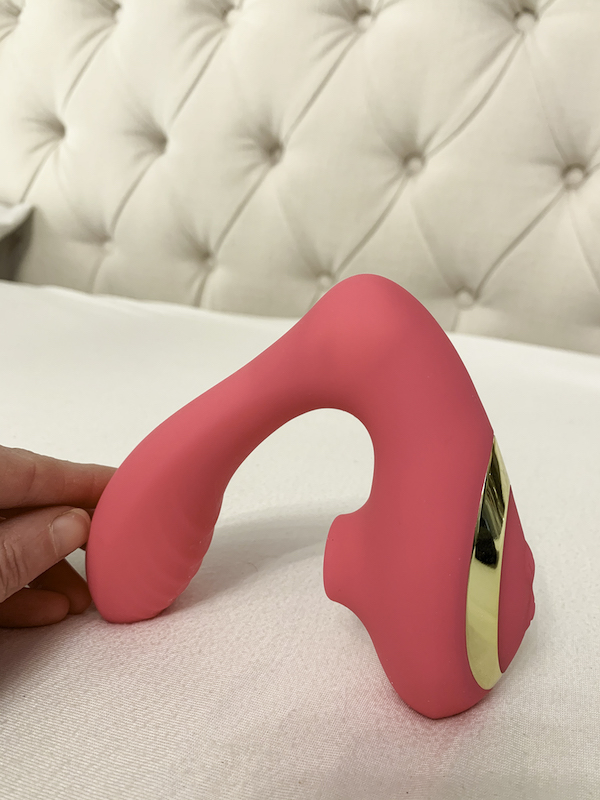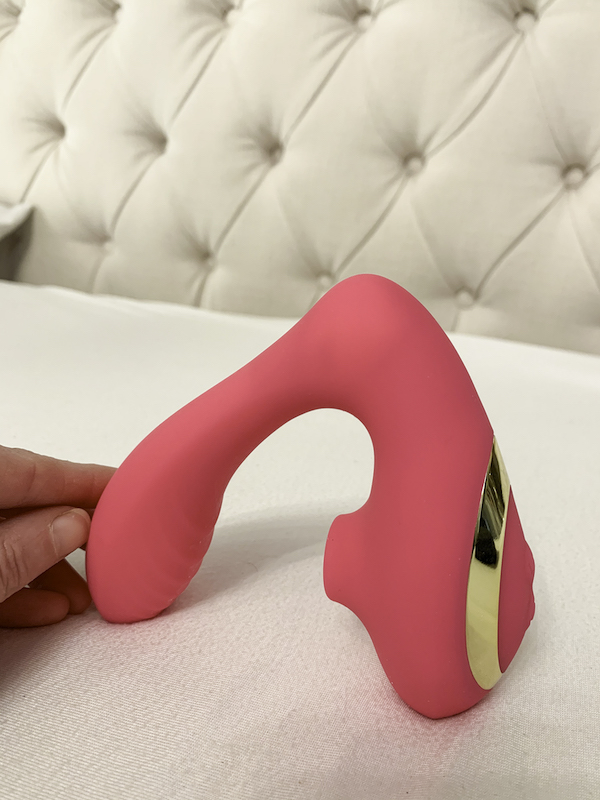 Tracy's Dog Vibrator Review
I received my package on a cold Seattle day. The vibrator arrived nestled in a black box with USB charger and a drawstring bag to stow it discreetly by my bedside.
I charged my vibrator and wined and dined myself in the kitchen. Tonight, I was taking myself on a date.
After showering, I laid down a towel (I am a proud squirter) and held the velvety vibrator in my hands. I turned it on and it began to purr smoothly against my palm. I placed the vibrator suction on the tip of my finger and could feel it pull my digit towards it. The suction could be changed up from gentle to suck your clit off.
The handle of the vibrator goes into your vaginal canal. It looked intimidatingly big at first but a little lube and encouragement helped it slide in easily.
It does take some adjusting to get the suction directly on your clit. I could see immediately how Tracy's Dog would not work for some. Everyone's body is different and the clit is not always in the same place (take note of that, partners).
With some finagling, I got the suction to sit on my clit and began to raise the vibrations.
Within seconds, 32 to be exact, I was squirming on my back, clenched my legs and the magical O came. I squealed.
Tracy's Dog has gotten the job done in under one minute. I went back at it a few more times until I felt my soul leave my body for the 5th time.
The next day, I tried straddling the vibrator in the shower and boom, shower time will never be the same again. I am pretty sure this would be a nifty bath companion too.
My little friend is exactly what I needed for a quick sexual release in the comfort of my home.
What quarantine?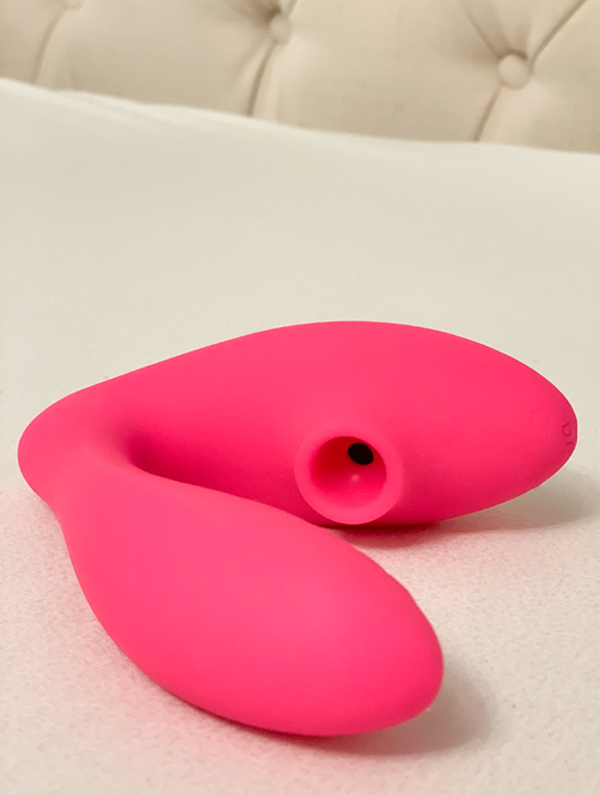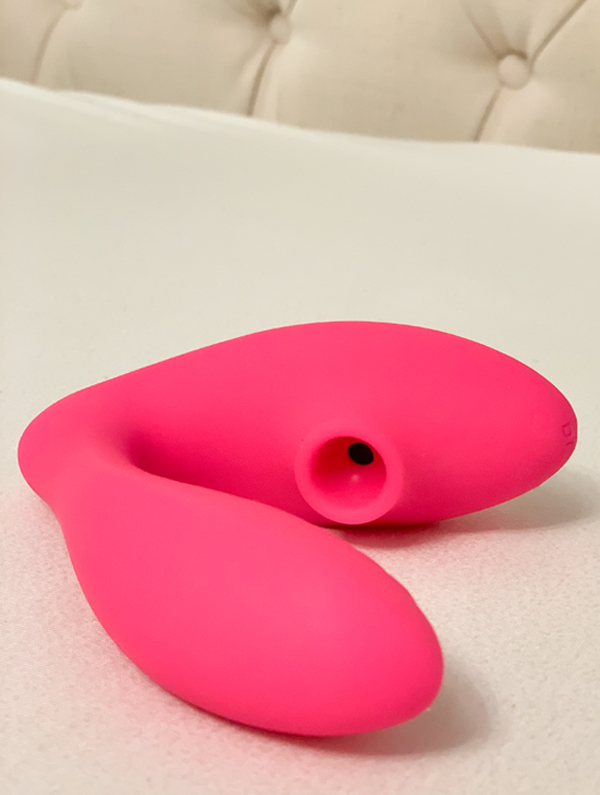 Is the Tracy's Dog Vibrator Worth It?
Hell yes!
The Tracy's Dog clitoral vibrator is worth every penny. It's rechargeable, waterproof, works great for my body size and shape and gets the job done in minutes. And at this price point (of under $50), it's is definitely worth investing in Tracy's Dog if sexual health is an important and ongoing activity in your life.
I use it to complement my sexual activity with my partner by placing the suction directly on my clitoris while having intercourse.
Some cons about the product are that it's not a OSFA (one size fits all) toy and it's a bit too bulky for travel. I travel often and prefer a toy that doesn't take up much luggage space in my carry on.
Dolphamine Clitoral Vibrator Review
Tracy's Dog also sent me their Dolphamine vibrator to review. The Dolphamine is more compact and comes with both a clitoral suction and flicking end.
It's rechargeable, has multiple settings and is a more discreet travel companion. The shape of the vibrator allows for pinpoint clitoral accuracy on both ends. We are huge fans and you will love it too!
It's literally, f#cking bomb dot cum!
I was gushing like the Bellagio fountain within seconds all while syncing to some ratchet rap music. That's my mofo jam.
So what you waiting for??
Use code 15DOLPHIN for 15% off.
Where to Buy Tracy's Dog
You can buy Tracy's Dog products directly on their website. Limited models are also sold on Amazon.
You can use code SCHIMIGGY to save 10% off all your orders at Tracy's Dog.
Did you enjoy our Tracy's Dog review? Please help us out and share it on Pinterest! Thanks for your support!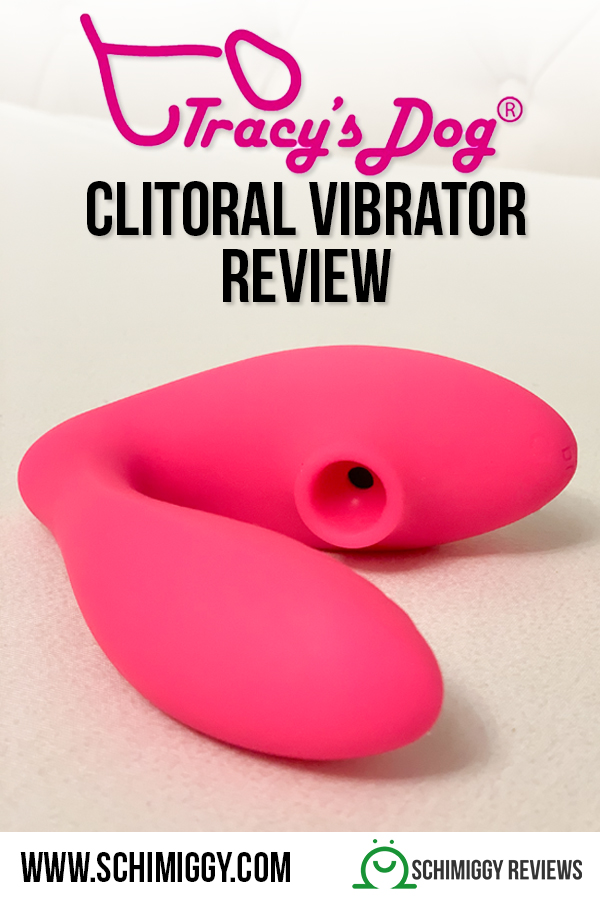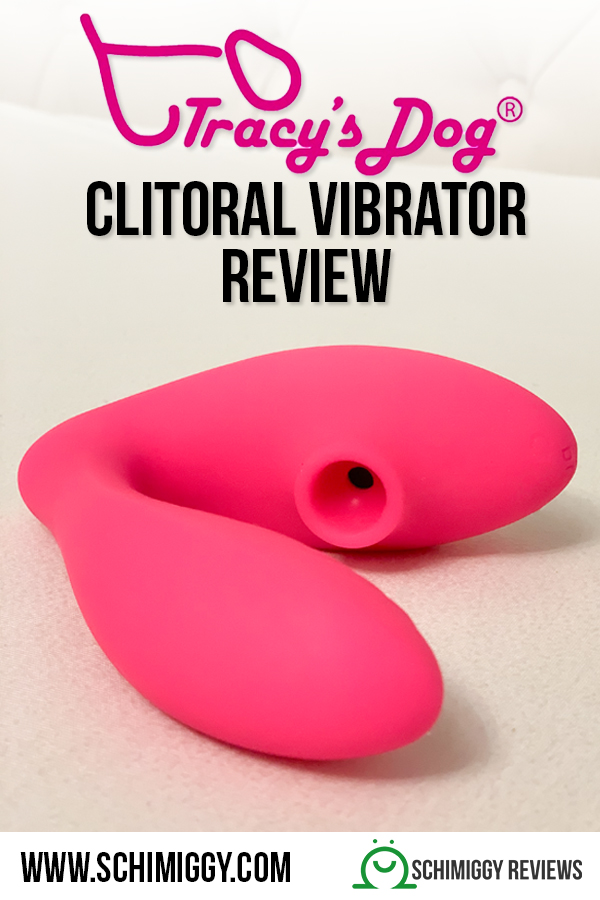 If you enjoyed this article, you might enjoy these too:
---
Thank you for visiting today! If you found this encouraging or informative, please connect with us on Instagram, Youtube, Pinterest, Facebook or Twitter. We'd love to meet you!
Sign-up for our monthly newsletter for updates and more. We promise we won't spam you! Feel free to unsubscribe anytime.
For more fitness fashion discounts and offers, please visit our Fitness Instructor Discounts + Brands Directory or favorite brands coupon codes list.
If you're a brand and want to submit a product for us to review, please use this form to get in touch.
This site uses affiliate links. Clicking on or purchasing via an affiliate link may result in commissions for us which help keep the content flowing and lights on at Schimiggy Reviews. You may read more about this in our privacy policy.