Reading Time:
14
minutes
Updated: 8/9/2022 | Lima Travel Guide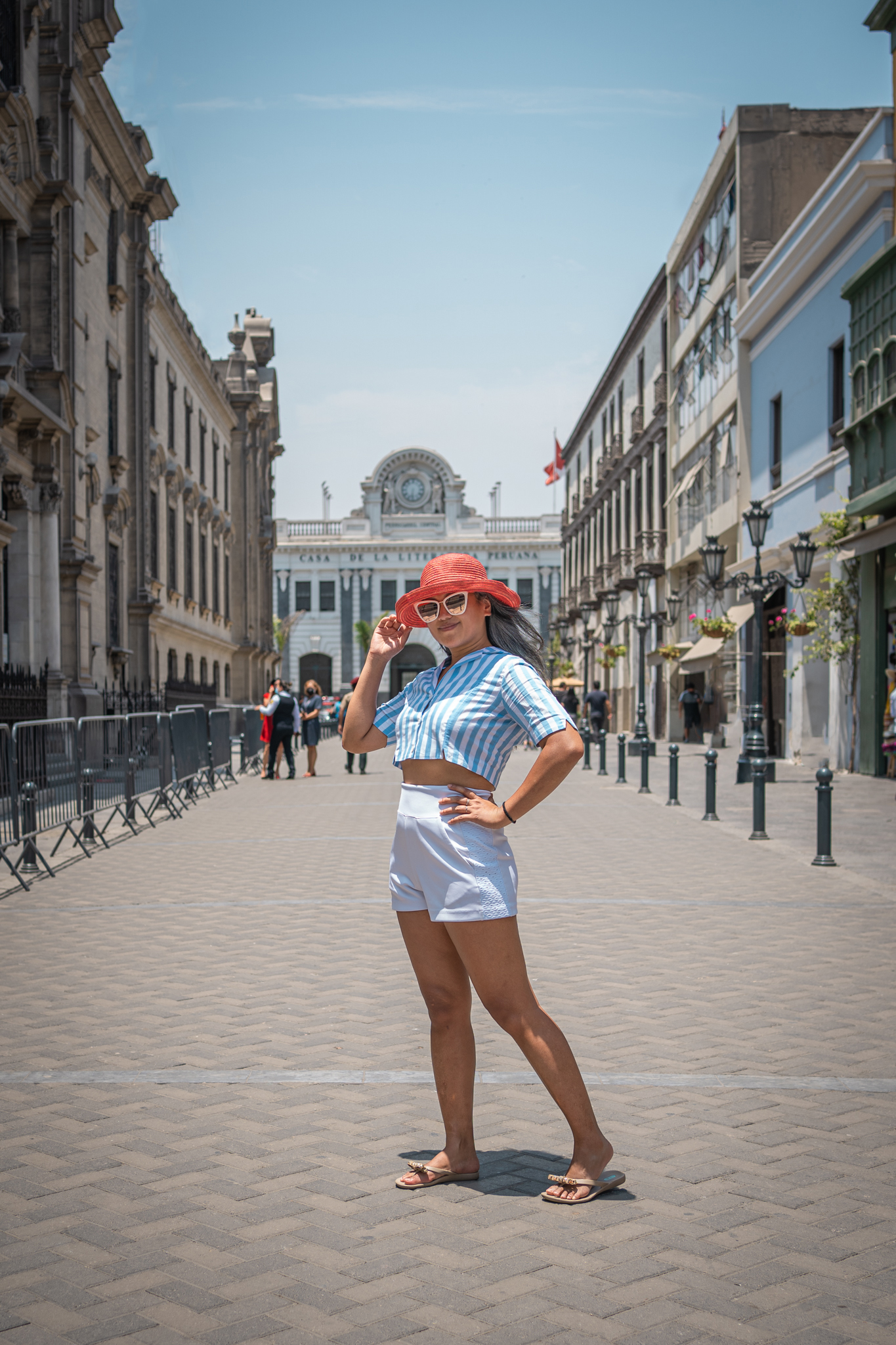 I went to Peru and fell in LOVE.
I've been to Peru in 2017 and again in 2022. They were both two entirely different experiences that I loved.
We almost canceled our trip due to the 2017 flooding in Northern Peru. In 2022, we traveled to Peru and experienced COVID travel restrictions.
About Lima
Lima is the capital of Peru and is situated along the west coast of Southern America. It's a city that is packed with food to eat and things to do and see.
Around 1535, Spanish settlement began in Lima. After the fall of Cusco, conquistador Francisco Pizarro established a new city with a central plaza and church. In 1542, the Viceroyalty of Peru was created, but not officially recognized until Viceroy Francisco de Toledo arrived in 1572. South America's struggle for independence from the Spanish Crown began in the early 1800s. In July 1821, Argentina's General Jose San Martin sailed into the capital and declared the independence of Peru on July 28th, 1821.
The 1890s-1920s were a period of great urban renewal and expansion for Lima, from which point the population continued to grow exponentially. The 1990s marked a time of notable instability in Peru. Alberto Fujimori was elected president, partly in response to a rise of violent guerrilla movements and economic turbulence. Fujimori maintained power for ten years until he was forced to resign in a bribery scandal in 2000.
With around 9 – 10 million inhabitants, Lima is the second-largest city in South America (after Sao Paolo, Brazil).
Lima is divided into 43 districts, but most tourists only visit two or three of them.
People come to coastal Lima and eventually make their way to Machu Picchu.
Related: Machu Picchu Travel Guide
While it's a stopover to the popular world wonder, there is still plenty to do in Lima.
Here is our guide on how to plan your next trip to Lima, Peru!
What to Know About Lima
Currency: Lima uses Soles. When we traveled to Peru in February of 2022, $1 USD was equivalent to 4 Soles.
Many establishments also accept credit or debit cards.
We recommend using a premium travel credit card that does not charge foreign transaction fees such as Chase Sapphire Reserve and American Express cards. The cards also provide travel insurance in case your trip is delayed or canceled.
Many businesses use this app payment service called Yapé which needs to be connected to a debit card for withdrawal. It's best to set Yapé up prior to traveling to Peru.
Language: Spanish, Quechua, and Aymara are spoken in Peru. People in most businesses will speak some English and want to practice with you. It's a great way to make friends with the locals.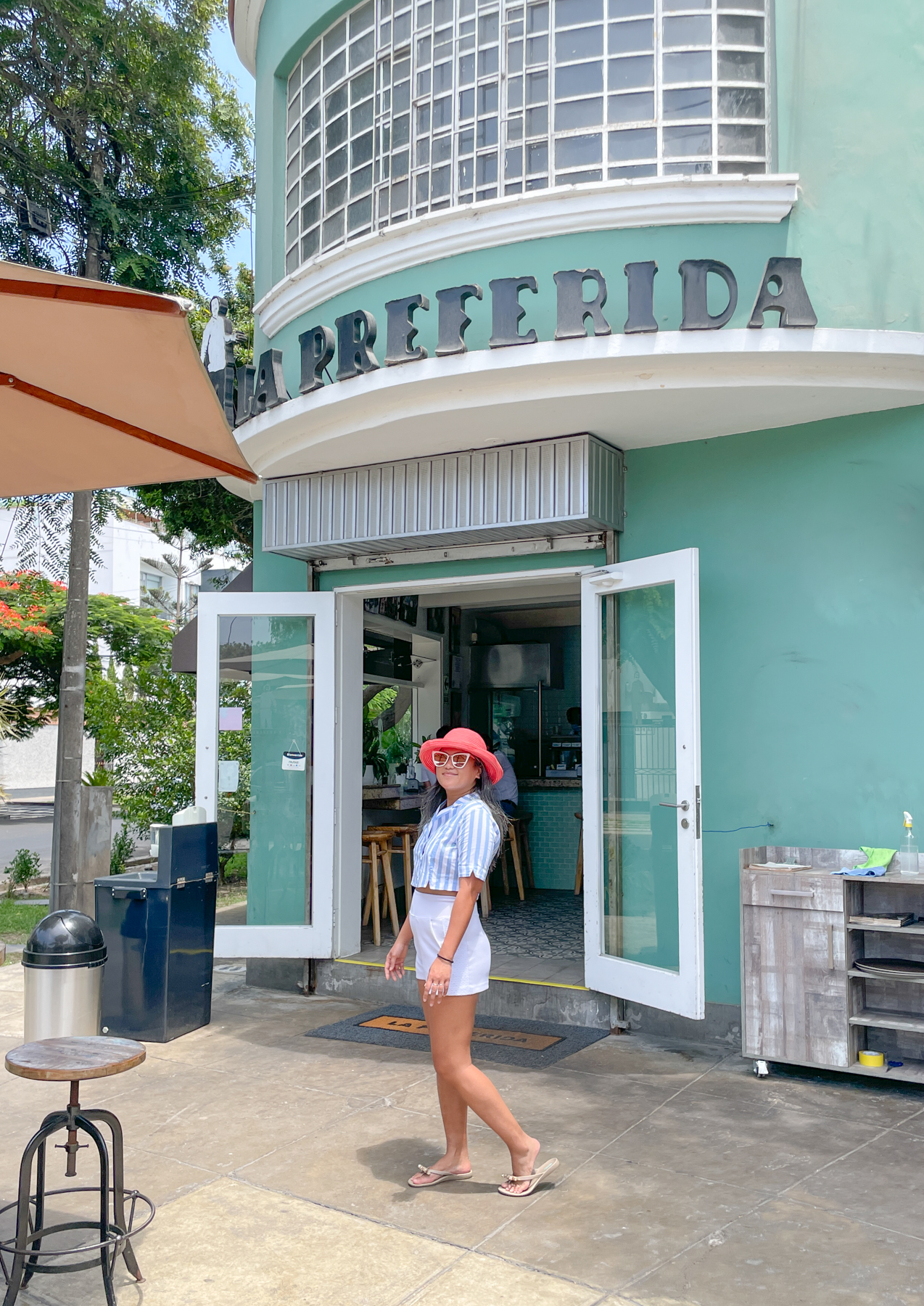 Best Time to Visit Peru
The best time to visit Peru is in the Summer (November to March). Traffic is relatively low as many locals have migrated north or south of Lima to their beach houses. Hotels are more affordable and attractions are not as overcrowded.
Safety
Don't be afraid of walking around Lima, Peru. I've heard horror stories from friends but I did not experience anything dangerous on my trip. If you remain alert and calm, you should be fine. There are certain neighborhoods to avoid after sundown, such as Cerro San Cristobal (Cristobal Hill). It's colorful and pretty to look at, but filled with thieves that may rob you blind if you dare to ascend the hill on foot.
Neighborhoods that I highly recommend staying in as a tourist are:
Miraflores/San Isidro
Lima City Center
Barranco
If for some reason it does get too late while you're out, order an Uber home. Some hotels offer shuttle service to popular areas but have specific pick-up and drop-off times and locations.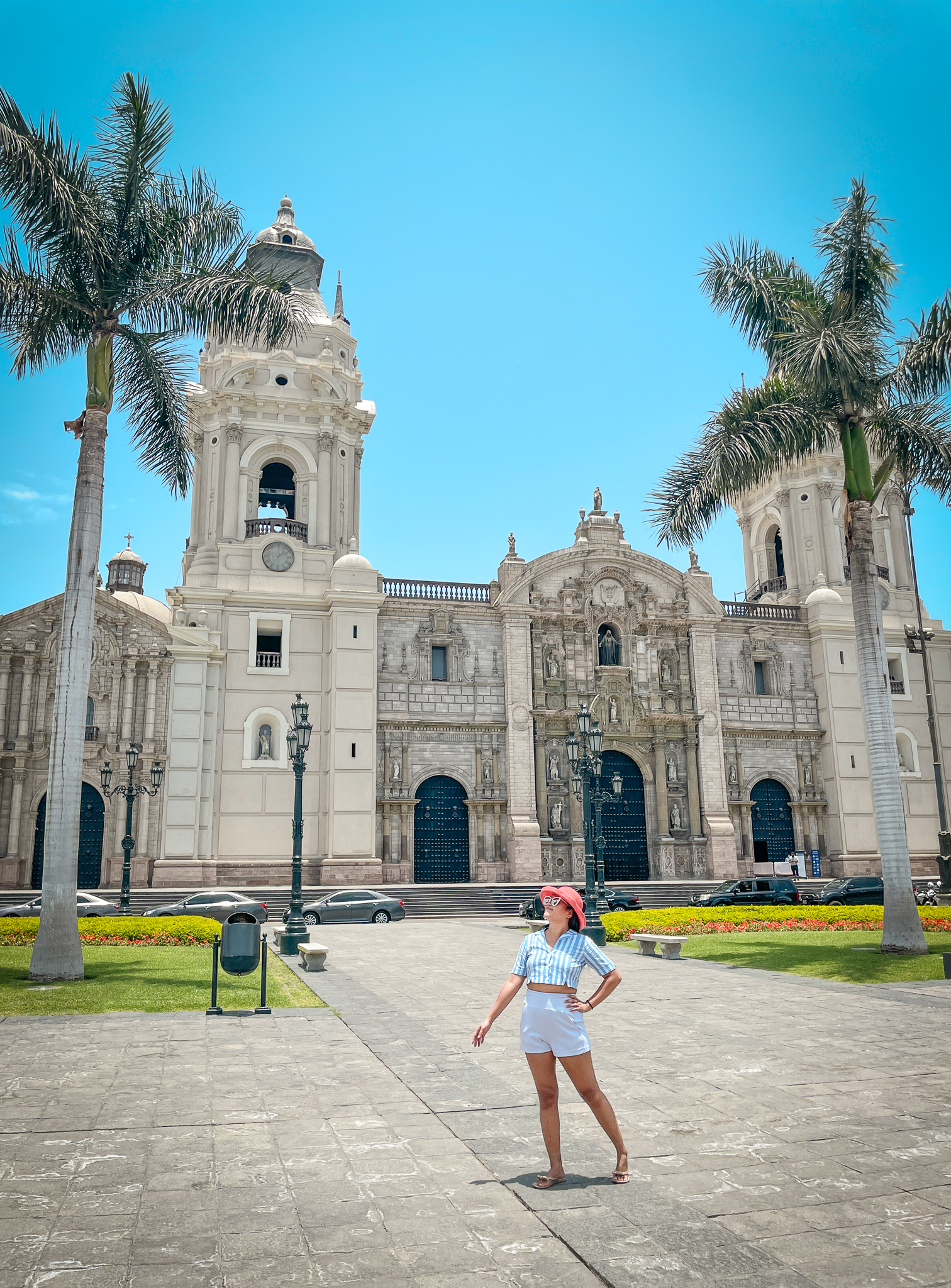 How to Get to Lima
Lima's Jorge Chavez International airport is Peru's main airport. It is located in Callao, a port town within the Lima region. Getting to and from the airport is best done via a ride-hailing app, shuttle, or with a private taxi service arranged by your hotel. Depending on traffic, the airport is about 40 to 60 minutes from the most touristy districts in Lima. Keep in mind that rush hour is generally from 7:30 a.m. to 10 a.m. and 5 p.m. to 8 p.m.
Use Bookaway to plan your next trip to Lima, Peru.
How to Get Around Lima
Use Uber or Cabify to get around Peru. It's inexpensive and covers a lot of ground. Sign-up here and get $20 off your next ride! Uber is available in most countries. In Peru, our rides cost approximately $10 USD for a 30-minute ride. Try walking everywhere first and then ride home when you're tired.
Trains: The Lima Metro has one line with 26 stations, and generally serves commuters who live in the suburbs over tourists. The train stops running at 11 p.m. and it doesn't connect to the airport.
Buses: Lima offers two types of buses. The larger Metropolitano buses are slightly more expensive but are nicer. Combis are cheaper van-size buses that barely slow down to drop passengers off wherever they want on the route.
Taxis: Taxis are available and can be reached by Uber or with the concierge at your hotel or hostel. Be sure the driver starts the meter or states the price when you get in to avoid haggling over fares.
Where to Stay in Peru
We found that hotels in Peru were inexpensive in 2022 compared to when we went in 2017.
Fairfield in Miraflores
Sheraton in Lima
We highly recommend checking out Agoda or Hotwire to book your next stay.
Related: Hotwire Review – Is It Worth It?
What to do and See in Lima
#1 Eat ALL the Food
No, seriously, eat ALL THE FOOD in Lima. Lima is a culinary destination that you cannot miss. We've shared our favorite restaurants below.
If there's anything that you MUST try, it's the amazing Peruvian and local cuisine. In Lima, we had our share of Nikkei (Peruvian-Japanese) at Maido and Chifa (Peruvian-Chinese food) at Wa Lok. The Chifa cuisine was so good that we went twice!
At Maido we ordered the tasting menu ($125) and it included a leche de tigre (tiger's milk) ceviche, a Peruvian staple, that was mindblowingly amazing. It's common in Peru to not have Ceviche after 2 PM because you want ceviche as fresh as possible, but we had it for dinner a few times and still enjoyed it immensely.
Our hotel, the Sheraton in Lima, also had a "Taste of Peru" dinner and performance. The dinner showcased a buffet with all the traditional Peruvian dishes. The event is held every Friday night. Even if you do not stay at the hotel. I highly recommend coming here for the Peruvian dinner and show. The cost is approximately $50 USD per person.
Here is our list of things you must do while in Lima.
Barranco
Walk around Parque Exposition. There's an art museum here along with a little farmers market and food court where you can try Cuy (grilled guinea pig).
Malecón de la Reserva
Mercado Artesnal – little handcrafted market near the main street in Barranco. Some vendors accept credit card.
Coffee and recharge Cafe Express Virgen de Guadalupe
Head to Javier's for the best SUNSET views
Barranco Beer Co. for some craft beers.
Songoro Cosongo for dinner. Their dinner plates (for sharing) were the perfect complement to our appetizer plate at Panchitos. There's also live piano music.
HELP! Beatles bar (dress down) or Ayahuasca (dress up)
Lima City Center
Head to barrio Capon (Chinatown) and eat at Wa Lok
Mercado Central
Tour the Government building (it's free!)
Cathedral of Lima
Main Square of Lima
Government Palace of Lima
#3 Meet People!
We randomly made friends on the streets, at restaurants, and at bars. Everyone was very nice and wanted to connect with us to hang out. They also gave us awesome recommendations.
I tried to reach out to others via Couchsurfing but was not lucky enough to find a host due to the flooding in Northern Peru.
I hope you enjoyed our Travel Guide to Lima! It's on my top list of cities to visit. I would love to hear about your trip. Leave me a comment and let's share stories!
#4 Museo Larco
The Larco Museum is a privately owned museum of pre-Columbian art, located in the Pueblo Libre District of Lima, Peru. The museum is housed in an 18th-century vice-royal building. It showcases chronological galleries that provide a thorough overview of 5,000 years of Peruvian pre-Columbian history.
#5 Magic Water Circuit
Visit the Magic Water Circuit, a vast water fountain complex known for choreographed light displays with sound & music that occurs at night. It's a great attraction for the whole family.
#6 Convent of San Francisco Catacombs
Visit the catacombs located underneath San Francisco convent. It's super creepy but very interesting.
Right now it is temporarily closed due to construction.
#7 Visit the Iglesia of Santo Domingo
The Basilica and Maximus Convent of Nuestra Señora del Rosario, popularly known as that of Santo Domingo, located in the city of Lima, Lima Region, capital of Peru, it's an architectural set of religious buildings under the invocation to Our Lady of the Rosary and is located at the intersection of the first block of the Jirón Camaná (Calle Pescante) with the second block of Jirón Conde de Superunda (Calle Veracruz), in the historic center of Lima.
The historic chapter house of the Basilica of Santo Domingo was the place where the University of San Marcos, officially the first Peruvian university and the oldest university in the Americas, began to function in the 16th century.
#7 El Malecon Cisneros in Miraflores
Catch a sunset along the Malecon in Miraflores.
This walkway is a leisurely activity that can be done any time of the day. You'll pass the Paddington Bear and Lovers statues in Parque del Amor as you walk south along the Malecon from Larcomar the shopping center.
#8 Plaza de Armas
Plaza de Armas is located in Lima City Center and is currently closed. We were able to get in by telling the officers that we were there to visit the church and that it was our last day there.
We had the whole Plaza de Armas to ourselves and were able to capture some awesome shots.
#9 Huaca Pucllana
The Huaca Pucllana ruins are very accessible in Miraflores. The ruins are built from seven staggered layers and were once used as a burial ground for ancient Mayan nobility. It's a great way to see some of the ancient histories of Lima right in its city center.
We highly recommend this attraction. It's affordable and is closed on Tuesday and Thursday.
#10 MALI
Venture towards Lima's historic center to check out the Lima Art Museum (MALI). It's located in the expansive public park, Parque de la Exposicion.
The national historical monument has a beautiful neo-Renaissance facade (as it originally served as the 1872 World's Fair Exhibition Palace) and houses over 3,000 pieces of Peruvian art and pre-Colombian textiles and ceramics to Colonial- and Republican-era furniture.
The museum, which is a key player in the research and preservation of Peru's art history also has a cafe and shop that are worth browsing.
#11 Shop at the Artisan Markets
Miraflores is packed with artisan markets selling Peruvian goods. Buyer beware though, not all items are handmade. some products are made in factories in Ecuador.
#12 Parasail Over the Pacific Ocean
Parasailing is a popular activity along the coast of Miraflores.
#13 See the Cats at Kennedy Park
Kennedy Park, also known as Cat Park, is home to over 20 cats! You'll spot food and water bowls throughout the park which are placed there by a volunteer organization who cares for the cats.
#14 Visit the Puente de Suspiros (Bridge of Sighs)
The Bridge of Sighs is located in Barranco.
#15 Cerro San Cristobal
We tried to ascend Cerro San Cristobal but were stopped by a lady and told to go back. She stated that we would be robbed if we went up there. She mentioned that gangs now run the area and it's unsafe to go up without a tour group or a guard.
We were able to snap one colorful photo of the steps leading up to San Cristobal Hill before we hopped into an Uber to head back to Lima city center.
This 400 meters high hill is painted in colorful hues to attract visitors and make the slums appear more "wealthy."
Once you arrive at the top, you will get unparalleled 360 degrees views of the Peruvian capital but it's not the safest place in the city, so it's better to take a cab all the way to the top or book a tour.
Day Trips from Lima
Fly Over the Nazca Lines
The Nazca Lines in southern Peru are a group of pre-Columbian geoglyphs etched into desert sands covering an area of nearly 1,000 sq. kilometers. There are about 300 different figures, including animals and plants. Composed of over 10,000 lines, some of which measure 30 meters wide and stretch more than 9 kilometers, the figures are most visible from the air or nearby hilltops.
The Nazca Lines are also a UNESCO Heritage site.
Book a 35-minute airplane tour over the Nazca Lines.
PACHACAMAC
Visiting Pachamac ruins from Lima before leaving the city and heading to Sacred Valley to see the most famous ruins in Peru is actually a good idea.
Pachacamac is a huge Inca complex that is 40 kilometers south of Lima and is a great introduction to Peruvian history. Excavations are still ongoing, and only a small part of the site is accessible.
A guided tour is highly recommended so that you get a better understanding of how the site use to look and what they are currently excavating.
PALOMINO ISLANDS
Islas Palomino is just off Lima's shores and a popular place with day-trippers who want to escape the busy city atmosphere.
They are mostly overshadowed by Ballestas Islands, but it's a tour worth seeing. The islands are a huge eco-reserve and a home to a large sea lions population that you can SWIM with. Yes, you read that right.
If you're not keen on swimming with the sea lions, you can watch the show from the boat. If you decide to take a dip with the marine animals, be prepared that the water can be freezing cold and choppy.
BALLESTAS ISLANDS
When driving along the Peruvian coastline from north to south, you will quickly realize one thing. The coast is dry, barren, and inhospitable. The climate conditions are perfect for building adobe cities and temples, but the fauna and flora are not exactly thriving here.
However, keep driving for three hours south of Lima until you arrive at the small port town of Paracas, and your view is about to change.
Thanks to the Humboldt current, Ballestas Islands are a perfect habitat for penguins, sea lions, blue-footed boobies, and other various species of birds and marine life.
The nickname of these islands is Poor Man's Galapagos and, in our opinion, is not very flattering.
Our biggest concern with the islands is that you don't have that much time to explore them fully, as most of the boat tours take only two hours.
Simply put, unlike the Galapagos Islands cruise, these tours are relatively short and don't do it justice.
On top of that, the majority of Ballestas Islands tours have an identical program. So when visiting this place from Lima, make sure that your tour also includes other places you want to visit (such as Huacachina).
On the way back, the boat will stop at El Candelabro, a large-scale geoglyph with a mysterious origin that's only visible from the sea.
Ballestas Islands Tour | Explore the stunning coast, viewpoints, and beaches in Paracas National Reserve, visit Ballestas Islands on a boat trip, and learn more about the local culture in the local museum.
HUACACHINA
Love it or hate it, Huacachina is one of the unique places you can visit in Peru. Huacachina is a tiny oasis village about three hours ride from Lima that was built around the natural lake in the middle of the desert.
The scenery is incredible, and huge sand dunes surround the laguna from all directions. If you plan to see the Nazca Lines next, you can break the journey into two parts and spend a night in the desert.
Purchase the tickets to Ica, from where you can catch a taxi to Huacachina.
Keep in mind that, despite this is an oasis, the popularity of Huacachina skyrocketed in recent years, and it's basically a tourist village packed with tourists.
The most popular activities in Huacachina are definitely sandboarding, sand buggy rides, dune hiking, and sunset watching.
One of Lima's best tours for travelers short on time combines some of the best attractions you can find outside the city. Be prepared for a super long day on the road, but the reward is sweet.
You will visit some of the unique places in Peru, see penguins, birds, sea lions, a desert oasis, and stunning coastal scenery. Buggy ride and sandboarding are activities that are included in this tour.
Where to Eat in Lima
Al Toke Pez – The name translates to fast fish! This is a cash-only or Yapé joint but the ceviche here is cheap and delicious. Right now they only offer take-out.
Astrid y Gaston – They offer both a tasting and a la carte menu. The restaurant itself is GORGEOUS. It's a mansion from the 1600's that has been renovated into a restaurant.
Central – Central deserves Michelin stars but they don't need to play that game. The food is exceptional and should definitely be a part of your itinerary if you're a foodie. Helmed by husband and wife duo, Virgilio Martínez and Pia Leon, Central is an exploration of Peru as much as it is a dining destination. The restaurant is somewhat of a workshop for Martínez, where he experiments with different indigenous Peruvian ingredients that he sources directly from farmers across the country. Central has regularly been rated one of the best restaurants in South America by the World's 50 Best.
Maido – Nikkei (or Japanese Peruvian tasting menu) that I HIGHLY recommend. Their presentation and food are amazing.
Panchito's – We love coming here for traditional Peruvian food. Their best dishes are causa, huacaina, and anticuchos (heart skewers).
Siete Sopas – Love soups? This place is for you! They have a rotating assortment of soups that are great for drunken evenings.
Wa Lok – This is my favorite place for Chifa (or Chinese Peruvian cuisine). We definitely recommend the oyster beef with mushrooms and veggies, and the fried egg rolls. There are two locations; one in China Town (Barrio China) and another in Miraflores.
Where to Drink in Lima
Bazar – We love the craft cocktails here. They're strong and tasty! Come here on the weekends if you want a party scene.
Carnaval Bar – If you only get to one bar in Lima, make it Carnaval Bar. Extremely creative cocktails combine art and something akin to magic. Unexpected garnishes might include marshmallows with tonka beans—yep the same delicious bean that could be lethal in large doses. Presentations were made to be shown off on Instagram.
Dada Bar & Restaurant – This cool patio style restaurant has an awesome Dalé cocktail that is pisco sour inspired and comes with an imprint of Salvador Dali on the cocktail. We loved it so much we returned twice.
El Infusionista Drogueria Bar – This two-story doctor-themed bar is equipped with blood IV and syringe cocktails. The drinks are pretty are great and the mac and cheese are delicious!
Emolienteria – Come here for fruity drinks. If the drinks are too fruity, you can ask them to make them less sweet. We love the Emolienteria de Peatado (this means spiked) and blended beverages which are refreshing during the hot summer months.
Gran Hotel Bolivar Lima – If you want to try the original Pisco, Hotel Gran Bolivar (on the first floor) has the best Pisco Sours. Apparently, the Pisco Sour that we all know and love was invented at this hotel. If you want more, order the Cathedral pisco sour, which is a huge sized pisco sour in a hourglass-shaped cocktail glass.
Hidden Bar – This bar is fairly new but WORTH it is you're a craft cocktail nerd. Their drinks are nothing like we've had before and the bartenders have won tournaments. So worth visiting if you're looking for a chill place to relax and have a memorable drink.
Lima Peru Travel Guide Map
If you found our Lima travel guide helpful, please share it on Pinterest. Thanks for your support!
---
Thank you for visiting today! If you found this encouraging or informative, please connect with us on Instagram, Youtube, Pinterest, Facebook or Twitter. We'd love to meet you!
Sign-up for our monthly newsletter for updates and more. We promise we won't spam you! Feel free to unsubscribe anytime.
For more fitness fashion discounts and offers, please visit our Fitness Instructor Discounts + Brands Directory or favorite brands coupon codes list.
If you're a brand and want to submit a product for us to review, please use this form to get in touch.
This site uses affiliate links. Clicking on or purchasing via an affiliate link may result in commissions for us which help keep the content flowing and lights on at Schimiggy Reviews. You may read more about this in our privacy policy.