Reading Time:
11
minutes
Updated: 12/14/2021 | Maui Travel Guide
Maui is loaded with amazing culture & stunning beauty. You just need to get away from all the touristy areas which is pretty easy to do if you have a car and some guidance.
We love Maui because there is a ton to do on the resorts, within nature, and all over the island. It's really a choose your own adventure destination.
Compared to the other islands, Maui is not as sleepy. It has a bustling nightlife and you can choose between a lavish experience or one that is adventure-filled yet affordable. It's all up to you and what you want from your Maui vacation.
Per our Maui travel guide, we recommend spending at least 6 days in Maui for the best experience. If you decide on adding the Road to Hana to your itinerary, plan on spending a whole day or two exploring the western coast of the island.
Ready to start planning? Below are our tips and recommendations for having the best Maui vacation.
Maui Travel Guide
We love Maui so much that we had to create this travel guide.
You can also visit our Maui Instagram stories to see what we did in real life.
Things to Do and See
Haleakala is a fantastic outing if you're interested in seeing the sunrise and sunset. There are two ways to go about seeing the sunrise and sunset at Haleakala:

Go on your own: You'll have to rent a car and reserve your tour spot ahead of time. It's only $1 and it's important to know that they won't let you in before sunrise without a reservation. Expect to be there between the hours of 3 to 7 AM. We have also seen people hike or bike the entire route to Haleakala. Dress warm because it is freezing!
Take a Tour Bus: We booked with Valley Isle Excursions! We cannot express how impressed we were with their Haleakala sunrise tour. They took care of everything so that we could enjoy the views. They pick up pretty early (around 2-3 am) but you can sleep on the bus while ascending. They also provide refreshments, food and outerwear during the tour.
Hike into Haleakala: You also have the option to hike the Sliding Sands trail into Haleakala. You start at about 10,000 feet and then descend into the Crate. It will look like you're on Mars and you'll need a winter coat and gloves because it's very cold. The air is thin up there so when you are heading back up to the summit (where you will park), you will notice you'll need to stop more than normal due to less oxygen. The volcano is one of our favorite places on the planet. Pure magic or #MauiMagic! You can also park at a lower parking lot and then hike up and back down but we've always parked at the very top and then entered the Crater from there.
https://www.instagram.com/p/CCte9bBltwA/
There are also free hula shows at Whalers Village. Grab an ice cream and have a seat on the grass to watch the shows.
We highly recommend the snorkeling tours at Molokini and Kaanapali beach. It's like the Maui version of Waikiki in Honolulu.
Do the Maui Pineapple Plantation tour! I could not get enough of the tour! Ride a bus around the plantation to learn about how pineapples are grown and harvested. Try freshly plucked pineapples too! At the end of the tour, you'll also receive a Maui golden pineapple to take home.
Visit the main cultural exchange center to learn about Hawaiian culture and history.
Napili Bay – Park anywhere on the street and access the beach from anywhere. Don't forget to explore the little streets near the resort as well. While you're near Napili, head just north to visit Kapalua Bay beaches.
Road to Hana: I DEFINITELY recommend going on a tour for the road to Hana. It was totally worth it for a one to two-day trip. The drive can be stressful but it's so WORTH IT. Car rental companies have provisions where certain areas on the road to Hana will void your insurance. This means you can't go through the back way, but it's still worth it to go as far as you can. Make sure to stop by Aunty Sandy's or Hana Farms for some delicious banana bread! If you want a good tour guide, we recommend using the Shaka Guide (paid App) for a self-guided audio tour.

Here are things you should not miss on the Road to Hana. We also included the amount of time it takes to complete that stop.:

Black Sand Beach (30 mins) – Part of Waiʻānapana State Park and now requires reservations. Make reservations ahead of time.
Lava Tube (30 mins) – Also part of Waiʻānapana State Park. We also recommend climbing the lava rocks and seeing the ocean from above. It's gorgeous!
Red Sand Beach (30 mins)
Rainbow Eucalyptus Trees from Australia (15 mins)
Wailuaiki Water Fall and swim in the hidden pool (30 mins)
Twin Falls (30 mins)
Upper Waikani Falls or Three Bears Falls (10 mins)
Coconut Glen's Ice Cream (20 mins)
Seven Sacred Pools (2.5 to 5 hours) – Most people make this a day trip. And as of 2018, the pools have been closed for swimming due to low water levels.
Check out Hana town (1-2 hours)
Waihe'e Ridge Trail: This was by far one of my most favorite hikes! This steep hike along the West Maui side will take you up into the clouds and you'll experience a wide range of climates, all-around views, and even cows. Moo! The hike will take approximately three hours and is considered a difficult climb. Bring a drink, snacks and good hiking boots. Of all the things in our Maui travel guide, you do not want to miss this!
https://www.instagram.com/p/CKZcMlVMtsO/
Where to Eat
Maui is PACKED with so much good eats. It's really hard to narrow down our favorites, so we'll just give it all to you and try to convince you that you'll need to visit Maui multiple times in order to experience all the amazing food on the island.
View this post on Instagram
Places to Drink
Lineage – Maneki Neko cocktail? Yes please!
Mala Ocean Tavern – Enjoy craft cocktails on their oceanfront patio. Hearing the waves crashing against the shore is super relaxing.
Mama's Fish House – They bring drinks to your table in a shaker. Great photo opportunity!
Maui Brewing – Try local craft beers. They make all types of styles and have rotating guest beers too.
Monkeypod by Merriman's – Come for happy hour and enjoy $10 drinks and pizzas! All appetizers are half off too.
Best Acai Bowls in Maui
I am an Acai bowl snob. Here are places you can get a pretty decent Acai bowl in Maui.
Island Vintage Coffee – Get the Cacao Moana bowl if you love chocolate and peanut butter. It's so ono (and my favorite)!
Baya Bowls – Little food truck in Lahaina that serves up a mean Acai bowl. Take your bowl over to Front street and peruse the cute shops and vendors.
Paia Bowls – [NOW CLOSED] Stop here on your way through Paia for a delicious Acai bowl. I tried the blue mystic with spirulina and the texture was too snotty for me. Go for their original Acai bowl instead! They have a little patio deck that gives me all the aloha vibes. Dogs are welcome!
How to Get to Maui
Here is how you can get to Maui.
How to Get Around Maui
We highly recommend renting a car to get around the island and especially if you decide to go on the Road to Hana. We have rented with National and Avis.
Lodging in Maui
Maui is flocked with resorts along the coastline. We used Agoda to book the best hotel deals.
You can stay at a hotel or even in an Airbnb. Get $65 off your first booking when you use this link.
If you decide to stay in Hana overnight, we recommend Heavenly Hana Paradise! It cost us $250 for a night. We highly recommend making the Road to Hana a two-day trip with an overnight stay so that you can see as many things as possible!
Final Thoughts
Has our Maui travel guide convinced you to book a trip? We hope so!
Maui is one of our most favorite Hawaiian islands. You won't be bored and there is always so much to discover with each visit.
If you need recommendations on how to dress in Hawaii, we got you covered there too.
Make sure to keep your COVID-19 test results with you and enjoy the Valley Isle!
If you enjoyed our Maui Travel Guide, please share it on Pinterest. Thank you for your support!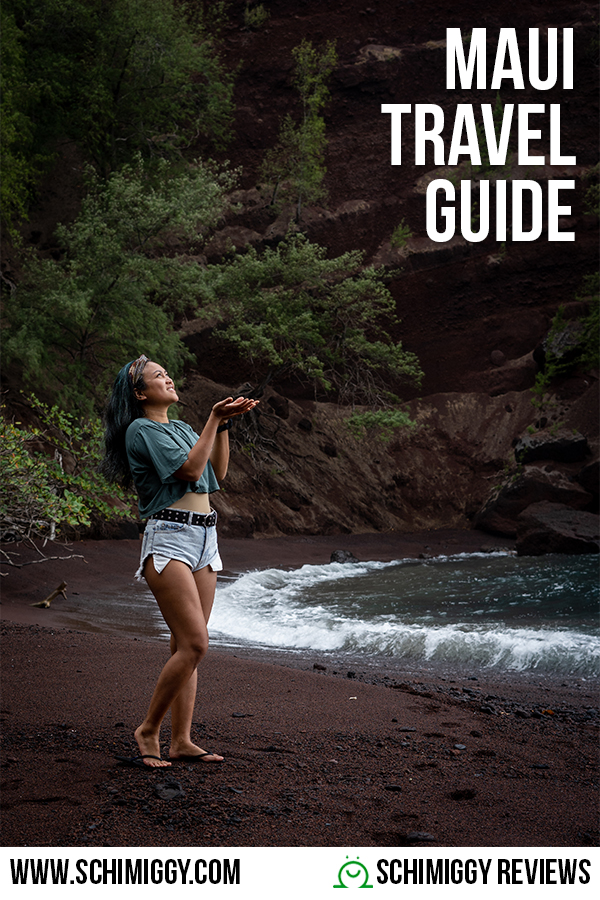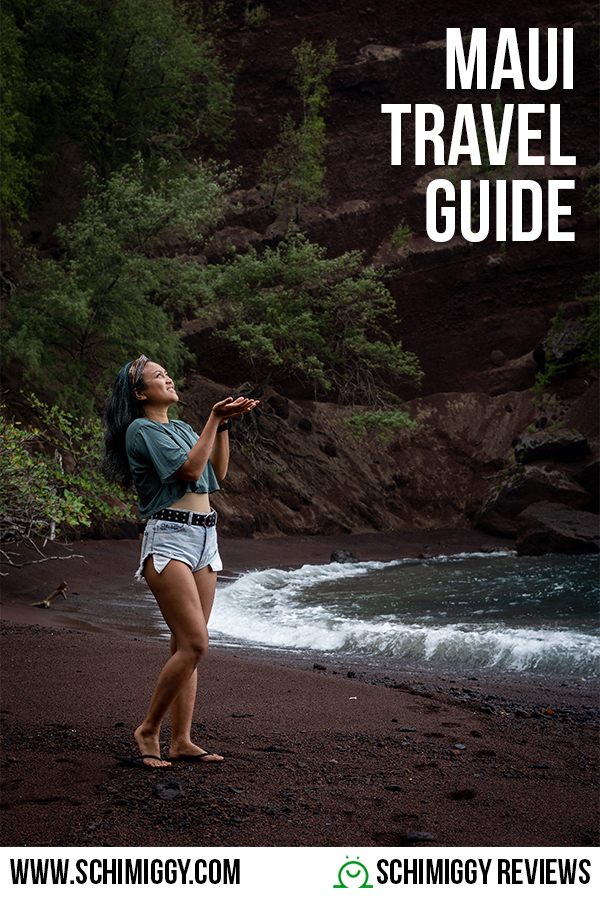 ---
Thank you for visiting today! If you found this encouraging or informative, please connect with us on Instagram, Youtube, Pinterest, Facebook or Twitter. We'd love to meet you!
Sign-up for our monthly newsletter for updates and more. We promise we won't spam you! Feel free to unsubscribe anytime.
For more fitness fashion discounts and offers, please visit our Fitness Instructor Discounts + Brands Directory or favorite brands coupon codes list.
If you're a brand and want to submit a product for us to review, please use this form to get in touch.
This site uses affiliate links. Clicking on or purchasing via an affiliate link may result in commissions for us which help keep the content flowing and lights on at Schimiggy Reviews. You may read more about this in our privacy policy.