Reading Time:
5
minutes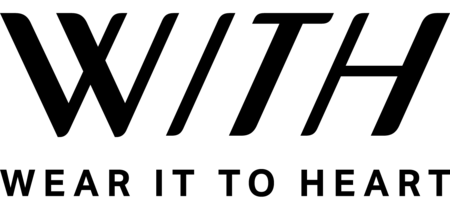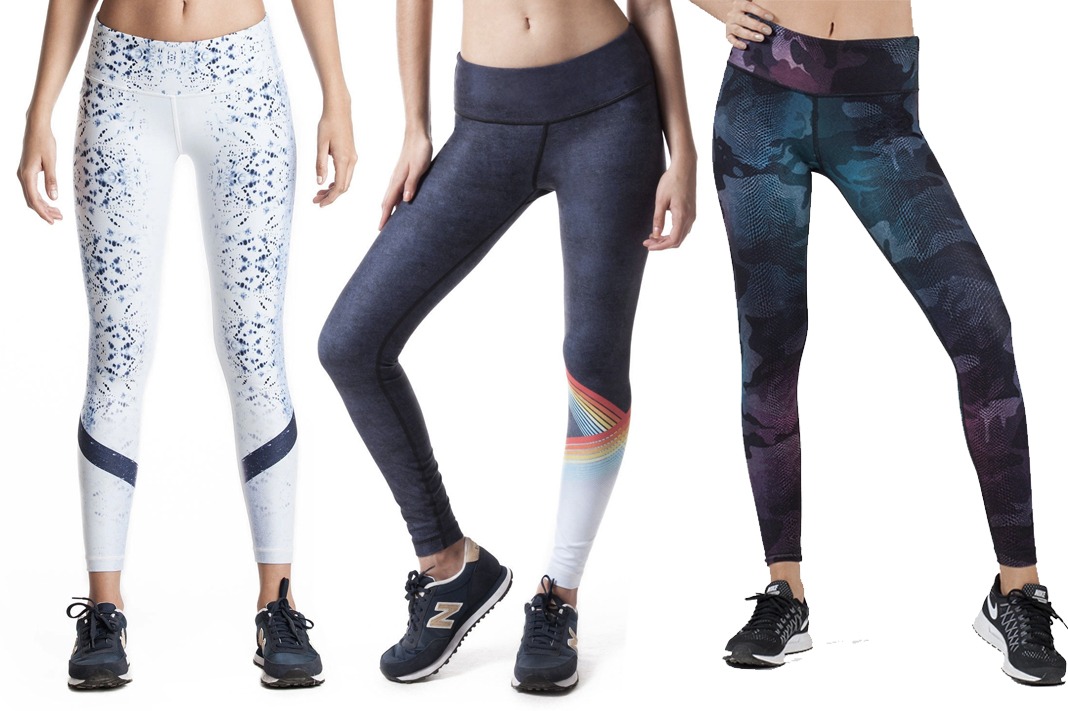 About Wear It To Heart (WITH)
Wear It To Heart (WITH) has been gracing the athleisure wear scene since 2011. I'm surprised I haven't tried this brand until now. WITH is based in LA and wants its patrons to step out of the classic black uniform and into fun, dynamic prints. Not only are their prints amazing, their quality and fit will make one feel sexy.
WITH activewear is ethically manufactured with a sustainable and sweatshop-free Fair Labor Association participating supplier. The factory also offers apprenticeship programs that teach at-risk young, local mothers how to sew, and provide them with the training to eventually work in the factory, which offers an on-site Montessori child-care center and a healthcare clinic for the employees. You can be assured that WITH represents much more than just a brand – it's a way of living for their customers AND employees.
WITH intentionally chooses components that allow us to produce some of the world's best designs and colors, while minimizing their overall carbon output. WITH creates two collections per year in Spring/Summer and Fall/Winter. You're guaranteed to find something you love!
Wear It To Heart Review: Camo Chameleon High Waist Leggings
I purchased the leggings on Sculptique. I had been eyeing the colors. I loved the ombre colors against the camo pattern. I own a pair of lululemon camo pants in denim black soot. Like everything else LLM that I own, it began to stretch and look unflattering. I went to WITH because I'd read about their bootie enhancing design and wanted to give it a try.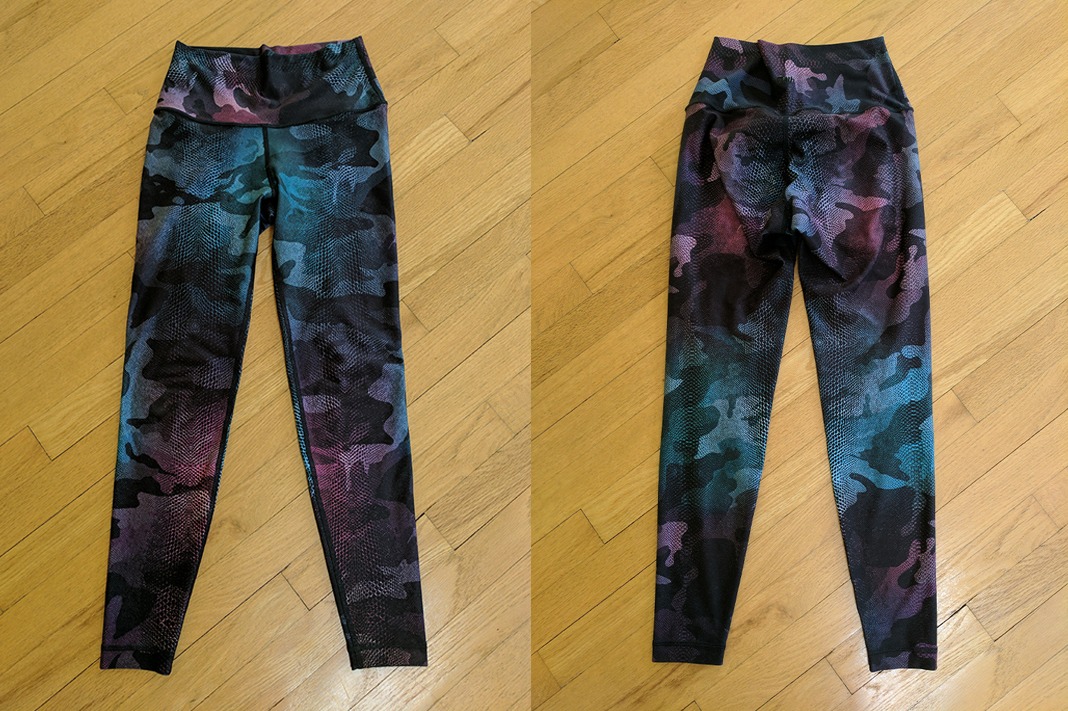 #1 Size: WITH bottoms run true to size (TTS). I wear a size 6 in lululemon and the size SMALL in WITH leggings fit perfectly!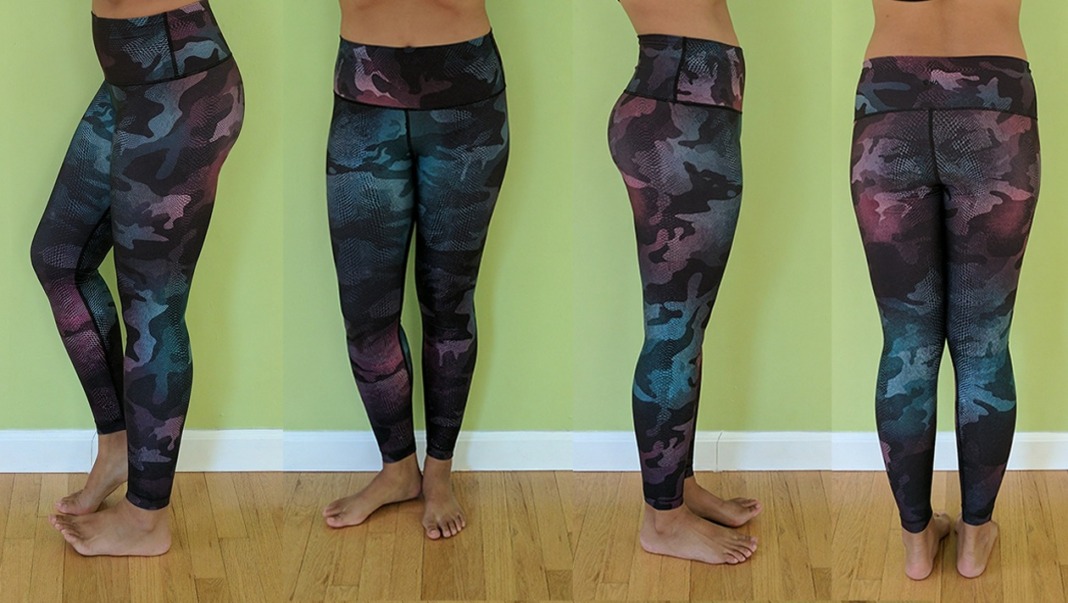 #2 Style:  WITH has a complete activewear line that includes leggings, shorts, jackets, bras and tanks. They also offer REVERSIBLE leggings so that you can get two leggings for the price of one!
#3 Inseam:  27″ inseam allowed me to wear the leggings just slightly bunched at my ankles at a sneaker length. I loved that my ankles could breathe. I am 5'5″ for reference.
#4 Rise: High rise pant sits just 1/2″ above the navel. I love the high rise as it fits more slimming against the body.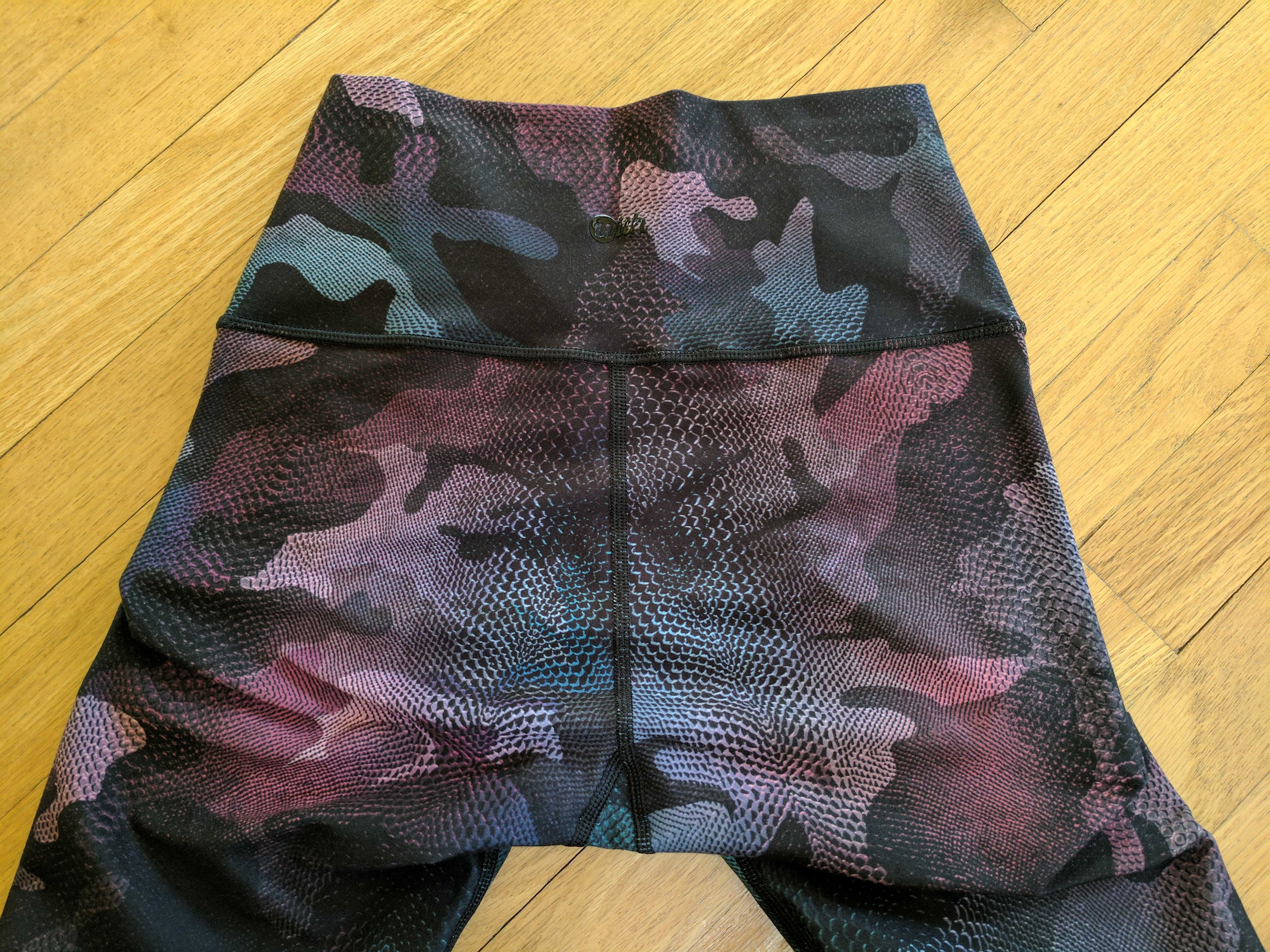 #5 Waistband: This particular pant comes with a tall 5″ waistband. The waistband is seamless and can be folded over.
#6 Fabric
Fabric Content: Imported Salutex – a super soft, four-way power stretch performance fabric. It is an eco-conscious spandex fabric. The design is printed and leggings are white backed.
Fabric Feel: The fabric feels thick yet soft. There is a slight brushed feeling to the fabric but is pill resistant. I have worn my leggings a handful of times and they have not pilled. The fabric feel is similar to Niyama Sol, but the fabric is definitely thicker and more compressive. I love how the fabric hugs and accentuates the booty area (pictured above during try-on). WITH may be the answer to all our lululemon woes.
Fabric Performance: Dry Wicking fabric with 4-Way Stretch that contours to the body. The fabric is very durable and snag proof! The leggings were compressive enough for high-intensity sports and activities. It is also comfortable enough for low-impact activities such as yoga and pilates.
Opacity: WITH leggings were 100% opaque! They were NOT see through. I did not experience stretching around the bum area or knees, but some of my friends have stated that theirs stretches to white.
Fabric Features: The WITH logo is shiny and raised (pictured below). The leggings come with a hidden front pocket.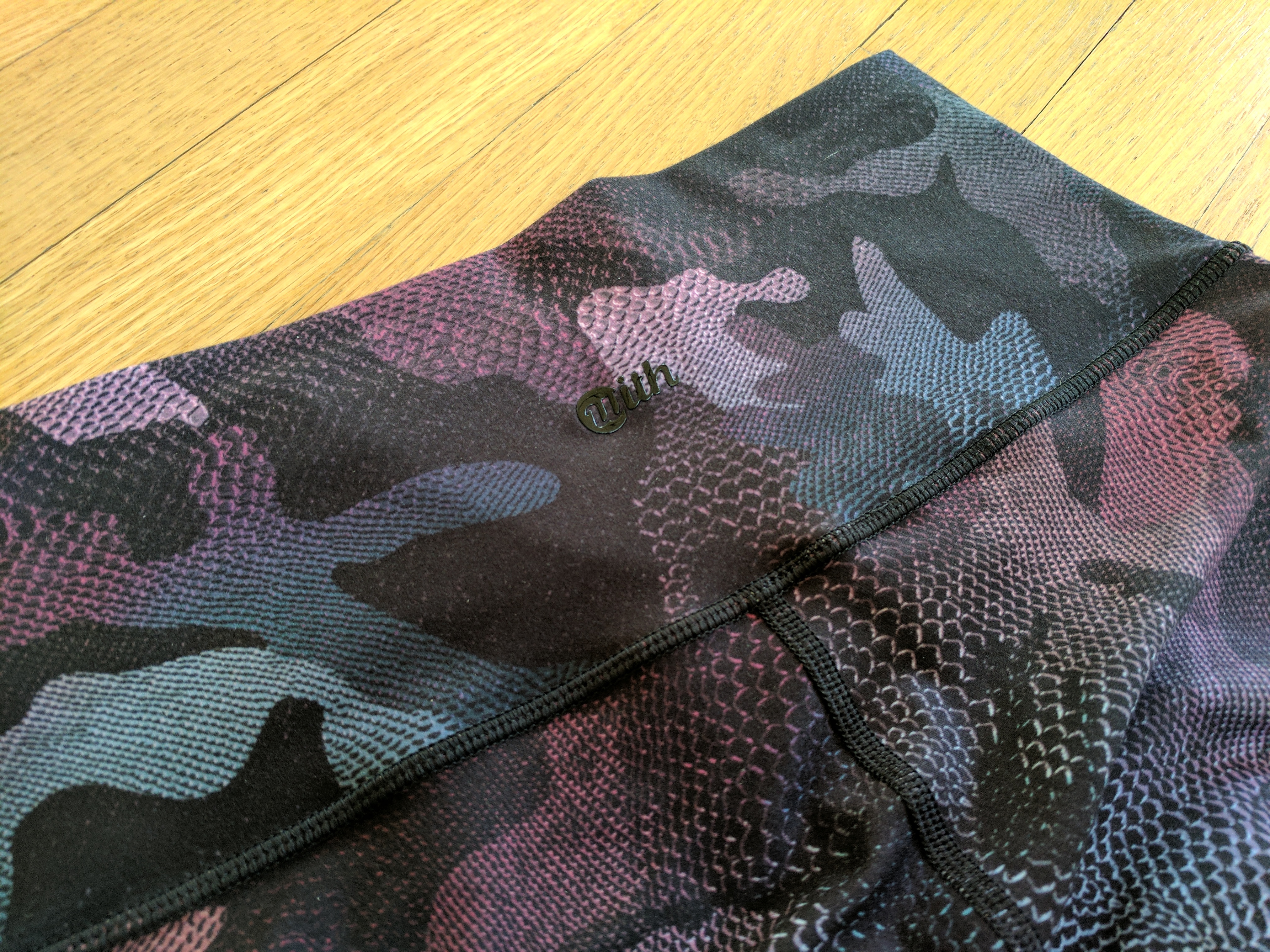 #7 When to Wear: Brands designs products for different reasons. Heated or non-heated yoga, gym, or daily wear
#8 Cost: WITH leggings range from $82 and up. I was able to use a discount code on these leggings. Please see my discount codes for WITH at the bottom of this post.
#9 Gusset: WITH leggings are made with a triangle single layered gusset.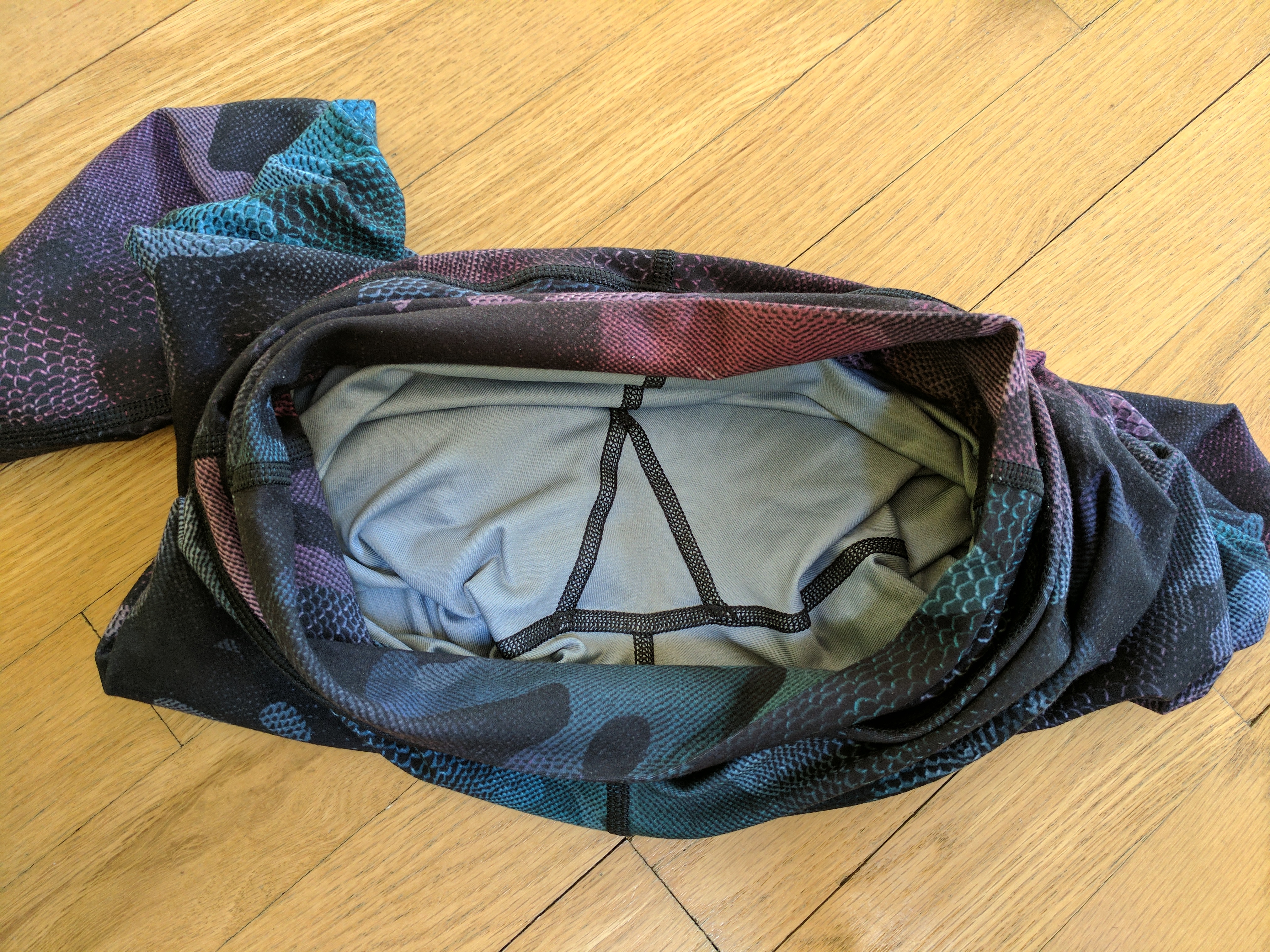 #10 Stitch Seam: Flat-locked seams are used throughout the pant at the inseam, gusset, rise and waistband.
#11 UPF Protection: Not disclosed.
#12 Made in Los Angeles, California, USA! Wear It to hear products are ethically manufactured in El Salvador, Central America, with a sustainable and sweatshop-free Fair Labor Association participating supplier. It's a feel and do good fabric!
#13 Care Instructions: Since WITH fabric is brushed, I machine wash mine inside out in cold water. I hang or lay flat to dry. I use this foldable drying rack. It's amazing!
Should I Buy Wear It To Heart?
Definitely! I give WITH a 10/10. The fabric is amazing and the fit is great. I experienced no tugging during practice and that was a huge plus! They're made locally and are eco-conscious. I am all about products that are mindful of our Mother Earth!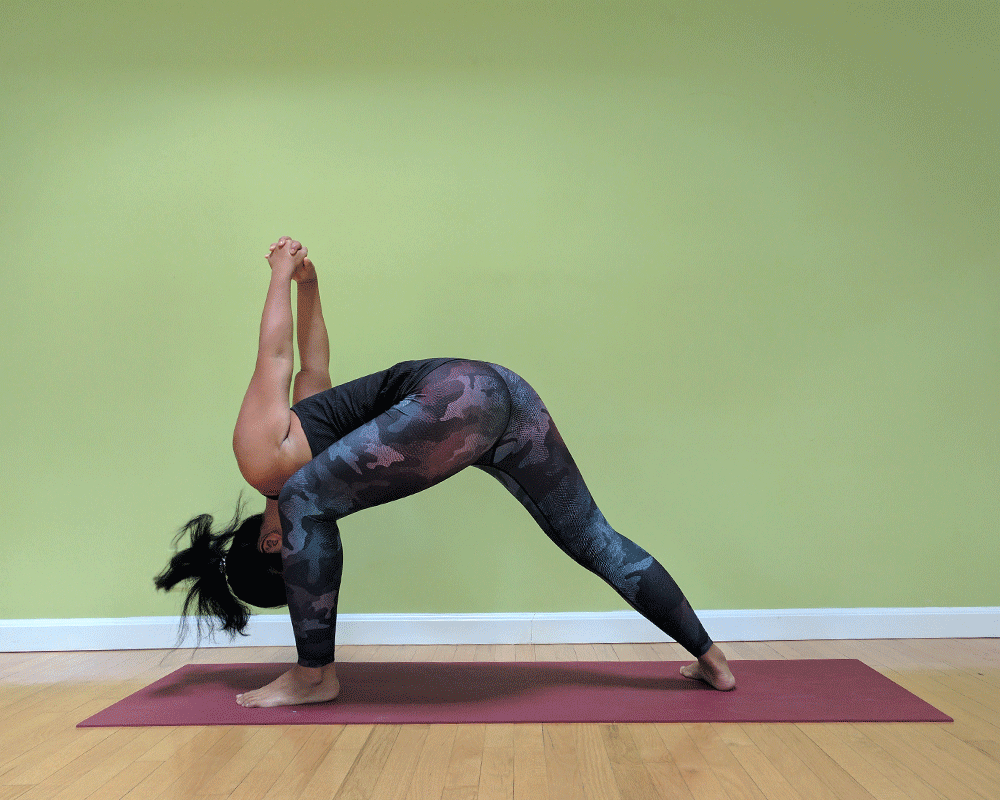 Where to Buy Wear It To Heart
Evolve Fit Wear – Use code SCHIMIGGY for 10% off all your orders!
Sculptique
---
For more fitness fashion discounts and deals, please visit my Fitness Instructor Discounts + Brands page.

Alex Tran AKA Schimiggy is a fitness fashion, travel, justice, and food-obsessed raconteuse. She currently resides in Seattle and teaches yoga while writing her heart out. Schimiggy Reviews is a lifestyle blog where Alex shares her passions and interests with the world!