Reading Time:
6
minutes
Current Deals!
Visit WERKSHOP for the Quarantine sale! Save up to 30% off. SHOP NOW!>>
10% Off ALL Orders w/code: StayHome10
15% Off Orders of $150+ w/code: StayHome15
20% Off Orders of $200+ w/code: StayHome20
30% Off Orders of $350+ w/code: StayHome30
---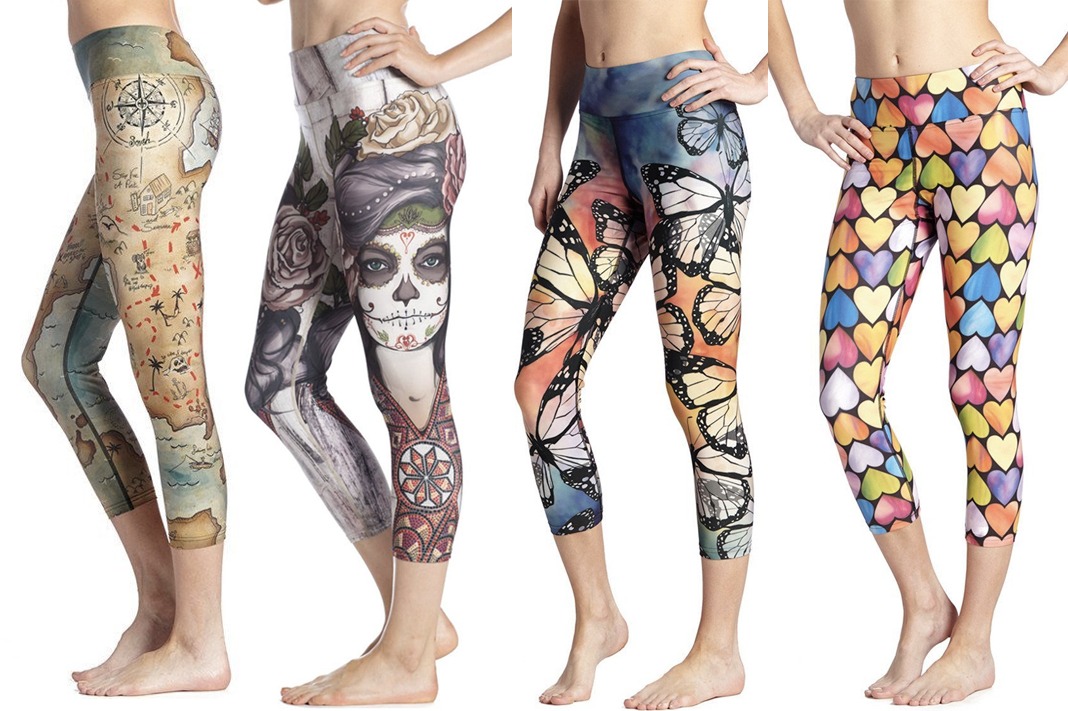 What is Eagle Rock WERKSHOP?
Eagle Rock WERKSHOP was founded and developed by the talented artist Chriztina Marie. I first noticed these pants on a Kickstarter campaign. Chriztina, who worked in the apparel industry for over twelve years, quickly reached her Kickstarter goal to become an online store and wholesaler.
About WERKSHOP Leggings
Chriztina designs and uses high-quality digital photo-prints to create brilliantly colorful collection. All WERKSHOP leggings are cropped length. I received the Butterfly print to review on my blog. This style is a part of the IN FLIGHT 2.0 series (a special collaboration that was nominated by Simone of Yogamona). I tested these leggings during hot/Baptiste and gentle yoga classes. I also wore them to hike the Coba Ruins in Tulum, Mexico! 🙂
WERKSHOP leggings exude high-end design and performance qualities. These leggings fit like compression pants. For yogis that need support, these leggings act as a second skin and help to tighten muscles so that you have more muscle control between asanas. They also have a slimming effect, and who doesn't like that feeling?
WERKSHOP leggings wear like a second skin. I've worn my leggings during practice and casually around town. Seattle is currently experiencing their "record" high temperatures EVER in the month of June and July (85-95 degrees Fahrenheit). WERKSHOP leggings stay dry and wick extremely well in Seattle's humid weather. They fabric is breathable and lightweight.
Eagle Rock WERKSHOP Review: Cropped Butterfly Leggings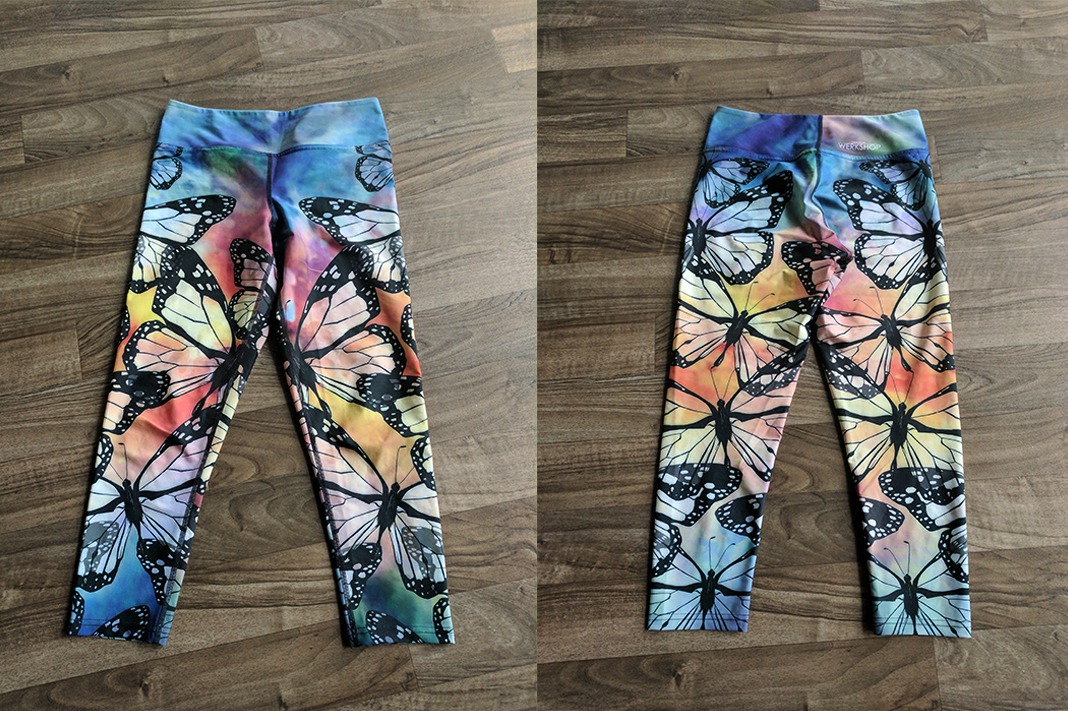 #1 Size: The leggings are meant to fit like a second skin. I had to size up to an MEDIUM and wear a 6 in lululemon for size reference. Overtime the leggings will stretch to fit the form of your body. SIZE UP when buying Werkshop because the leggings are meant to fit compressively and will run small (this is also mentioned in the product descriptions on the WERKSHOP website). WERKSHOP's sizes range from small to extra large. They are also make products for both women AND men!
#2 Style: Eagle Rock WERKSHOP makes long leggings, crops, leotards, and sports bras. I can't wait for their pineapple leotard to arrive!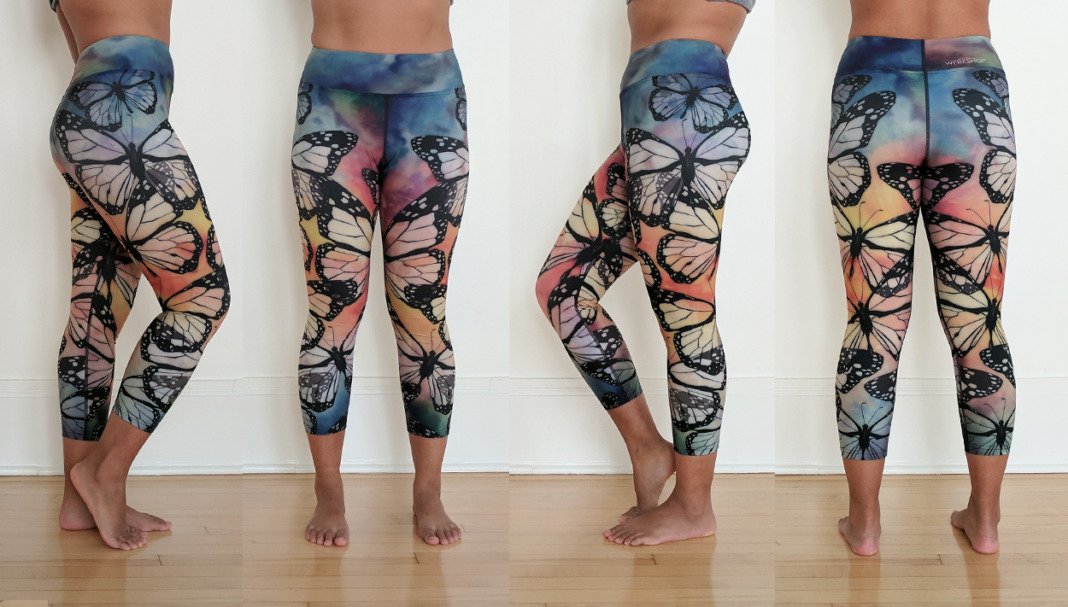 #3 Inseam: WERKSHOP crop inseam measures 21″ and leggings are 28″ (for size medium).
#4 Rise: The WERKSHOP crops have a mid-rise fit and sits at my navel.
#5 Waistband: Tall waistband measures 3.5″ and covered my muffin tops. The waistband is elastic free and is very compressive and slimming. The waistband has an inner top seam that allows the pants to stay put during wear. The waistband also has a seam in the back middle of the waistband. The waistband does not have a pocket.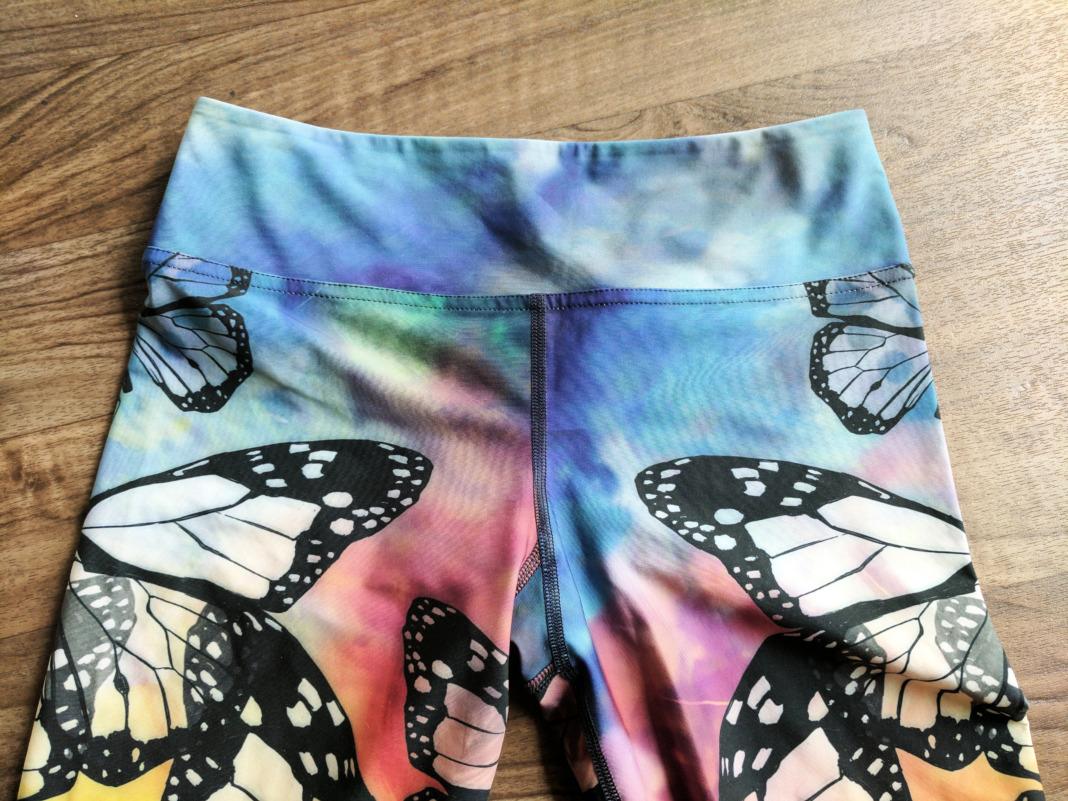 #6 Fabric:
Fabric Content: WERKSHOP uses an Olympic-quality Italian fabric that is very technical and durable. The designs are printed onto the leggings and undergo rigorous QC before they're sold on the market.
Fabric Feel:

The fabric feels like swim material, making their products great for hot sweaty exercises as well as for swimming and other water sports.
The fabric is meant to fit like a second skin.
Fabric feels like Yoga Democracy, Niyama Sport, Lucas Hugh and Jiva Active for reference.

Fabric Performance:

Fabric offers 4-way stretch which allows for a better fit (form-fitting) during movement.
Fabric will stretch over time and form to the body. The fit becomes very personal when worn.
Fabric is lightweight and quick drying.
The designs are vibrant and never lose their color.
Fabric does not pill. Woohoo!

Opacity: Fabric is 100% opaque (not see-through).
Fabric features:

WERKSHOP logo printed on the right back side of the waistband.
No pockets.
roduct details printed onto the inner back side of the waistband.
#7 When to Wear: WERKSHOP is great for yoga, dance, running, wearing casually and much more. I wear mine all the time with a denim shirt and textured tank. I love the pop of color my butterfly leggings give to any outfit.
#8 Cost: The leggings have a high price point ($88 for crops and $98 for leggings). Occasionally WERKSHOP offers discounts and sales. Follow their Instagram and Facebook pages and keep an eye out for deals. Join their Werk Perks program to get a discount off your first order!
#9 Gusset: WERKSHOP uses a diamond gusset and flat locked seams to prevent camel toe.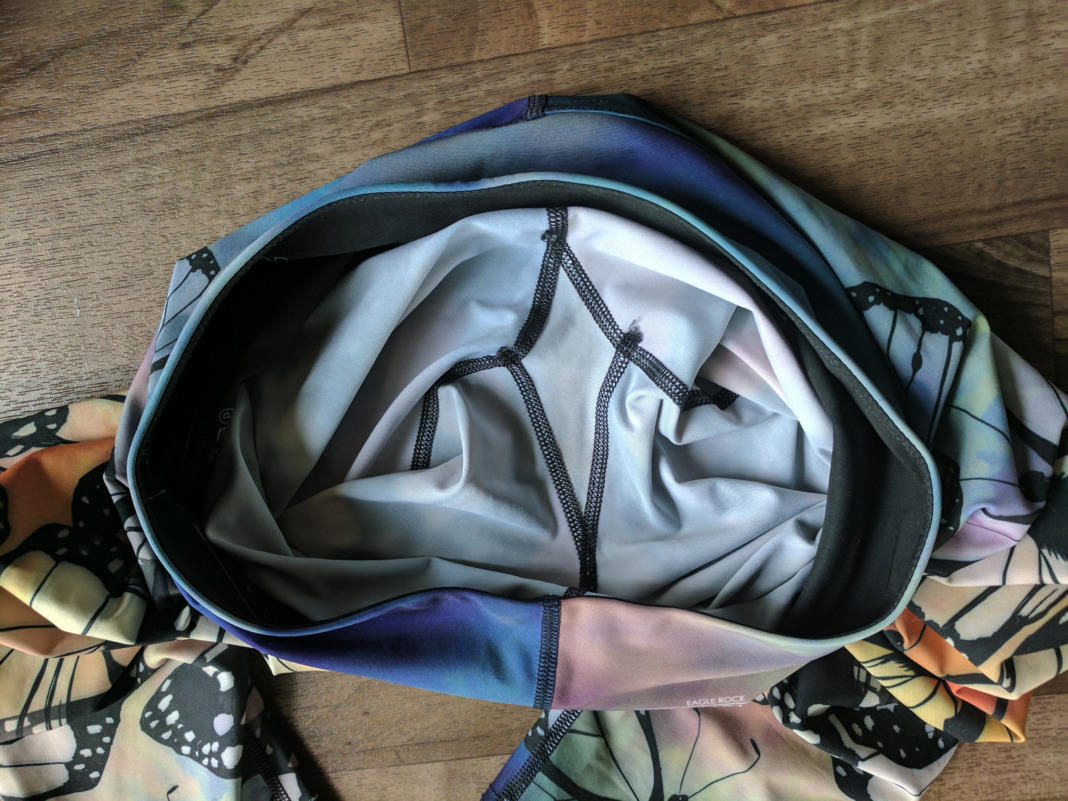 #10 Stitch Seam: Flat-fell seams are used throughout the pant to prevent chafing and camel toe.
#11 UPF Protection: Offers UV protection of UPF 50, which is also the maximum allowable.
#12 Made in Los Angeles, USA!
#13 Care Instructions: Hand or machine wash on gentle and hang dry your WERKSHOP pieces.
WERKSHOP Cons and Issues
Initially, my biggest issue was the waistband rolling down. When I sat down, I noticed that the waistband would roll down and my tummy would bulge out. I would wear a loose tank top to cover it. During practice, I would need to readjust my pants and pull the band back over my tummy. It was a bit distracting, but I let my pranayama take me back to my focus. After a few wears, the fabric stretched enough to fit over my waist comfortably. By the third wear, the waistband rolling down was no longer an issue. I would recommend wearing your WERKSHOP leggings casually the first few times just so that it stretches to fit your body, then taking it to your workout or practice.
If you tried it and don't like it, you can always return or exchange your item within fourteen (14) days for a refund.
Should I Buy WERKSHOP?
Even though WERKSHOP leggings are a bit on the pricey side, they are worth every penny. The fact that these leggings are a hybrid of regular leggings and compression pants is a unique quality. I was impressed with the fabric and design of these leggings and how well they performed. I am definitely a fan!
They recently launched their WERK PERKS program in August 2016! You can now earn points by sharing and buying to get discounts on future purchases.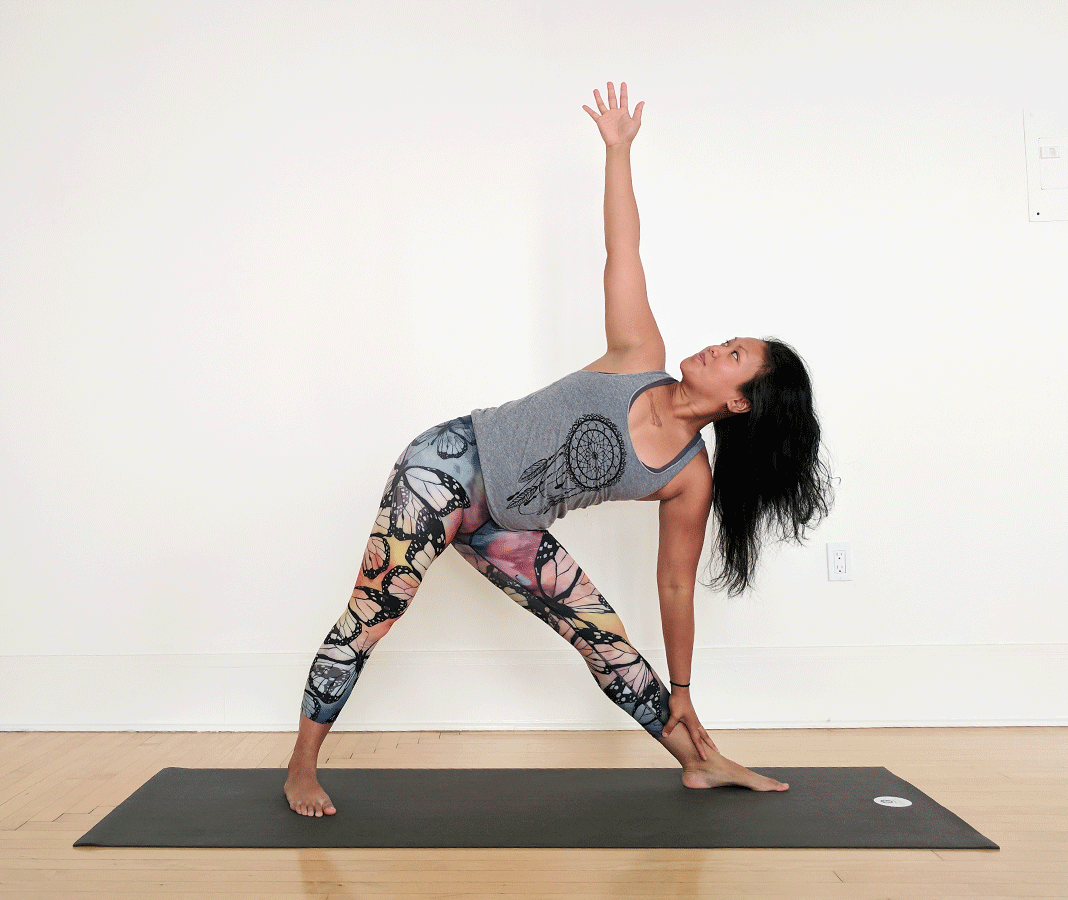 Where to Buy Werkshop
Buy WERKSHOP leggings on their webstore and get $10 off when you sign-up for their e-mails. WERKSHOP doesn't send e-mails very often, but when they do, you know it's gonna be something good!
Another great way to save is to join the WERKSHOP Werk Perks Program!
You can also buy WERKSHOP on Amazon, Ebay and Poshmark (use code SCHIMIGGY for $5 off)!
Chriztina's talent has attracted people who want to benefit off her designs. PLEASE DO NOT BUY FROM THESE RETAILERS. Please support Chriztina as she has put her heart and soul into her company.
The following companies sell counterfeits of her designs.
Have you tried WERKSHOP products? Let me know what you think in the comments section.
---
Thank you for visiting today! If you found this encouraging or informative, please come hang out with me on Instagram, Youtube, Pinterest, Facebook or Twitter.
For more fitness fashion discounts and offers, please visit our Fitness Instructor Discounts + Brands Directory and Events and Sales Calendar pages.
This site uses affiliate links. Clicking on or purchasing via an affiliate link may result in commissions for us which help keep the content flowing and lights on at Schimiggy Reviews. You may read more about this in our privacy policy.
I received the leggings as a gift from WERKSHOP, however, I was not compensated for this review. All opinions and observations are 100% honest and purely my own.
---
Thank you for visiting today! If you found this encouraging or informative, please come hang out with me on Instagram, Youtube, Pinterest, Facebook or Twitter.
For more fitness fashion discounts and offers, please visit our Fitness Instructor Discounts + Brands Directory and Events and Sales Calendar pages.
This site uses affiliate links. Clicking on or purchasing via an affiliate link may result in commissions for us which help keep the content flowing and lights on at Schimiggy Reviews. You may read more about this in our privacy policy.

Alex Tran AKA Schimiggy is a fitness fashion, travel, justice, and food-obsessed raconteuse. She currently resides in Seattle and teaches yoga while writing her heart out. Schimiggy Reviews is a lifestyle blog where Alex shares her passions and interests with the world!