Reading Time:
10
minutes
Yoga Asana is the physical practice of yoga. Asana has evolved from a simple seat known as Sukhasana (pronounced soo-kah-san-ah) into a blend of yoga poses and styles, with each focusing on a particular set of benefits and principles.
There are hundreds of different styles of yoga being practiced around the world. In this article, we will highlight the more common styles that you may find in your gym or local yoga studio.
The Benefits of Practicing Yoga
No matter what style of yoga you choose to practice, you will likely see improvements in many areas of your physical and mental health. By practicing regularly you may experience some or ALL of the following benefits:
Increased flexibility
Increased concentration and mindfulness
Increased metabolism
Increased muscle toning and strength
Improved posture
Improved circulatory and cardio health
Alleviate injuries
Can help with chronic pain
Better sleep
Increased energy levels
Improve athletic performance
Detoxifies your body
Released endorphins that can improve your mood
Alleviates anxiety and depression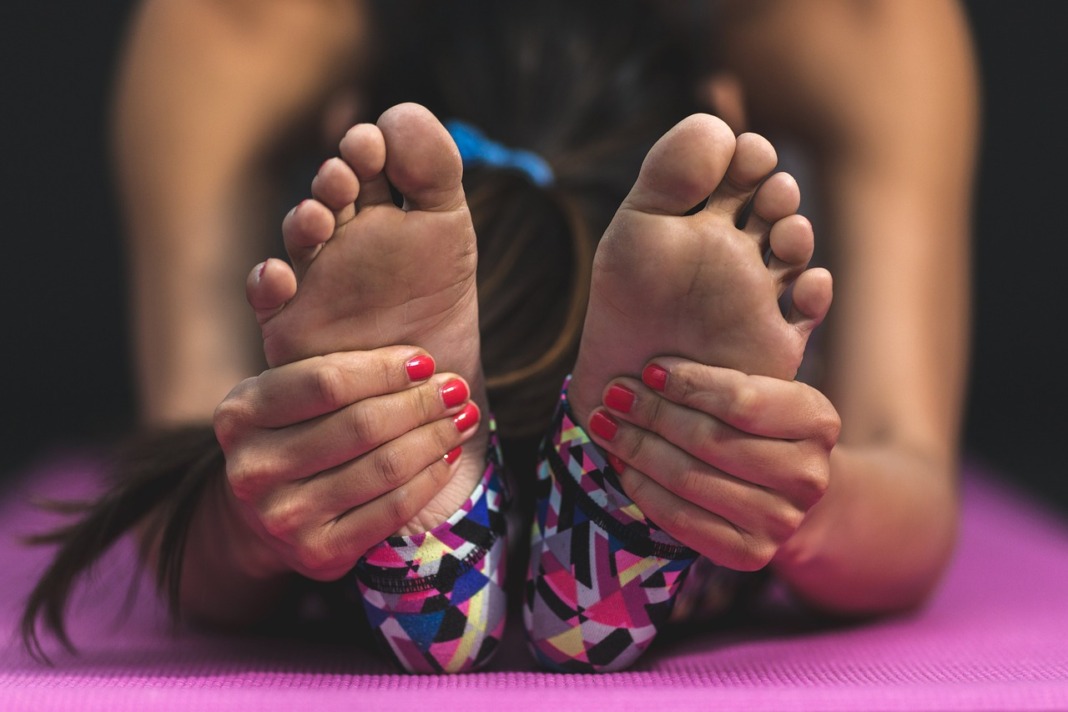 These are just some of the benefits of yoga and they differ from one person to the next. There are thousands of benefits and we only touched upon some. Just like the benefits, there is also a slew of yoga styles fit for every practitioner, new or experienced.
As you navigate down the list, the practices will go from vigorous to relaxing passive classes. Here are some of the most popular styles of yoga that you will find in your local gym and yoga studio today:
Vinyasa
Power
Heated/Hot
Ashtanga
Jivamukti
Kundalini
Hatha Yoga
Iyengar
Yin
Prenatal Yoga
Restorative
Below is a breakdown of the basic yoga styles to help you figure out which class is right for you.
Different Styles of Yoga
#1 Vinyasa
Vinyasa means "connection." In this yoga style, the poses flow into one another and are linked by breath. Each movement corresponds to an inhalation or an exhalation. A vinyasa class are known for its fluidity, creative sequencing, and can be fast paced and physically challenging.
Each pose, or asana, is connected by the breath, which makes movements more fluid and dance-like as they move into one another. Poses are typically linked together by vinyasas, or a sequence of plank, Chaturanga, Upward-Facing Dog, and Downward-Facing Dog.
A vinyasa practice can feel like a free-form dance on your mat, with the poses moving into each other to create a flow. Vinyasa yoga is one of the most popular styles currently practiced in the U.S. When you're attending a yoga class without a description, chances are it may be a vinyasa style class.
Vinyasa classes are inspired by Ashtanga, but do not follow a specific format or sequence. Vinyasa classes can vary greatly from one another, being either fast or slow, alignment-based or not. What all Vinyasa classes do have in common, though, is that the body moves along with the breath.
Who should practice Vinyasa yoga?
Yoga students who love creative expression in their movements and love a challenging class. Vinyasa is dance-like and practitioners tend to fall in love with the fluidity of the practice.
#2 Power
This more vigorous style is essentially a vinyasa flow with added strength and plyometrics. Teachers may add in extra plank poses, push-ups, faster movements, and more aerobic activities like jumping forward and backward.
Like its Ashtanga roots, Power yoga is fast-paced, strength-based, and far from gentle. Classes vary from teacher-to-teacher but generally involve moving with the breath in between sun salutations and vinyasas. This style of yoga usually skips the chanting, meditation, and spiritual talks found in the more traditional styles of yoga.
Power yoga is a challenging, workout style of yoga born in the 1990's and coined by world reknown yoga instructor Bryan Kest. The practice is also inspired by Ashtanga and is rigorous, but doesn't stick to a set sequence of poses.
Power yoga mainly focuses on the abdominal region, while making you sweat. Some practitioners think Power yoga is somewhat similar to Ashtanga yoga and for good reason! The creators of Power yoga studied under Pattabhi Jois, the Father of Ashtanga.
#3 Hot or Heated
Popularized by the well-known Bikram yoga, this style is practiced in a hot room anywhere between 90 to 108 degrees F. Usually, the heat is manufactured by space heaters or a central heating system. The purpose of hot yoga is to increase flexibility through heat.
Heated yoga will typically have longer holds and set sequences that instructors follow. Not much experience is necessary but you will need a towel and a bottle of cold water to keep cool.
#4 Ashtanga
Popularized by Pattabhi Jois in the 1970s, Ashtanga is a rigorous and physically demanding style of yoga. It's similar to Vinyasa in that each movement is linked to the breath. However, in Ashtanga, poses are always practiced in a strict order, meaning that every class is the same.
The more advanced series include challenging postures, requiring strength and flexibility. Like Vinyasa yoga, the postures flow from one to the next, but always in a particular order. Classes are usually heated and fast-paced, full of vinyasas, and filled with the sound of ujjayi breathing.
The only official Ashtanga certification is in Mysore, India at the Shri K. Pattabhi Jois Ashtanga Yoga Institute. There are unofficial certification programs throughout the world, but this is frowned upon by the die-hard Ashtanga community.
Who should practice Ashtanga yoga?
Ashtanga is great for those who like order, repetition, discipline, and a physically demanding form of yoga. While some might find the repetitiveness boring, others use it to as a form of discipline and to maintain focus. People who are in good health and require a disciplined practice may benefit from Ashtanga yoga.
#5 Jivamukti Yoga
Created in the 1980s, by Sharon Gannon and David Life, Jivamukti borrows from several styles of yoga including Vinyasa. Jivamukti is an adaption of the Sanskrit term jivanmukti which means self-realization. It's physically intense and focuses on yogic philosophy.
And classes go beyond just the postures and can include spiritual teaching, chanting, meditation, breathwork, and music.
Jivamukti is based on five tenets: bhakti (devotion), ahimsa (non-violence), nada (sound), dhyana (meditation), and shastra (study) of ancient scriptures. Class sequences are always changing to incorporate a "Focus of the Month." It's not reduced to the physical yoga practiced in most yoga studios today, but rather strongly focuses on spirituality.
#7 Hatha yoga
This classic yoga style refers to the physical practice of yoga known as asana. Essentially, all modern physical yoga styles are derived from hatha yoga. Hatha is a term for all yoga, but Hatha-specific classes feature long holds that last from 15 seconds intervals to several minutes.
The name ha-tha is derived from "ha" meaning sun and "tha" meaning moon, symbolizing the balance between the light and the dark and the masculine and the feminine within all of us. Teachers are given the creative freedom to form sequences that align the physical body as well as the mind.
Classes are generally slower and less vigorous than Vinyasa and Ashtanga. They can still build heat with multiple rounds of Sun Salutations and as many advanced postures as the teacher decides to include. A hatha class may be comprised of basic poses, but it will still be challenging as you hold the postures. Classes traditionally include pranayama, meditation, and yoga philosophy, making for a well-rounded yoga practice.
Who should practice Hatha yoga?
Students who want a balanced practice which includes strength yet is still relaxing. Hatha is great for an all levels practice. You can make the practice as challenging or as relaxing as you would like it to be.