Reading Time:
6
minutes
When traveling, the last thing you want to happen is to lose your phone or wallet!
Over 19 million phones are stolen or lost every year. Traveling makes you a target for thieves and going to multiple places and destinations increase your chances of misplacing or getting your personal belongings stolen.
I've lost my phone plenty of times. Luckily I've been able to recover my phone four out of the five times I've lost it.
In this article, we'll discuss what you should do if you lose your phone and ways you can prevent phone theft or loss while traveling.
What to Do When You Lose Your Phone While Traveling
#1 Call or Text Your Phone Immediately
As soon as notice that your phone is missing, borrow a phone and call yourself. You can borrow a phone from a friend, from a local business or even a stranger (just ask them nicely).
Hopefully, you will hear your phone ring or buzz and find it somewhere in the vicinity. Oftentimes a phone can get stuck in the sofa crevices or fall somewhere beyond your line of sight.
Hopefully, someone will respond to your calls and texts and you can meet with them to retrieve your phone. When texting, make sure you leave an email or phone number so that the person with your phone can contact you and return your phone.
#2 Re-trace Your Steps to the Last Place You Remember Seeing It
One of the three times I lost my phone, I retraced it to the women's restroom. I had left it on the restroom ledge and luckily no one noticed it was there.
If you're lucky, your phone may be exactly where you left it.
If you lost your phone in a vehicle, attempt to call the metered taxi company to get in touch with the driver. I called to try retrieving my phone but ended up losing my phone forever.
Rideshare Apps like Uber, Grab or Lyft will have a lost and found service that will ping your driver and alert them of items you've forgotten in the vehicle.
There is a fee to deliver the item back to you. For Uber, it's a flat $15 USD. Make sure you tip the driver too!
#3 Contact Your Carrier
If the steps above don't work, it's time to contact the experts. Call your carrier to suspend your service. This will prevent any data or phone call charges made after your phone is stolen.
Your carrier will also be able to help you figure out the next steps to transitioning to a new device.
If your phone's gone, they'll also be able to help you go through the process of remotely wiping your phone. This is also known as "bricking it."
#4 Access Your Phone's Lost Mode Feature
Apple's iOS has a new Lost Mode that lets you lock your phone remotely and display a custom message on the lock screen. This feature is exceedingly helpful, as it also suspends the ability to make online payments via Apple Pay.
You can also use the Find My iPhone feature on either Android or iOS to quickly help recover your phone. If you had this feature turned on, all you will need to do is log into your Apple or Google account on another device and track it via its GPS.,
Unfortunately these features will not work if your phone is off.
#5 Check Lost and Found
Request to speak with a representative from the lost and found department and inquire about any items were turned in. The sooner you call, the better the chances are of your finding your belongings.
Make sure you leave your contact information with the representatives so that they know how to reach you if your belongings are turned in.
Some businesses will use software such as I Left My Stuff or CrowdFind to digitally document and process lost and found requests.
I lost my sweater at an Aloft hotel and was required to submit a request on I Left My Stuff. Unfortunately, they never found my sweater.
It was a good reminder to always check your hotel room thoroughly prior to checking out.
#6 Wipe Your Phone
Only wipe your phone as a last resort when you are unable to trace your phone using the above steps.
This means you will lose all data that was not backed up. When wiping your phone or "bricking it," your data will be erased from the phone and it will render the phone useless.
This process is done remotely and can be initiated while the phone is off. As soon as the phone is turned on, the erase will occur as soon as your phone is online again.
It's best practice to change ALL your passwords that were saved on your phone.
If you had any credit cards attached to installed apps like Spotify or the Google or Apple store, monitor them immediately for any suspicious activity.
#7 File a Police Report
After you wipe your phone, call local authorities and file a police report. You typically will need to fill out documentation or an application to report the loss.
Make sure you have your mobile phone's serial number, your ID and alternative contact information.
Be very detailed in your report. Indicate where you left it and if it was stolen, make sure you describe the thief in good detail and accurately if that information is available.
I would research the appropriate police and hospital contact information prior to arriving at your destination.
How to Prevent Your Phone and Data From Being Stolen
#1 Keep Your Phone On Your Body at All Times
The best way to ensure your phone won't get stolen is to keep it close to you at all times.
There are wearables that will keep your important belongings hidden on your body.
I personally love wearing fanny packs, but even those are not 100% failproof.
Many people wear money belts which typically lie flat against the body and serves as a discreet way to hide your cash, phone and credit and ID cards.
I also wear shorts and bra tops with pockets under my clothing. These hidden pockets hide my phone and cash while allowing me to also be hands-free.
I currently wear my pocketed K-Deer pocketed shorts and crop tops as theft-proof gear.
And lastly, when you're out, make sure you do not leave your phone unattended on a table surface.
Thieves can be sly and with sleight of hand, your stuff can be gone within seconds.
Always keep your belongings on your body and away from sticky fingers.
Related: Common Travel Scams from Around the World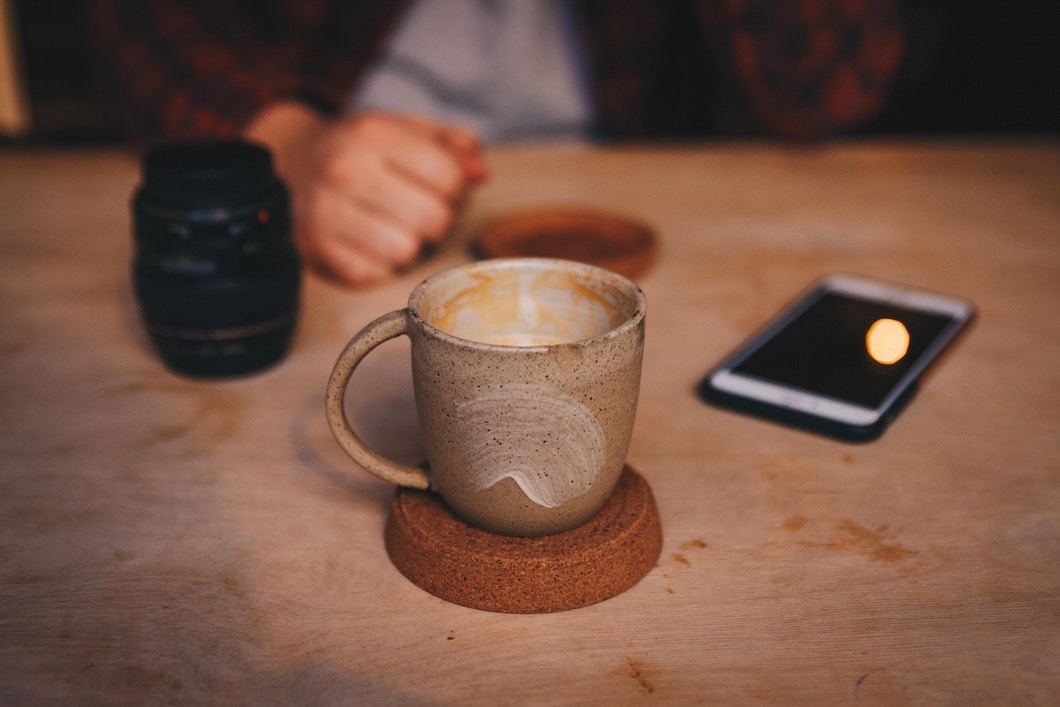 #2 Get a Device Protection Plan
If you travel a lot, you may want to look into device protection plans that cover loss, theft or damage. These plans typically offer a replacement phone with a one year warranty in less than 24 hours.
I have the Chase Business Ink credit card which offers phone protection warranty for all phones purchased with the card. Luckily I have not had to access that benefit but have a peace of mind knowing that it's available if and when I need it.
When you get your new phone, you can easily use your Cloud backed data and restore it on your new phone like nothing ever happened.
Before traveling, email yourself your phone's serial number and carrier contact information in case you need it.
#3 Backup Your Data On the Cloud
Another essential step is to frequently back up all your data to your Cloud. You can restore the data on your replacement phone within minutes.
I set my data to back up when I am connected to WiFi. This is a great idea if you're strapped on data while traveling abroad.
We recommend setting your cloud settings prior to traveling. This will save you the time of having to figure it out during your trip.
#4 Lock Your Phone
Ensure that you have a passcode to unlock your phone. Nowadays phones also have biometric unlocking mechanisms as an alternative.
We recommend that you set-up both to double-protect your phone.
#5 Install Lockwatch
This one is a fun one.
Install the Lockwatch App on your Android phone. For Apple iOS, you can use the I Got Ya App.
When someone tries to access your phone using the wrong code, the app will discreetly snap a photo of the individual and email it to you along with their GPS coordinates.
This information will help greatly in conjunction with your filed police report. And best of all, the app is FREE with some paid upgrade features.
Final Thoughts
Apart from the tips above, always be alert to suspicious activity. If something is too good to be true, it usually is. Familiarize yourself with common scams in the area to protect yourself.
Always do your research before traveling and know what you can do to recover from any mishaps that may happen during your highly anticipated trip.
We hope you learned some ways to ensure that you don't lose those lovely vacation photos, business trip documents all while keeping your identity protected.
If you have any phone and data tips, please let us know in the comments section of this post.
Bon voyage!
If you liked this post, please pin it to Pinterest!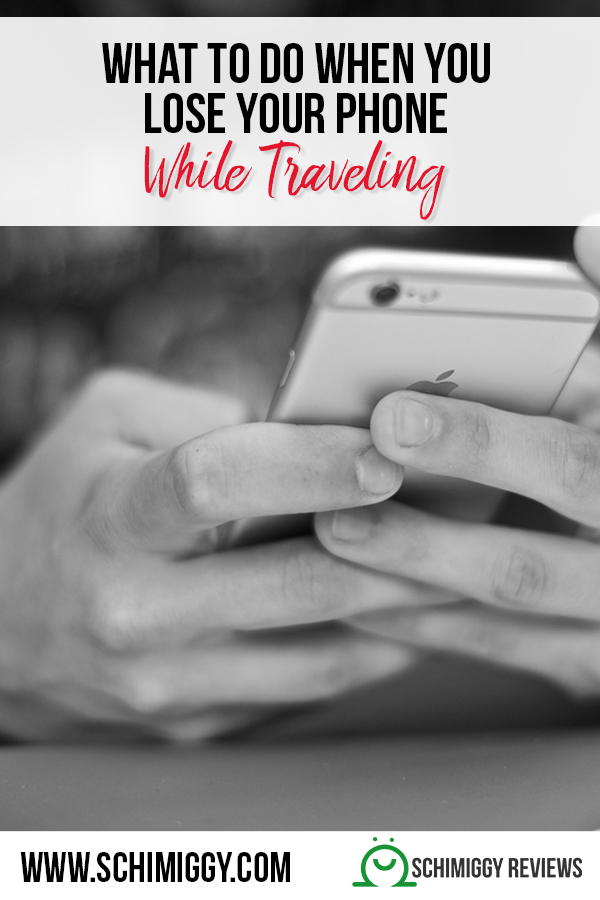 ---
Thank you for visiting today! If you found this encouraging or informative, please connect with us on Instagram, Youtube, Pinterest, Facebook or Twitter. We'd love to meet you!
Sign-up for our monthly newsletter for updates and more. We promise we won't spam you! Feel free to unsubscribe anytime.
For more fitness fashion discounts and offers, please visit our Fitness Instructor Discounts + Brands Directory or favorite brands coupon codes list.
If you're a brand and want to submit a product for us to review, please use this form to get in touch.
This site uses affiliate links. Clicking on or purchasing via an affiliate link may result in commissions for us which help keep the content flowing and lights on at Schimiggy Reviews. You may read more about this in our privacy policy.