Reading Time:
5
minutes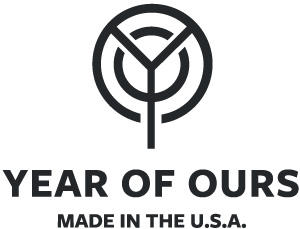 About Year of Ours
Year of Ours (YOS) is an activewear brand that draws it's inspiration from the diversity of what it means to be an "All-American" woman. The company is female-led and based out of Los Angeles, Calif.
YOS knows that women come in all shapes, sizes, ethnicities, backgrounds, and beliefs, women have opinions and want their voices heard, women work hard but also know when to play and enjoy some TLC.
YOS made sure their clothes is made in the USA with the highest-quality and smartest fabrics. YOS also needed their pieces to pay homage to the details of American sports (lace ups, piping, etc.) but made to fit the All-American woman.
Year of Ours Review: Football Leggings
I purchased their Football leggings in a nude color (Doe) from Carbon38. I have yet to find a decent pair of nude leggings and was hoping this would be the one. I chose them because of the matte look and how high the waistband was. I also liked the piping detail across the front of the pant. I also ordered the hockey leggings but did not love it as much as the nude style. I decided that if I only could keep one, it would be the Football leggings in Doe.
#1 Size: Per reviews from Carbon38 I decided to size-up in Year of Ours. Unfortunately the medium ended up being too big. I am a size 6 in lululemon for sizing reference. I recommend going with your true size in Year of Ours. Although the pants look good on, the fit is not as compressive as I prefer. I will be exchanging these pants for a size small.
#2 Style: YOS makes leggings, crops, bras, tanks, sweaters and shorts. Their styles are reminiscent of current American sports such as football, baseball and hockey.
#3 Inseam: The inseam of the pants are 29″ making them perfect for taller women. I wore them bunched around my ankles. I could also wear them over my ankles.
#4 Rise: The front and back rise are very high and sit 1″ above my navel. Even with the front seam, I did not experience camel toe.
#5 Waistband: The Football leggings come with a tall waistband measuring 5″. The waistband has a lace front that gives the pants a very slimming look and does expose the navel. The waistband did not roll down during wear.
#6 Fabric
Fabric Content: Made with 90% Supplex and 10% Spandex Active Jersey blend. Depending on the colors, the fabric content is different.
Fabric Feel: The fabric is very thick and durable. The fabric feels VERY similar to Zella's Live-In legging fabric. Read my review of Zella here.
Fabric Performance:

Fabric is very thick and doesn't dry as quickly as other fabrics, but it does dry within a day.
Fabric has 4-Way Stretch, allowing it to contour to the body and make your bum look great!
Fabric is very durable and will not pill.

Opacity: The bottoms were NOT see through (100% opaque) and are NOT white backed. The fabric is knit and nude inside and out.
Fabric Features:

Logo on the back of left leg opening.
Lace-up tie at front of waistband.
Piping down the front of the pant.
High shaped waist to emulate a football uniform.
No pockets.
#7 When to Wear: YOS is made for casual and activewear. They highly recommend going to brunch in your YOS leggings.
#8 Cost: Depending on where you buy YOS, you can find the Football leggings from $104 to upwards of $114. Shop around to find the best deal. I've listed some retailers below.
#9 Gusset: The leggings comes with a triangle-shaped, single layer gusset.
#10 Stitch Seam: Flat fell seams are used throughout the leggings for a form fitting, chafe free fit. A plain/overlocked seam is used within the waistband to connect it to the legs.
#11 UPF Protection: Not disclosed.
#12 Made in the USA. Designed in Los Angeles, Calif.
#13 Care Instructions: I would machine wash these babies inside out and with gentle detergent. Afterwards, always hang to dry on a foldable drying rack such as this one. Because the fabric is thick, it will take a bit of time to dry. YOS advises you to avoid sunlight when drying.
Should I Buy Year of Ours?
Yes you should buy YOS! I the quality and look of Year of Ours fabric is excellent. It's thick and feels luxe. I love the lace up design on the front. The high waist is also comfortable and keeps the pants on no matter what. The color is also very beautiful not see through. I would wear these to practice or just casually around town. I would match the leggings with a bold color top. I wore my leggings with Carbon38's Seminyak Bra in Dahlia red. You can also match it with their Cindy Tie Up Bra in red.
YOS was a winner for me! Hope it works out for you too!
Where to Buy Year of Ours
There were a slew of companies offering Year of Ours. Check them out below for the best deal on YOS.
---
Thank you for visiting today! If you found this encouraging or informative, please connect with us on Instagram, Youtube, Pinterest, Facebook or Twitter. We'd love to meet you!
Sign-up for our monthly newsletter for updates and more. We promise we won't spam you! Feel free to unsubscribe anytime.
For more fitness fashion discounts and offers, please visit our Fitness Instructor Discounts + Brands Directory or favorite brands coupon codes list.
If you're a brand and want to submit a product for us to review, please use this form to get in touch.
This site uses affiliate links. Clicking on or purchasing via an affiliate link may result in commissions for us which help keep the content flowing and lights on at Schimiggy Reviews. You may read more about this in our privacy policy.