Reading Time:
5
minutes
Updated: 2/3/2021 | Yogo Travel Yoga Mat Review

About YOGO
Here's a product I should've reviewed a long time ago. I've been using my YOGO Ultralite Travel Yoga Mat for over 5 years and couldn't be more thrilled to share my review with you today! The YOGO travel yoga mat is by far the best on the market in terms of design, weight and cost.
YOGO was launched to address the problems of portability, convenience and sustainability facing yogis worldwide.
At YOGO, the Jessica Thompson, creator of YOGO, and the team believes that the objects in your life should be simple, long-lasting, high-quality and sustainably made.
YOGO makes portable yoga mats that are perfect for traveling and traveling light.
YOGO Review: Ultralite Travel Yoga Mat
I received a YOGO mat many years ago. I loved how it folded up into a newspaper shaped rectangle. It was so convenient when I would explore yoga classes while traveling.
It was also great for my spontaneous "stop drop and yoga" sessions while on the road. The YOGO mat has allowed me to continue my practice while I also absorb my surroundings during traveling.
My mat has been everywhere with me. I've taken my mat next to the Tiber river in Rome, into the dirt roads in Mumbai, India, on the beaches of Ao Nang, Thailand and to Wanderlust Oahu, Hawaii. It should have its own passport book.
My YOGO Ultralite yoga mat is a gorgeous Leaf Green color that has since been discontinued. It's a kelly green hue and is my favorite shade of green.
YOGO rotates through seasonal colors and currently have a Forest Green (sage green) color that is just as beautiful.
Mat Specs (if I haven't convinced you yet):
Measurements

ULTRALITE (1.5 mm thick)

When open 24" x 68" (61 cm x 173cm)
When folded 12" x 3" x 4.5"

ULTRA LONG (2 mm thick)

When open 29" x 72"
When folded 14" x 3.5" x 5"

Weight
2.5 lbs
Material
Biodegradable Natural Tree Rubber (avoid if you have a Latex allergy as the mats are only 99.9% Latex free)
Colors
Charcoal Grey, Plum Purple and Forest Green
Cost

Ultralite is $68 USD
Ultra Long is $89 USD
Special Features
YOGO travel mats are FOLDABLE in a method that ensures that one side of the mat always stays sanitary. Their ORIGAMI FOLDING method prevents one side of the mat from EVER touching the ground. See instructions and diagram below.
The surface of the mat is very STICKY, making it great for all types of yoga, especially the sweaty kind. For more grip, use a yoga towel.
The YOGO Ultralite mat is a COMPACT SIZE and can be taken with you ANYWHERE. I kept my mat in my messenger bag and received tons of compliments when I used it. My friends were very impressed that my mat could fit inside a handbag.
LIFETIME GUARANTEE against manufacturer defects (not related to personal wear and tear). It's also designed to last 5+ years when used properly.
How to Fold a YOGO Mat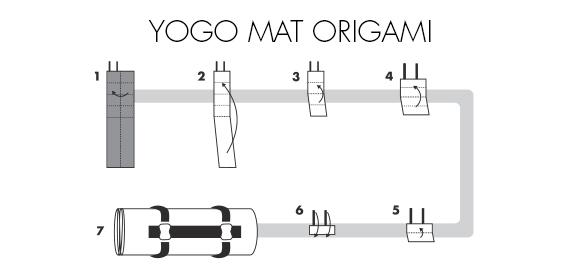 OPEN:
Unsnap the integrated straps and re-buckle them into loops.
Lay out the mat with straps down to keep them out of the way, or the threaded side up if you prefer it.
FOLD UP – YOGO ORIGAMI:
Start with the mat open and the straps down.
Fold the mat in half the long way and get the edges to line up.
Then fold in half again, with the foot of the mat meets the top where the straps are. Continue to fold in half four more times until it creates a burrito or newspaper shape.
Tip: grip the mat flat with your hand like a newspaper so it gets compact.
Buckling: Undo the straps if they are buckled. Pull the open strap tight as you wrap around and re-buckle.
How to Wash and Care for a YOGO mat?
I wash my YOGO mat using gentle castile soap (the lavender scented soap is relaxing) and water. Sometimes when I am on the run, I quickly rinse my YOGO mat with water and let it hang dry using the straps attached to the mat.
To hang dry, I clip the straps around the shower curtain rod and VOILA, my mat is dry in no time. It also prevents my mat from having to be outdoors, which can add to mat deterioration. In the 5+ years I've owned my YOGO mat, I have not had any issues with odor or deterioration.
I also avoid sunlight, as it will cook and harden the natural rubber.
Should I Buy YOGO?
Heck yeah you should! Any time you need to stop, drop and yoga, the Ultralite will be there to support your moves!
Things I love most about my YOGO travel yoga mat are the compact size of the mat and how easy it is to maintain and clean while traveling. It's traveled with me almost everywhere.
My YOGO Travel Yoga Mat has visited the following countries: Canada, China, India, Ireland, Italy, Thailand, and the good ol' United States
The only feedback I have with the YOGO mat is that it's very thin. Practicing repeatedly on a hard surface may not be ideal. If you need a thicker mat, we highly recommend the Sharklet antibacterial yoga mat. It's awesome!!!
If you need more cushion for your joints, we recommend combining the YOGO travel mat with a folded towel or Yoga Rat Pad.
Another minor gripe is due to how thin the mat is, you can expect some wrinkling and folding of the mat during practice. I recommending placing your limbs onto the mat, rather than dragging them across the mat which will cause wrinkling and shifting of the YOGO mat.
Definitely get the YOGO travel mat. It's a product that's designed to not weigh you (or your conscience) down!
Where to Buy a YOGO Travel Yoga Mat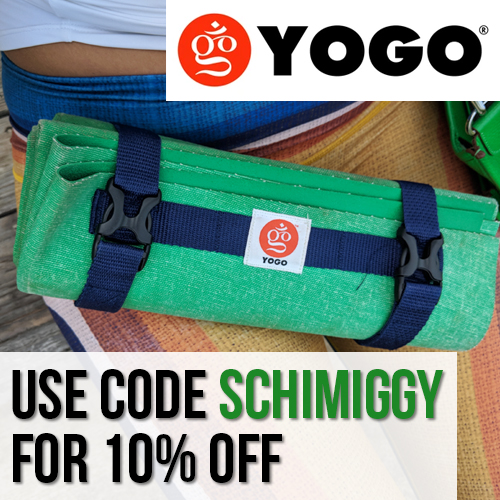 Here are the best places to buy the YOGO mat.
https://www.instagram.com/p/Bf6wrxynYGL/
---
Thank you for visiting today! If you found this encouraging or informative, please connect with us on Instagram, Youtube, Pinterest, Facebook or Twitter. We'd love to meet you!
Sign-up for our monthly newsletter for updates and more. We promise we won't spam you! Feel free to unsubscribe anytime.
For more fitness fashion discounts and offers, please visit our Fitness Instructor Discounts + Brands Directory or favorite brands coupon codes list.
If you're a brand and want to submit a product for us to review, please use this form to get in touch.
This site uses affiliate links. Clicking on or purchasing via an affiliate link may result in commissions for us which help keep the content flowing and lights on at Schimiggy Reviews. You may read more about this in our privacy policy.