Reading Time:
8
minutes
Updated: 4/1/2022 | How to Find Cheap Flights
These days booking a flight is like a science. A good rate you see in the morning might double by the time you're ready to book on your lunch break. Airline prices usually fluctuate throughout the day as seats are booked.
When you are planning a trip, you'll notice that airfare is often one of the largest expenses of your trip. Lodging comes in second. An expensive plane ticket might make you reconsider your flight destination or can even change the outcome of your vacation and force you to compromise your vacation budget and spending limits.
So, how do we make it so that our vacations are not limited by an expensive plane ticket? Here are some tips you can use to help you book cheaper plane tickets so that you have a larger discretionary budget for your trip!
#1 Start Your Search ASAP and Search Repeatedly
A good rule of thumb is to know that for every airline, plane tickets will be available 11 months in advance. When you decide on your destination, plan to search repeatedly at least once each week or maybe even more often.
Repeat your search every week. Flight prices fluctuate constantly due to demand and supply. After some research, it's a good idea to set a reasonable price in mind that is aligned with your budget.
Last minute flight deals are alluring, but there's a chance the opposite of what you're expecting may happen. You may be stuck with an expensive flight that you need for a really important event or trip.
It's best to snag those last minute flight deals only if you have no specific destination in mind.
#2 Try Different Search Engines
Most people try to find a cheaper flight ticket using their default search engine. But have you ever tried other search engines? There is a slew of metasearch engines, but not all of them are created equally.
Here are some of the most effective flight search engines that we highly recommend using:
Momondo: It is one of the known travel fare metasearch engines that help you to search almost every airlines and website over the internet. To serve you with the best price for your airline booking.
Skyscanner: Another one on the list is Skyscanner, which is another good option. Skyscanner is an excellent metasearch engine tool which helps you to find out the cheapest flights to any destination, at any time in the year.
Google Flights: Google Flights is also a fantastic tool that you can use to grab amazing deals on flight booking. Also, it shows your prices based on different days, weeks, and months of the year. In this way, you'll be able to compare the cheapest flights with the cheapest times to fly. You'll also be able to set price tracking for future flights so that you can book when it is most affordable for you.
Related: Where to Find the Best Flight Deals
#3 Book Early for Cheaper Flights
It is common for prices to increase in the 3 weeks proceeding a flight departure date. It's recommended to book your flight as soon as possible to avoid high ticket prices.
You can typically find the best rates when you book 3 months to 30 days before your departure date.
Using a travel metasearch engine is useful, as they have a fare prediction algorithm. The fare prediction algorithm goes through past fares and the number of bookings. By analyzing past flight information, it can predict the ticket fare.
Usually, these predictions are not entirely accurate, but you can get a good idea about what to expect in terms of pricing.
Also, booking early will bring you other benefits like getting the best seats or meal options on board. Waiting too long to book your flight may cost you more in the long run.
#4 Know When to Book
Knowing the optimal time to book could save you hundreds of dollars! Airlines increase their prices closer to the departure date. You don't want to wait too long to purchase your tickets because it can be costly.
However, you also don't want to book too far in advance. Typically there is a "sweet spot," somewhere between 6-8 weeks before the departure date. Around this time, airline prices may drop or increase depending on the demand.
Use the Google Flights "trend" tool to discover the best time to book your tickets. This is when prices are expected to be the lowest.
#5 Set Flight Alerts
I make sure to always set price alerts while doing my research. I don't always book immediately because there's a chance the prices might drop. This is one reason why it's important to do your research early.
I prefer to set Google Alerts so that when prices drop, I get an e-mail alert. I set an alert for Mexico City in March for a trip in October. Tickets at the time were $380 for a round trip.
In June, I received an alert for a $217 round trip flight! I booked immediately because it was the lowest I had seen. I received two prior alerts but the price was still in the high 200s and low 300s range, so I knew it was a great deal and that it was definitely in my budget.
I am so glad I waited and set a price alert. It paid off in the end.
#6 Check out Alternative Routes
If tickets to your destination are out of your budget, considering finding an alternative route. Sometimes it may be cheaper to book two separate legs than to book a round trip ticket.
For example, on my recent trip to Europe, we planned to book plane tickets from Copenhagen to Amsterdam. The only direct flights were 200 euros, one way per person. We decided to look at flights into nearby countries.
We found a 39 euro planet ticket on Ryan Air to Brussels, Belgium. We took that flight and then took a 2.5 hour bus (via Flixbux) to Amsterdam instead. The bus ticket was only 9 euros per person.
We ended up spending LESS than if we were to fly directly to Amsterdam. We also got check a new country off our list.
Alternative routes can not only save you money, but they can also offer you an entirely new experience. We were able to visit a new country and have money to spend on experiences, food and drink.
#7 Book Directly with an Airline
Have you ever noticed that some airlines don't show up in search results? Those companies only offer flights sales on their websites. Some of these companies include Southwest and Allegiant.
The best way to find out about airline deals from these websites is to sign-up for their e-newsletters and follow them on social media where they will announce their sales.
What's also great about checking directly on airline websites, is that you can see all the fees charged by the airline. It's a very transparent method of knowing exactly what you'll be spending and avoiding any unnecessary fees such as baggage and seat selection fees.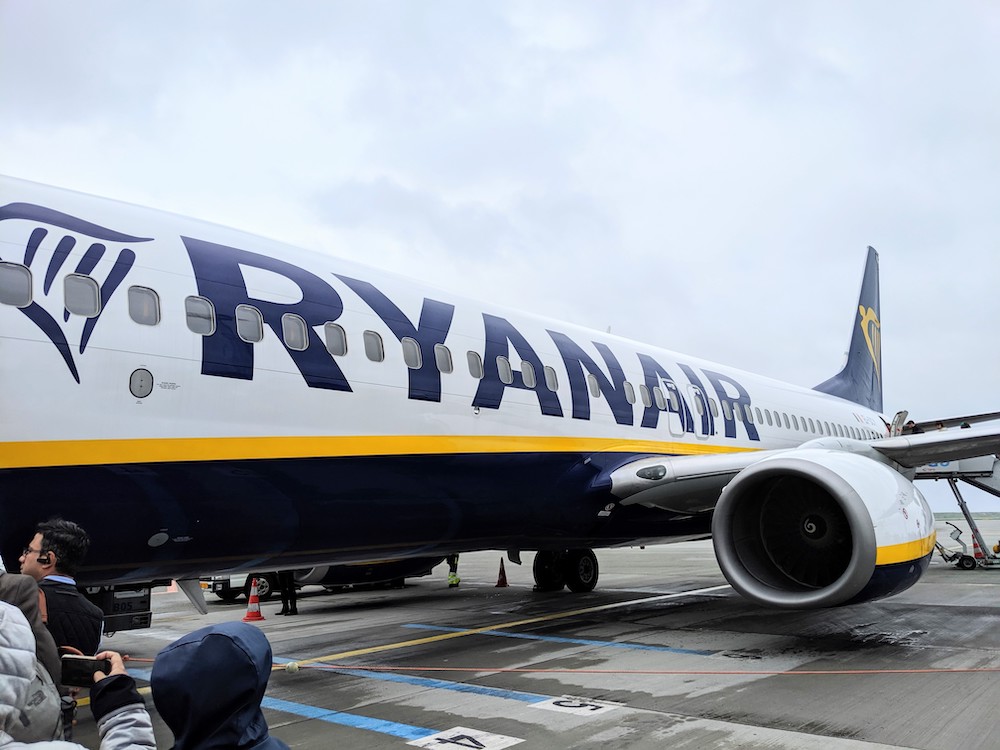 #8 BooK with a Travel Credit Card
One of my favorite ways to book a flight is to wait for an airline sale and use my points or travel credit card rewards program to book my flight. Certain travel rewards credit cards will give you sign-up bonuses (with a minimum spend) or allow you to accrue points at a faster rate.
I have the Chase Sapphire Reserve (CSR), American Express Platinum and Gold (Amex), and Venture X by Capital One cards.
The CSR card earns me 3 points per $1 spent and even more on select categories. I also get access to lounges, can sign up for TSA or Global Entry for free, get an annual $250 travel credit, and take advantage of the 30% increase in points when I redeem for travel through their rewards portal.
I love the access to lounges because I can use it globally to enter international lounges that offer food, showers, and sometimes even sleeping rooms. It's great for when we have long layovers abroad.
The only drawbacks are that travel rewards credit cards often have a hefty annual fee (around $295 to $550) and you'll need to meet purchase minimums in order to get sign-up bonuses. But the pros with these types of cards are that you go so many benefits such as credit towards travel, dining, and discounts at retailers.
When booking flights with points, we highly recommend using Award Hacker to help you find the best points redemption opportunities.
#9 Check for Promo Codes Before You Book
Promo codes, discount vouchers, and sales on third-party apps can also save you money. On my last trip, I used an Air Canada promo code and saved myself 5%. It's not much, however, it's still better than paying full price.
Always look for promo codes prior to booking. There's a chance it will make your flight cheaper, even if it's not a significant amount.
You can usually find airline promo codes on coupon code websites.
Related: List of Coupon Code Websites
#10 Decide Between a Budget VS Full Service Airline
When booking a flight, notice the difference between full service and budget airlines. Budget airlines, such as Ryan Air, Air Asia, and Spirit may require you to pay for services such as carry-on luggage, reprinting your boarding pass, or even picking a seat. Because of these fees, the flights tend to be cheap, until you start adding fees!
Full-service airlines offer food and drink onboard and may sometimes offer free checked baggage. Full-service airlines include Alaska Air, Air France, Delta, Southwest, and more.
Choosing between a budget and full-service airline can mean a significant amount of savings in airfare. If you decide to go the budget airline route, make sure you pay for your fees ahead of time online or through an app. Fees tend to increase at the airport when you have to deal with an agent directly.
Related: How I Survived Ryan Air: Tips and Tricks
#11 Enroll and Follow Flight Deals Sites
I am enrolled in multiple flight deal programs. Flight deal programs are paid or free services that send you notifications on social media or newsletters about current flight deals.
These flight deals are often deeply discounted and some even offer deals on business and first class seats! They may also post price mistakes that can save you hundreds of dollars.
Programs that we highly recommend include:
I set alerts for airfare deal websites such as Airfare Watchdog and the Flight Deal .
The Flight Deal alerted me to a round trip flight to Chile for only $207. We booked it ASAP and even added on a trip to Peru with LATAM airlines!
We recommend booking with a travel credit card that offers travel insurance in the case your flight is canceled (which happens often with flight price mistakes).
If anything were to happen to your flight, you could reap the benefits of your travel credit card and get the same flight re-booked for the fare mistake price you paid.
Related: Where to Find the Best Flight Deals
#12 Get a Buddy Pass!
If you have a friend who works for an airline, they will often have "buddy passes" that they can offer to friends and family. Buddy passes give travelers the ability to get on standby for any flight. You will be required to pay a small fee and taxes to use the buddy passes.
Our friends working at Alaska Airlines get buddy passes which they can give to us 1-2 days prior to travel. We input the code and choose a flight that we want to get on within the next 2-3 days.
There is a chance you won't be on a flight because you're on standby. So if you're using a buddy pass, we highly recommend trying to get on flights with plenty of available seating. You can check for seat availability by fake "booking" a flight to see what seats are available.
When you're ready to book, use the code, show up at the airport on the specified day and hope seats are available for you!
Make friends everywhere you go, because you never know who works for an airline and can give you a buddy pass to use on your next adventure!
Final Thoughts
There are many ways to find cheap flights if you know what to do and where to look. The more you do it, the better you'll get at finding and booking flight deals.
You'll start to notice trends and that intuition and experience will help you with finding the best deals! Just remember to be patient and the flight deal will be yours in no time.
If you found our post on how to find cheap flights helpful, please share it on Pinterest. Thanks for your support!
---
Thank you for visiting today! If you found this encouraging or informative, please connect with us on Instagram, Youtube, Pinterest, Facebook or Twitter. We'd love to meet you!
Sign-up for our monthly newsletter for updates and more. We promise we won't spam you! Feel free to unsubscribe anytime.
For more fitness fashion discounts and offers, please visit our Fitness Instructor Discounts + Brands Directory or favorite brands coupon codes list.
If you're a brand and want to submit a product for us to review, please use this form to get in touch.
This site uses affiliate links. Clicking on or purchasing via an affiliate link may result in commissions for us which help keep the content flowing and lights on at Schimiggy Reviews. You may read more about this in our privacy policy.